RAQ Member and Chairman's Award Recipient Brian Daley has been honoured on Australia Day with an OAM for service to the community through a range of organisations.
The Official Citation Reads:
Mr Brian James DALEY, Bulimba QLD 4171 For service to the community through a range of organisations:
Queensland Ambulance Service
Member, Mount Gravatt Local Ambulance Committee, since 2015.

Member, Local Ambulance Committee Reference Group, since 2010.

Founding President, Balmoral Local Ambulance Committee, 1994-2013.
The Returned and Services League of Australia
Vice President, Cannon Hill District and Vietnam Services RSL Sub-Branch, since 2015; Member, since 2014.

Parade Marshal, ANZAC Day March and Dawn Service, current.

Member, Colmslie Sub-Branch, up until 2014; past Parade Marshal, ANZAC Day March and Dawn Service.
Royal Australian Electrical and Mechanical Engineers Association Queensland
Honorary Committee Member; and Convenor,

Annual Army Apprentices School Annual Reunion, South East Queensland, since 2001.
Australian Army Apprentices Association Inc
South Queensland, Regional Representative, current.

Committee Member, 2006. Australian Army Reserve Association • Member, current.
Mater Health Services, South Brisbane
Volunteer, Patient Transport Service, since 2013.
KJ McPherson Education and Research Foundation
Governing Committee Member, since 2010.

Past Vice President, Career Employment Australia.; Executive Member, since 1987.
St Vincent de Paul Society
President, St's Peter and Paul Conference, Bulimba, circa 1992-2013.

Member, since 1968.
Brisbane City Council Community Planning Team
Awards and recognition includes
Griffith Australia Day Hall of Fame Award, 2013.
---
Lieutenant Colonel Paul Nelson RAEME - Awarded Conspicuous Service Cross
Lieutenant Colonel Paul David Nelson (ACT). For outstanding achievement as the Staff Officer Grade One Technical Management within Headquarters Forces Command.
Lieutenant Colonel Nelson's outstanding commitment and technical expertise have led innovation and reform across a number of Army's technical management and maintenance processes, achieving both significant workforce efficiencies and cost savings.
In particular, he independently identified opportunity to reform the governance liability surrounding Non-Technical Inspections of Army equipment. With conspicuous dedication he initiated a trial reform activity which was conservatively calculated to have achieved the reduction of 40,773 hours of work effort.
A recent 2017 Army News article on the work done by LTCOL Nelson is available at this link
---
Major Nigel Bellette RAEME - Awarded Conspicuous Service Medal
Major Nigel Bruce Bellette (NT). For meritorious devotion to duty as the Operations Officer of the 1st Combat Service Support Battalion.

Major Bellette's extraordinary efforts have been instrumental in the delivery of combat service support to the 1st Brigade. His efforts in modernising his Battalion's deployable equipment have enhanced logistic survivability and increased efficiencies.
His work rejuvenating the Robertson Barracks Amenities Club has provided soldiers posted to Northern Territory additional opportunity to build resilience and teamwork during a remote posting experience.
Major Bellette enlisted in 1987 as a 42nd Intake Motor Mechanic Army Apprentice.
---
Lieutenant Colonel Scott Barras RAEME - Awarded Conspicuous Service Cross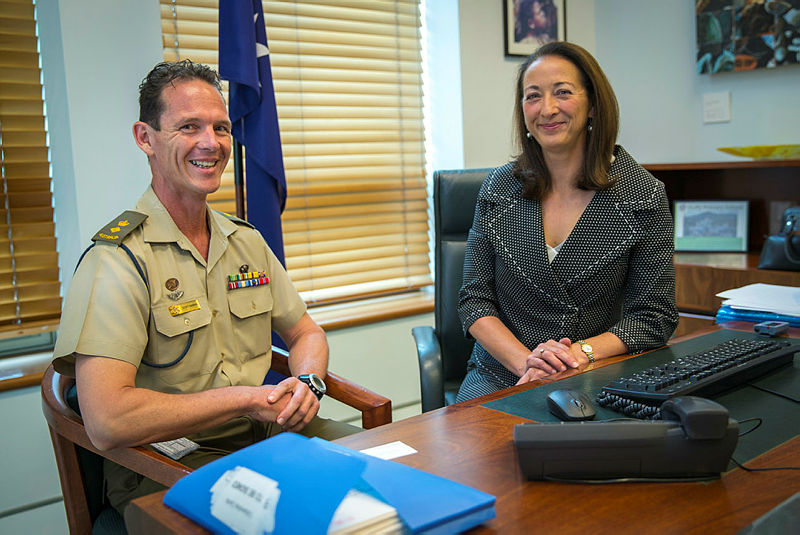 Pictured Above: Member of Parliament Gai Brodtmann with Lieutenant Colonel Scott Barras, at Parliament House Canberra, as part of the Australian Defence Force Parliamentary Program 2016
Lieutenant Colonel Scott James Barras, ACT For outstanding devotion to duty in the field of Defence capability development domain.
Throughout a succession of appointments in the Capability Development Group and Vice Chief of the Defence Force Executive, Lieutenant Colonel Barras has made a profound and lasting contribution in the domain of Capability Development. Lieutenant Colonel Barras' exceptional service and outstanding devotion to duty has directly contributed to enhanced vehicle capabilities for Defence, and the design and implementation of improved capability development functionality of the Australian Defence Force Headquarters.