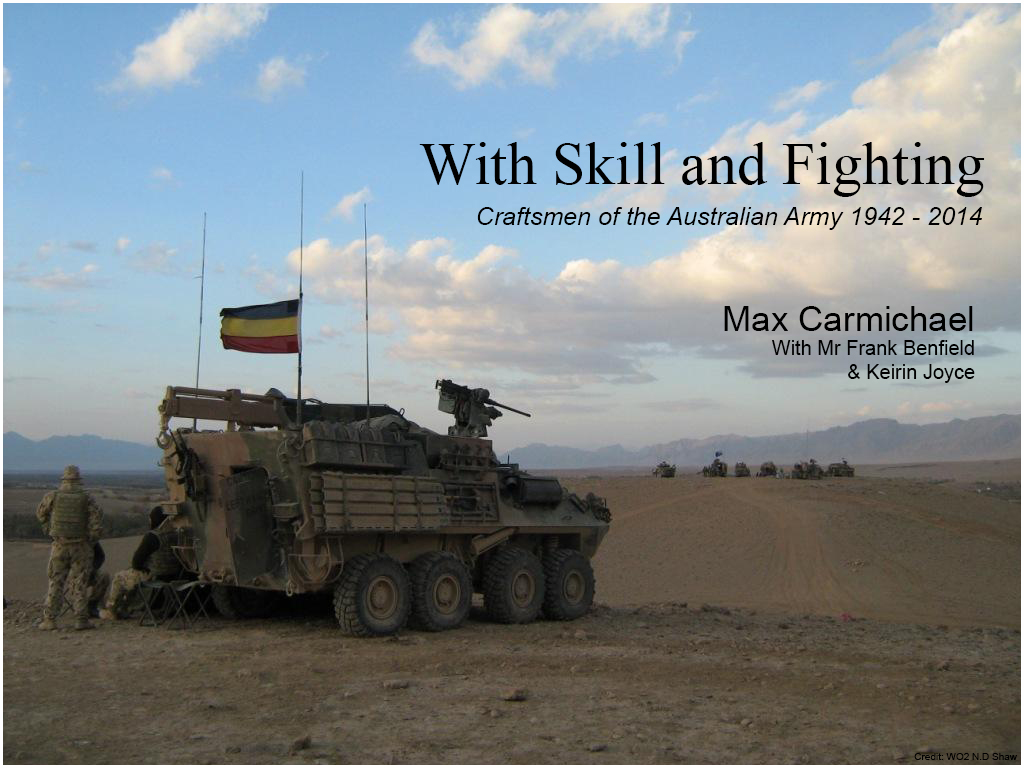 HOW TO BUY THE RECENTLY PUBLISHED CORPS HISTROY – 'WITH SKILL AND FIGHTING: CRAFTSMEN OF THE AUSTRALIAN ARMY 1942-2014'
For those yet to buy the Corps History book, the HOC Cell, Bonegilla, still has a reasonable quantity of hard cover (HC) versions available, at $40.00 a copy. The SO2 Corps Capability, MAJ Perri Hobbs, and his small team are managing sales, so the best way to secure a copy, before they run out is to go to:
http://www.raeme.org.au , click on 'Shop' and then click on the photo of the book's cover.
Please follow the instructions for payment shown on the website, (and spelt out in part as follows) are also provided to ensure prompt delivery:
'To purchase a book, you need will need to make a deposit of $40.00 by electronic transfer to the account below:
RAEME Corps Fund
BSB – 833205
Acct – 20509705
Once payment is made, please send an email to the HOC Cell This email address is being protected from spambots. You need JavaScript enabled to view it. and add the CC address of MAJ Hobbs, This email address is being protected from spambots. You need JavaScript enabled to view it. , together with proof of payment (a scanned receipt of deposit), point of contact details and an up to date delivery address. The HOC Cell will distribute the book upon confirmation of payment.'
Note: In the reference field of the electronic transfer and proof of payment, please include your surname and phone number.
In the email, please ensure you include your name, delivery address and contact phone number. Should you have any queries, please contact the HOC Cell directly on (02) 6055 4325, prior to ordering. Books should be despatched within 28 days of ordering and every effort will be made to inform you of despatch details.
RAQ Online Shop
Have a limited number of hard cover books for purchase through our online shop. Our books exclude the postage cost, which is an additional $13.40 (total of $63.40 delivered, excluding any paypal fees). If you are an RAQ member, you can choose 'Click and Collect' at the checkout for collection at the next monthly meeting free of charge ($50 all up). If you would like to purchase your book for $80.00 including postage go to the National website link above and place your order.
For RAQ Members don't forget to login to receive the 'Click and Collect option'. If you would like to add extra items to your order please follow through to checkout. Any orders placed including the book and other items are subject to a recalculation of the postage before confirmation of the order. If you have any questions please contact the This email address is being protected from spambots. You need JavaScript enabled to view it., prior to placing an order.