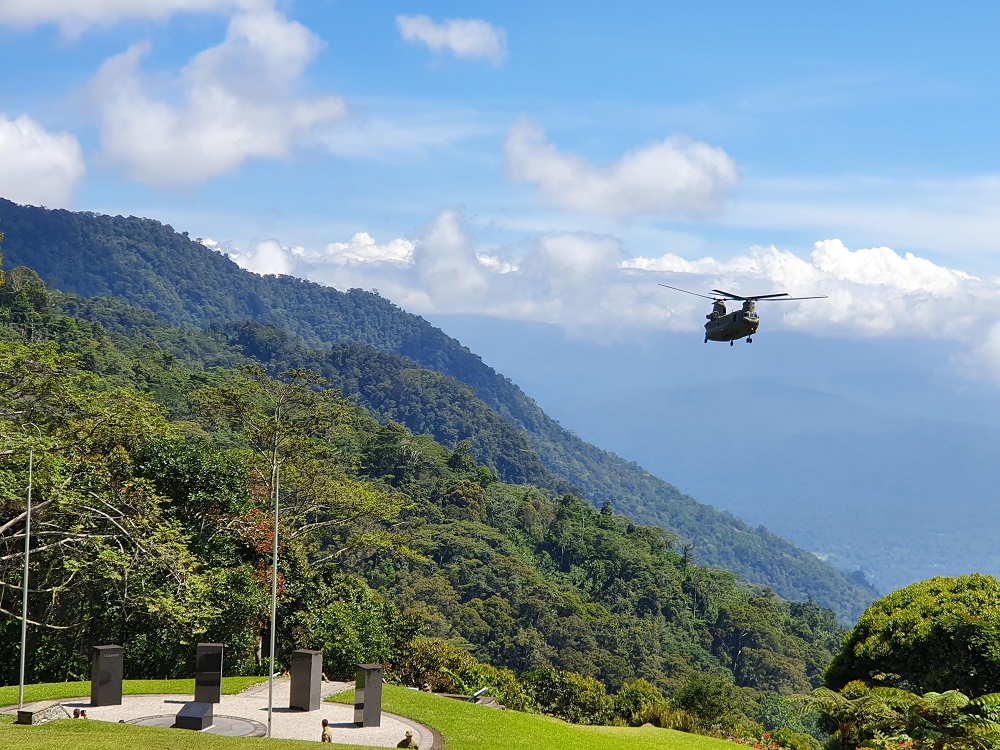 Pictured Above: A CH-47F Chinook coming into land at the Isurava Memorial on Kokoda Track
C TST had a busy start to the year with the Regiment providing support to flood relief tasks in both the local area of Townsville and Central North Queensland. A portion of the TST subsequently conducted an Air Self Deploy to Avalon Air show in Mid-February through to early March, making some key engagement stops along the way.
Concurrently, the TST supported local flying operations from within the Regiment for C Sqn and the School of Army Aviation as they trained the latest batch of Aircrew. The TST managed to slightly catch their breath in March before proceeding into Sea Series 19 where two CH-47Fs joined MRH-90 and ARH on Landing Helicopter Dock HMAS ADELAIDE as part of the Amphibious Aviation Combat Element. On completion, C TST redeployed into the Shoalwater Bay Training Area to join the Land Battle at Ex Talisman Sabre, integrating into the US Army's Combat Aviation Brigade.
After winning 'the war' C TST recovered by opening a second deeper maintenance line, achieving simultaneous R4 servicings of 8 weeks each. This gave the Maintenance Organisation a chance to avoid 'hitting the R4 Wall' as the Chinook increases its Rate of Effort in line with acquisition project Land 4502-1.
A portion of the TST recently deployed on exercise to Port Moresby as part of Ex Helicon Luk 19 where the Chinook Pilots are trained in High Density Altitude operations. During the trip to Papua New Guinea the TST were fortunate to get a lift out to the Isurava Memorial on the Kokoda Track In order to pay their respects to the fallen. Several members also visited the Bomana War Cemetery just outside Port Moresby.
For the remainder of the year the TST will be preparing for the High Risk Weather Season and are looking forward to the challenges that 2020 will bring.
Images and Article Courtesy of OC LSS 5 Avn Regt MAJ Jeremy Mellor