The purpose of the Royal Australian Electrical and Mechanical Engineers (RAEME) Association Queensland is to promote and reinforce the spirit, reputation, image and competencies of the Corps through its past, present and future members.
The goals of the Association are to:
Promote the Corps' identity and reputation in Queensland

Recognise and celebrate achievements of members of the Corps in Queensland

Provide a focal point for Corps activities in Queensland
The role of the RAEME is to ensure maximum operational availability of equipment to enable the commander to win the land battle. RAEME is a technical corps tasked with the maintenance of the Army's modern hardware and equipment. More on the Corps can be found at this link.
This site has been developed as a communication tool for RAEME members in Queensland. All attempts have been made to ensure the accuracy of the information supplied. If any errors or broken links are found, or if you have any item or article for inclusion on these pages, please contact the webmaster.
RAQ Subscriptions
Annual subscriptions to the RAQ are due by 30 June each year. Subscriptions can be paid using either PayPal (fee free) or EFT by clicking the Icon below and logging in. Renew your subscription for $10 a year or upgrade to Life Subscription for $100.
New members please use the 'Online Registration' link under the Membership banner. All proceeds are used to support and promote the goals of the Association.
---
Important Update - Events and Meetings
As previously advised regarding Coronavirus in Australia, we are keeping a watch on the events and advice coming from the State and Federal Governments and Health Authorities.
With limited changes in the restrictions, our usual venue Kedron Wavell Services Club remains closed. Electronic meetings will be held until August or when Queensland Governement relaxes the COVID 19 restrictions to the extent where it is feasible to attend a suitable meeting venue, one that will allow 20 RAQ members.We have slowly expanded the number of attendees over the past two meetings using Microsoft Teams. A decision on future functions will be made at the June Monthly Meeting.
Membership & Online Shop
All other web based activities will continue as normal, with online shop items purchased sent out via Australia Post.
The most important thing for all of us right now is put our family and friends first and look out for your neighbours and mates who may not be as well-resourced.
Please keep interacting with your Association with updates available via our website, weekly emails and through our 'Contact Us' page.
Yours Sincerely,

Chairman
---
Defence And Industry Join Forces To Rapidly Produce Face Shields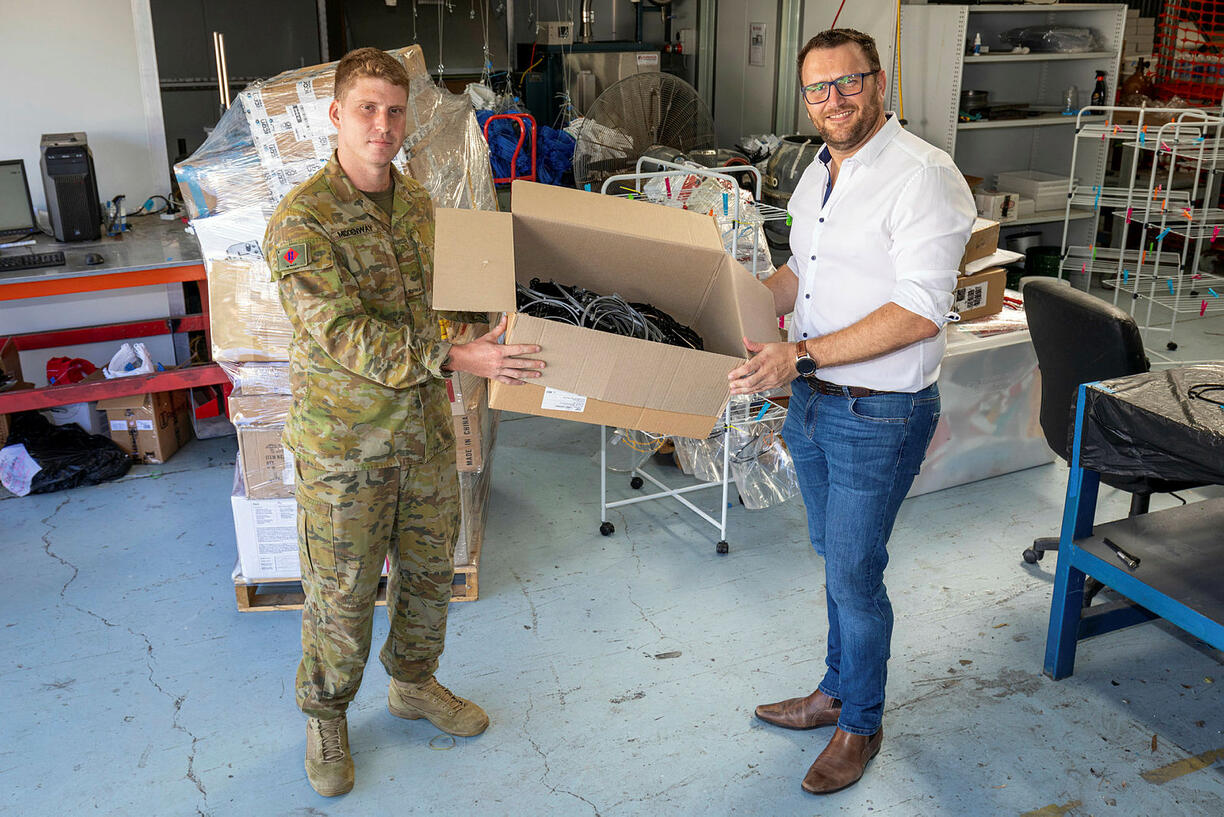 Pictured Above: Pictured Above: CFN Jayden Middenway (left), from 20 Regt RAA hands over a box of face shield frame components to Mr Bruce Caulley, Managing Director of manufacturing company 3D One Australia, based in Salisbury, Brisbane
The Australian Army has joined forces with a Brisbane-based company to rapidly produce 400 face shields for frontline healthcare workers.
Design technology company, 3D One Australia, used Army's 3D printers from the 20th Regiment of the Royal Australian Artillery (20 RAA) to produce the face shields for medical staff in Brisbane.
Minister for Defence, Senator the Hon Linda Reynolds CSC said this is another example of Defence and Australia's local manufacturing industry working together to support the Government's response to COVID-19.
"Defence is playing a vital role in supporting Australia's response to COVID-19," Minister Reynolds said.
"This initiative is not only boosting the supply of face shields in Queensland and expanding industry capability, but also demonstrates how Defence can readily adopt and adapt new technologies."
The Regiment produced the headband component of the face shield, while 3D One Australia provided filament, assembling and distribution of the shields.
Officer Commanding, Combat Service Support Battery of 20 RAA Major Matthew Chapman said his unit typically uses 3D technology to maintain Army's Unmanned Aerial Systems.
"The Army is an agile force and our 20th Regiment has a strong presence in the local Brisbane community," Major Chapman said.
"The Regiment quickly came on board with 3D One's project following the company's crowdsourcing callout last month to help manufacture the face shield frames."
The frames were provided to 3D One who completed the manufacture and sanitisation of the full face shields to Therapeutic Goods Administration (TGA) standards, and distributed to medical agencies as needed.
Imagery available at: http://images.defence.gov.au/S20201667
---