The Royal Australian Electrical and Mechanical Engineers (RAEME) Association Queensland Inc is a not for profit volunteer organisation, supporting the RAEME National Network by providing leadership to, and a focal point for, all RAEME affiliated Associations in Queensland, by promoting and recognising the corps and its achievements via independent memorial, celebratory, social, fundraising, sporting and other activities.
The goals of the Association are to:
Promote the Corps' identity and reputation in Queensland

Recognise and celebrate achievements of members of the Corps in Queensland

Provide a focal point for Corps activities in Queensland
The role of the RAEME is to ensure maximum operational availability of equipment to enable the commander to win the land battle. RAEME is a technical corps tasked with the maintenance of the Army's modern hardware and equipment. More on the Corps can be found at this link.
This site has been developed as a communication tool for RAEME members in Queensland. All attempts have been made to ensure the accuracy of the information supplied. If any errors or broken links are found, or if you have any item or article for inclusion on these pages, please contact the webmaster.
RAQ Subscriptions
Annual subscriptions to the RAQ are due by 30 June each year. Subscriptions can be paid using either PayPal (fee free) or EFT by clicking the Icon below and logging in. Renew your subscription for $10 a year or upgrade to Life Subscription for $100.
New members please use the 'Online Registration' link under the Membership banner. All proceeds are used to support and promote the goals of the Association.
Latest Update - Events and Meetings
As previously advised regarding Coronavirus in Australia, we are keeping a watch on the events and advice coming from the State and Federal Governments and Health Authorities.
Our usual venue Kedron Wavell Services Club remains only partially open. Electronic meetings will be held until the COVID 19 restrictions are relaxed to the extent where it is feasible to attend a suitable meeting venue, one that will allow 20+ RAQ members.We have slowly expanded the number of attendees over the past several meetings using Microsoft Teams.
All the function details are located on the Events page, with updates posted on the individual Event.
Membership & Online Shop
All other web based activities will continue as normal, with online shop items purchased sent out via Australia Post.
The most important thing for all of us right now is put our family and friends first and look out for your neighbours and mates who may not be as well-resourced.
Please keep interacting with your Association with updates available via our website, weekly emails and through our 'Contact Us' page.
Yours Sincerely,

Chairman
---
Technical Mastery Wing (TMW) – Oakey
This year's Subject Four for Warrant Officer (commonly called the ARTS Course) is currently half way through their Diploma in Aircraft Maintenance Manager (Mechanical/ Avionics) course at Royal Melbourne Institute Technology (RMIT). The big difference this year is that students are still in Oakey. The Army (Oakey) and Navy (Nowra) Students are all learning remotely via online lectures and tutorials delivered by RMIT lecturers in stage four lockdown in Melbourne.
RMIT had already uploaded most of their courses online due to COVID-19. This Military-centric course has been able to be converted to an online course at very short notice using RMITs existing IT infrastructure and software. RMIT has also provided various paraphernalia to make the remote learning as seamless as possible. It is a credit to both RMIT's staff and the students' who have shown tremendous agility and flexibility to adapt to the volatile environment COVID-19 poses and to adapt seamlessly to these changes
TMW has continued to demonstrate its ingenuity through 2020 during RAMS 31st Anniversary, Trebuchet challenge. Utilising the sharp minds of its eager engineers as well as the superior hand-skills of the Instructor staff, TMW came up with an innovative (if not over-engineered) solution. Unfortunately, the trebuchet ran into catastrophic failure on the day, with CH-47 Wing claiming victory over the event.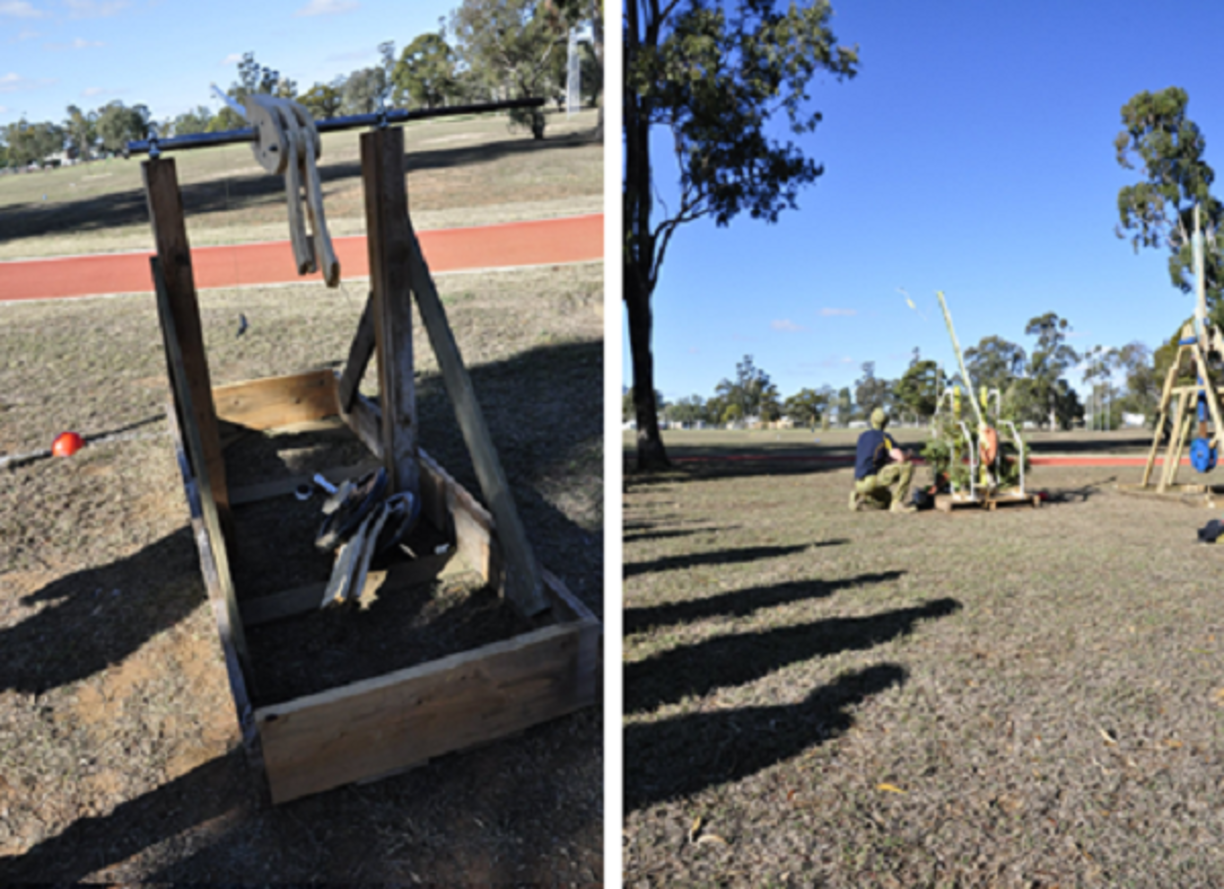 Pictured Above: TMW Trebuchet during RAMS 31st Anniversary
As the year has progressed, TMW has continued to provide training to the future Corporals and Sergeants within the RAEME Aviation capability, focusing on providing practical scenarios directly related to practices within the 16 Avn Bde. Training is constantly evolving to meet the fluid environment that is DASR, ensuring the students are provided accurate and relevant training throughout their time at RAMS.
WO2 - Dale Murray
Images and Article Courtesy of Defence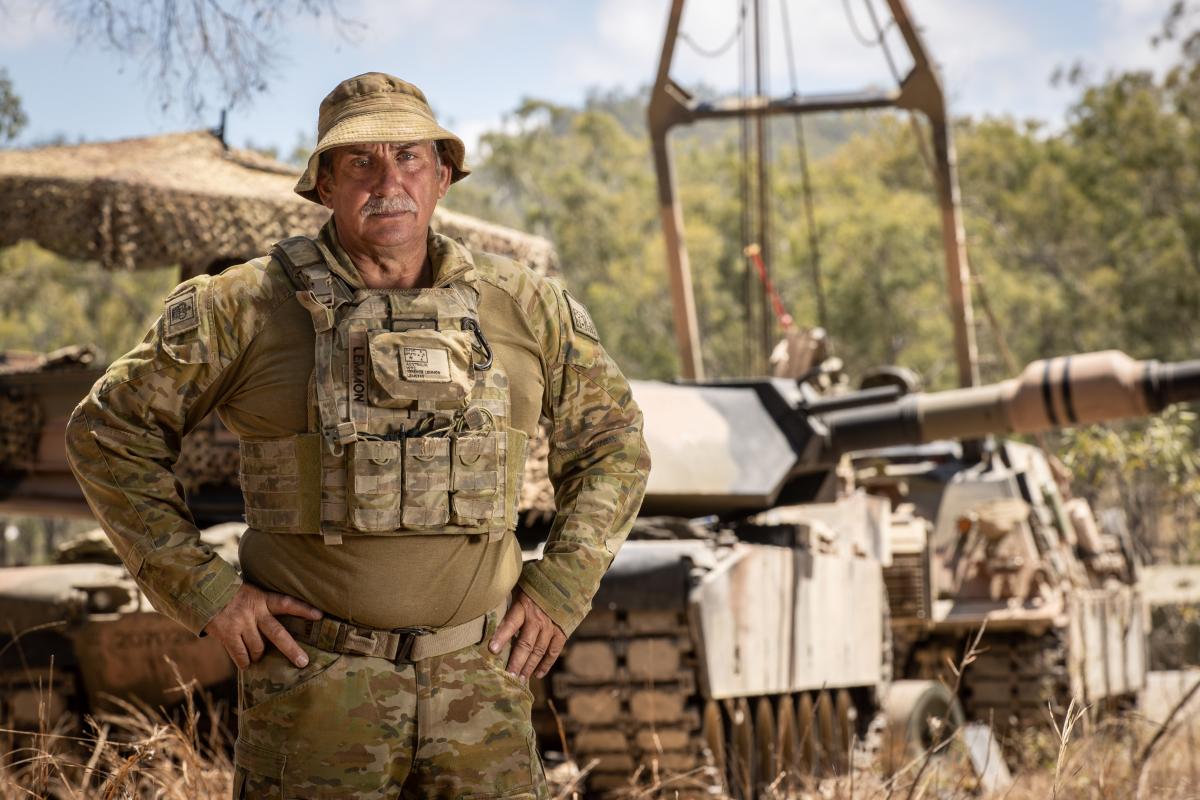 Pictured Above: WO2 Terry Lemmon, from the 2nd/14th Light Horse Regiment, in front of an M1A1 Abrams tank at Shoalwater Bay, Queensland. Photo: Trooper Jonathan Goedhart
At the age of 60, Warrant Officer Class Two (WO2) Terry Lemmon is still passing on his extensive armoured vehicle knowledge to the next generation of mechanics and engineers.
The former British Army soldier, who currently is the 2nd/14th Light Horse Regiment's (2/14LHR) C Squadron ASM, has more than 37 years' experience repairing armoured vehicles.
That service will continue for another two years thanks to the regiment's Unit Affiliation Program, allowing WO2 Lemmon to continue doing what he loves as well as mentor juniors.
"When you've been in the Service for nearly 40 years, it becomes a way of life, and to have that suddenly stop, which happened when I left the British Army, is horrible," he said.
"I enjoy the Army lifestyle, and you're respected for your discipline and what you do.
"The Unit Affiliation Program allows me to carry on being reasonably physically fit, and have a purpose in life.
"I'm thoroughly enjoying life."
WO2 Lemmon had served the maximum allowed time in the British Army when he came to Australia, aged in his early 40s, to serve in the Australian Army.
"After 22 years, I left the British Army as a Squadron ASM, and, not feeling fit for the scrap heap, I decided to come to Australia," WO2 Lemmon said.
"I started my Australian Army career at the Army Logistic Training Centre as a fully trained mechanic and armoured vehicle specialist.
"I taught new tradesmen basic engineering.
"I then served in Darwin and Brisbane."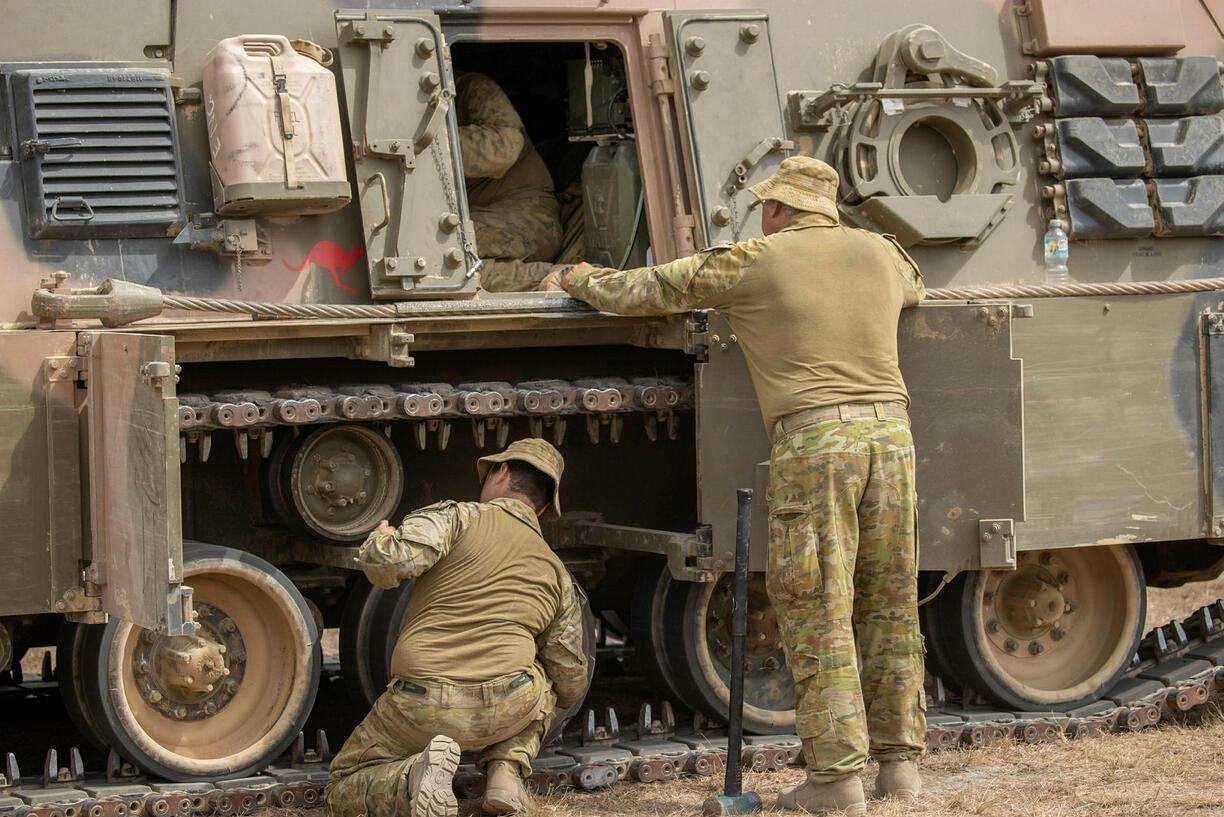 Pictured Above: WO2 Terry Lemmon (right), from the 2nd/14th LHR, oversees maintenance on an M88 recovery vehicle at Shoalwater Bay training area, Queensland.
He served in seven regiments in the British Army and four in the Australian Army, and has been deployed to Northern Ireland, the Falkland Islands, Bosnia, Iraq and Afghanistan.
He said he loved his current job at 2/14 LHR, still enjoying the sense of accomplishment he gets from repairing armoured vehicles.
"When the machine stops, it becomes a 70-tonne paperweight," he said.
"My tradesmen and I turn up, we fix the problem, and, sometimes within a couple of hours, the vehicle is back in the fight.
"You get a big sense of achievement out of that.
"I don't think I would have been doing the job this long if I didn't get that sense of achievement."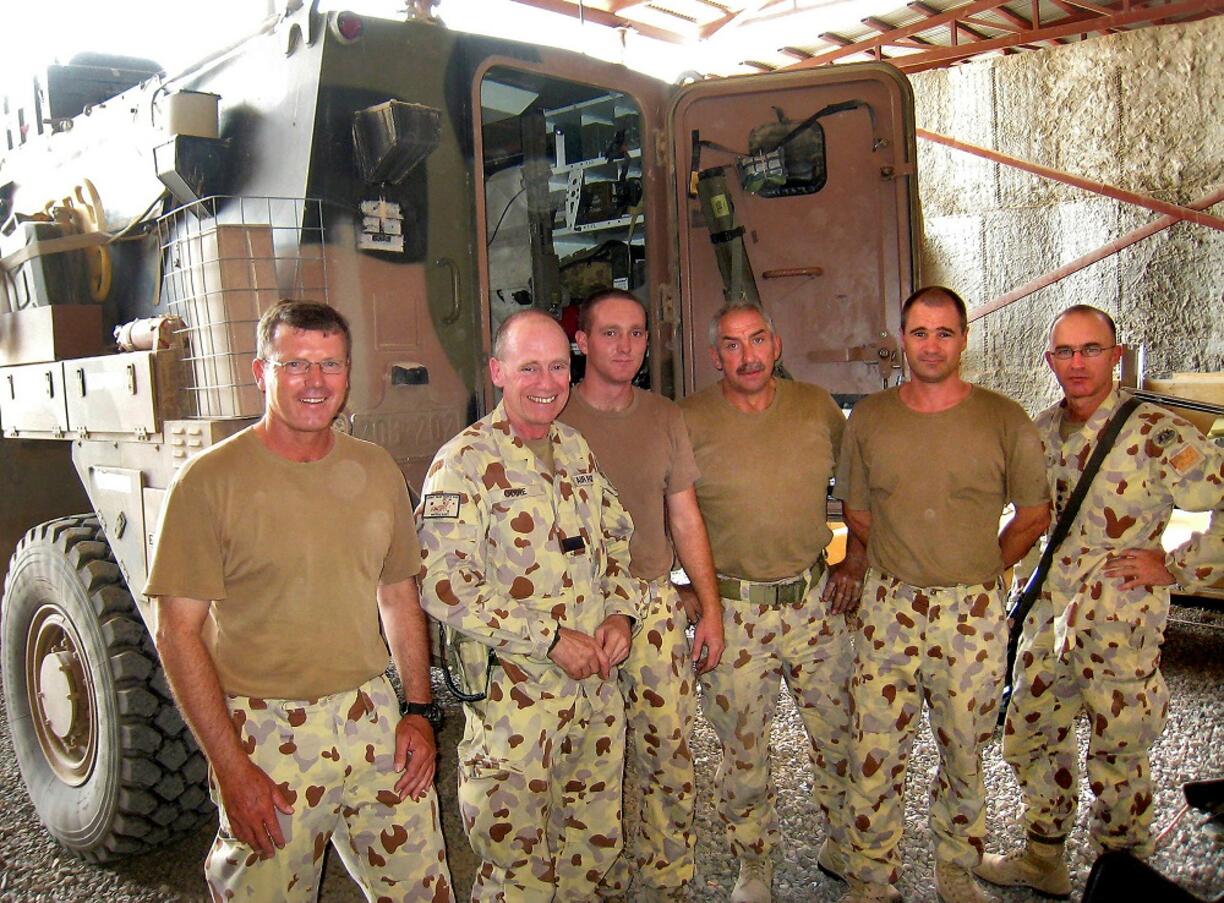 Pictured Above: 2011. Members of the Bushmaster Provincial Reconstruction Team (PMV) mine protection upgrade team take time off the tools to provide an update to the project to the Deputy Commander Joint Task Force 633, Air Commodore John Oddie, and a member of the logistics team, Captain Matt Brodie. (L-R) Major Eugene Tinning, Air Commodore John Oddie (DCJTF633), Craftsman Shannon Smart, Sergeant Terry Lemmon, Warrant Officer Class One Simon Danger and Captain Matt Brodie.
Images and Article Courtesy of Defence

This year's Queensland Mental Health Week (MHW) program for veterans run by RAEMUS Rover was another couple of days with the fully veteran staff team at the track in Willowbank. As with each MHW program the Friday is set aside for current serving members and the Saturday for no longer serving veterans. This year thanks to the support of WO2 Rod Wilkinson the lads and ladies from 6th Engineer Support Regiment Workshop were given the opportunity to experience the veteran program. Due to COVID restrictions we were limited to only 6 veterans being able to don the race gear and get in the car, this didn't prevent more attending which was a bonus for all. It was a real treat for the team to provide this program for 6 ESR as it was only due to the initial support of this unit that allowed the resurrection of the original RAEMUS Rover into what is now a leading veteran support program. The day went without a hitch with all selected soldiers thoroughly enjoying a day of Injury supported yoga, mindfulness training and of course the high adrenaline challenge activity with the race team.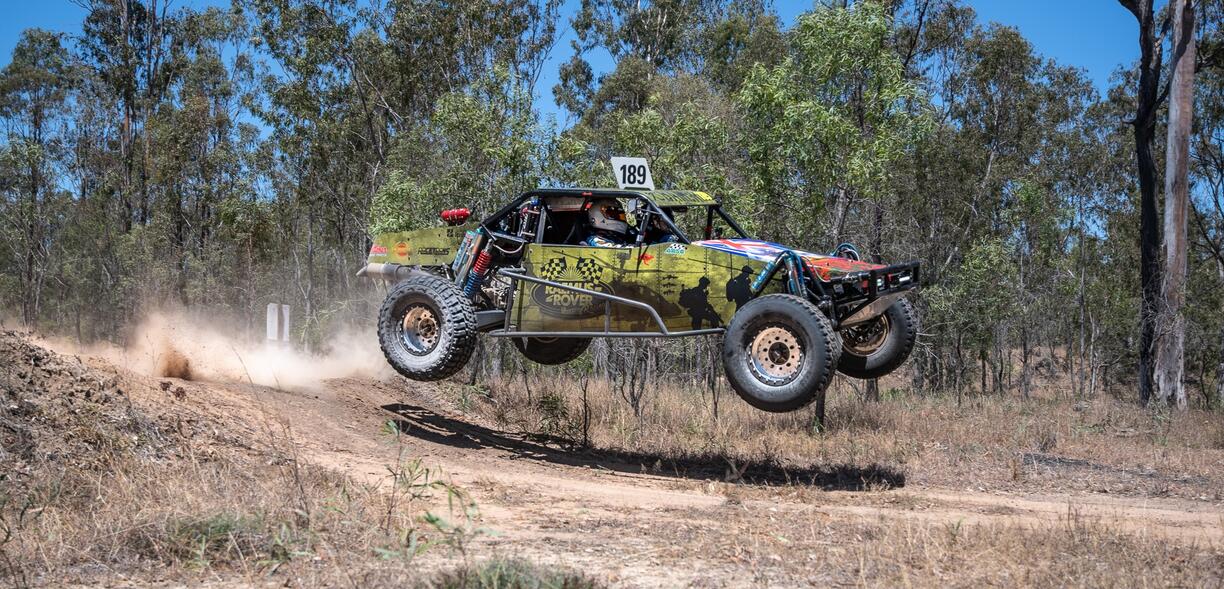 The new Razorback pro-lite buggy with it's distinctive wrap has proven to be a real hit with the program participants, displaying a marked increase in suspension capability enabling the more injured veteran to experience high speed jumps without concerns to injured backs, shoulders etc. The front screen shade panel proudly displays the Artificers Badge making it easy for veterans to identify the car as a veteran owned and supported race car. The success of this year's MHW rides on the back of another highly successful venture to the north of the state to compete in the Don River Dash race in Bowen and conduct a veteran program the day prior. A highlight for us was having Dakar Champion Toby Price spend time with the veterans talking about recovery from injury. That's a story for another issue.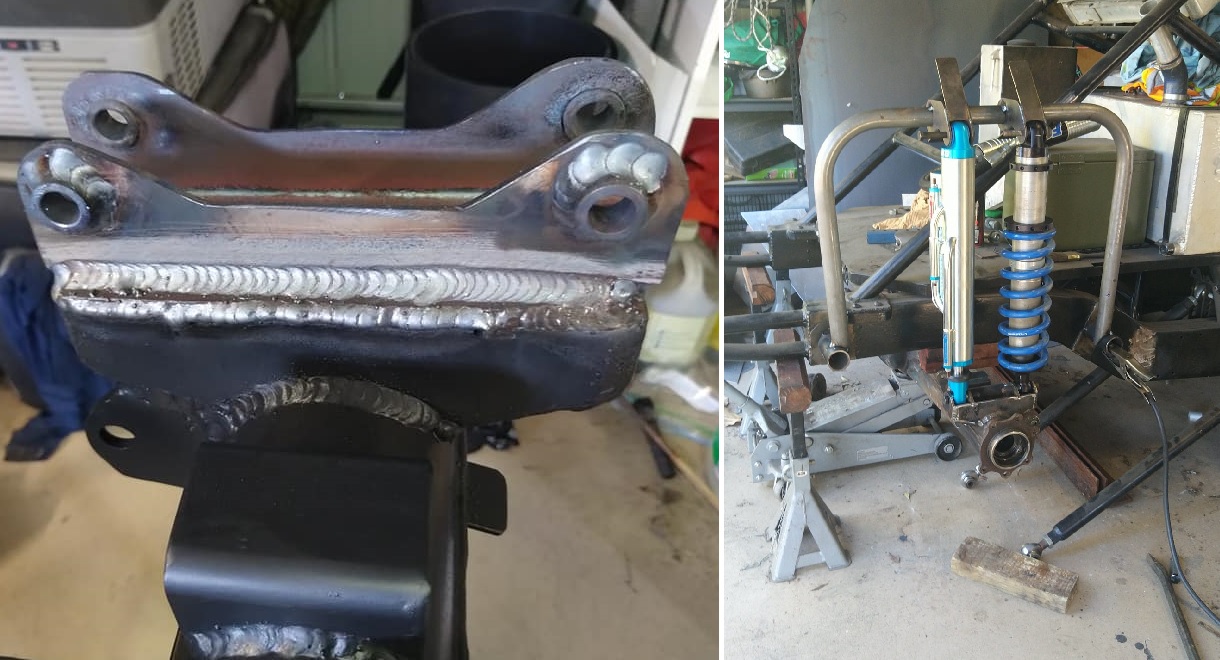 The slow but detailed upgrade to RAEMUS Rover is still progressing, with side rail redesign put on hold whilst we ask for a variation to the regulations to enable restricted mobility veterans easier access in and out of the car. Progress in other aspects of the car is moving along and very soon the car will be on 4 wheels with new suspension fitted, the images show the mock up and fabrication of various suspension mounts. We have included pics of the original RAEMUS back in the 1970's to demonstrate the dramatic changes we have applied to enable injured veterans to participate without subjecting themselves to potential further injury. In short we are modifying the hell out of the old car to ensure it doesn't break mechanically or veterans physically and since when do RAEME ever sit by and not modify something?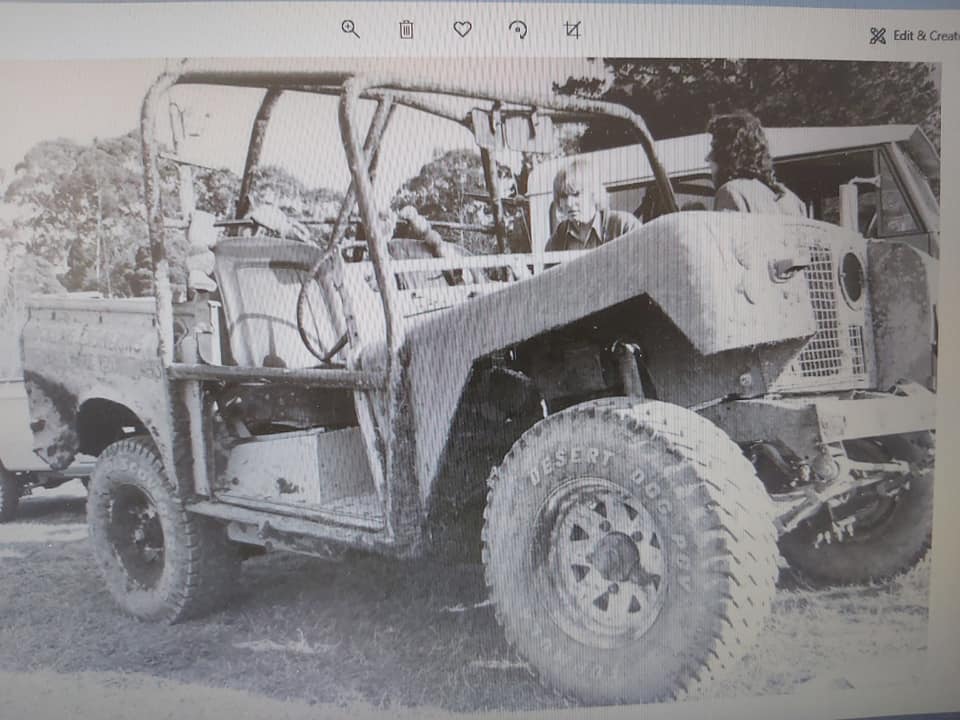 Pictured Above: RAEMUS Rover Circa 1979 - Broken Chassis
For more information on what the original corps car is doing simply follow us on FaceBook, https://www.facebook.com/RAEMUSRover. Finally to confirm, yes were were subjected to a targeted robbery with the team losing approximately $20k of race safety equipment when just before Mental Health Week our storage container was cut into. We have raised a Go Fund Me page to raise some additional funds to replace the equipment stolen, if you see any cheap quality race up for sale please let us know, so we have a hope of getting some of our equipment back.