The Royal Australian Electrical and Mechanical Engineers (RAEME) Association Queensland Inc is a not for profit volunteer organisation, supporting the RAEME National Network by providing leadership to, and a focal point for, all RAEME affiliated Associations in Queensland, by promoting and recognising the corps and its achievements via independent memorial, celebratory, social, fundraising, sporting and other activities.
The goals of the Association are to:
Promote the Corps' identity and reputation in Queensland

Recognise and celebrate achievements of members of the Corps in Queensland

Provide a focal point for Corps activities in Queensland
The role of the RAEME is to ensure maximum operational availability of equipment to enable the commander to win the land battle. RAEME is a technical corps tasked with the maintenance of the Army's modern hardware and equipment. More on the Corps can be found at this link.
This site has been developed as a communication tool for RAEME members in Queensland. All attempts have been made to ensure the accuracy of the information supplied. If any errors or broken links are found, or if you have any item or article for inclusion on these pages, please contact the webmaster.
RAQ Subscriptions
Annual subscriptions to the RAQ are due by 30 June each year. Subscriptions can be paid using either PayPal (fee free) or EFT by clicking the Icon below and logging in. Renew your subscription for $10 a year or upgrade to Life Subscription for $100.
New members please use the 'Online Registration' link under the Membership banner.
All proceeds are used to support and promote the goals of the Association.
Meetings and Functions
Are held on the first Wednesday of each month excluding January, the latest information is on the Events page.
---
Queens's Birthday Honours
We wish to congratulate a number of serving ADF Members who have been recognised in the 2022 Queen's Birthday Day Honours List.
Distinguished Service Medal (DSM)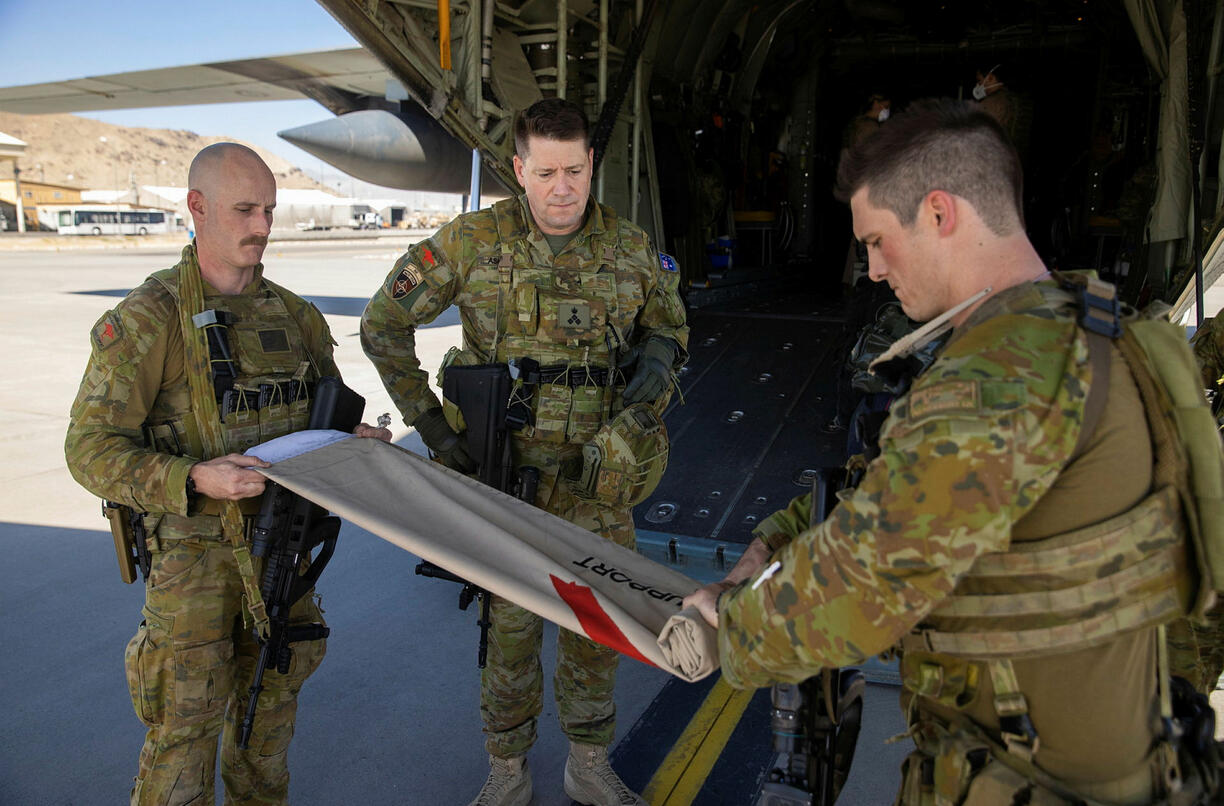 Pictured Above: Members of Task Group Afghanistan, watched on by Commander Task Group Afghanistan Brigadier Todd Ashurst, (centre) fold the Task Group Afghanistan flag prior to boarding a Royal Australian Air Force C-130J Hercules aircraft at Hamid Karzai International Airport for the final departure of Australian Defence Force personnel from Afghanistan.
Brigadier Todd Andrew ASHURST For distinguished leadership in warlike operations as the Commander Task Group Afghanistan and North Atlantic Treaty Organisation Resolute Support Mission Chief of Combined Joint Operations, on Operation HIGHROAD from September 2020 to June 2021.
Conspicuous Service Cross (CSC)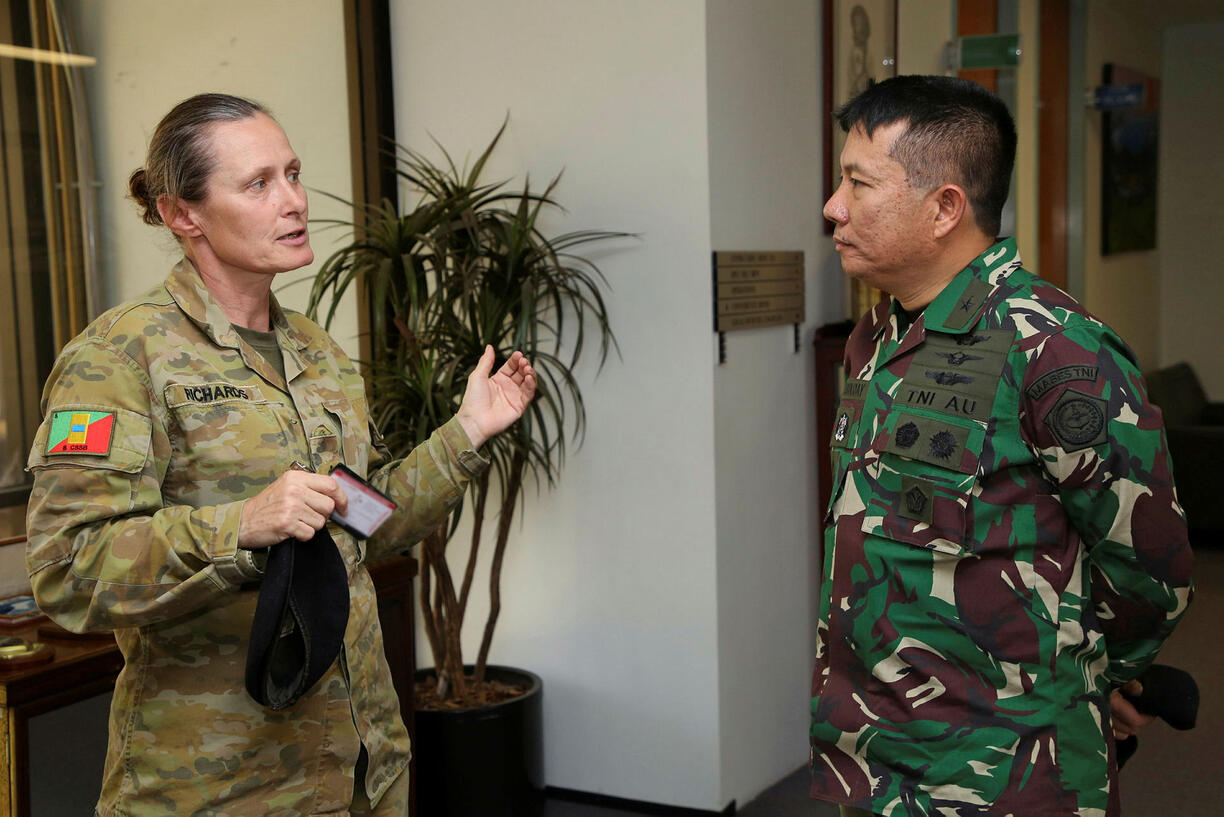 Pictured Above: Lieutenant Colonel Jo Richards, Commanding Officer 8th Combat Services Support Battalion, welcomes Air Commodore Jorry S Koloay, Deputy Operations Assistant to the Commander of the Indonesian National Armed Forces (TNI), to Holsworthy Army Barracks during Operation Bushfire Assist 2019-2020.
Lieutenant Colonel Josephine Lee RICHARDS For outstanding achievement as a Commanding Officer of 8th Combat Service Support Battalion force assigned to Operation Bushfire Assist and as the Commanding Officer of Joint Task Unit 629.1.1 on Operation COVID-19 Assist
OAM – Military Division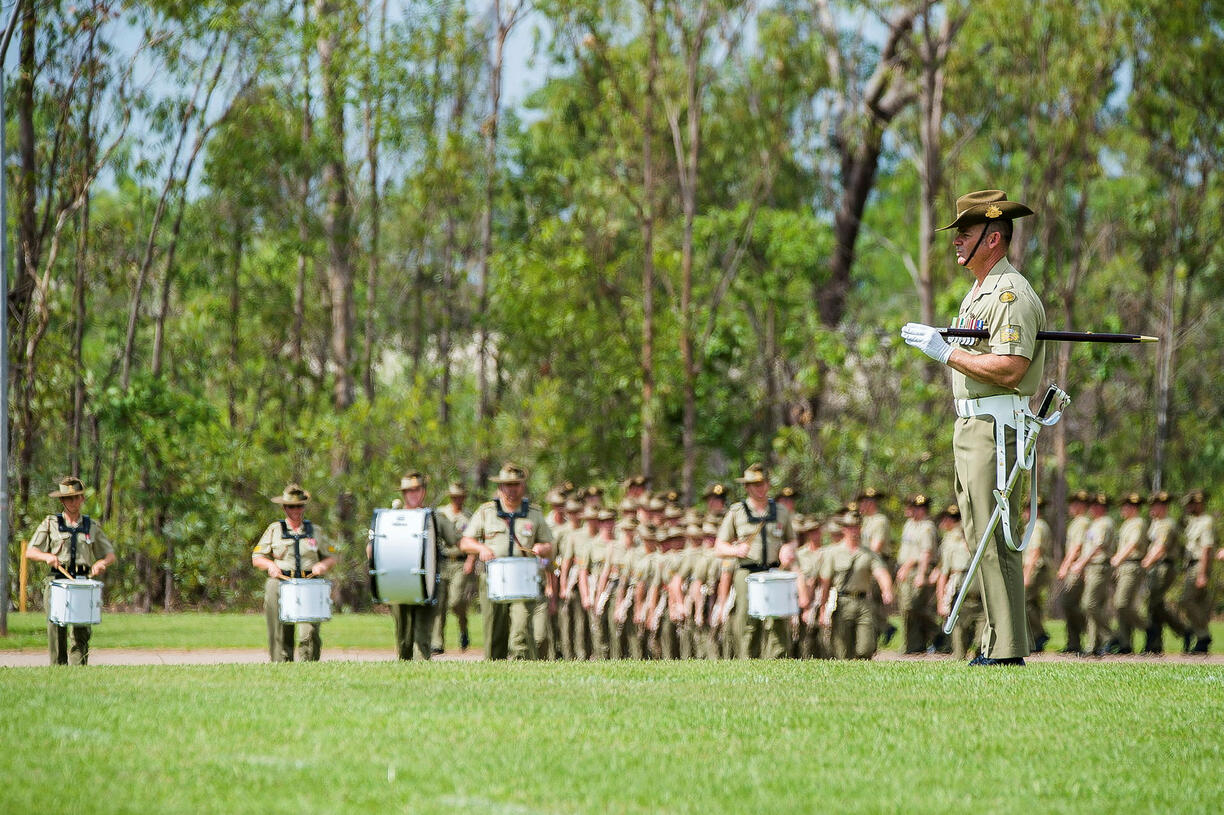 Pictured Above: Regimental Sergeant Major 1st Combat Signal Regiment, Warrant Officer Class One Bradley Bargenquast, calls the Regiment to the parade ground ahead of the parade and United Drumhead Service held at Robertson Barracks on Friday 13 October 2017.
Warrant Officer Class One Bradley Scott BARGENQUAST For meritorious service as the Regimental Sergeant Major of the 11th Combat Service Support Battalion, 1st Combat Signal Regiment and Royal Military College - Duntroon. Warrant Officer Class One Bargenquast has made an outstanding contribution to the development and training of Army's leaders during his service as a Regimental Sergeant Major. The example he sets through his commitment to living Our Values and Good Soldiering and his remarkable ability to influence all ranks has made a positive impact on a generation of Army's future leaders. An exemplary soldier and exceptional leader, his dedication and professionalism as a Regimental Sergeant Major are in the finest traditions of the Australian Army and the Australian Defence Force
Warrant Officer Class One Michael Leonard WATERS For meritorious service in senior Artificer Sergeant Major roles inside Army Headquarters and Special Operations Command. Warrant Officer Class One Waters has demonstrated exceptional performance in multiple senior Artificer Sergeant Major appointments. His leadership and expertise has enhanced Defence's ability to meet current and future land capability requirements. A dedication to mentoring has ensured the next generation of engineers and maintainers are equipped to support the deployment of military power. His performance has been of the highest order and in keeping with the finest traditions of the Australian Army and the Australian Defence Force.
Bar to the Conspicuous Service Medal (CSM and Bar)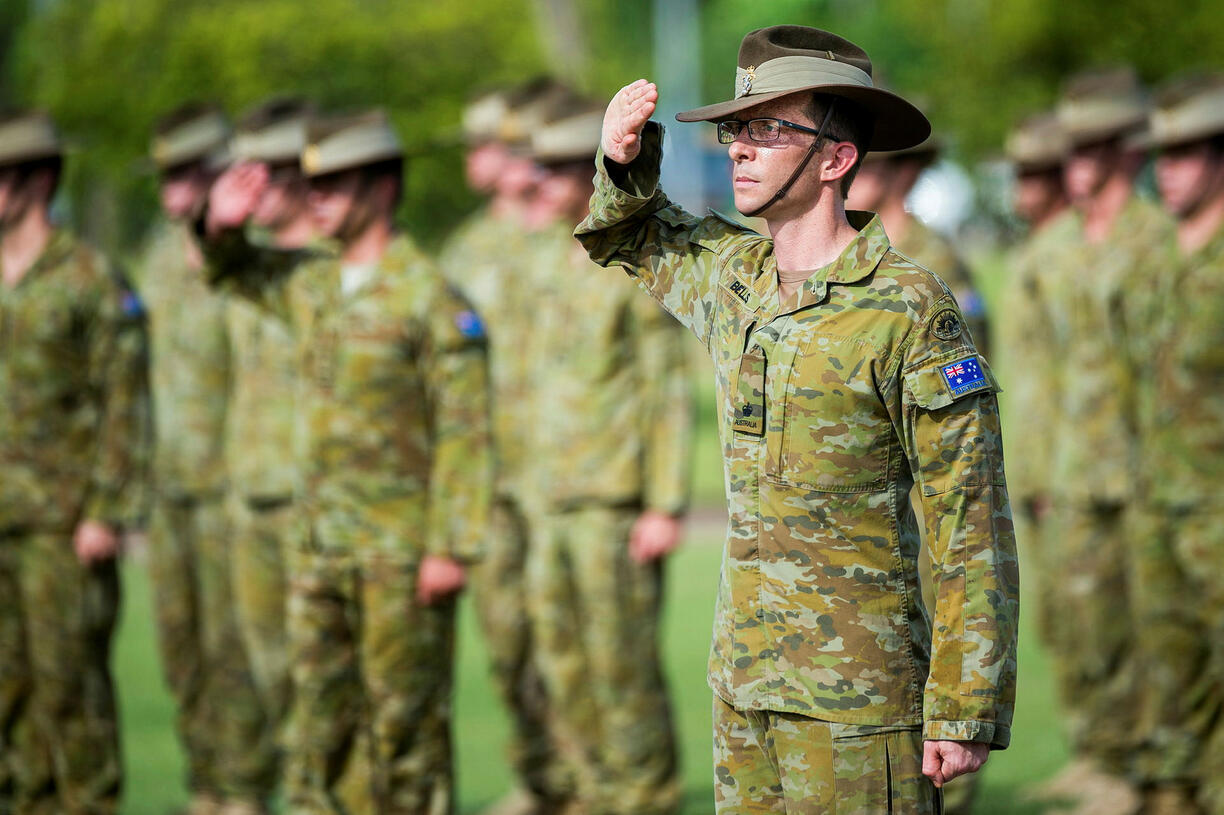 Pictured Above: Parade Commander, Then Major Paul Bellas of the 1st Combat Service Support Battalion, who deployed as the Officer Commanding of Force Support Battalion, salutes during the Welcome Home Parade held at Robertson Barracks on Saturday the 11th November 2017.
Lieutenant Colonel Paul John BELLAS CSM For meritorious achievement in the reform of organisation management in the Australian Army.
Conspicuous Service Medal (CSM)
Major Benjamin William ANGUS For meritorious achievement as the Officer Commanding Administration Company, 7th Battalion, the Royal Australian Regiment.
Warrant Officer Class One Christopher Barry McCULLOCH For meritorious achievement as the Artificer Sergeant Major of the 3rd Combat Signal Regiment.
On behalf of the RAQ we congratulate these Members for their honours and their outstanding service and contributions to Australia.
Images Courtesy of Defence
---
NQ Gathering - Townsville - 18 Jun 2022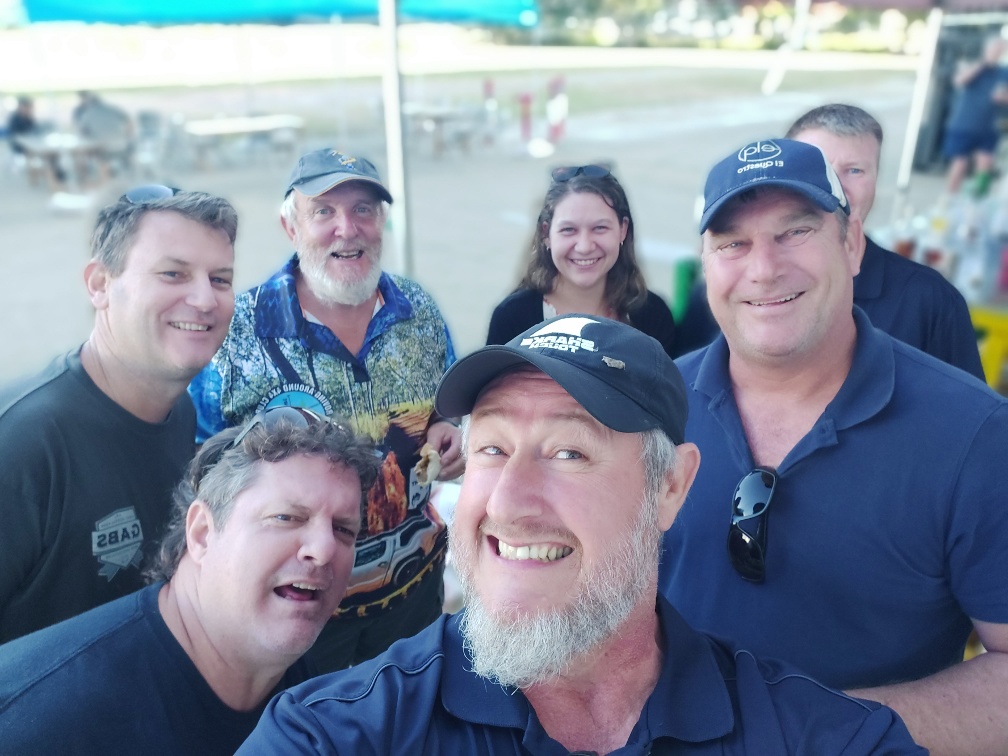 Pictured Above: L-R - Ty Bodle, Don deTardynski, Aaron Writer, Dan Waterson, yours truely & Simon Hurdle
RAQ-NQ had a fantastic gathering on Sat 18 Jun 22 at Australian Expedition Vehicles (AEV) which is owned by an RAQ member, Mick McMillan and his lovely wife Elaine. Mick and Elaine have won awards for their support to ADF veterans and the generosity he has shown to RAQ-NQ over the past several years has been overwhelming, the NQ committee would like to recognise your support as the perfect hosts.
The NQ weather was perfect as normal with a balmy 28 degrees allowing the 52 attendees to enjoy some outdoors time. We were wonderfully supported by a local serving member and home brewer extraordinaire Mr Jason Harton (just a shame he's a Truckie) who put on several kegs of a very nice Pacific Pale Ale and IPA Pale Ale for all to taste test, it was a great brew, thanks Harry. Bluescope Steel also supported us in cooking a very tasty BBQ sausage sizzle from their purpose built BBQ trailer.
Pictured Above: L-R - Dingo Downey, Craig Gordon, Mick Gordon and Tony Gordon
There was the obligatory meat tray raffles won by Matt Ferguson and Mick Harris and a 1.7m tall RAEME badge that Mick McMillan donated as a lucky door prize that had been cut out of galvanised sheet on Mick's "flash as" water jet the day before. It is a truly majestic badge won by Juggs Maloney, we will leave the argument about whether it should be a black background or tri-colour background for another gathering.
All in all another well supported gathering in NQ, with a couple of ring ins from down south. Please see the gallery for the photos. Upcoming events will see RAQ invited to the NQ Region RAEME All Ranks dinner in late Aug 22 and another gathering at a local pub in Oct 22 prior to the RAEME Birthday on 1 Dec 22.
Please keep a look out in Friday Files for the dates.
Cheers
Robert 'Tank' Pontifex
RAQ NQ
This email address is being protected from spambots. You need JavaScript enabled to view it.