The Royal Australian Electrical and Mechanical Engineers (RAEME) Association Queensland Inc is a not for profit volunteer organisation, supporting the RAEME National Network by providing leadership to, and a focal point for, all RAEME affiliated Associations in Queensland, by promoting and recognising the corps and its achievements via independent memorial, celebratory, social, fundraising, sporting and other activities.
The goals of the Association are to:
Promote the Corps' identity and reputation in Queensland

Recognise and celebrate achievements of members of the Corps in Queensland

Provide a focal point for Corps activities in Queensland
The role of the RAEME is to ensure maximum operational availability of equipment to enable the commander to win the land battle. RAEME is a technical corps tasked with the maintenance of the Army's modern hardware and equipment. More on the Corps can be found at this link.
This site has been developed as a communication tool for RAEME members in Queensland. All attempts have been made to ensure the accuracy of the information supplied. If any errors or broken links are found, or if you have any item or article for inclusion on these pages, please contact the webmaster.
RAQ Subscriptions
Annual subscriptions to the RAQ are due by 30 June each year. Subscriptions can be paid using either PayPal (fee free) or EFT by clicking the Icon below and logging in. Renew your subscription for $10 a year or upgrade to Life Subscription for $100.
New members please use the 'Online Registration' link under the Membership banner.
All proceeds are used to support and promote the goals of the Association.
Meetings and Functions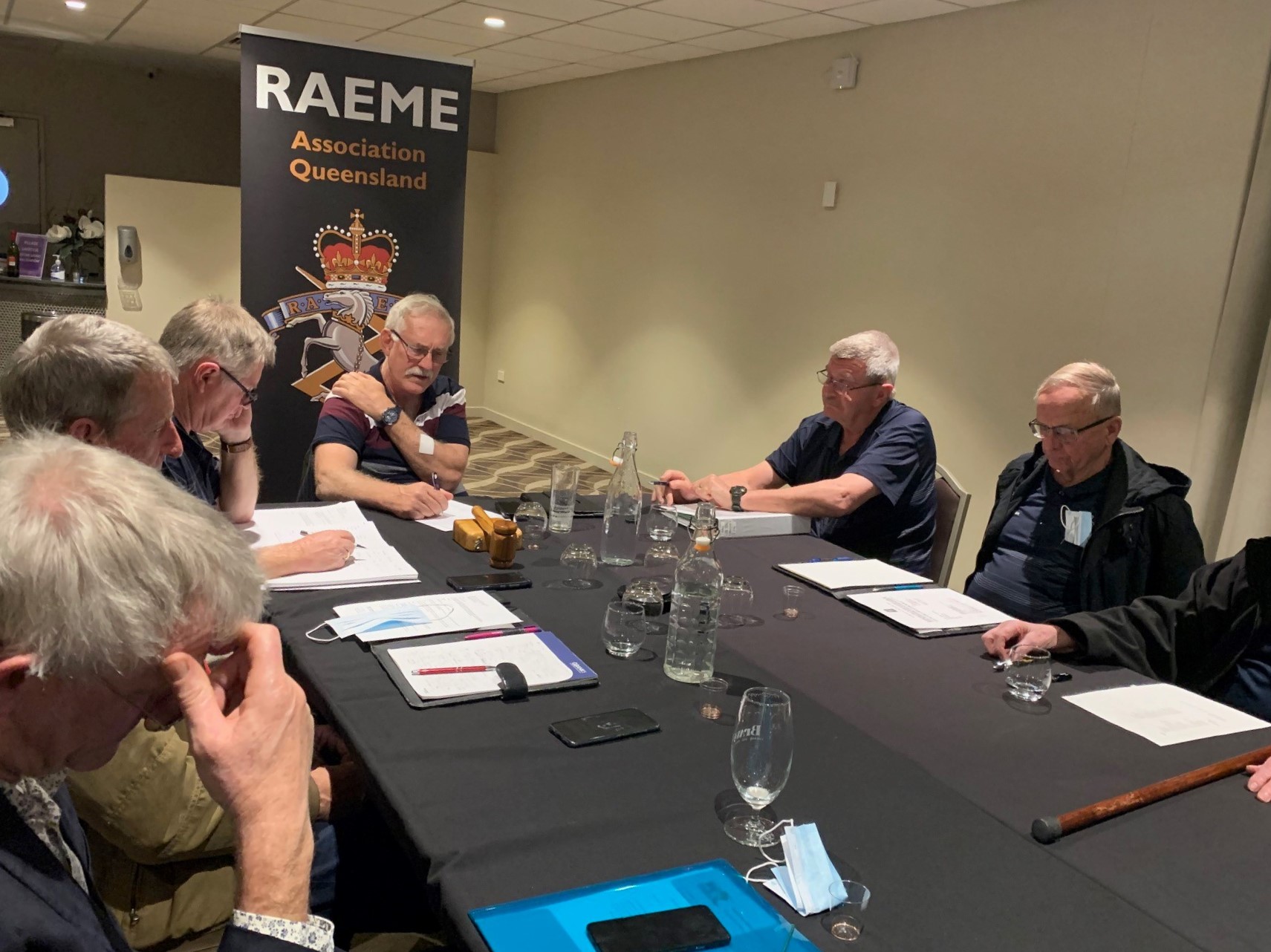 We have great news, we are holding physical meetings again. For those who are attending, the latest information is on the Events page.
COVID Restrictions
Members need to abide by the rules of the KWSC with regards social distancing, as is registration using the the Check In QLD App on arrival.
Should restrictions prevent a physical meeting we will revert to an online Teams meeting with selected committee members (invitations will be emailed). All the details will be posted on the Events Page and our website.
For apologies or to confirm your attendance please contact the This email address is being protected from spambots. You need JavaScript enabled to view it.
Reports - Can those submitting reports please ensure it is emailed to the Secretary prior to each meeting.
---
Exercise Talisman Sabre 2021 - SWBTA

Pictured Above: CFN Jayden Eva, a recovery mechanic with 7 CSSB, and U.S. Marine Corps Pfc. Kellan Royce, a motor transport operator with 3d Battalion, 12th Marines, 3d Marine Division, exchange tactical vehicle equipment knowledge during Talisman Sabre 2021 at Camp Growl, Shoalwater Bay Training Area, Queensland, Australia, July 13, 2021. (U.S. Marine Corps photo by Lance Cpl. Ujian Gosun)
Exercise Talisman Sabre 2021 (TS21) is the largest bilateral training activity between Australia and the United States, commencing on 14 July 2021. Held every two years, TS21 aims to test Australian interoperability with the United States and other participating forces in complex warfighting scenarios. In addition to the United States, TS21 involves participating forces from Canada, Japan, Republic of Korea, New Zealand, and the United Kingdom.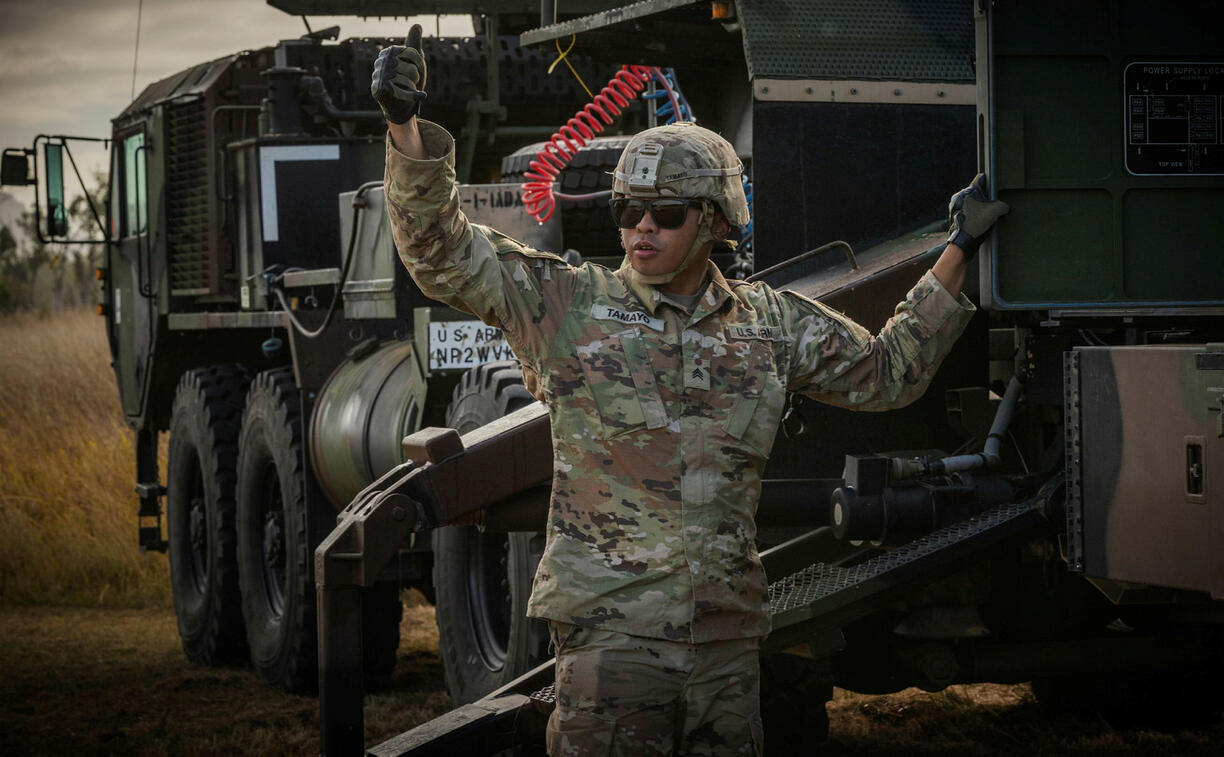 Pictured Above: US Army soldier Sergeant Ezekiel Tamayo from the 38th Brigade Air Defence Artillery, during rehearsals conducted for the launch of the MIM-104 Patriot surface-to-air missile system at the Shoalwater Bay Training Area in Queensland, during Exercise Talisman Sabre 2021
The exercise includes a Field Training Exercise incorporating force preparation (logistic) activities, amphibious landings, ground force manoeuvres, urban operations, air combat and maritime operations. Activities will peak from 18 - 31 July across Queensland. TS21 is a major undertaking for all attending nations and demonstrates the combined capability to achieve large-scale operational outcomes within a COVID-19 safe environment.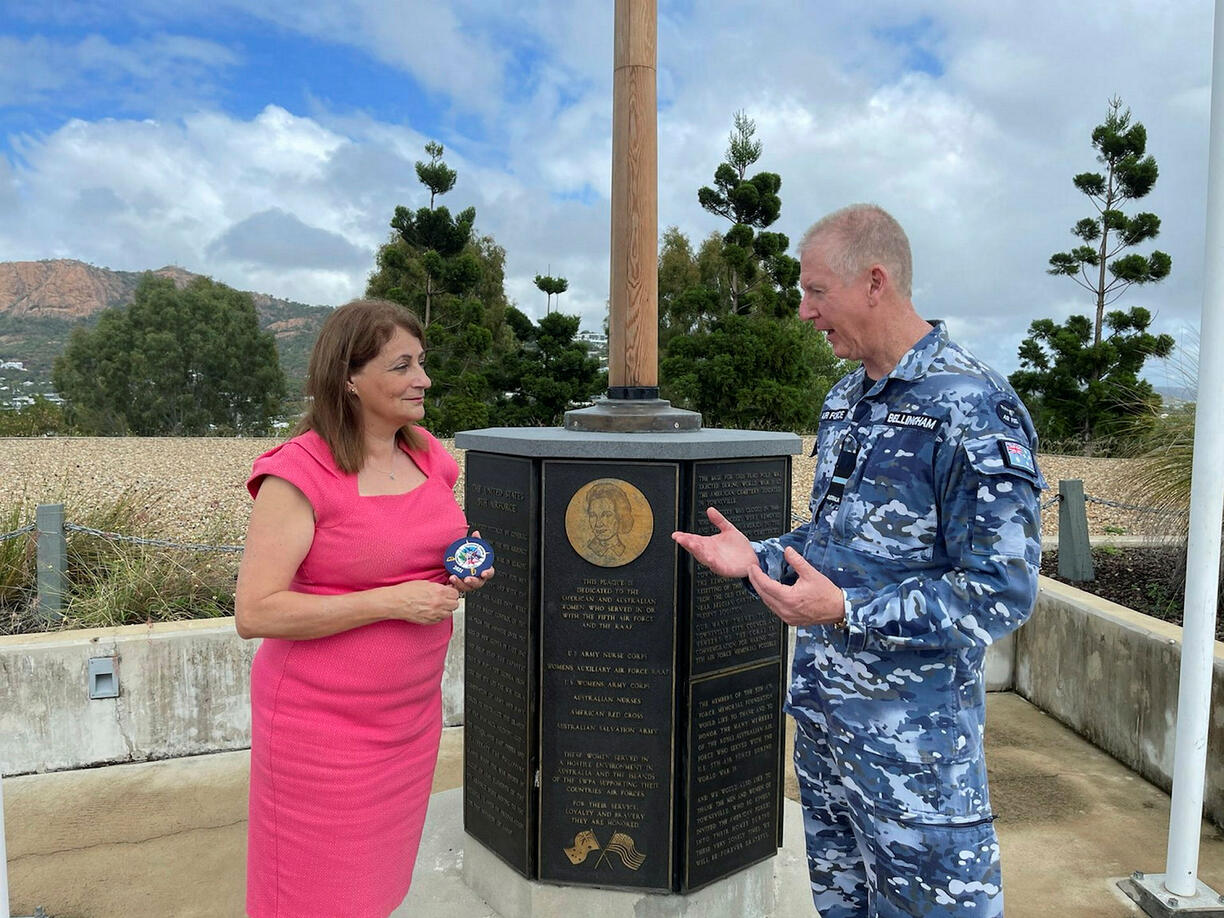 Pictured Above: (l-r) Mayor of Townsville Councillor Jenny Hill and Director Exercise Talisman Sabre 2021 Air Commodore Stuart Bellingham at Townsville, Queensland
Jenny Hill joined the Army Reserve in 1982, first serving in RAEME, maintaining and recovering defence vehicles. In 1987, she graduated from the Officer Cadet Training Unit (OCTU) as a General Service Officer (GSO).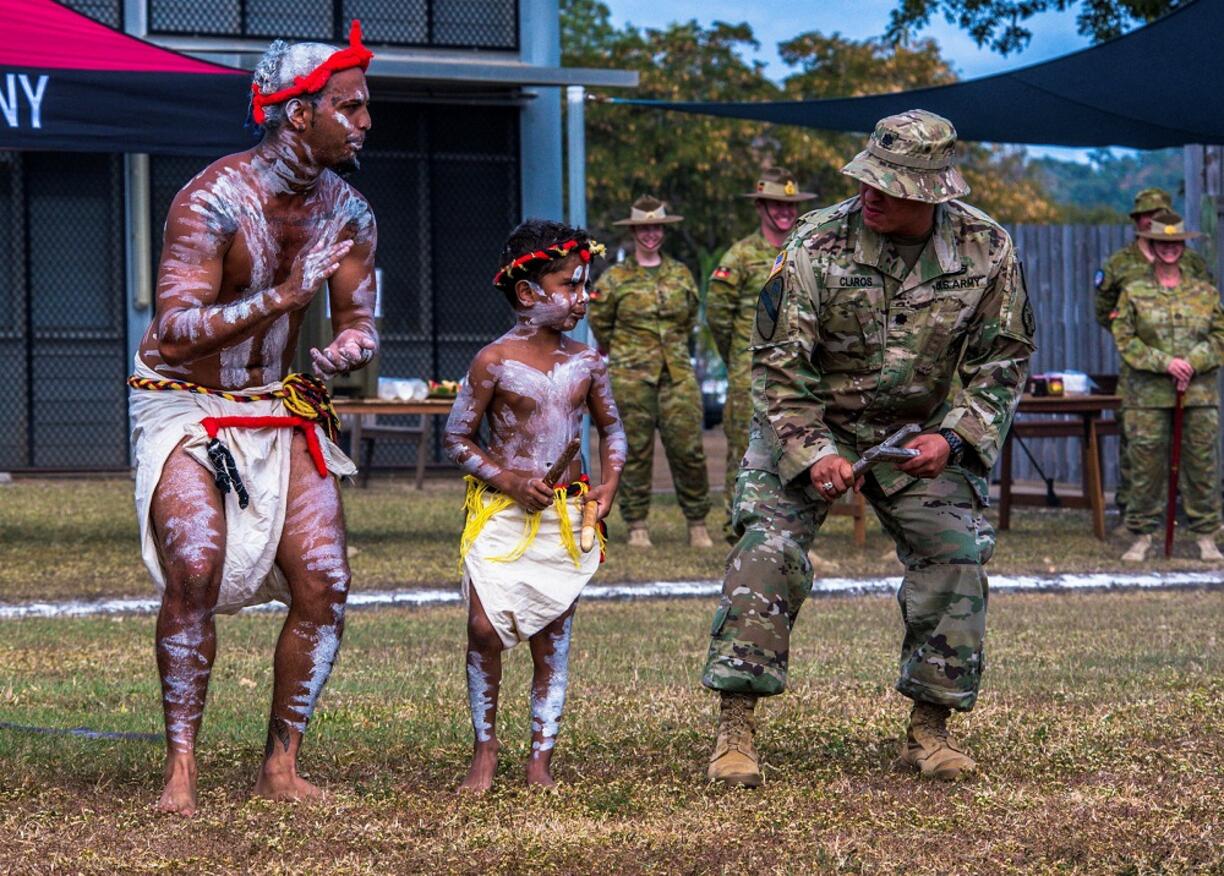 Pictured Above: U.S. Army Lt. Col. Joseph Claros, 17th Sustainment Brigade Executive Officer serving as Deputy Commander for the Combined Joint Task Support Group for Exercise Talisman Sabre 21, perform a traditional dance with members of the Bindal clan at a Welcome to Country Ceremony, at Lavarack Barracks, Townsville, Queensland, July 19, 2021.TS 21 supports the U.S. National Defense Strategy by enhancing our ability to protect the homeland and provide combat-credible forces to address the full range of potential security concerns in the Indo-Pacific. (U.S. Marine Corps photo by Cpl. Michael Jefferson C. Estillomo)
Images and Article Courtesy of Defence
---
Operation Accordion - Final Flight - Afghanistan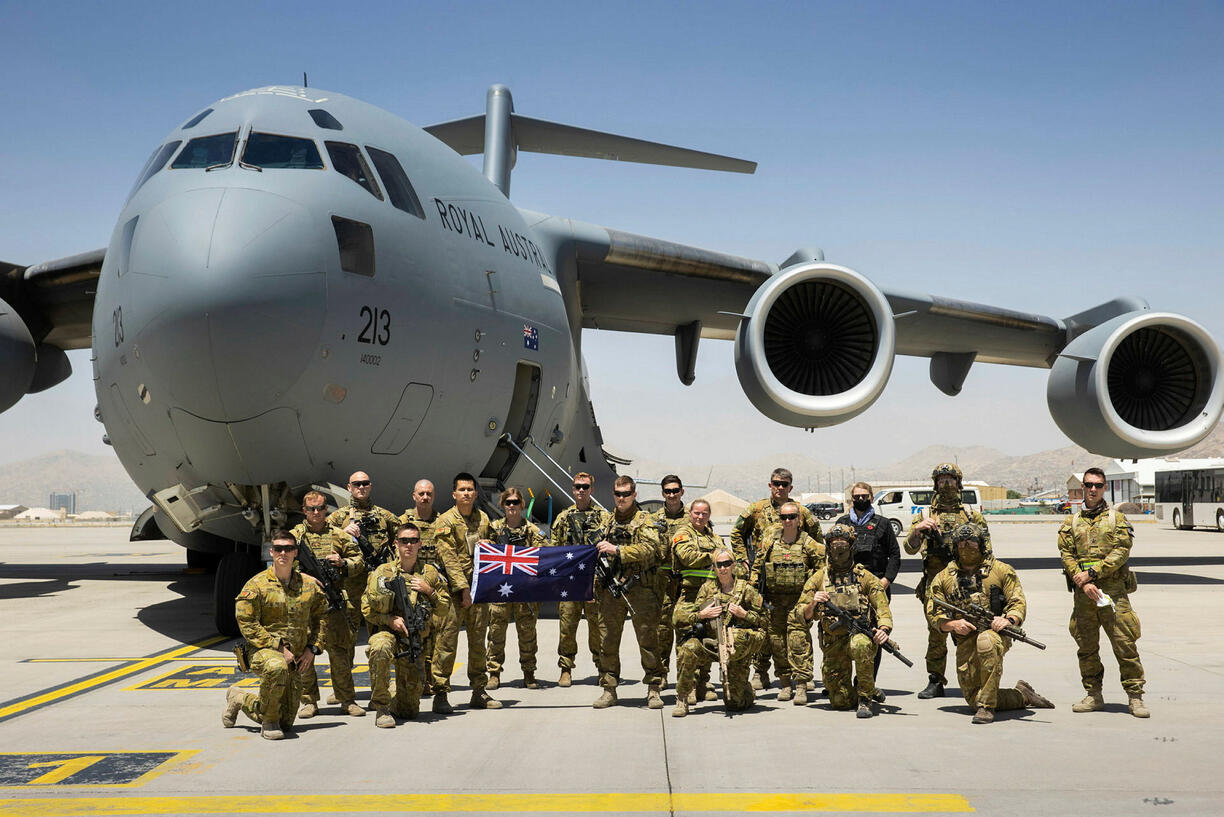 Pictured Above: Australian Defence Force personnel in Task Group Afghanistan prepare to board a Royal Australian Air Force C-17A Globemaster III aircraft flown by 36 Squadron on departure from Hamid Karzai International Airport, Kabul, Afghanistan.
On Tuesday, 15 June 2021 the Air Task Group 630 carried out the second-to-last flight from Hamid Karzai International Airport, Kabul prior to the final withdrawal of Australian Defence Force personnel from Afghanistan. The flight was conducted by a Royal Australian Air Force 36 Squadron C-17A Globemaster aircraft on temporary deployment to the Middle East region.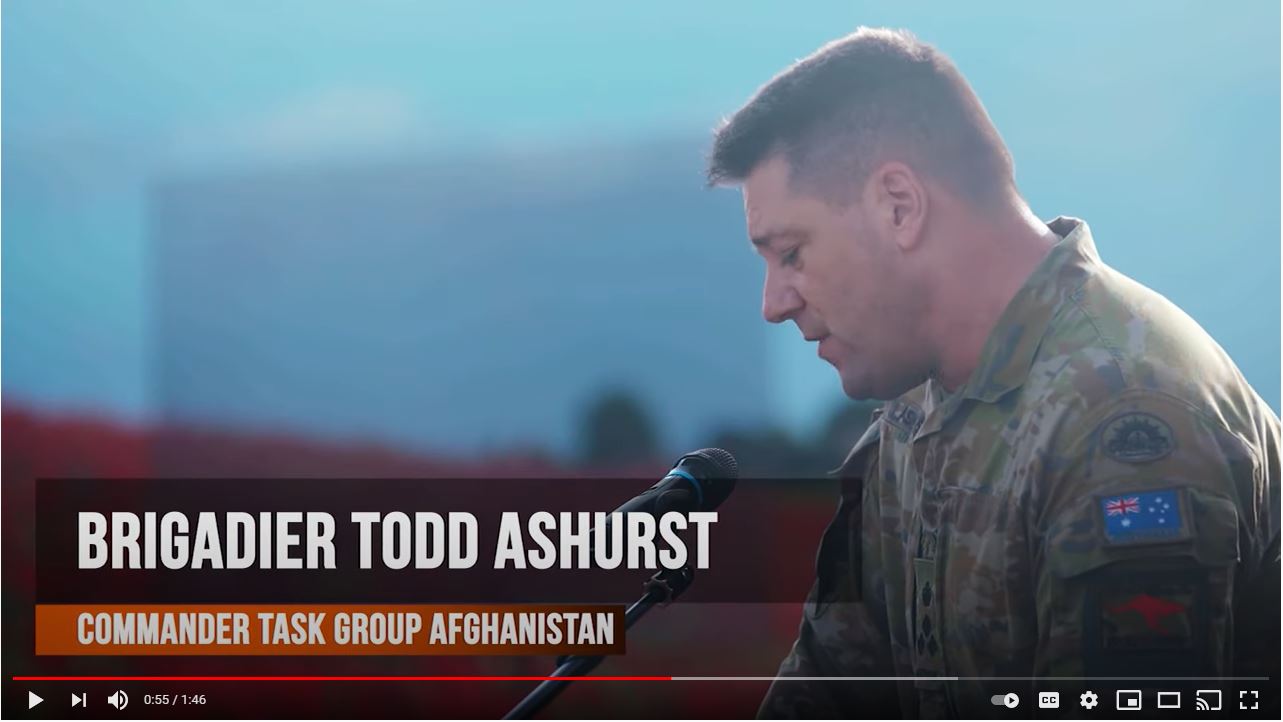 Pictured Above: BRIG Todd Ashurst - Commander Task Group Afghanistan
A small commemorative service was conducted at Australia's Camp Baird in the Middle East region following the final departure of Australian Defence Force personnel from Afghanistan on Friday, 18 June 2021. The service was conducted in remembrance of the 41 ADF personnel who lost their lives in the service of their country.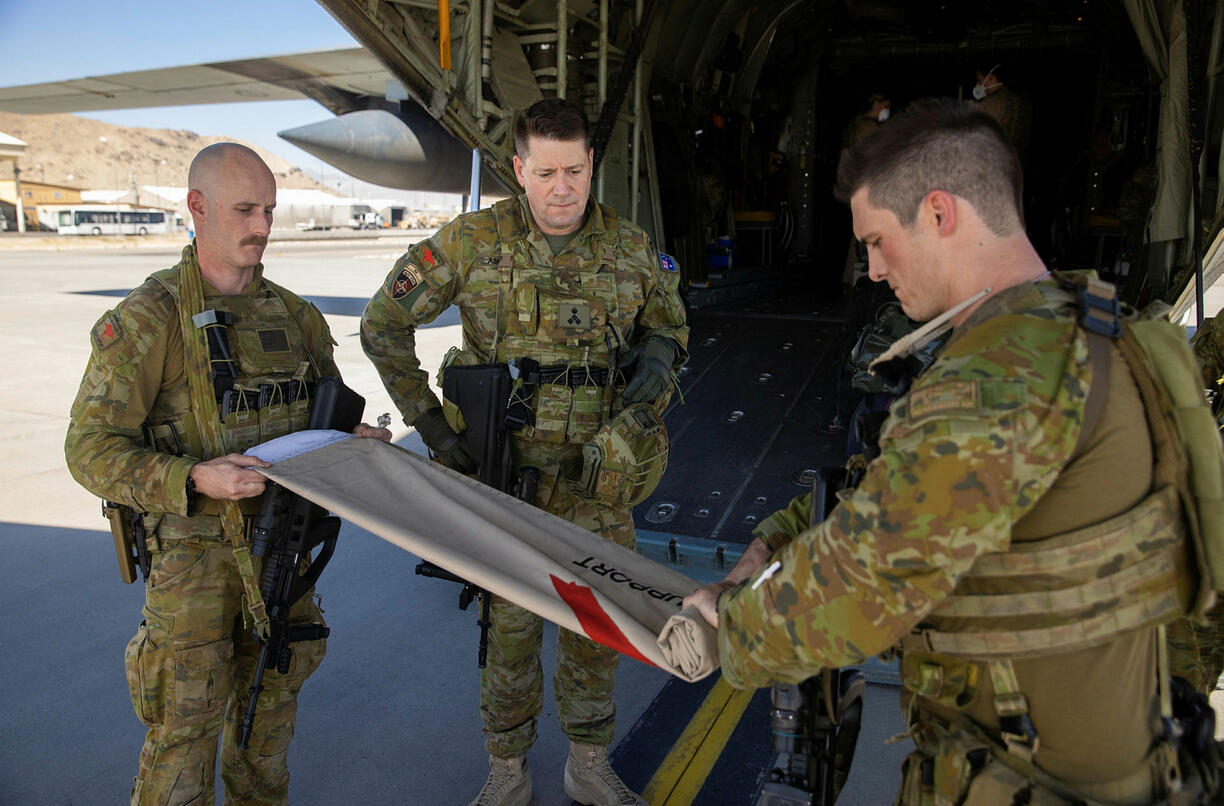 Pictured Above: Members of Task Group Afghanistan, watched on by Commander Task Group Afghanistan Brigadier Todd Ashurst, CSC (centre) fold the Task Group Afghanistan flag prior to boarding a Royal Australian Air Force C-130J Hercules aircraft at Hamid Karzai International Airport for the final departure of Australian Defence Force personnel from Afghanistan.
The flight extracted Australian Defence Force personnel from Task Group Afghanistan, four Up-Armoured Special Utility Vehicles and the final two pallets of equipment belonging to the Australian Embassy Kabul.
Images and Article Courtesy of Defence