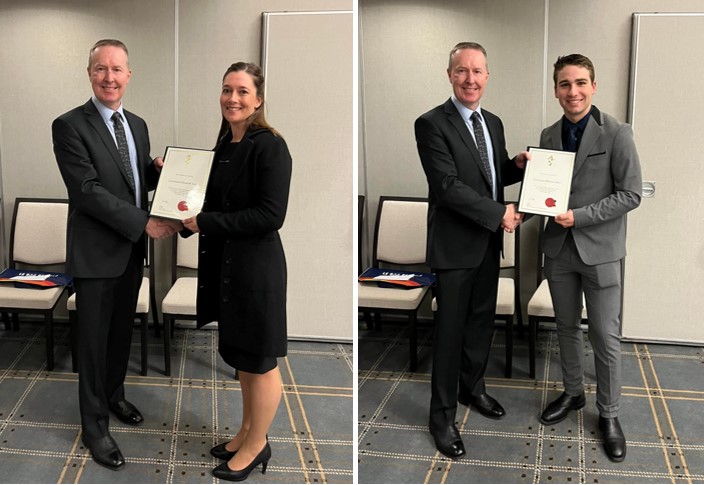 Pictured Above; BRIG James Allen welcomes two of the new seven LT to the Corps.
On 20 June 2022 we welcomed the newest lieutenants to the ADF. A huge thank you to those that were able to make it to the lanyard parade. A massive privilege to have the HOC present the members with their lanyards a the Royal Canberra Golf Club.
The seven LTs will be in your locations within the next month, please show them what our Esprit de Corps is all about.
Congratulations to you all, enjoy your first years as commanders.
Image and Article Courtesy of Jonas Johnason
Operation Paladin - Golan Heights

Pictured Above: CAPT Jeremy Fetter at the site of the battle of Valley of Tears in the Golan Heights.
Deployed in the Golan Heights on Operation Paladin, Australian Army officer Captain Jeremy Fetter is a United Nations Military Observer. The operation is the ADF's contribution to the UN Trace Supervision Organisation monitoring the 1974 Agreement on Disengagement between Israel and Syria.
The ADF commitment assists the UN in implementing its mandate to supervise the truce agreed to in 1948 at the conclusion of the first Arab/Israeli War. Operation PALADIN also assists in other United Nations peacekeeping operations in the region.
The Australian contingent is employed in a variety of roles, including as staff officers in the UNTSO Headquarters in Jerusalem and as military observers who supervise, observe and report on the various cease-fire arrangements, truces and peace treaties that have been negotiated between Israel and neighbouring Arab nations.

The ADF currently contributes 12 personnel to Operation PALADIN.
Images and Article Courtesy of Defence