This month marks a significant milestone in operations in Vietnam with the arrival of Centurion tanks in Vietnam. In February 1968, the first Centurion tanks of Australia's C Squadron, 1st Armoured Regiment, came ashore at South Vietnam's Phuc Tuy Province to join the Task Force based at Nui Dat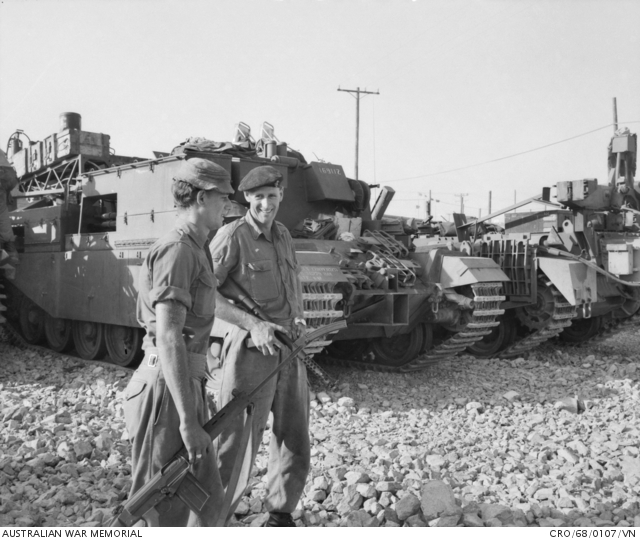 Pictured Above: 1411121 Craftsman (Cfn) Gary Gordon Johnston (left in bush hat), of Wynnum, Qld, and 53588 Sergeant (Sgt) Edward Hugh (Eddie) Naughton (right in beret), of Puckapunyal, Vic, both members of the 1st Armoured Squadron Workshop. They are walking past a newly arrived Centurion armoured recovery vehicle (ARV) Mk II (left) and a Centurion bridge layer, minus the bridge (right), at the 1st Australian Logistic Support Group (1ALSG) base, Vung Tau. These vehicles were delivered to Vung Tau by the Australian army vessel (AV-1356) Clive Steele (formerly the American vessel LSM-547) on 12 February 1968. Cfn Johnston is armed with an L1A1 SLR and Sgt Naughton is armed with an F1 SMG. (information supplied by AWM)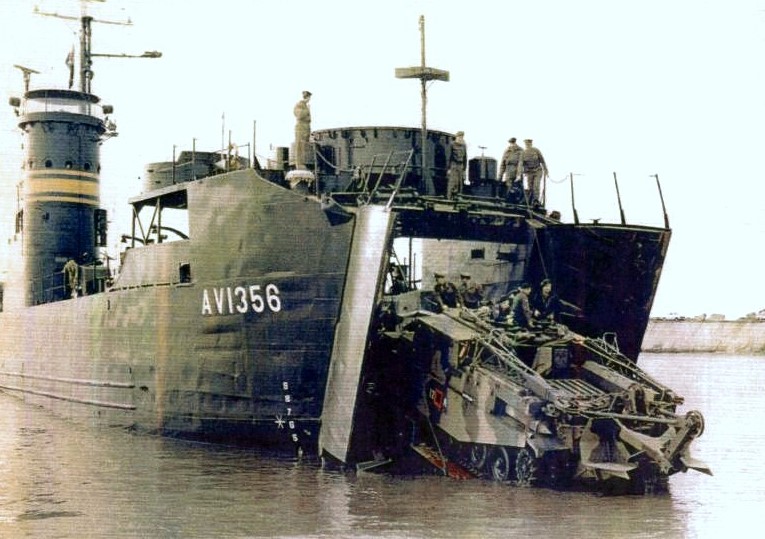 Pictured Above: LSM Clive Steel disembarking a Centurion ARV Callsign 17A - Date and location unknown.(Possibly Stockton NSW. The Clive Steele was doing sea trials from Melbourne to Stockton 1963 / 1964).
This year marks the 53rd Anniversary of the 1st Independent Armoured Squadron Workshop RAEME, and 1st Armoured Squadron Workshop RAEME.
On the 29th January 1968, the Workshop Main Body left Sydney Airport by plane to go to Vietnam to Repair and Recover the first Australian Centurion Tanks to go to Vietnam. We arrived at Nui Dat in Vietnam on the 30th January 1968.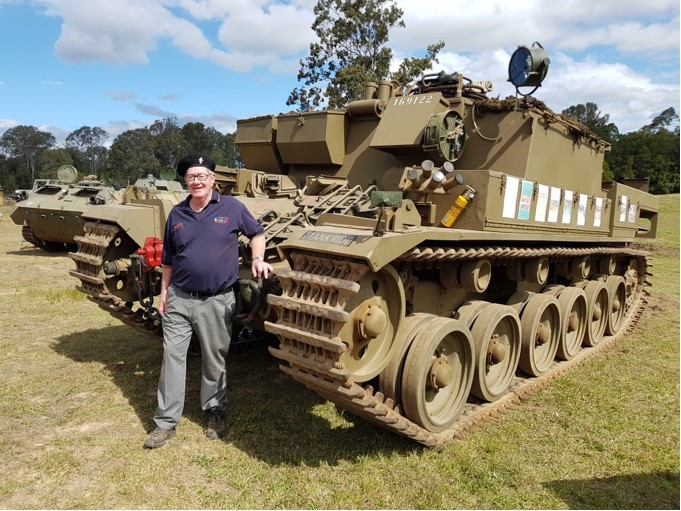 Pictured Above: Des Kearton. Centurion ARV 169122, which he was a Craftsman Vehicle Mechanic on the first Centurion Tank Operation, Pinarroo, in March 1968 in Vietnam. In September 2020, Tim Wood of Tank Ride (Tamborine QLD) drove the ARV, 169122, with Des on the back of the ARV. The ARV has had a complete overhaul, and is ready to go to war again.
On 12 February 1968, the LSM CLIVE STEELE docked in Vung Tau, Vietnam, with two Centurion ARVs (ARV 169122, 38B, and 169112, 38D) and two Centurion Bridgelayers (115542, 92D, and 115544, 92C). They were amongst the first Centurion tanks to arrive in Vietnam.
On the 3rd February 1968, the unit changed its name to 1st Armoured Squadron Workshop RAEME and then on the 1st November 1968, our unit was disbanded to then form 106 Field Workshop RAEME.
Des' motto - WE KEPT THEM ON TRACK.
Image and information supplied by Des Kearton