NQ OFFR/SNCO and RAQ Cocktail Party - Townsville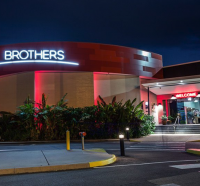 From 18.06.2021 18:45 until 18.06.2021 23:45
---
G'day All,
I'd like to let everyone know the Nth Qld SNCO/OFFR and ex-serving RAEME members cocktail party tickets are available for purchase
When: Friday 18 Jun 21 from 1845 – 2345h.
Where: Brothers Leagues Club Townsville, Golf Links Drive, Kirwan QLD.
Who: All RAEME ARA, ARES and RAQ members including partners are invited.
Dress: Cocktail Party/After 5, please dress accordingly.
Cost: $50 per person, including a selection of hot and cold canapés.
Tickets: Must be purchased through trybooking. https://www.trybooking.com/BRQTK
There will be NO tickets available at the door. Ticket sales close on 14 Jun 21, unless sold out earlier.
The occasion will bring together past and present members of the Corps in a relaxed environment, we look forward to your attendance.
Regards
Aaron Writer
Any questions please drop an email to This email address is being protected from spambots. You need JavaScript enabled to view it.