The purpose of the Royal Australian Electrical and Mechanical Engineers (RAEME) Association Queensland is to promote and reinforce the spirit, reputation, image and competencies of the Corps through its past, present and future members.
The goals of the Association are to:
Promote the Corps' identity and reputation in Queensland

Recognise and celebrate achievements of members of the Corps in Queensland

Provide a focal point for Corps activities in Queensland
The role of the RAEME is to ensure maximum operational availability of equipment to enable the commander to win the land battle. RAEME is a technical corps tasked with the maintenance of the Army's modern hardware and equipment. More on the Corps can be found at this link.
This site has been developed as a communication tool for RAEME members in Queensland. All attempts have been made to ensure the accuracy of the information supplied. If any errors or broken links are found, or if you have any item or article for inclusion on these pages, please contact the webmaster.
RAQ Subscriptions
Annual subscriptions to the RAQ are due by 30 June each year. Subscriptions can be paid using either PayPal (fee free) or EFT by clicking the Icon below and logging in. Renew your subscription for $10 a year or upgrade to Life Subscription for $100.
New members please use the 'Online Registration' link under the Membership banner. All proceeds are used to support and promote the goals of the Association.
Latest News - Next Monthly Meeting to be held on Wednesday 5th Ferbuary 2020 @ Kedron Wavell Services Club
Meetings are held on the first Wednesday of each month (unless otherwise indicated) Start time of the meeting is 1730. See the 'Events' under Notices or Upcoming Events top left for more details.
---
Operation Spanner Pack 2020 - Update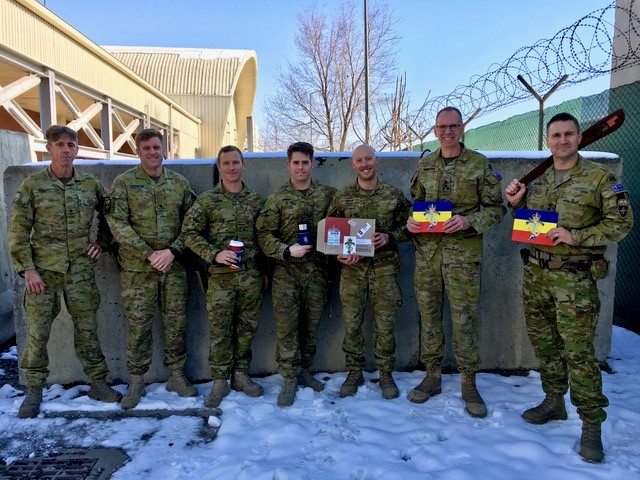 Pictured Above: L to R: MAJ Cam Willett, MAJ Pete Knowles, CFN Ben Meres, CPL Cameron Irwin, CFN Corey Ryan, BRIG Ed Smeaton, LTCOL Will Viggers
RAEME Corps personnel (spanners) currently deployed on OP HIGHROAD in Afghanistan were treated to 'Corps' care packages this Christmas/ New Year season and gathered for a quick photo to show our appreciation for the thoughtful gifts and food that we received.
Packets of Arnott's biscuits, lollies, Minties, and more were accompanied by some great RAEME Corps paraphernalia which is now proudly on display in workspaces across the country, showing pride in our Corps to both our Australian and our international colleagues.
We wish to express their sincere thanks for the packs and our thoughts are with all our families affected by and serving the communities affected by the terrible fires throughout our homeland. Take care, arte et marte.
BRIG Ed Smeaton
---
Craftsman Of The Year Awards - North Queensland
Congratulations go to two very fine Craftsman, winning the National and Queensland Awards.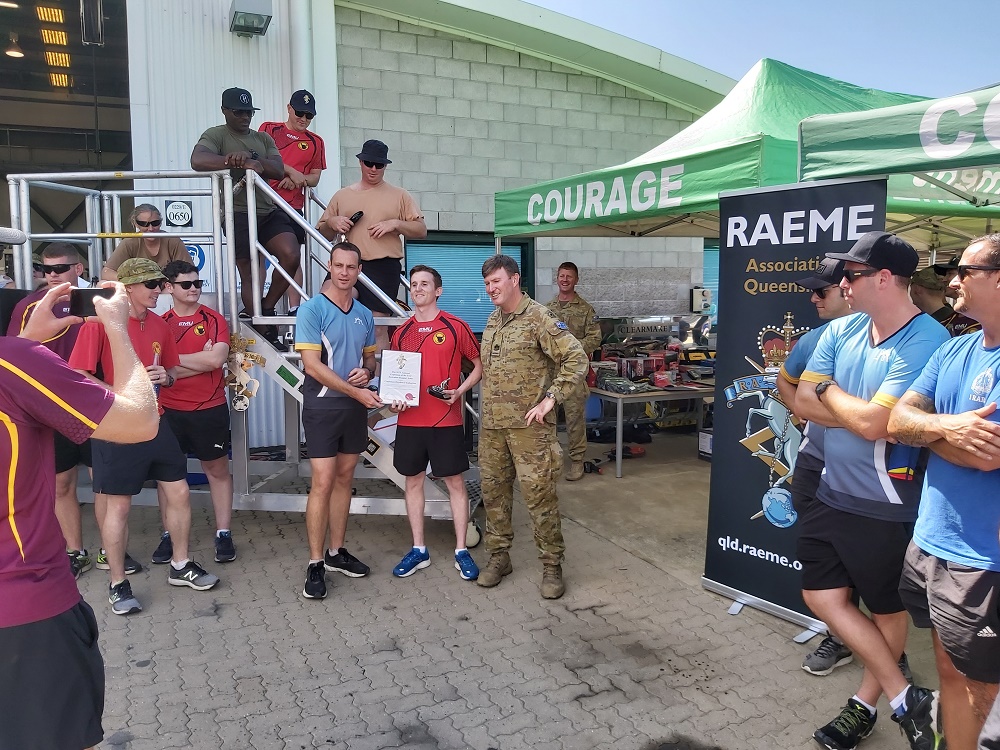 Pictured Above: L-R MAJ King (OC 102 Fd Wksp), CFN Hayden O'Callaghan 10 FSB (National CFN of the Year), WO1 Aaron Writer (3 Bde EME)
Pictured Above: L-R MAJ King (OC 102 Fd Wksp), LCPL Connor Sanders 3 CSR (QLD CFN of the Year), WO1 Aaron Writer (3 Bde EME), WO2 Chris McCulloch (ASM 3 CSR)
On behalf of the RAQ, Congratulations to both Award recipients.
Things were pretty low as FSE 11 WKSP analysed RAAF Moustache standards, Dress standards , Australian standards and the bigger questions in life such as what is the acceptable length of PD shorts in the Middle East
Most delicacies were inhaled in the first five minutes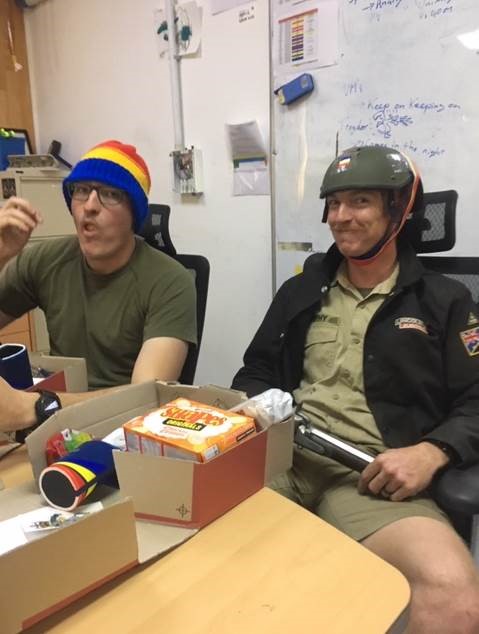 CPL Spokes and the Sherriff kept an eye on proceedings and stood ready to administer CPR
7CSSB Soldier of the Year 2019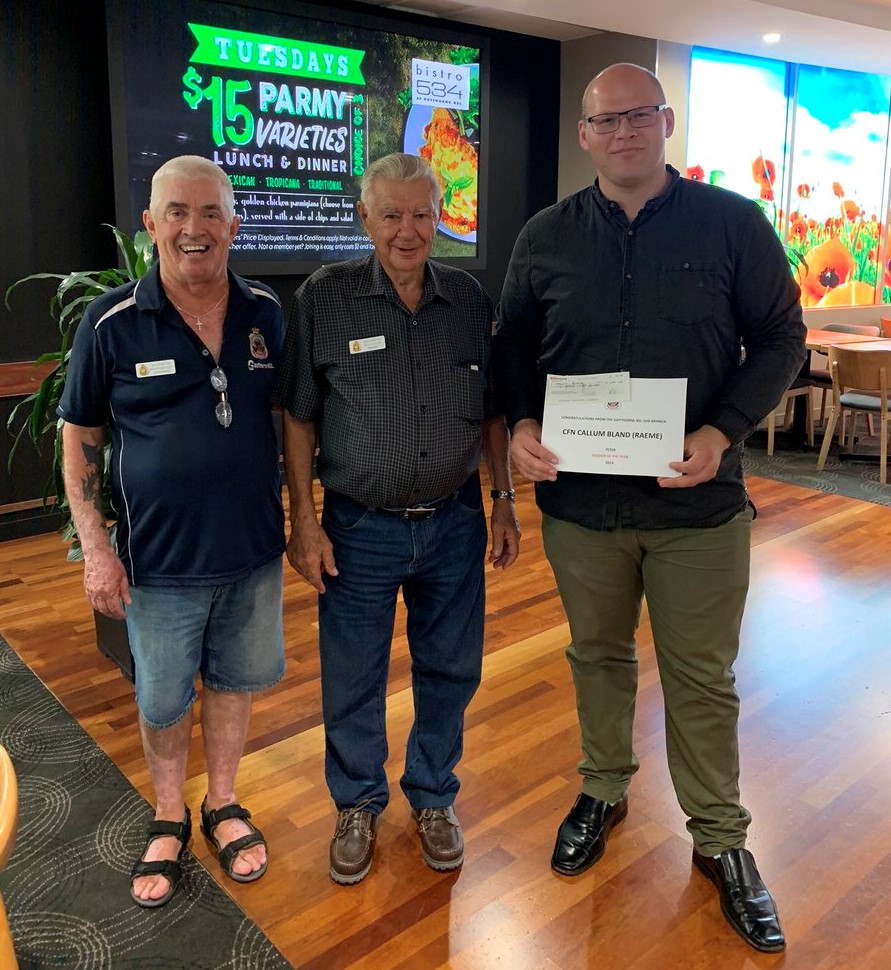 Pictured Above: Congratulations to Soldier of the Year 2019, CFN Callum Bland, who was presented his award recently, generously donated by the Gaythorne RSL.
SE QLD Craftsman of the Year - CFN Gavin Kermode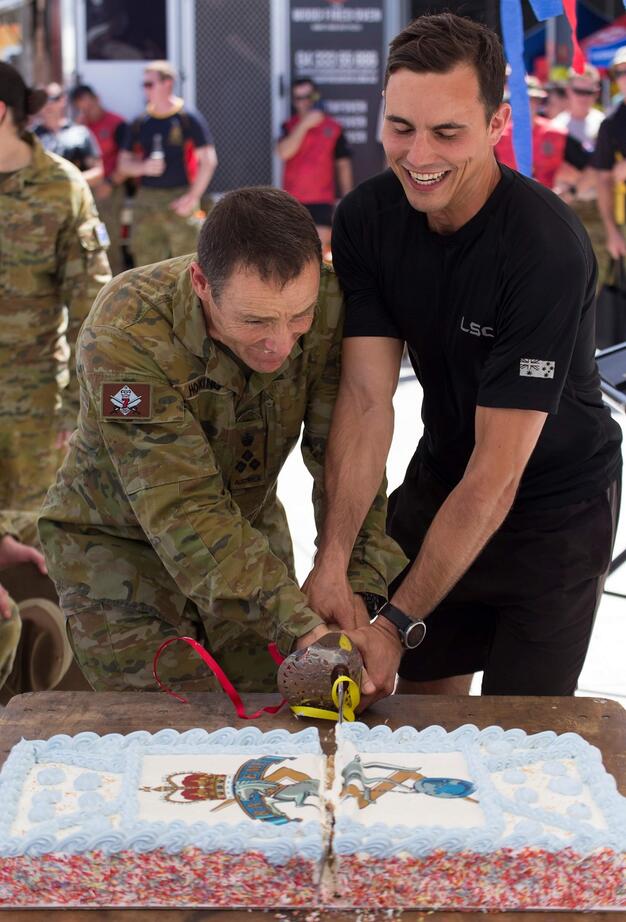 Pictured Above: Congratulations to CFN Gavin Kermode, 2GHB, pictured above cutting the RAEME Birthday Cake with the 7 BDE COMD, BRIG Andrew Hocking.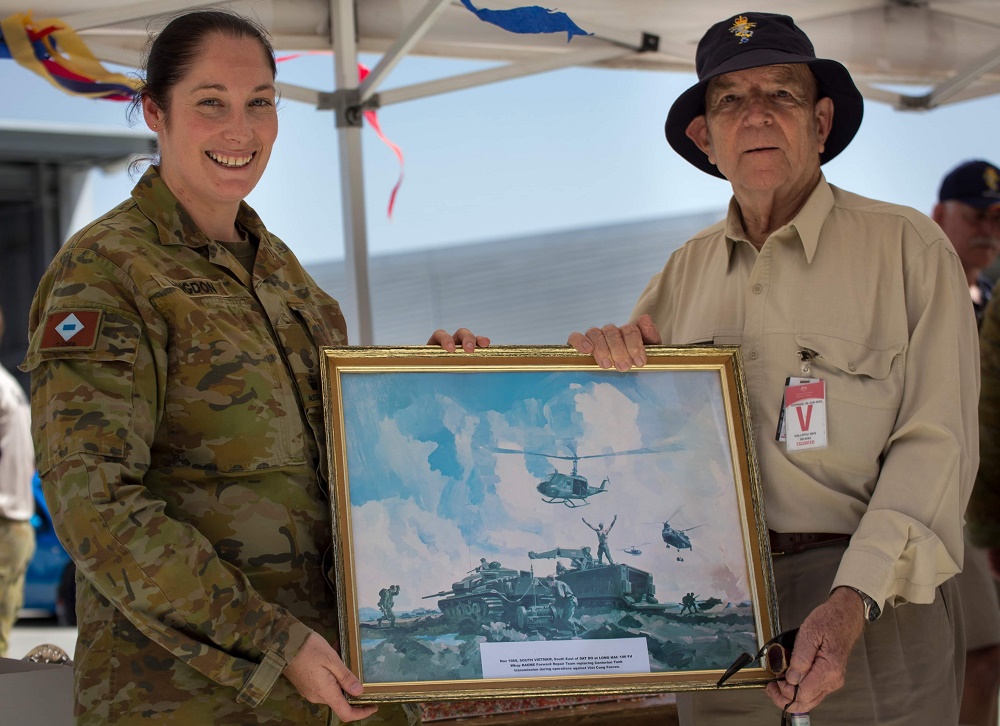 Pictured Above: MAJ Angela Langdon OC 106 FD WKSP with LTCOL Claude Palmer (retd), former OC 106 FD WKSP pictured together with a copy of the Corps Painting, 2 Dec 2019.
106 FD WKSP - MAJ Norm Hicks-Hall Award Winner
Congratulations to CFN Brendan Devine, who is the recipient of this year's Award. Brendan was chosen from amongst his peers, for his outstanding performance and efforts in 2019. We congratulate Brendan, who will receive a plaque and $400 gift voucher.
Award History
Major W.I.N.S. (Norm) Hicks-Hall was the inaugural Officer Commanding 106 Fd Wksp RAEME when it was established at Nui Dat, South Vietnam, in 1968.
Trish, Norm's wife, gifted funds to establish "... an award as an incentive to a young tradesman of 106..." as this is what Norm would have wanted and it would be a lasting memorial to him. Provided a suitable candidate is identified, the Award will usually be presented each year as part of RAEME Birthday celebrations.
To view the history of the Award go to the 106 FD WKSP Website