The purpose of the Royal Australian Electrical and Mechanical Engineers (RAEME) Association Queensland is to promote and reinforce the spirit, reputation, image and competencies of the Corps through its past, present and future members.
The goals of the Association are to:
Promote the Corps' identity and reputation in Queensland

Recognise and celebrate achievements of members of the Corps in Queensland

Provide a focal point for Corps activities in Queensland
The role of the RAEME is to ensure maximum operational availability of equipment to enable the commander to win the land battle. RAEME is a technical corps tasked with the maintenance of the Army's modern hardware and equipment. More on the Corps can be found at this link.
This site has been developed as a communication tool for RAEME members in Queensland. All attempts have been made to ensure the accuracy of the information supplied. If any errors or broken links are found, or if you have any item or article for inclusion on these pages, please contact the webmaster.
Chairmans Christmas Message
To all RAEME Soldiers and Officers, your families and those who stand by our sides.
2017 has been an amazing year to remember. The Association in conjunction with the Corps has commemorated what has been the most outstanding year in our history. In Queensland, we celebrated with a number of events and highlighted many more around the country. Ending with the Corps Parade and Function at the Australian War Memorial in Canberra, attended by units and members from across our great country
Whether its fixing a gun, a radio, an aircraft, or a tank, the commitment of the members of our Corps who work day and night to ensure our Army has the tools and equipment it needs. Ensures any commander in the field can operate in all conditions, knowing they can fight and win a land battle.
The success of our association and the strength of our Esprit de Corps is because of those current and former serving members, who attend a function, support our troops and continue our long held traditions in Australia or on deployment overseas. To you all I say thank you.
On behalf of the the committee of the RAEME Association Queensland, I would particularly like to thank our membership and their family's for the wonderful support throughout RAEME's 75th Anniversary year. Please take care, step up and offer your support to those who may need it and be thankful for our wonderful Australia and those who serve to protect it and ourselves.
I wish all those that serve and who have served in our great Corps, I hope you enjoy a very happy New Year. I look forward to 2018, and enjoying many more moments of our history together.
Jeff Maurice
Arte et Marte
RAQ Subscriptions
Annual subscriptions to the RAQ are due by 30 June each year. Subscriptions can be paid using either PayPal (fee free) or EFT by clicking the Icon below and logging in. Renew your subscription for $10 a year or upgrade to Life Subscription for $100.
New members please use the 'Online Registration' link under the Membership banner. All proceeds are used to support and promote the goals of the Association.
Latest News - Next Monthly Meeting to be held on Wednesday 7th February 2018 @ Kedron Wavell Services Club
Meetings are held on the first Wednesday of each month (unless otherwise indicated) Start time of the meeting is 1730. See the 'Events' under Notices or Upcoming Events top left for more details.
2017 - 75th Corps Anniversary Celebrations
O

n 1st of December 1942 the order declaring the creation of "AEME" was raised. In 1948 the dedicated performance of the AEME tradesman during WW2 was recognised by His Majesty King George VI when he granted the Corps the title "The Royal Corps of Electrical and Mechanical Engineers"
Canberra 1st December 2017
The Corps turned out in style to celebrate our 75th Anniversary with a formal guard and banner parade at the Australian War Memorial. The threat of rain didn't dampen the enthusiasm or spirits of the participants and spectators. The guard was made up of soldiers from across RAEME including ASEME and Aviation elements.

The RAEME Corps Banner was proudly marched onto the parade in front of hundreds of men, women and families, past and present. The reviewing officer was Major General Rick Burr, DSC, AM, MVO Deputy Chief of Army.
On behalf of the Australian War Memorial Wing Commander (Ret'd) Sharon Bown provided a rousing welcome speech. I would highly recommend reading this speech and is available by clicking on this link.

With the parade over, the AWM was host to our 75th Birthday Celebrations. Over 230 guests attended the evening, including a number of RAQ Members both serving and retired. The evening can only be described as a rare and once in a lifetime opportunity to celebrate at a formal dinner in the Great Hall under the wings of our most famous World War II Bomber "G" for George.

MC for the evening was our very own RAQ Patron Brigadier Ross Grant (ret'd). Ross welcomed all guests including our new Head of Corps Brigadier Andrew Freeman, along with our official guest Lieutenant General Angus J. Campbell, AO, DSC Chief of Army. General Campbell provided a few insights into his role and his experience with RAEME throughout his career. He stayed on long after the official event allowing many soldiers and officers the opportunity to meet and talk to our Chief.
Our Representative Colonel Commandant Brigadier Dave McGahey CSC (ret'd) received a letter from our Colonel in Chief HRH The Duke Of Edinburgh Royal Australian Electrical and Mechanical Engineers. HRH letter was read out by our Head Of Corps Brigadier Andrew Freeman. It is available to view on the RAEME National site by clicking on this link.
The night was the perfect end to what was an amazing day. What was abundantly clear is the Esprit de Corps is alive and well within our great Corps
Arte et Marte
Limited Edition 75th Anniversary Stubbie Coolers, Polo Shirts, Caps & Bundles now available
All Ranks Luncheon 2017
Over 90 members and guests celebrated our 75th RAEME Birthday at the Port Office Dining Room last Sunday. Among the attendees was our special invited guest Brigadier Ed Smeaton. Brig Smeaton gave us an update on the new vehicles entering service and how RAEME expertise will be at the forefront of maintaining the most modern fleet in our history.

Great news also and thanks to our three"official unofficial" photographers Barry Shipway, Ewan Mcleod and John Parfitt, we are starting to populate photos of the day available for viewing on our website. To view all the images click here.
Plan Centaur
Addressing maintenance constraints within the Armoured Cavalry Regiments (ACR) is the initial focus of Plan Centaur – the most comprehensive and significant improvement program in 30 years to consider the way RAEME may deliver maintenance to Army in the future.

Following on from the success of Phase 3 Stage 1 of Plan CENTAUR, Stage 2 commenced in late August, comprising eight projects designed to deliver lasting maintenance improvements.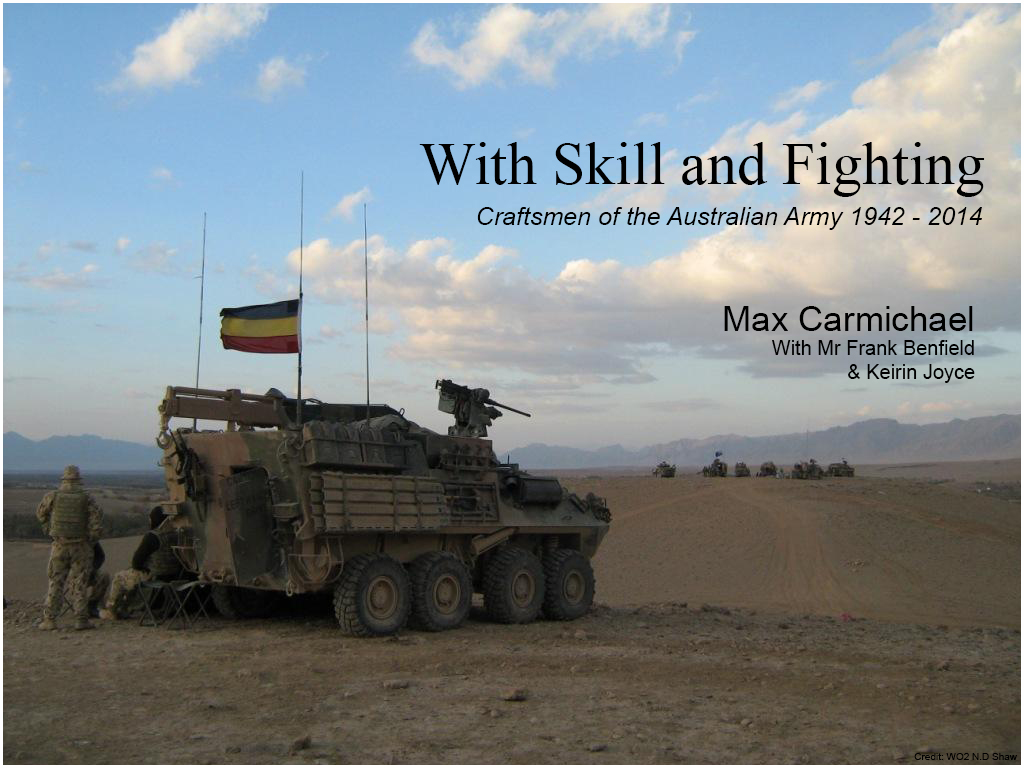 HOW TO BUY THE CORPS HISTORY BOOK – 'WITH SKILL AND FIGHTING: CRAFTSMEN OF THE AUSTRALIAN ARMY 1942-2014'
For those yet to buy the Corps History book, here is a great gift for a friend in our 75th Anniversary year. The HOC Cell, Bonegilla, still has a reasonable quantity of hard cover (HC) versions available, at $80.00 a copy. The SO2 Corps Capability, MAJ Perri Hobbs, and his small team are managing sales, so the best way to secure a copy, before they run out in our 75th Anniversary year, is to go to: