The purpose of the Royal Australian Electrical and Mechanical Engineers (RAEME) Association Queensland is to promote and reinforce the spirit, reputation, image and competencies of the Corps through its past, present and future members.
The goals of the Association are to:
Promote the Corps' identity and reputation in Queensland

Recognise and celebrate achievements of members of the Corps in Queensland

Provide a focal point for Corps activities in Queensland
The role of the RAEME is to ensure maximum operational availability of equipment to enable the commander to win the land battle. RAEME is a technical corps tasked with the maintenance of the Army's modern hardware and equipment. More on the Corps can be found at this link.
This site has been developed as a communication tool for RAEME members in Queensland. All attempts have been made to ensure the accuracy of the information supplied. If any errors or broken links are found, or if you have any item or article for inclusion on these pages, please contact the webmaster.
RAQ Subscriptions
Annual subscriptions to the RAQ are due by 30 June each year. Subscriptions can be paid using either PayPal (fee free) or EFT by clicking the Icon below and logging in. Renew your subscription for $10 a year or upgrade to Life Subscription for $100.
New members please use the 'Online Registration' link under the Membership banner. All proceeds are used to support and promote the goals of the Association.
Latest News - Next Monthly Meeting to be held on Wednesday 4th March 2020 @ Kedron Wavell Services Club
Meetings are held on the first Wednesday of each month (unless otherwise indicated) Start time of the meeting is 1730. See the 'Events' under Notices or Upcoming Events top left for more details.
---
106 Gains New Logo
MAJ Angela Langdon OC 106 FD WKSP explains, "We recently changed our Coy logo to pay homage to 106 Fd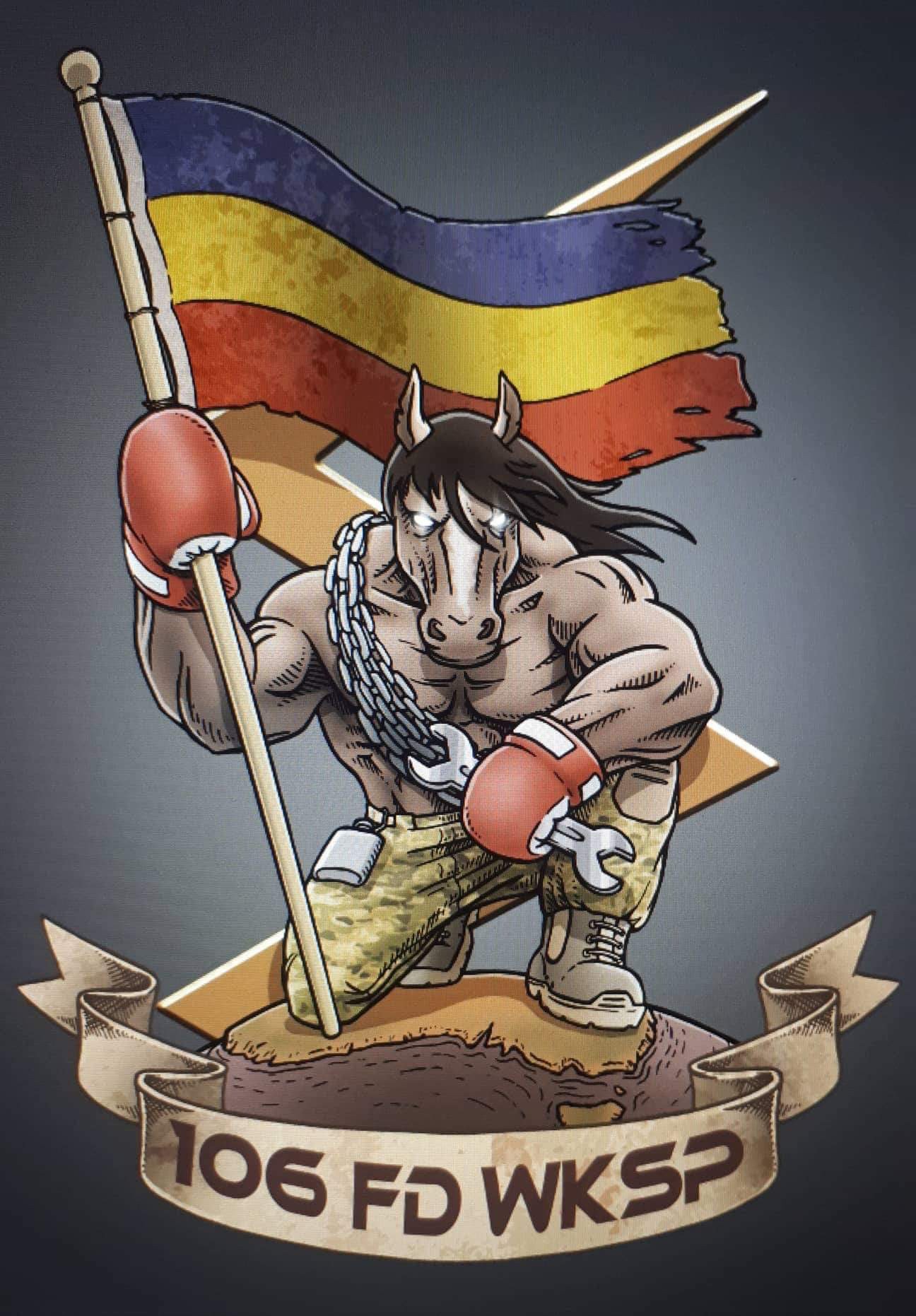 Wksp history dating back to Vietnam and to update the design for a modern twist in 2020."
"The boxing gloves represent our motto 'The Punch Behind the Task Force Fist' (which we have also updated to 'The Punch Behind the 7th Brigade Fist'). We've also maintained quintessential Harry elements; whilst incorporating some ideas from members of 106 Wksp."
The new logo was designed by Codey Anderson from 6RAR, who began his career in illustration and 3D animation within the gaming industry. As an artist and illustrator, he has produced artworks across to world and is internationally recognised. Codey regularly donates his comic strips to the humour section of the Australian Army newspaper.
He uses many different mediums, such as clay, acrylics, and conventional pencil and charcoal. I believe that working in a single medium is restrictive to my artistic process. Each idea manifests in its own individual style. More of his work can be seen at Codeys_art on facebook and Instagram.
---
Operation Spanner Pack 2020 - Update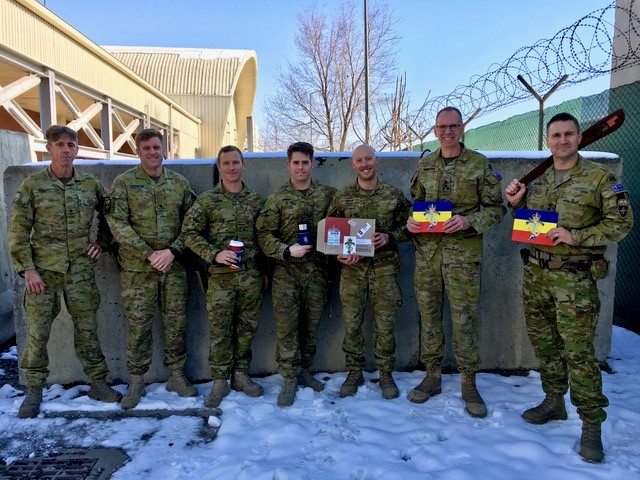 Pictured Above: L to R: MAJ Cam Willett, MAJ Pete Knowles, CFN Ben Meres, CPL Cameron Irwin, CFN Corey Ryan, BRIG Ed Smeaton, LTCOL Will Viggers
RAEME Corps personnel (spanners) currently deployed on OP HIGHROAD in Afghanistan were treated to 'Corps' care packages this Christmas/ New Year season and gathered for a quick photo to show our appreciation for the thoughtful gifts and food that we received.
Packets of Arnott's biscuits, lollies, Minties, and more were accompanied by some great RAEME Corps paraphernalia which is now proudly on display in workspaces across the country, showing pride in our Corps to both our Australian and our international colleagues.
We wish to express their sincere thanks for the packs and our thoughts are with all our families affected by and serving the communities affected by the terrible fires throughout our homeland. Take care, arte et marte.
BRIG Ed Smeaton
---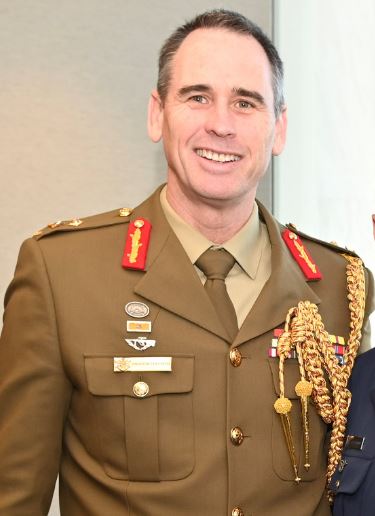 MEMBER (AM) IN THE MILITARY DIVISION OF THE ORDER OF AUSTRALIA
Major General Andrew William FREEMAN, ACT
For exceptional service to the Australian Defence Force as Commander 17th Brigade, Director General Land Operations, and Director Logistics - Army. Major General Freeman has made an exceptional contribution to Army and the Australian Defence Force across multiple staff and command appointments, at both the operational and strategic levels. His energetic leadership, outstanding ability to build relationships, and his drive for reform and innovation have achieved enduring results for Army. Through determination, dynamic engagement and broad vision, Major General Freeman has made a substantial and extremely positive contribution to the future of Army's logistics, health and maintenance capabilities.
Pictured Above: Chief of Army, Lieutenant General Rick Burr, AO, DSC, MVO (left), speaks with Captain John Land from the Australian Army History Unit (right) at Army Innovation Day 2018.
MEDAL (OAM) OF THE ORDER OF AUSTRALIA IN THE MILITARY DIVISION
Captain John Thomas LAND, NSW
For meritorious service as the Army Conservator, Australian Army History Unit, in support of the protection of Army's heritage. Captain Land has provided specialist conservation support and training to over two hundred Army, Royal Australian Air Force and Australian War Memorial Museum staff and volunteers needed to protect Defence heritage artefacts. His conspicuous achievements over decades of devoted service have highlighted his outstanding professionalism and his dedication to preserving Army's heritage.
Interesting both recipients are former Army Apprentices, MAJGEN Freeman 40th Class (Elec Fit) and CAPT Thomas 24th Class (F&T).
The RAQ Congratulates both MAJGEN Freeman and Capt Thomas on their awards.
---
Local Legend Award
Local Legends for the Federal seat of Rankin (QLD) are presented each year to those selected from nominations submitted to the Federal Member Dr Jim Chalmers MP.
RAQ Honorary Life Member Gary Sargent was nominated by his State Member for Springwood the Hon Mick de Brenni MP (pictured) for the valuable work Gary does to support veterans and the community as Secretary of the Springwood Tri Service RSL Sub Branch. Gary Sargent was honoured along with 98 people recognised for the work that they do for our community.
Volunteers are a valuable commodity in our communities.
On behalf of the RAQ we congratulate Gary for this Award.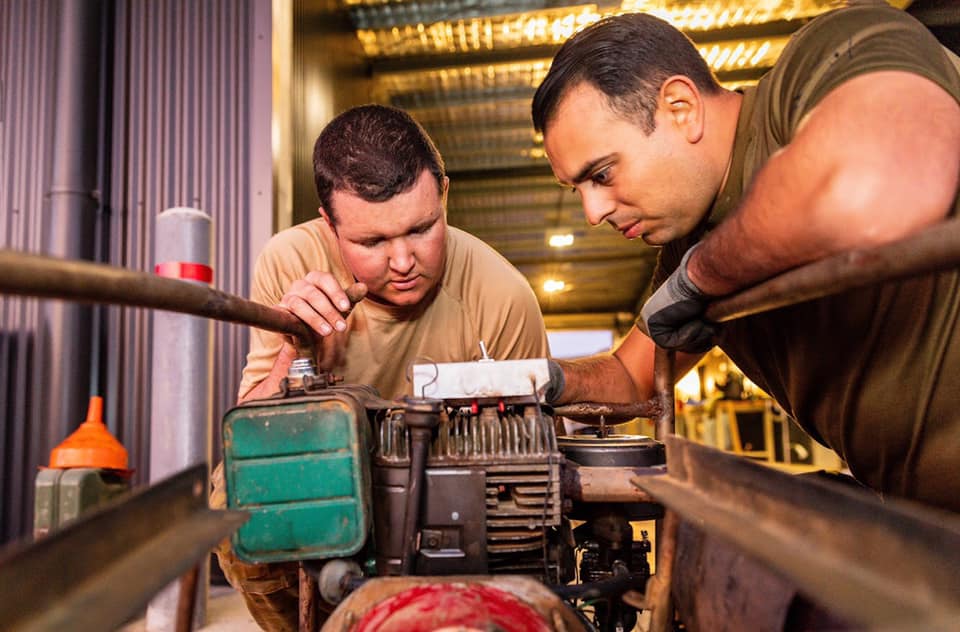 70 chainsaws

2 generators

4 water pumps

90 vehicle repairs

2 vehicle recoveries
This is the number of services and refurbishment the RAEME team from Task Group Dingo have conducted to assist emergency services during #OpBushfireAssist
This is in addition to:
10 chainsaws

2 generators, and

20 vehicle repairs
For Task Group Equipment.
The RAEME contingent consists of Craftsmen Rene Diaz, Sean O'Connor, Frank Cripps, Dylan Cordingley and Corporal Jake Bull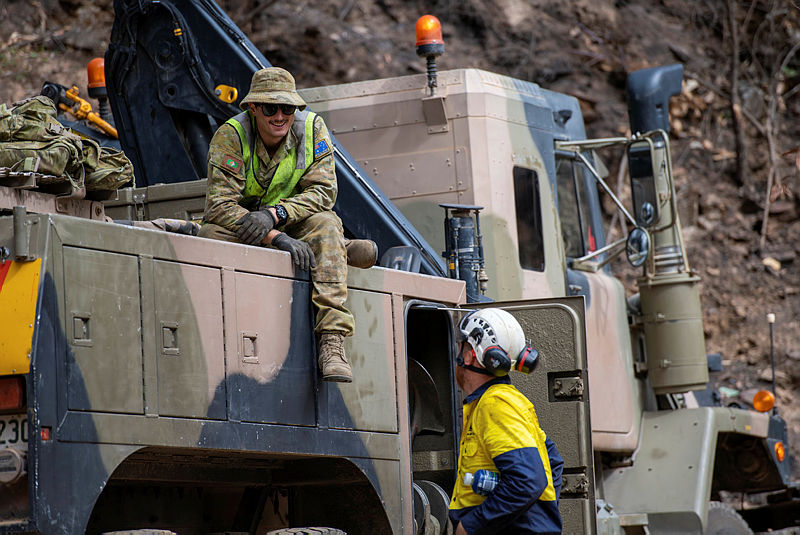 Members from the 2CER have been working with local arborists from Just Trees Australia to clear dead and dangerous trees from bushfire effected areas in the Upper Murray Region, Victoria. With the assistance of the Heavy Recovery Vehicle and its strong winch, the teams are able to safely bring down "killer" trees from difficult and arduous terrain.
Corporal Matthew Richards from the 2CER conducting specialised maintenance on the Husqvarna chainsaws currently being used as part of Operation Bushfire Assist 19-20 in Corryong, Victoria.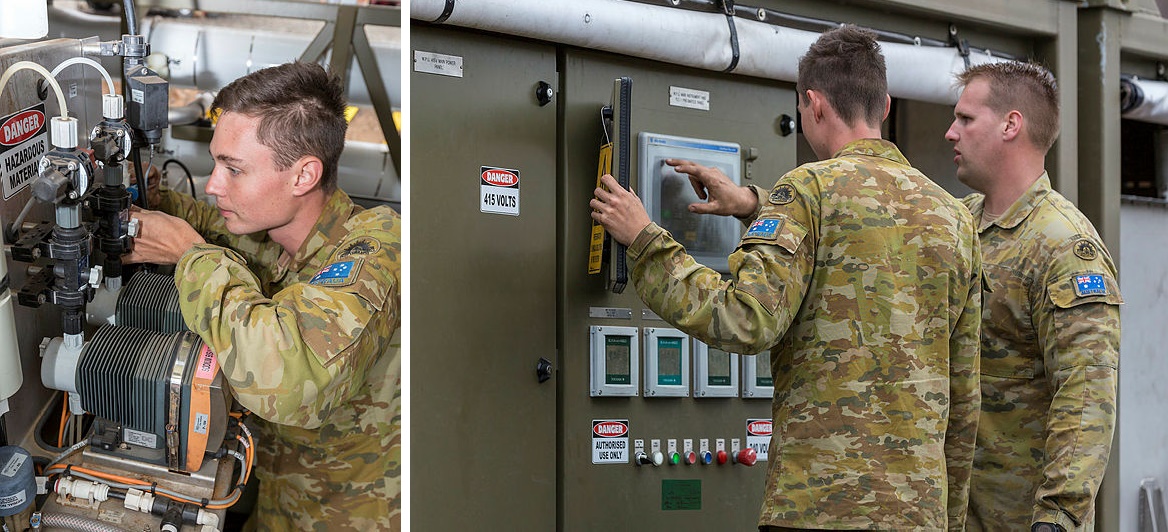 LCPL Mitchell Thoresen (R) and CFN Todd Kitching (L) checks the wiring and start up the Army's Water Purification and Desalination System that will help supplement the Bega Valley Shire's drinking water supplies.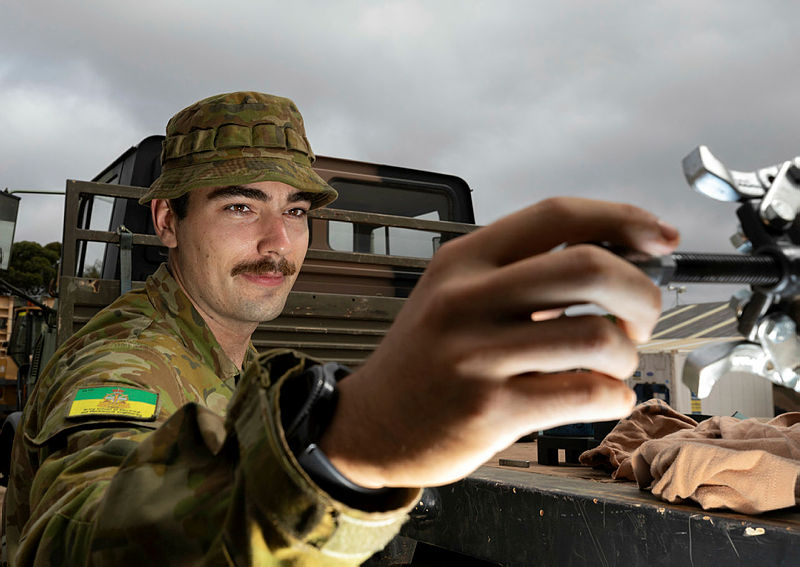 CFN Ryan Silvester from ASEME conducts engine maintenance whilst deployed to Kangaroo Island for Operation Bushfire Assist.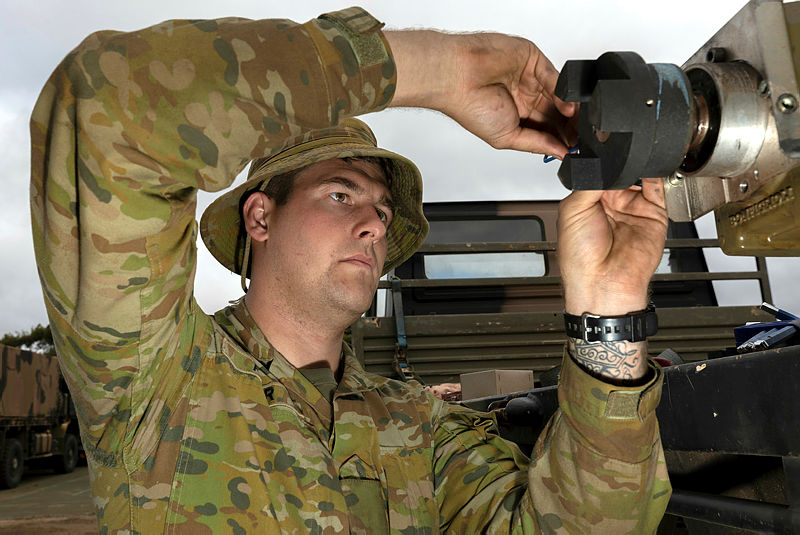 CFN Shaun Fryer from 9CSSB, conducts engine maintenance whilst deployed to Kangaroo Island for Operation Bushfire Assist.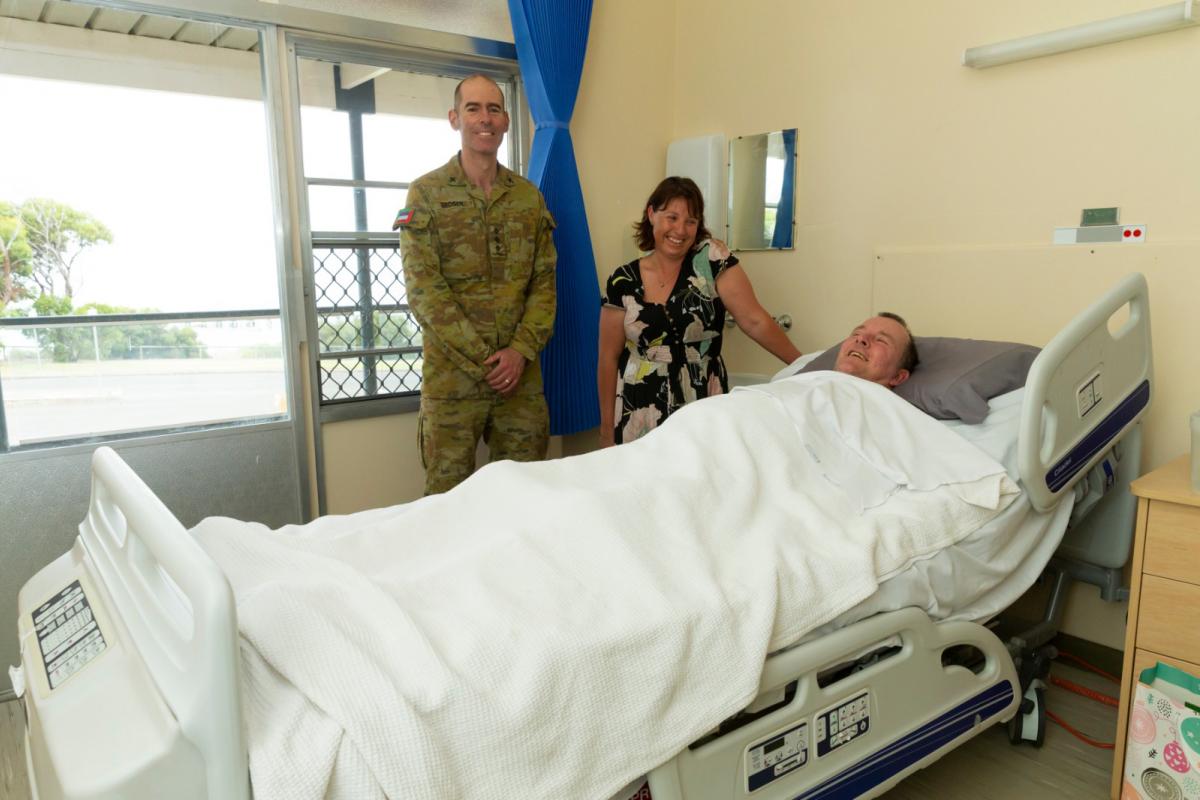 Pictured Above: Chaplain Derek Croser with Jodie Meikle and Steven Childs.
The Army has been thanked for retrieving a hospital patient's bed in the middle of the night during a bushfire crisis on Kangaroo Island, South Australia.
Six Royal Australian Electrical and Mechanical Engineers members, of the 9th Combat Service Support Battalion, carried out the mission for Steven Childs, a 53-year-old farmer and father of two, who is a quadriplegic from an accident.
On January 7, Mr Childs had already relocated to Kingscote Hospital to be a safe distance from the firefront. But his empty farmhouse on the west side of Kangaroo Island was at great risk of being destroyed by an out-of-control bushfire.
Inside his home remained his high-tech medical bed worth about $25,000 that automatically adjusts his body while he sleeps. The bed was only six months old.
If the bed had been destroyed, Mr Childs would have been stranded in a regular hospital bed and returned to a frustrating nightly routine where he would be woken up every two hours so a support worker could roll him on his side so he didn't develop bed sores.
Mr Childs said it could have taken months to get a replacement bed.
Images and Articles Courtesy of Defence