The purpose of the Royal Australian Electrical and Mechanical Engineers (RAEME) Association Queensland is to promote and reinforce the spirit, reputation, image and competencies of the Corps through its past, present and future members.
The goals of the Association are to:
Promote the Corps' identity and reputation in Queensland

Recognise and celebrate achievements of members of the Corps in Queensland

Provide a focal point for Corps activities in Queensland
The role of the RAEME is to ensure maximum operational availability of equipment to enable the commander to win the land battle. RAEME is a technical corps tasked with the maintenance of the Army's modern hardware and equipment. More on the Corps can be found at this link.
This site has been developed as a communication tool for RAEME members in Queensland. All attempts have been made to ensure the accuracy of the information supplied. If any errors or broken links are found, or if you have any item or article for inclusion on these pages, please contact the webmaster.
RAQ Subscriptions
Annual subscriptions to the RAQ are due by 30 June each year. Subscriptions can be paid using either PayPal (fee free) or EFT by clicking the Icon below and logging in. Renew your subscription for $10 a year or upgrade to Life Subscription for $100.
New members please use the 'Online Registration' link under the Membership banner. All proceeds are used to support and promote the goals of the Association.
Latest Update - Events and Meetings
As previously advised regarding Coronavirus in Australia, we are keeping a watch on the events and advice coming from the State and Federal Governments and Health Authorities.
Our usual venue Kedron Wavell Services Club remains only partially open. Electronic meetings will be held until the COVID 19 restrictions are relaxed to the extent where it is feasible to attend a suitable meeting venue, one that will allow 20+ RAQ members.We have slowly expanded the number of attendees over the past several meetings using Microsoft Teams.
The following functions will proceed with attendance caps as per the venue requirements:
NQ - Tiny Mountain Brewery Townsville

Now scheduled for Saturday 11 July 2020 - $25 for RAQ Members, Non-Members $30.

Click on this link

for more information

RAEME Gold Coast Lunch - Mermaid Beach AEME SLSC is still scheduled for Saturday 18 July 2020
RAQ Post Virus Function - Port Office Hotel Brisbane Saturday 1st August 2020 - $20 for RAQ members and up to one guest each, Non-Members $25. Click on this link

for more information

RAEME Reserve/CMF Reunion Sherwood RSL - The organising committee is looking to hold this function possibly in September
Latest details are available on the events page of the website.
Membership & Online Shop
All other web based activities will continue as normal, with online shop items purchased sent out via Australia Post.
The most important thing for all of us right now is put our family and friends first and look out for your neighbours and mates who may not be as well-resourced.
Please keep interacting with your Association with updates available via our website, weekly emails and through our 'Contact Us' page.
Yours Sincerely,

Chairman
---
RAEME In Kabul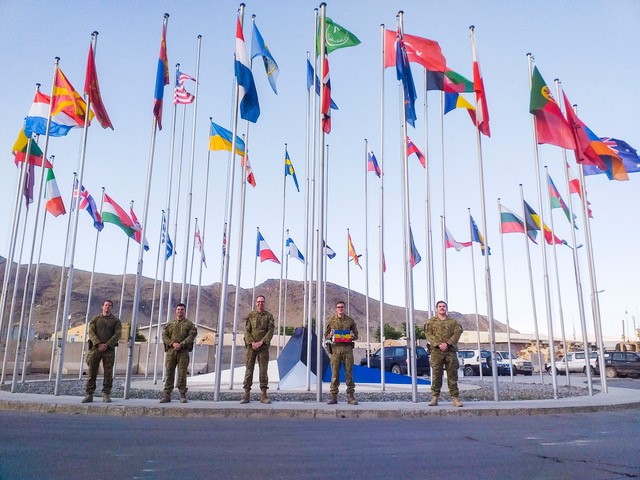 Pictured are the RAEME currently serving in Kabul at the Hamid Karzai International Airport (HKIA); left to right. MAJ Ben Cody, COL Steve Cleggett, BRIG Ed Smeaton, CPL David Seymour, MAJ Jason Squires
Serving in a variety of roles, MAJ Ben Cody will shortly conclude his tour as the J1/4 advisor on the Kabul Garrison Command-Advisor Team 6.
COL Steve Cleggett has recently arrived as the Commander what is now the Kabul Joint Command-Advisor Team 7, responsible for advising an Afghan Operational level HQ providing security within Kabul.
BRIG Ed Smeaton is the Deputy Branch Head Operational Sustainment in the Combined Security Transition Command-Afghanistan (CSTC-A) and also the Commander of Australian Forces in Afghanistan.
CPL David Seymour is the VM attached to the Australian Task Group HQ and is responsible for keeping the fleet of PMVs and Up-armoured SUVs at HKIA on the road.
MAJ Jason Squires works in CSTC-A and provides oversight of a maintenance contract supporting over 100,000 vehicles of the Afghan National Defense and Security Force and for building self-reliance within their integral capability.
---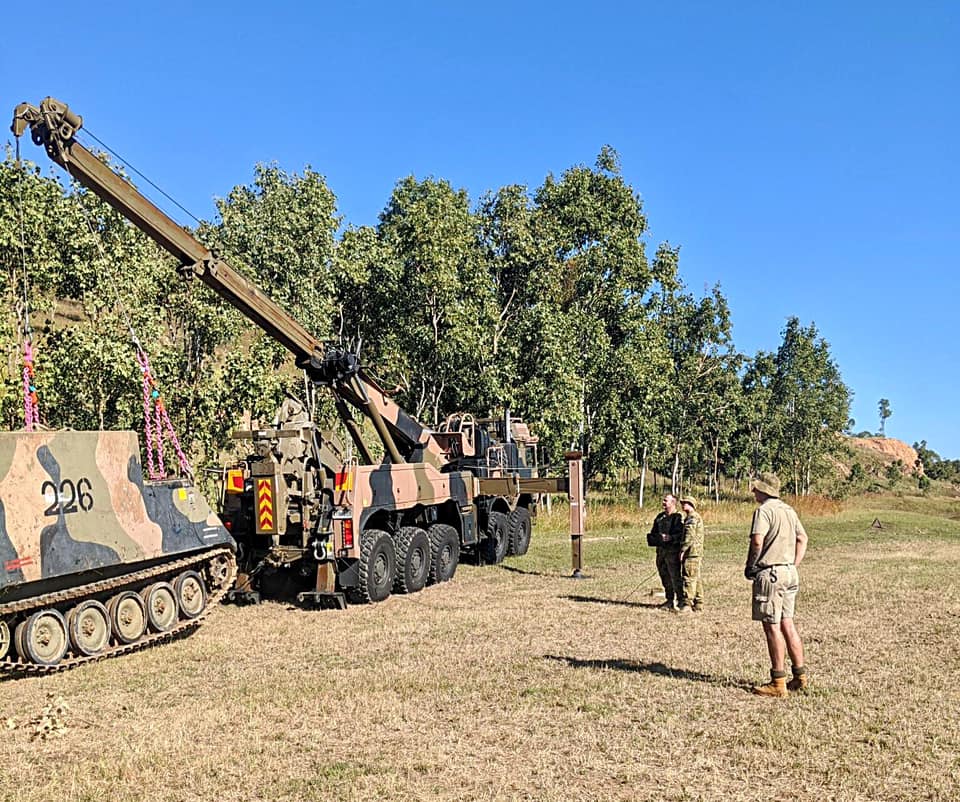 Recovery Mechanics of 102 Field Workshops Coy, 3CSSB, conducted armoured vehicle rollover training as part of the OJE component of the Basic Recovery Course (BRC).
A Recovery Mechanic will spend 6.5 months at Army Logistic Training Centre in Albury Wodonga to complete their BRC, and are then required to complete a workbook while on OJE within 12 months of leaving the school.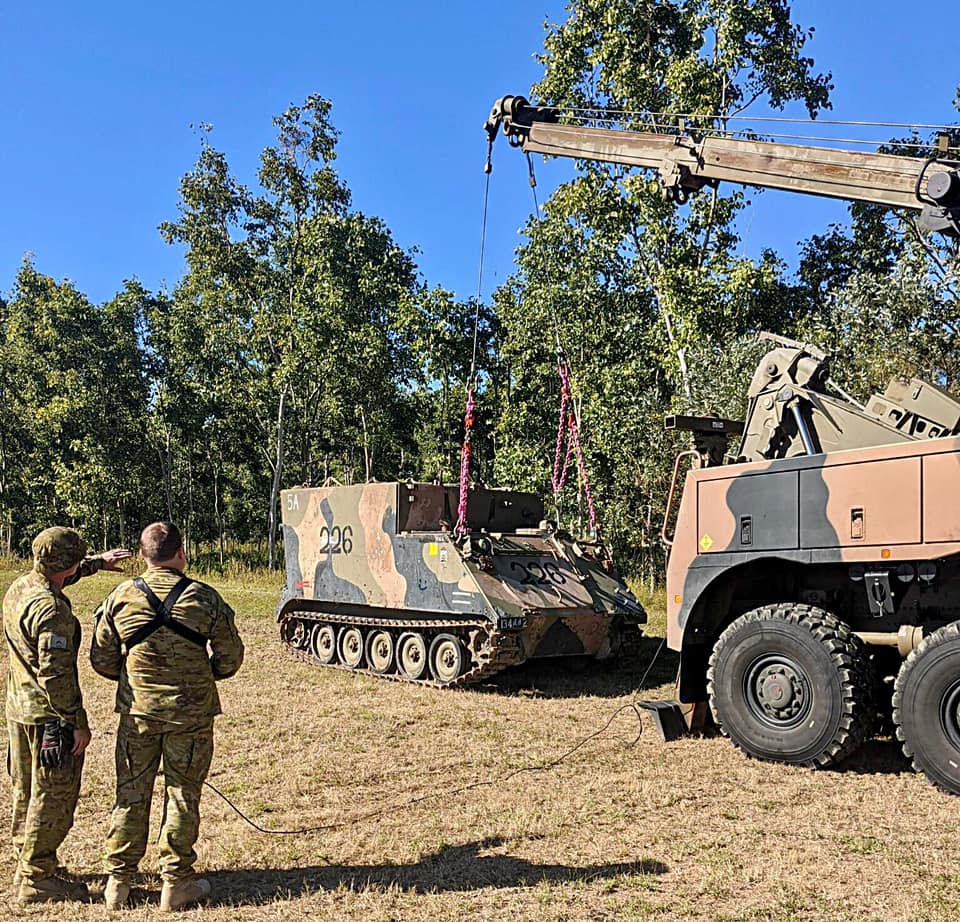 Once fully qualified, Recovery Mechanics provide an invaluable capability to the Brigade in the extraction, back loading and battlefield clearance of military equipment.
Craftsman Ray Biggers arrived in January 2020 at 3 CSSB, and was keen to complete his workbook for OJE as soon as practical.
This scenario was designed to assess his ability to safely and correctly roll the A vehicle training aid, utilising the RMMVA 45M Heavy Recovery Vehicle.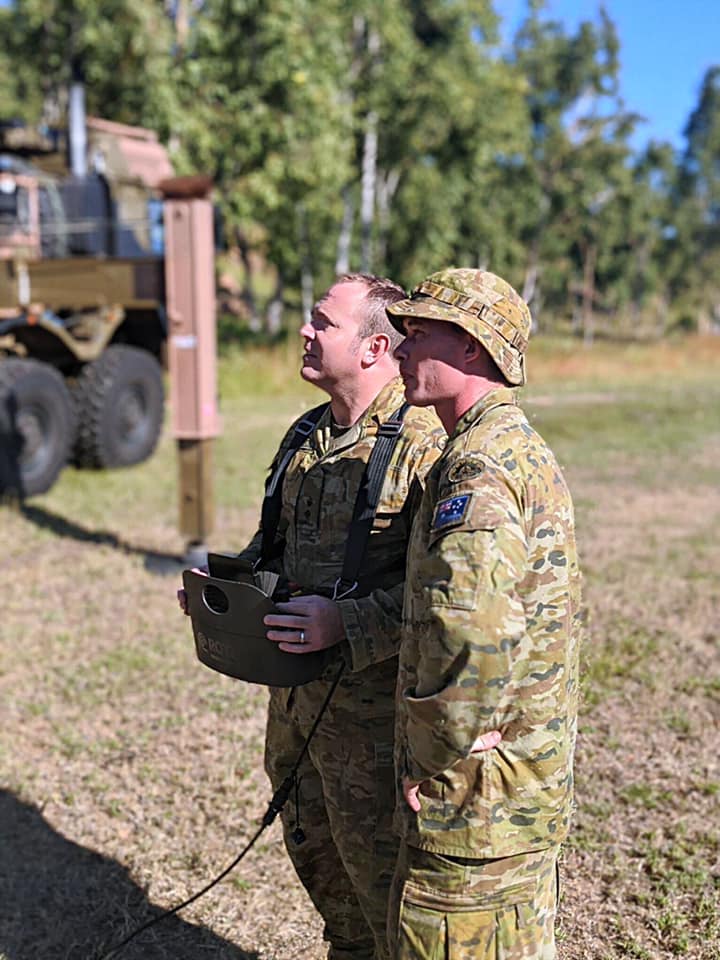 CFN Biggers was keen to show the Commanding Officer, Lieutenant Colonel Steve Young, his skill in completing the task.
Under the guidance of a Recovery Mechanic Non Commissioned Officer (NCO) and the Warrant Officer Recovery Mechanic (WORM), the CO was given the opportunity to try his hand at the rolling of the training vehicle using the Multi-Function Controller.
CFN Biggers thought the CO completed the task to a "good standard" and with a bit more time and practice, he may one day be good enough to call himself a Recovery Mechanic.
Images and Article Courtesy of Defence
Task Group Taji (TG Taji) was a combined Australian-New Zealand military training force located at the Taji Military Complex northwest of Baghdad. TG Taji was deployed to Iraq to support an international effort known as the Enhance Partner Capacity mission to develop Iraqi Security Forces (ISF). Australia has trained more than 47,000 members of the ISF—enabling them to increase their capacity to deliver its own training and conduct independent operations.
Images and Article Courtesy of Defence
---
Fire Cubes 'Light Up'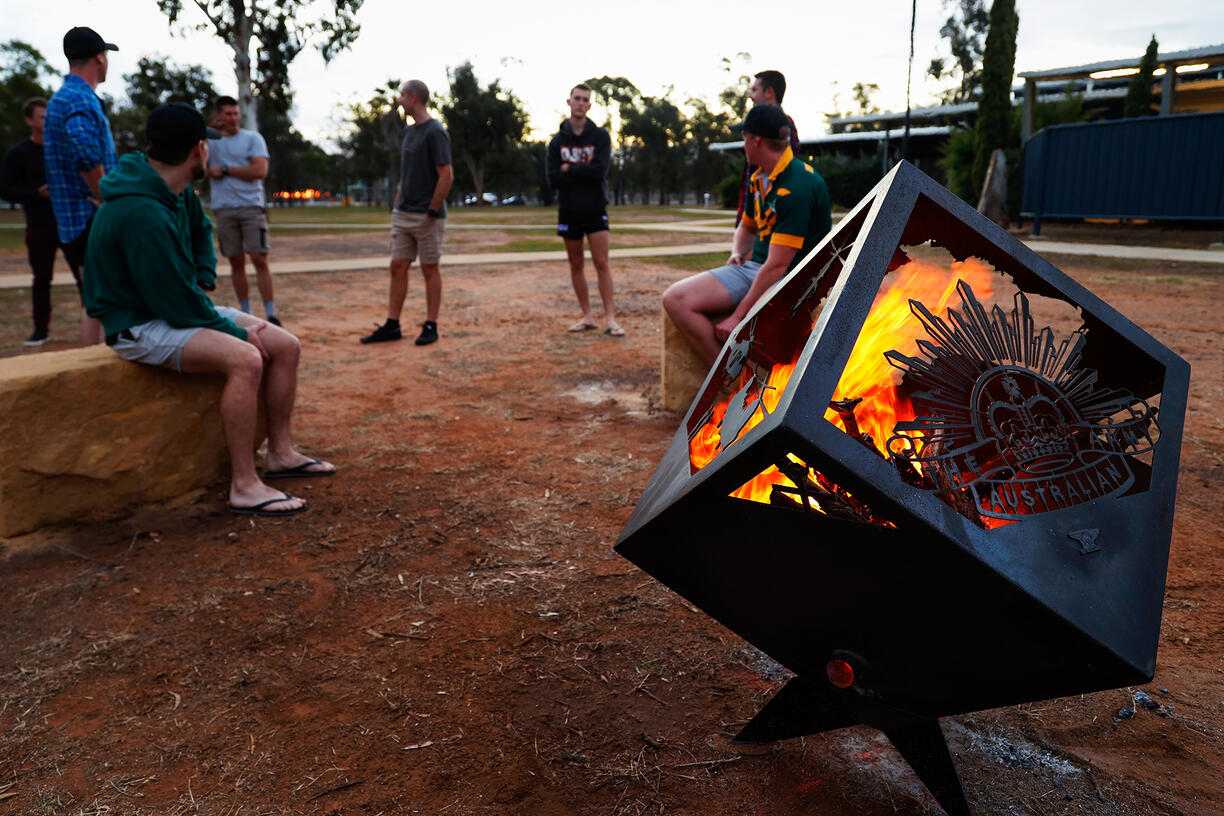 Pictured Above: A "Fire Cube" in action at the Army Aviation Centre Oakey lights up.
Darling Downs Convener Peter Pile shared at the June meeting some pics of a "Fire Cube' developed by talented craftsman Mike Hawley from Oakey Creek Ringer.
For those interested in purchasing, they are made to order from a local Darling Downs business in Queensland. Click on the link above for their contact details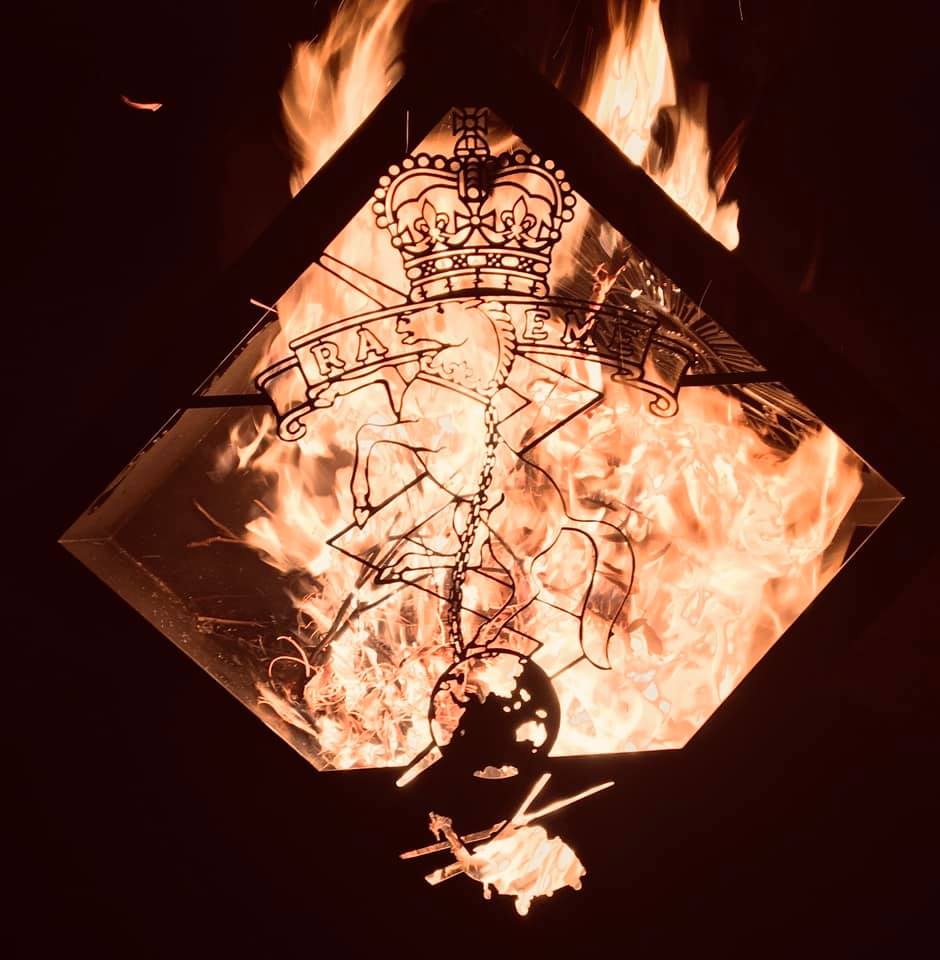 Pictured Above: RAEME Fire Cube - Images courtesy of Oakey Creek Ringer