The Royal Australian Electrical and Mechanical Engineers (RAEME) Association Queensland Inc is a not for profit volunteer organisation, supporting the RAEME National Network by providing leadership to, and a focal point for, all RAEME affiliated Associations in Queensland, by promoting and recognising the corps and its achievements via independent memorial, celebratory, social, fundraising, sporting and other activities.
The goals of the Association are to:
Promote the Corps' identity and reputation in Queensland

Recognise and celebrate achievements of members of the Corps in Queensland

Provide a focal point for Corps activities in Queensland
The role of the RAEME is to ensure maximum operational availability of equipment to enable the commander to win the land battle. RAEME is a technical corps tasked with the maintenance of the Army's modern hardware and equipment. More on the Corps can be found at this link.
This site has been developed as a communication tool for RAEME members in Queensland. All attempts have been made to ensure the accuracy of the information supplied. If any errors or broken links are found, or if you have any item or article for inclusion on these pages, please contact the webmaster.
RAQ Subscriptions
Annual subscriptions to the RAQ are due by 30 June each year. Subscriptions can be paid using either PayPal (fee free) or EFT by clicking the Icon below and logging in. Renew your subscription for $10 a year or upgrade to Life Subscription for $100.
New members please use the 'Online Registration' link under the Membership banner.
All proceeds are used to support and promote the goals of the Association.
Meetings and Functions
Are held on the first Wednesday of each month excluding January, the latest information is on the Events page.
---
Women in RAEME event - Victoria Barracks Brisbane - Wed 11 October 2023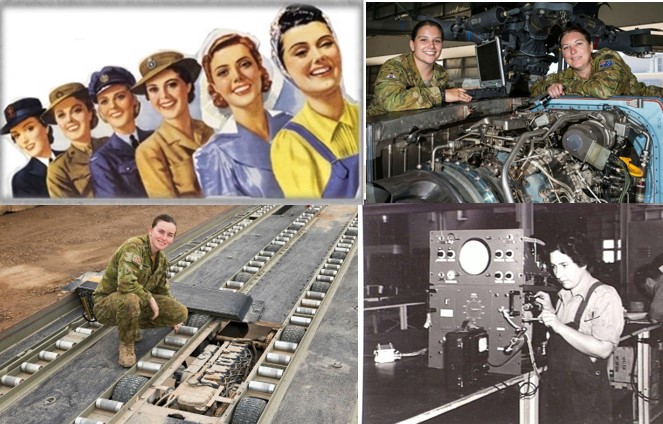 In conjunction with the Army Museum South Queensland and the 'Women in Uniform' exhibition we are hosting a professional development and networking event.
All serving members, veterans, guests, families, partners and others who are interested or associated with the Corps are welcome to attend this FREE EVENT.
Attendees will be able to view the exhibition. We have two prominent RAEME guest speakers attending, who will participate in a Q&A.
Parking is available on site. Public transport options are also conveniently located. RAEME merchandise will be available to purchase, and we have lucky door prizes for attendees.
Come along and enjoy a great morning to network and learn.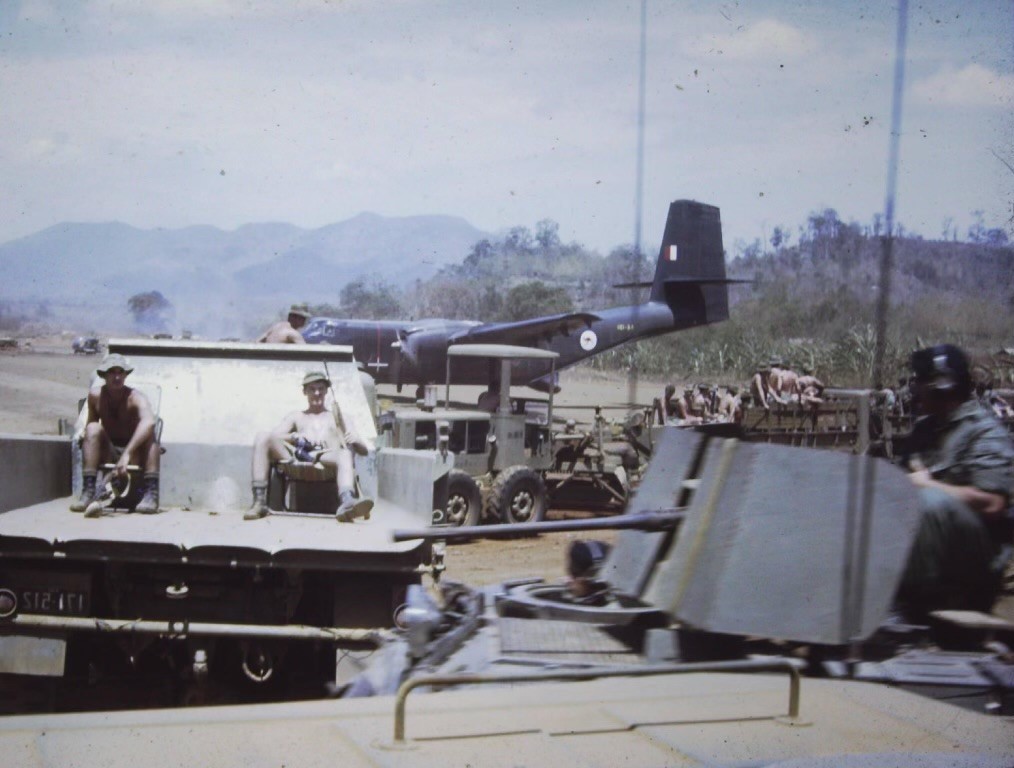 Pictured above: RAQ Life Subscriber Des Kearton's photo from Vietnam going to a concert party at Nui Dat, Vietnam in 1968, has been selected to be displayed in the 2023 Point and Shoot- Australian veteran photography exhibition showing in Brisbane 13- 15th October, and in Townsville 20- 22nd October. The online display for viewing from 23rd October.
From its Tasmanian beginnings in 2020, Point & Shoot launched onto the national stage in 2022 and continues to grow.
Showcasing a powerful collection of career imagery and accompanying stories from Australian veterans, this exhibition brings a voice to the unique experiences of serving personnel.
Covering military service from post World War II onwards, the exhibition commemorates a range of modern conflicts, peace operations and service and provides a rare glimpse into the life and experiences of fellow Australians who have served their country.
Point & Shoot is the concept of Point Assist founder Mark Direen, a former Infantry and Special Forces soldier with over 20 years military service including 6 overseas deployments.
The purpose of the Point & Shoot exhibition is not to display perfectly captured photos from professional photographers. But rather, to share some of those moments frozen in time that those who serve our nation thought were worth remembering. We invite all Australian veterans to submit an image. Everyone has a story and we encourage you to share yours.
---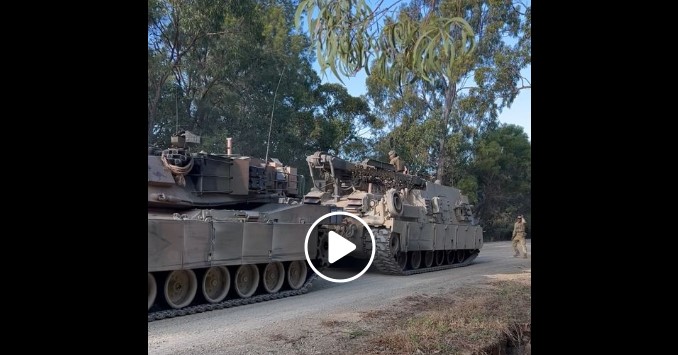 Pictured above: M88 Hercules getting this Abrams Tank back into the fight
Each M88A2 Heavy Equipment Recovery Combat Utility Lift and Evacuation System (HERCULES) armoured recovery vehicles. Valued at over $58 million. The HERCULES main role is to support Australia's existing fleet of Abrams main battle tanks.
The HERCULES, weighing in at 58 tonnes is primarily used for repairing and recovering tanks and other vehicles in combat situations.
Manufactured by BAE Systems, the HERCULES boasts overlay armour protection, ballistic skirts, an extended 35-ton boom, a 63,504-kilogram main winch with 280 feet of cable, and an auxiliary 3-ton winch to facilitate main winch cable deployment.
Image courtesy of Defence
---
S

ky Ranger R70 unmanned aerial system - Darwin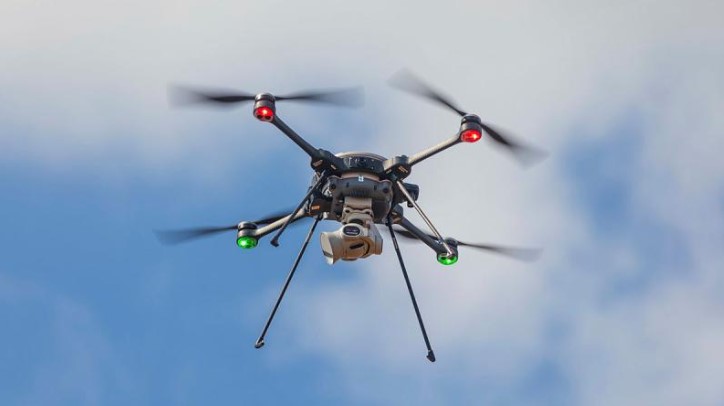 Pictured above: The Sky Ranger R70 unmanned aerial system operating at RAAF Base Darwin, NT, in 2022. Photo: Leading Aircraftman Sam Price
Having your next batch of ammo or rations arrive via drone could be no more than a couple of years away, after innovation contracts were awarded to develop tactical logistics uncrewed aerial systems.
Contracts were awarded in August after companies successfully pitched their ideas at Army Innovation Day 2022.
Jabriu Aircraft was selected in the medium-lift category with a coaxial quadcopter the company hopes will lift and deliver a 50kg load in an Army trunk.
Another selected for the heavy lift category was Crystalaid's eight-rotor, turbine-powered UAV with a planned lift capacity of more than 800kg.
Crystalaid Director Ross McKinnon said the craft's redundant systems would mean it could take damage and still fly after losing systems, including rotors.
Some rotors would provide lift, while others control direction, meaning the craft remains level when moving, unlike traditional helicopter designs.
"When you're moving casualties or containers you don't want it tilting all the time. Moving in a flat plane helps operationally in some situations," Mr McKinnon said.
Army will work with each company over the next two years to develop and mature logistic UAS technologies to deliver combat supplies to soldiers in restricted terrain or high risk environments.
The innovation contracts will see Crystalaid and Jabiru demonstrate their technology to Defence in late 2024. While Geodrones will demonstrate theirs in early 2025.
Image and article courtesy of Defence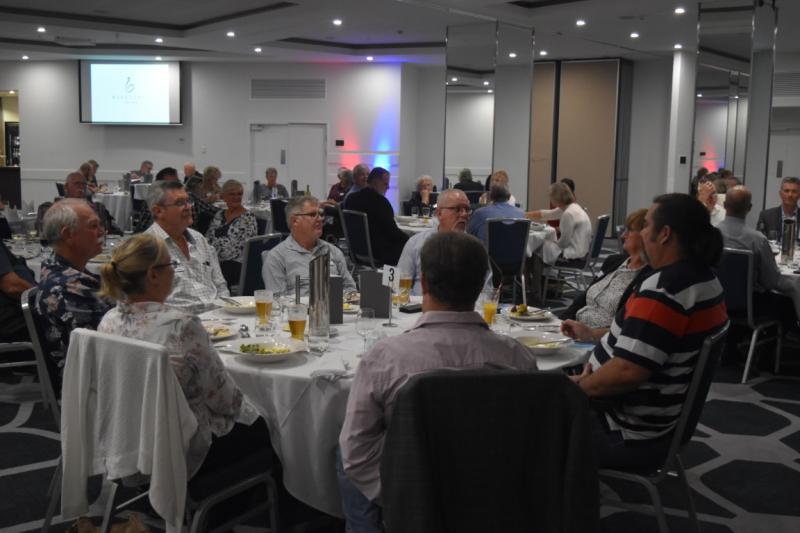 Pictured above: Members and guests at the 2021 luncheon.
The 2023 RAEME Association – Queensland (RAQ), Sunshine Coast Chapter, Annual Luncheon are well underway. To this end, you, your partner and interested friends are invited to attend the lunch, to be held on Saturday 30 September 2023 at, as we have become accustomed, the Maroochy RSL. The invitation is extended to all current and past members of RAEME, and friends of RAEME, who live on the Sunshine Coast / Wide Bay area, or the surrounding region, including Brisbane, the Gold Coast and Darling Downs. Visitors to SE QLD at the time are also very welcome.
We are pleased to confirm that our guest speaker is BRIG Gabriel Follett AM, Director General Fuel Services Branch in Joint Logistics Command. The Brigadier has an impressive Bio and we are sure she will provide a very informative presentation and discussion on her experiences in the Corps and the many non-Corps appointments she has held.
The Colonel Commandant, Queensland, COL (Rtd) Steve Evans, will again host the lunch, and as has become the practice, BRIG (Rtd) Ross Grant AM will be our MC. We will again be ably supported by the Maroochy RSL catering and bar staff, who will look after our every need.
Lunch Details. Important details to remember include:
Venue - Room M4 Maroochy RSL, corner Memorial and First Avenues, Maroochydore.
Timings - 1200 for 1230 hours on Saturday 30 September 2023.
Dress - Neat casual.
Menu - Meals will be served as 'alternate drop'. Please let us know of any special dietary needs.
Drinks - The bar will be open from 1200 to 1630 hours with drinks being purchased at your own expense.
Parking - Free parking is available in the multi floor car park directly opposite the Before departing, please advise the attendant at the front desk in the Club foyer of your vehicle registration number to facilitate exit.
Regards
Mike Prain and Ross Grant
RAQ Lunch Conveners
---
Invictus Games - Düsseldorf, Germany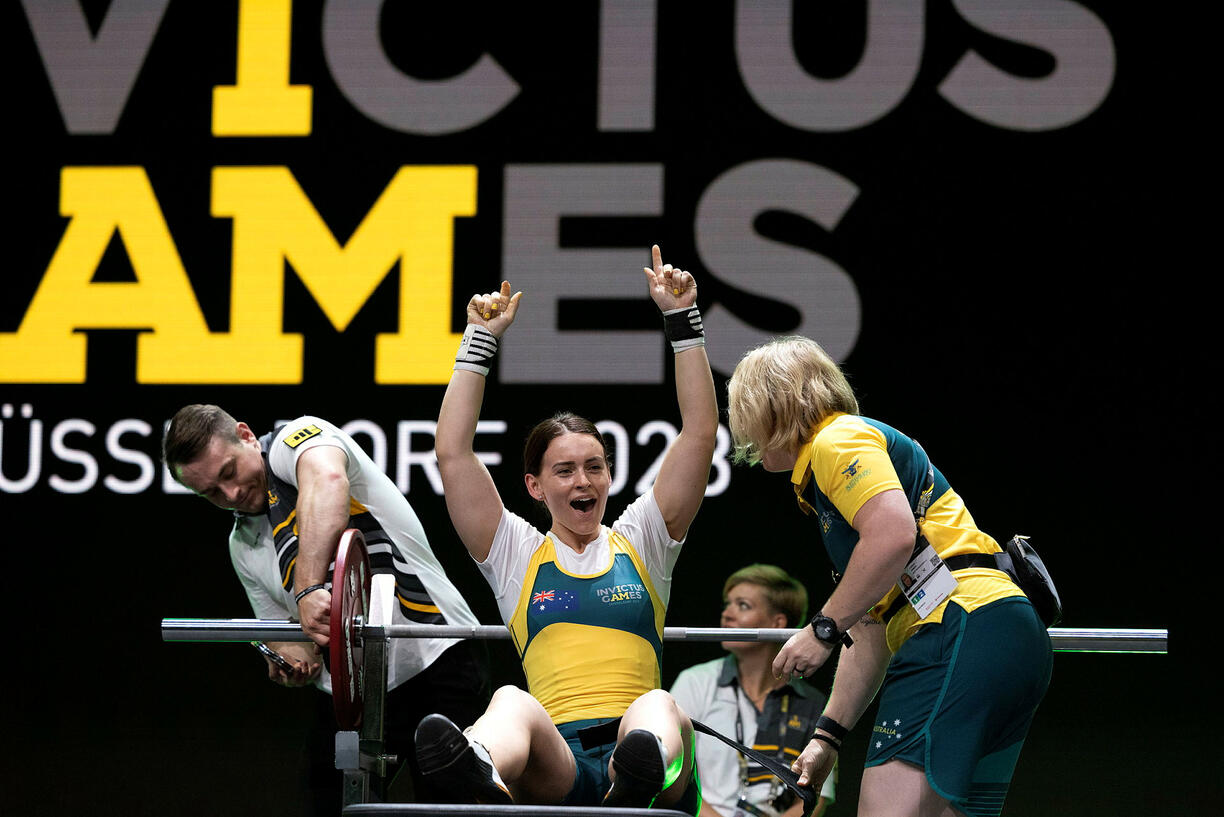 Pictured above: Invictus Games 2023 Team Australia competitor CFN Erin Brigden celebrates a successful lift and winning gold during the women's IP3-IP5 powerlifting event at the Merkur Spiel-Arena in Düsseldorf, Germany.
The first day of competition at Invictus Games Düsseldorf 2023 had the athletics track and field, powerlifting and wheelchair rugby heating up – literally and metaphorically.
On a hot and humid German day, it was all about mate helping mate as the Aussie contingent displayed the heart and humanity of the Games.
In the first event of the day, the women's IP1-IP2-IP4 event, Francine Dudfield made a clean sweep of her three attempts, consecutively lifting 67kg, 73kg and 78kg to win the gold medal. Able Seaman Taryn Dickens picked up a third place medal with a lift of 64kg, while Laura Reynell and Brooke Mead impressed with lifts of 55kg, earning them fifth and sixth place respectively.
Laura said she felt "nice and strong. It was liberating to know I could find the inner strength to lift what I didn't think I ever could lift. Plus my personal fear of training in front of people is gone now, so that's a PB, I guess."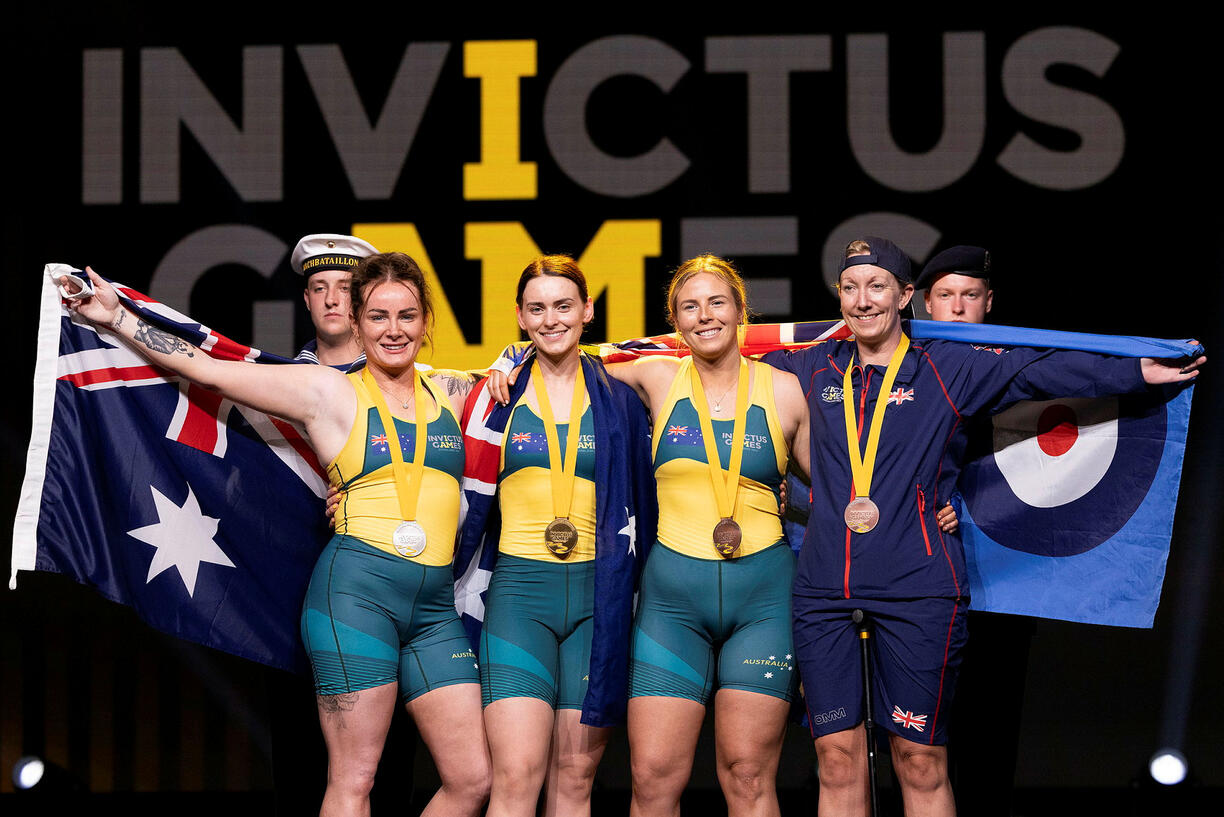 Pictured above: Invictus Games 2023 Team Australia competitors Brooke Mead (silver) Erin Brigden (gold) Laura Reynell (bronze) celebrate a one, two, three finish in the women's IR6 one-minute sprint indoor rowing event at the Merkur Spiel-Arena in Düsseldorf, Germany.
Australian power lifting captain, Erin Brigden, took out the gold in the highly competitive women's IP3-IP5 event with a lift of 82kg, dominating against 11 other competitors.
In the men's events, Michael pipped Kurt Ludke's valiant 150kg lift by 1kg to gain a third-place podium finish in the IP8 group, a feat echoed by Stephen Lockwood in the IP10 event with a lift of 140kg, while Daniel King lifted a solid 115kg to finish fourth in his IP9 event.
Australia's wheelchair rugby team started the day out with a 13-4 loss against Team USA before bouncing back to beat the Kiwis 13-9. The Wheeling Diggers' final match of the day resulted in a 17-6 win over Canada.
Meet the Australian Team at www.defence.gov.au/invictusgames or follow on Facebook.
Image and article courtesy of Defence