The purpose of the Royal Australian Electrical and Mechanical Engineers (RAEME) Association Queensland is to promote and reinforce the spirit, reputation, image and competencies of the Corps through its past, present and future members.
The goals of the Association are to:
Promote the Corps' identity and reputation in Queensland

Recognise and celebrate achievements of members of the Corps in Queensland

Provide a focal point for Corps activities in Queensland
The role of the RAEME is to ensure maximum operational availability of equipment to enable the commander to win the land battle. RAEME is a technical corps tasked with the maintenance of the Army's modern hardware and equipment. More on the Corps can be found at this link.
This site has been developed as a communication tool for RAEME members in Queensland. All attempts have been made to ensure the accuracy of the information supplied. If any errors or broken links are found, or if you have any item or article for inclusion on these pages, please contact the webmaster.
RAQ Subscriptions
Annual subscriptions to the RAQ are due by 30 June each year. Subscriptions can be paid using either PayPal (fee free) or EFT by clicking the Icon below and logging in. Renew your subscription for $10 a year or upgrade to Life Subscription for $100.
New members please use the 'Online Registration' link under the Membership banner. All proceeds are used to support and promote the goals of the Association.
Latest Update - Events and Meetings
As previously advised regarding Coronavirus in Australia, we are keeping a watch on the events and advice coming from the State and Federal Governments and Health Authorities.
Our usual venue Kedron Wavell Services Club remains only partially open. Electronic meetings will be held until the COVID 19 restrictions are relaxed to the extent where it is feasible to attend a suitable meeting venue, one that will allow 20+ RAQ members.We have slowly expanded the number of attendees over the past several meetings using Microsoft Teams.
All the function details are located on the Events page, with updates posted on the individual Event.
Membership & Online Shop
All other web based activities will continue as normal, with online shop items purchased sent out via Australia Post.
The most important thing for all of us right now is put our family and friends first and look out for your neighbours and mates who may not be as well-resourced.
Please keep interacting with your Association with updates available via our website, weekly emails and through our 'Contact Us' page.
Yours Sincerely,

Chairman
---
Operation Resolute - Bamaga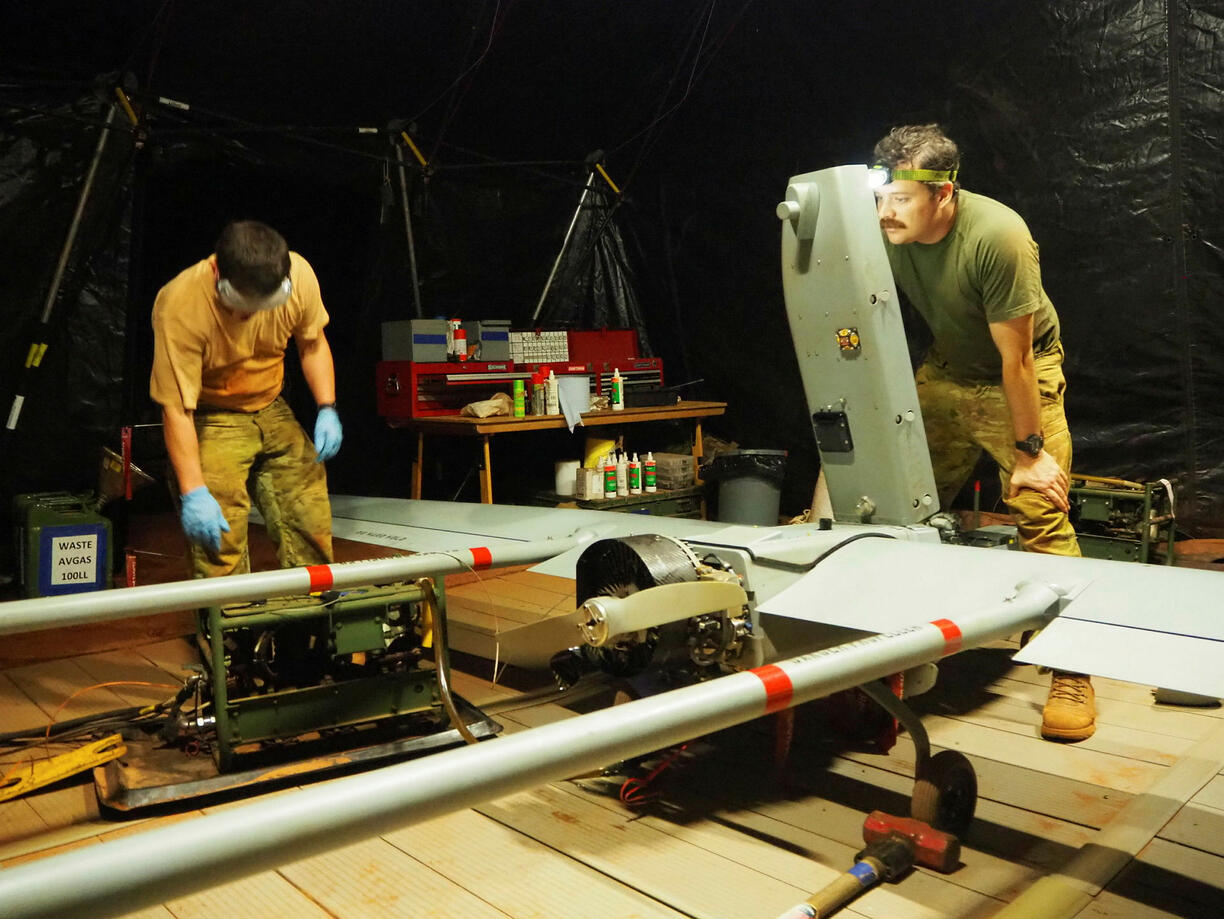 Pictured Above: CFN Matt Williams (left) and Corporal Jonathon Healy, service a Shadow air vehicle at Bamaga, Far North Queensland, during Operation Resolute.
20th Regiment, Royal Australian Artillery, has deployed its Shadow Tactical Unmanned Aerial System on a domestic operation for the first time, providing maritime surveillance for Joint Task Force 639 on Operation Resolute. Deployed to Bamaga in Far North Queensland since early June, the 50-strong task unit, raised from 132 Battery will support Maritime Border Command until later in the year.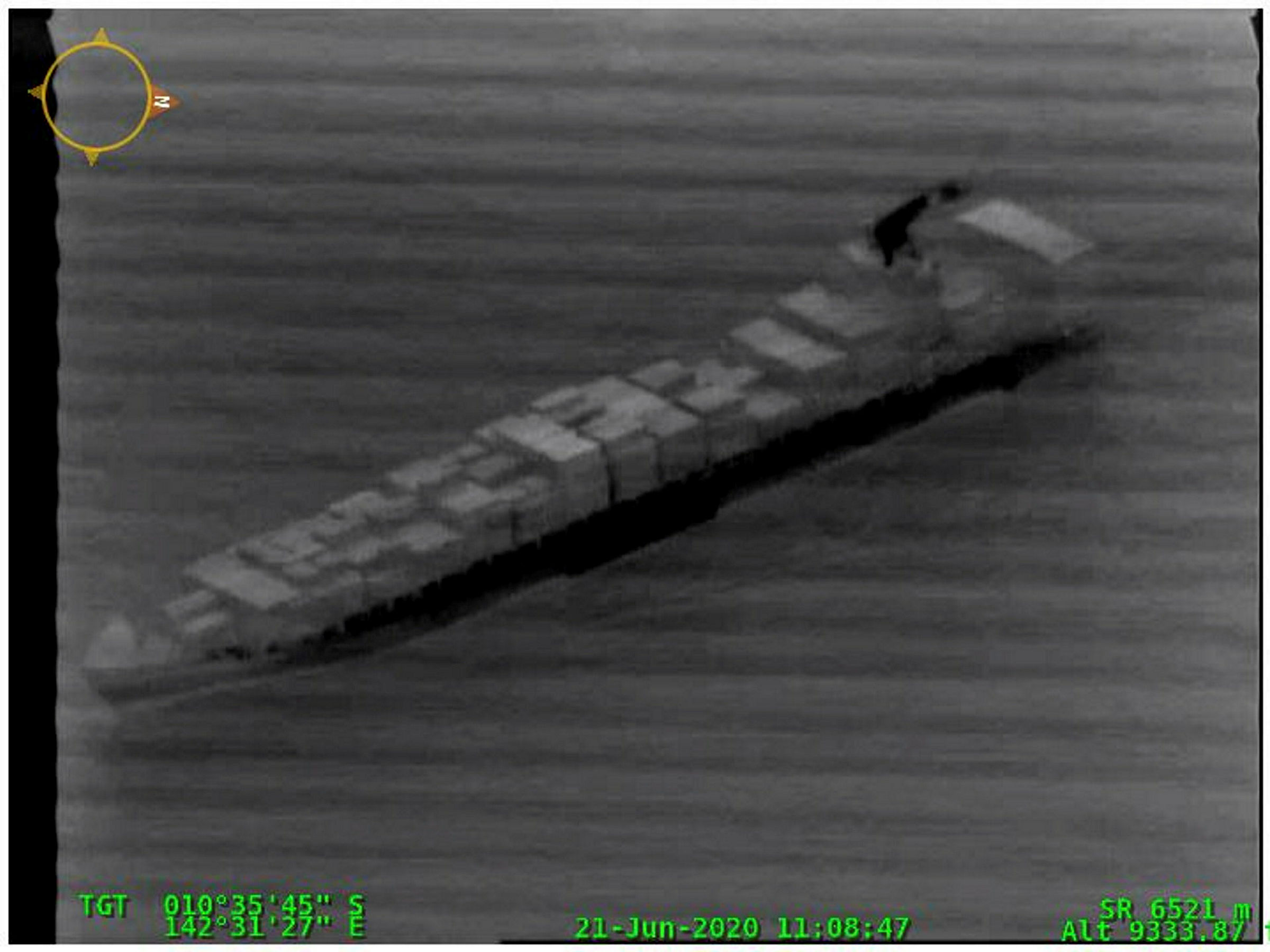 Pictured Above: A 20 REG RAA, Shadow Tactical Unmanned Aerial System tracks a ship transiting through the Arafura Sea, during Operation Resolute.
The team is comprised of Australian Army and Royal Australian Air Force personnel including imagery analysts, cooks, signallers, maintenance staff and unmanned aerial systems operators. Operation Resolute is the ADF's contribution to the whole-of-government effort to protect Australia's borders and offshore maritime interests. The operation covers approximately 10 per cent of the world's surface and includes Australia's Exclusive Economic Zone which extends up to 200 nautical miles from the Australian mainland and offshore territories
Images and Article courtesy of Defence
---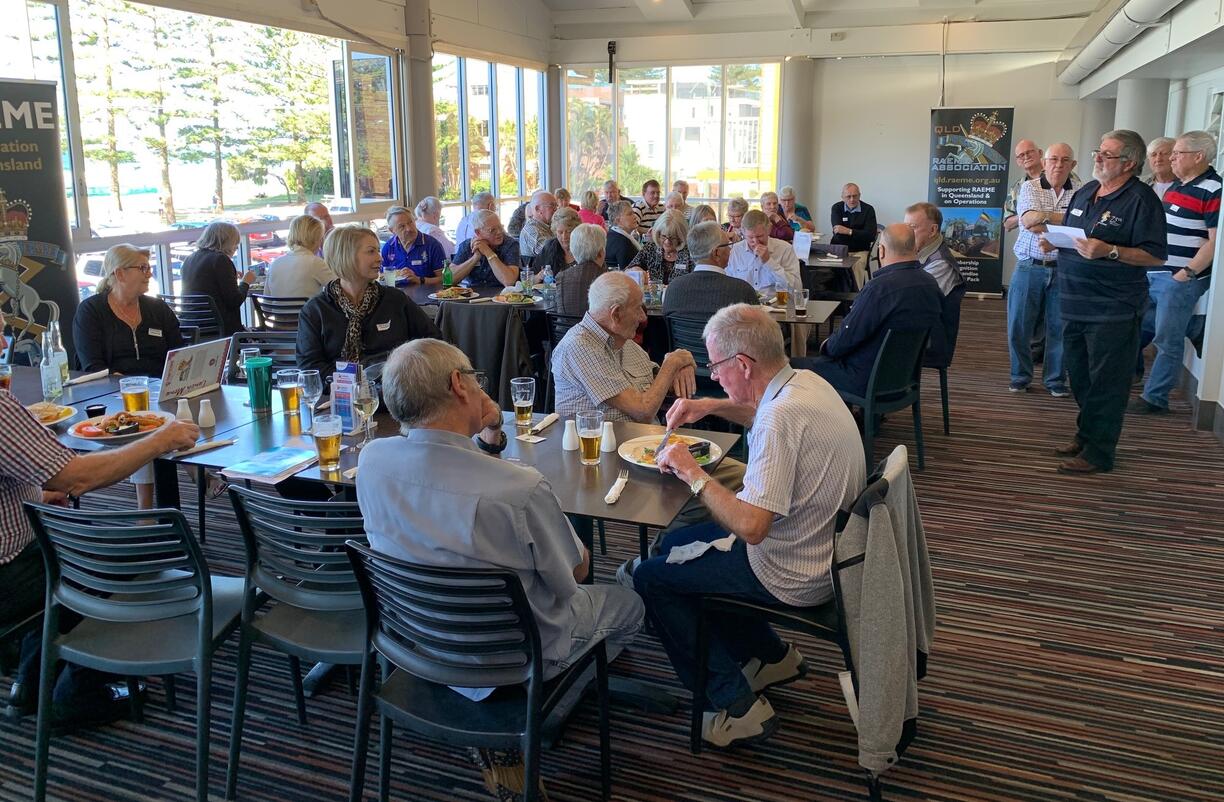 Pictured Above: Eddie Bevans welcomes member and guests to function.
With COVID restrictions limiting a number of activities, it was great to see over 65 members and guests attending our second function this month, the Annual Gold Coast Luncheon on Saturday 18 July. Like all current functions there were a number of restrictions to comply with government requirements, which did limit original numbers of attendees. This annual event at the Mermaid Beach AEME SLSC is a very important one for our Association and also the Corps, as it reaffirms our commitment to the region and honours the longstanding connections to the original AEME founders of the Club.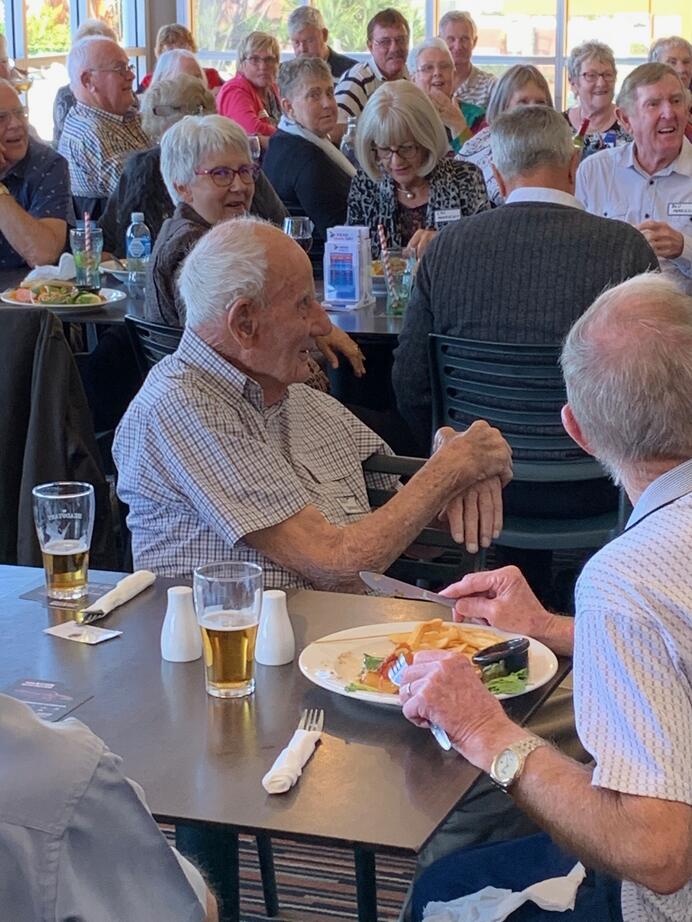 Pictured Above: BRIG Bert Barker (retd) welcomed to the Gold Coast Function.
After a rousing welcoming speech from Eddie, he also acknowledged a very special guest, a founding member of our Corps, RAQ Life Subscriber and Chairman's Award recipient BRIG Bert Barker (retd). Bert who is 98 years old, was also acknowledged for his recent 79th wedding anniversary to wife Nona. Bert enlisted in the Army in 1941 during WWII and served for over 30 years, achieving the the Rank of Brigadier on discharge in 1974. His last posting was the Army Design Establishment (MELB).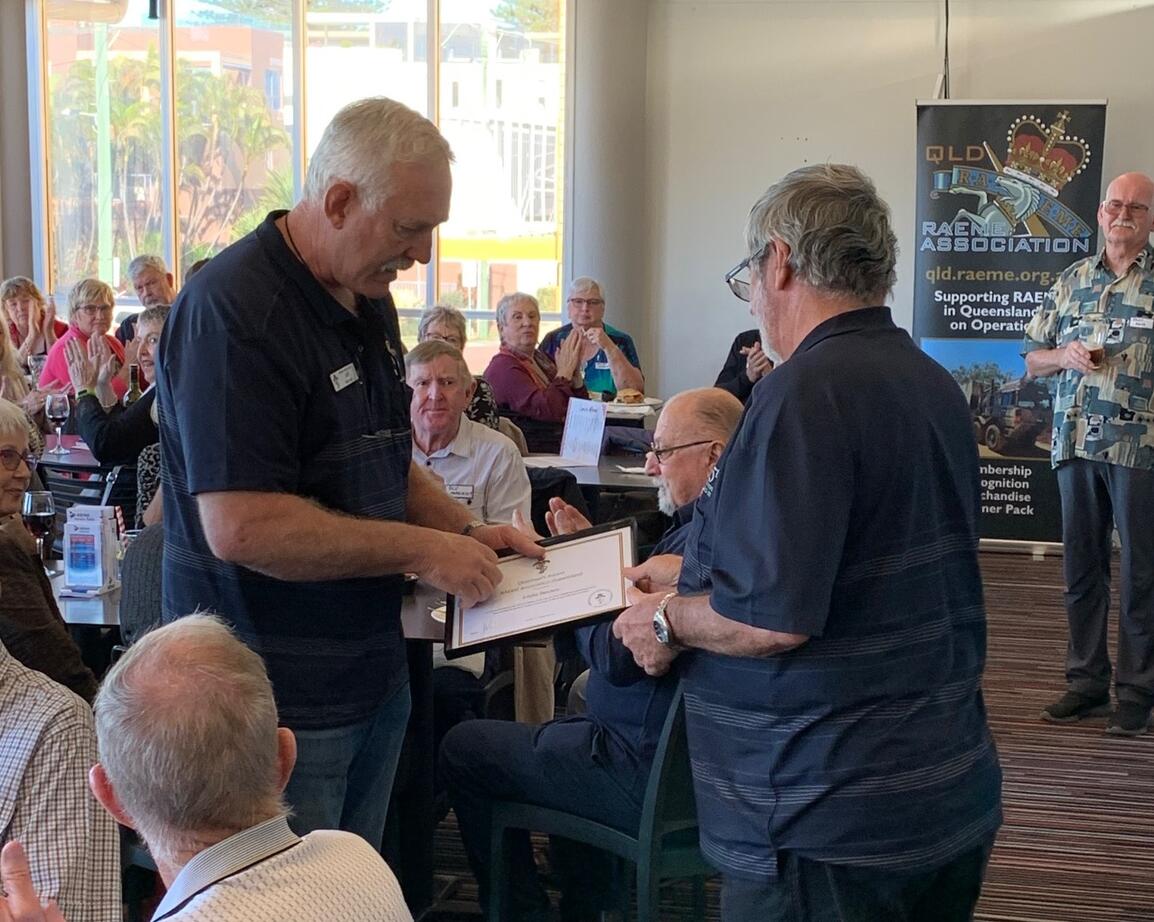 Pictured Above: Eddie Bevans presented with a Chairman's Award.
I was also able to personally present Eddie with his Chairman's Award, which was announced back in August 2019, however was a perfect opportunity to present the award at the function. Eddie receives this Award for outstanding service and contribution to the success of the Association in Queensland and his service and contribution in promoting the Esprit de Corps as co-convener of the Annual Gold Coast Luncheon.
Well done to Eddie as organiser and all our Gold Coast Members for attending the function and making it so successful. Also a big thank-you to the staff of the AEME SLSC, who did an amazing job catering for us on the day.
I look forward to catching up with our members at the next scheduled function on Saturday 1 Aug 2020, at the Port Office Hotel, ticket sales for this event close this Sunday.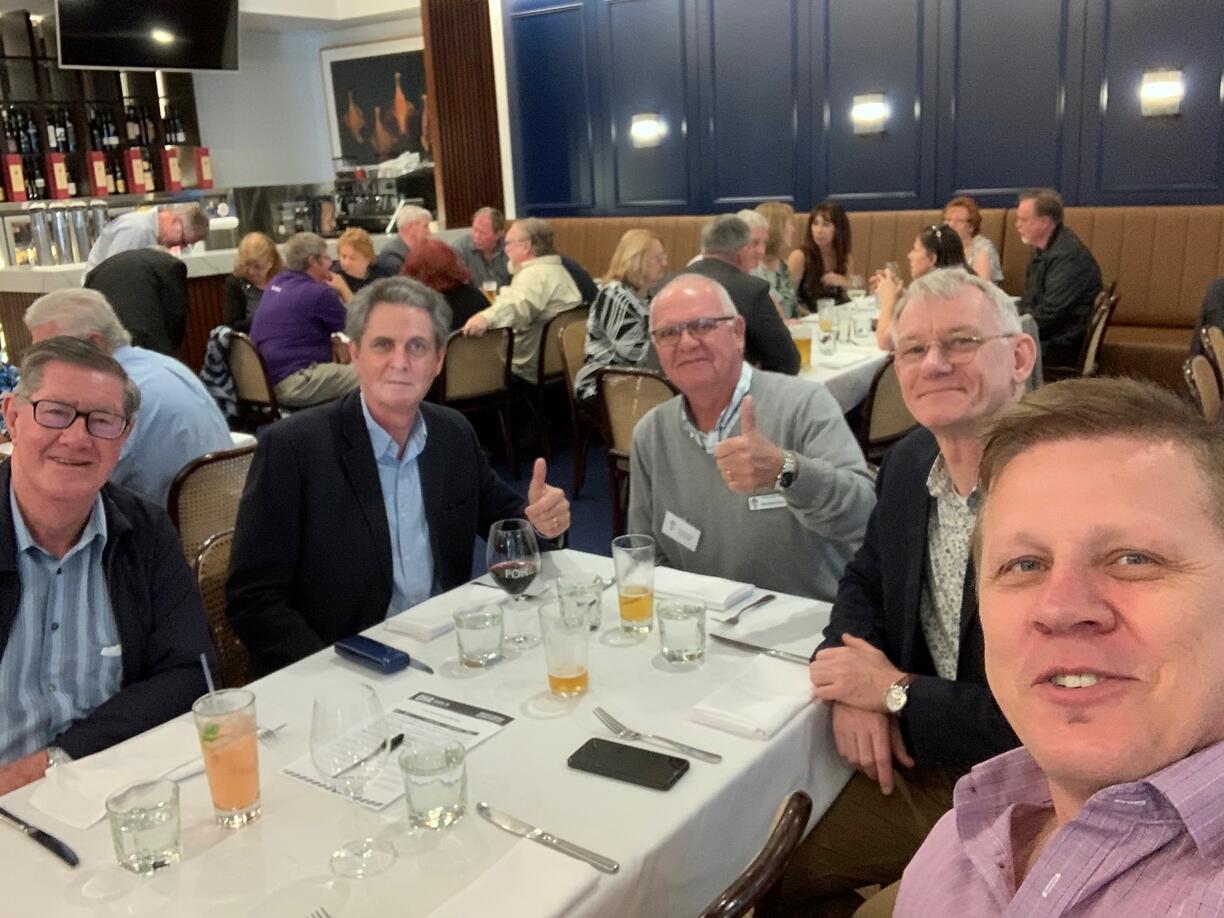 Pictured Above: RAQ Members Des Kearton, Steve Beck, Kingsley Pocock, Adrian Butcher and Peter Matthews give the function a thumbs up!
It seems that post lock-down freedoms are proving popular with members and guests with around 75 attending the recent luncheon at the Port Office Hotel in Brisbane. With ANZAC Day functions being cancelled this year, we took an opportunity to schedule an 'extra' function in Brisbane so that we enjoy some great food and catch up with colleagues and friends.
Social distancing is now the new normal, however everyone was able to follow the rules and enjoy a very generous lunch menu served in the dining room.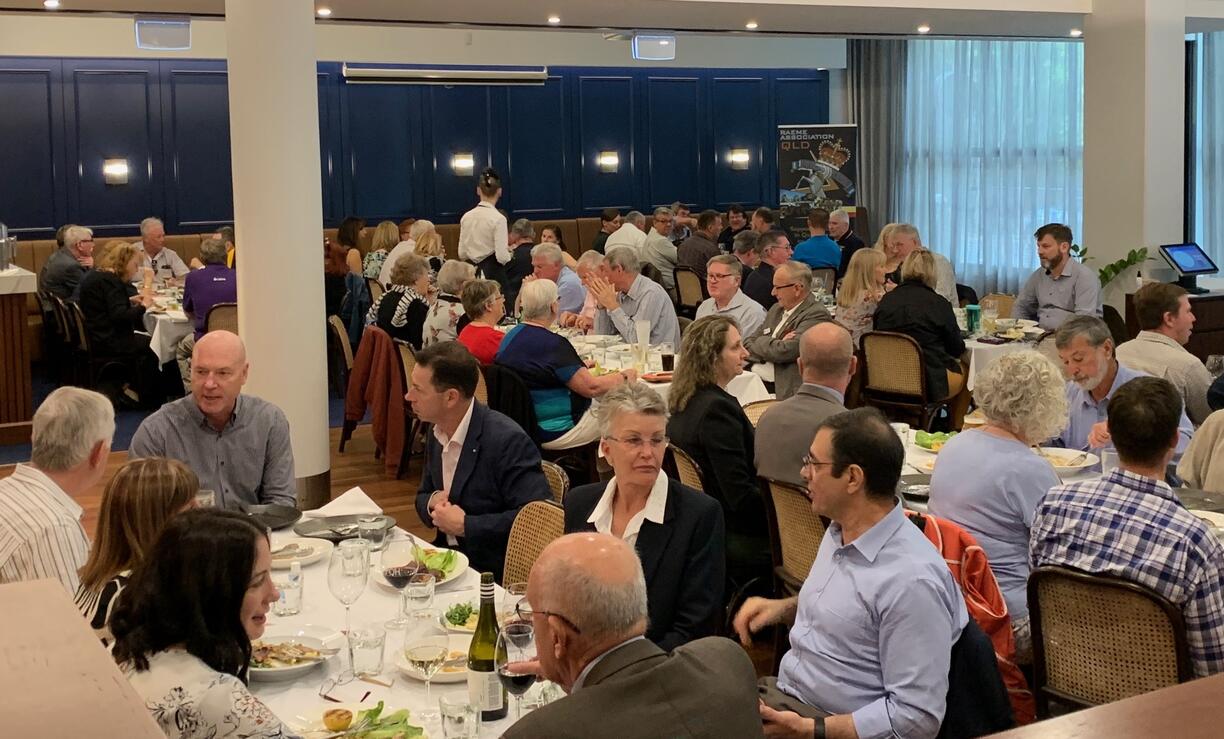 Pictured Above; Members and guests enjoy the luncheon.
With functions limited this year, and given the significance of the opportunity to have a luncheon, it was my sincere pleasure to be able to induct two new Honorary Life Members into the Association. This award is presented to a member of the Association who has given long and outstanding service to the RAQ. The n\Newest members to be presented Awards are:
No.8 - Steve Howells

No.9 - Peter Matthews
Both Steve and Peter have contributed to the RAQ over many years and their continued efforts to support the goals of the Association in a number of significant roles has been outstanding. On behalf of the Association I congratulate both Steve and Peter on receiving their Awards.
We are extremely fortunate to have a very engaged membership who support the ongoing efforts to maintain the Esprit de Corps. We proudly recognise all RAQ Award recipients on our Honour Board.
With a final wrap up on the event, we need to thank our host, Port Office Hotel Owner Nick Gregorski and the staff who catered for us and made sure the day ran very smoothly.
Our next scheduled function is the very popular Sunshine Coast Luncheon on Saturday 12 September 2020 at the Maroochydore RSL. (see the Events page for details)