The Royal Australian Electrical and Mechanical Engineers (RAEME) Association Queensland Inc is a not for profit volunteer organisation, supporting the RAEME National Network by providing leadership to, and a focal point for, all RAEME affiliated Associations in Queensland, by promoting and recognising the corps and its achievements via independent memorial, celebratory, social, fundraising, sporting and other activities.
The goals of the Association are to:
Promote the Corps' identity and reputation in Queensland

Recognise and celebrate achievements of members of the Corps in Queensland

Provide a focal point for Corps activities in Queensland
The role of the RAEME is to ensure maximum operational availability of equipment to enable the commander to win the land battle. RAEME is a technical corps tasked with the maintenance of the Army's modern hardware and equipment. More on the Corps can be found at this link.
This site has been developed as a communication tool for RAEME members in Queensland. All attempts have been made to ensure the accuracy of the information supplied. If any errors or broken links are found, or if you have any item or article for inclusion on these pages, please contact the webmaster.
RAQ Subscriptions
Annual subscriptions to the RAQ are due by 30 June each year. Subscriptions can be paid using either PayPal (fee free) or EFT by clicking the Icon below and logging in. Renew your subscription for $10 a year or upgrade to Life Subscription for $100.
New members please use the 'Online Registration' link under the Membership banner.
All proceeds are used to support and promote the goals of the Association.
Meetings and Functions
Are held on the first Wednesday of each month excluding January, the latest information is on the Events page.
---
RAEME Reserve/CMF Reunion - Sun 21 August 2022 - Brisbane
Pictured Above: Members and guests @ 'Roco's Bar & Grill' at the 2021 Reunion
The Annual reunion is open to all serving and ex members of RAEME (Army Reserve/CMF or Regular Army) or associated Corps who served with RAEME Res/ CMF units, their families and other people who were associated with RAEME and who wish to renew past friendships. Ex cadre staff members most welcome.
If you know of anyone interested in attending who may not be aware of the function could you pass on this information. All the details are on the attached Flyer.
Great raffles including:
Books, Wine

Gift Vouchers $100, $50, $20 & More
See the Presentation of the Prince Philip Banner on the Big Screen
Drinks at bar prices

Bring your photos
All the details for the Function are also available on the RAQ Website.
RSVP to John Parfitt by 14 August 2022
---
Gold Coast Lunch - Mermaid Beach AEME SLSC

- Sat 27 August 2022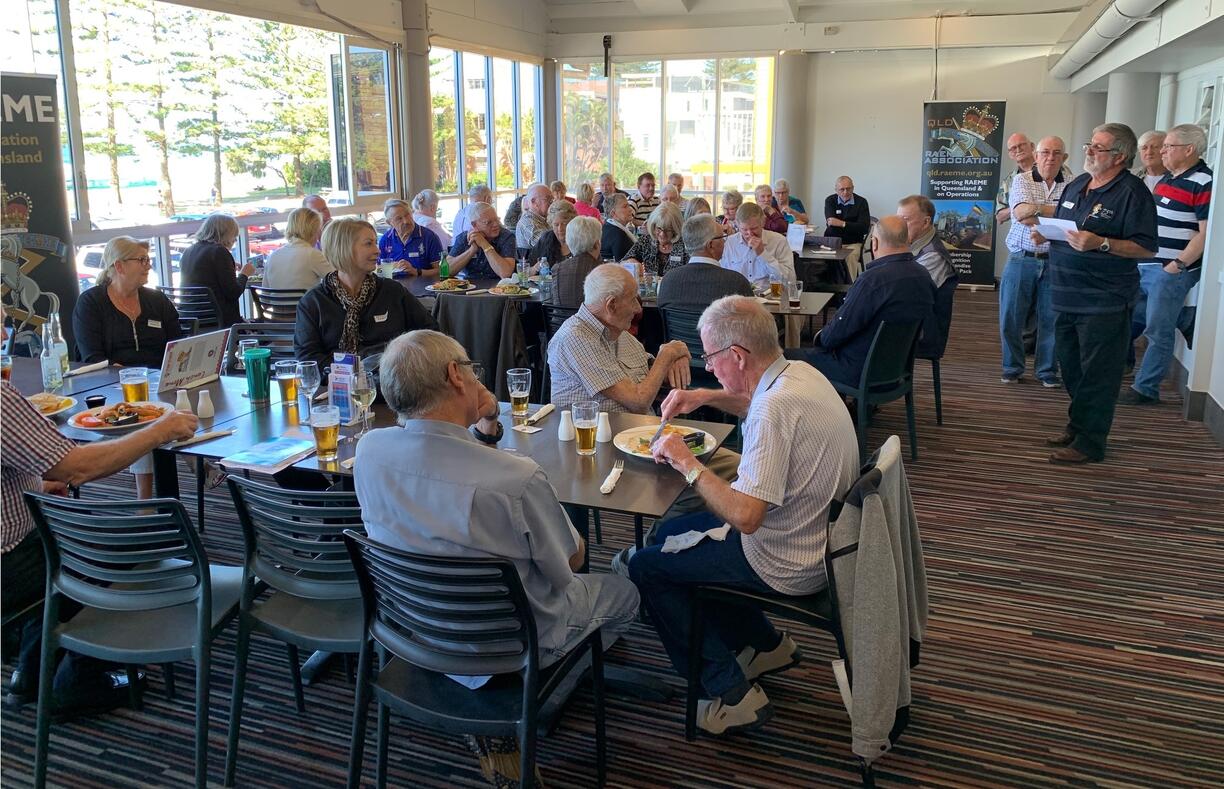 Pictured Above: Members and Guests at the 2019 Luncheon
The Annual Luncheon is to promote RAEME members in the Gold Coast Region & Visitors is happening next month. All are welcome to attend.
The AEME Surf Club has a relaxed atmosphere so dress very casual. The club allocate us an area on the veranda overlooking the ocean and set up tables and chairs and sit wherever you feel comfortable.
Don't forget that AEME SLSC members (see below on how to join) receive discounted meals and drinks.
If you know of anyone who would be interested could you pass this on and let me know if you are attending.
Regards
Eddie 'Beans' Bevans
This email address is being protected from spambots. You need JavaScript enabled to view it.
Member Update - $10 Meal/Drink Credit for RAQ Financial Members
We have negotiated a $10 meal/drink credit with the AEME SLSC. To access this credit, Financial RAQ members need to present their RAEME AEME SLSC card on the day to the cashier and the credit will be applied to your order.
If you do not have a RAEME membership card for the AEME SLSC club, details on how to join are below.
Please note - Membership applications must be received prior to the day, applications cannot be processed on the day of the event.
Mermaid Beach AEME SLSC - Free Lifetime Membership

The RAQ and RAEME have a long and proud association with the Mermaid Beach AEME SLSC. To honour the traditions of the club, it kindly allows all financial RAQ Queensland Members free Lifetime Membership to the Surf Club. Now is a great time to obtain your membership, simply download and complete an Application Form and send this to the RAQ Membership email address on the application.
Once approved your membership card can be picked up at the Surf Club (Please note membership cards will not be posted out, they must be collected).
For more information click on this link
Pictured Above: Guests at the 2021 Function.
OC 102 WKSPs (MAJ Mick Gordon) is the host of the event in conjunction with the Association.
North QLD Regional RAEME All Ranks, Current and Former Members and Guests. As part of RAEME 80th year please join us for an evening of conversation, food and entertainment.
Entertainment provided by a 1 RAR Jazz Trio.

Cost $70:00 P.P (includes food and drinks (beer, wine, basic spirits and softies)

Ticket Bookings are made through trybooking

Door prizes and raffles.

Address:

Rydges Southbank Townsville | The Palmer Collective. 23 Palmer Street, Townsville Qld 4810.

Timings 1800 – 2300h

Dress is after 5 / Evening wear.

There will be a comprehensive drinks package, Food will be A Walk and Fork Menu

Onsite parking is available, entry is via McIlwraith Street (Open Vacant lot)

Accommodation at Rydges is offered at a corporate rate by using the details below.
To access the special rates visit rydges.com.
Select your hotel, enter your dates and click 'Go'

Click 'I have a code'

In the Corporate ID field enter the booking code: ADFWEB

Click 'UPDATE'

The special rates will appear on the rates screen.
More details are on the attached Flyer.
Copies of all editions are available for download from our website on the Spanner News Page, click on the image above.
---
Online Shop - New Stubby Cooler Out Now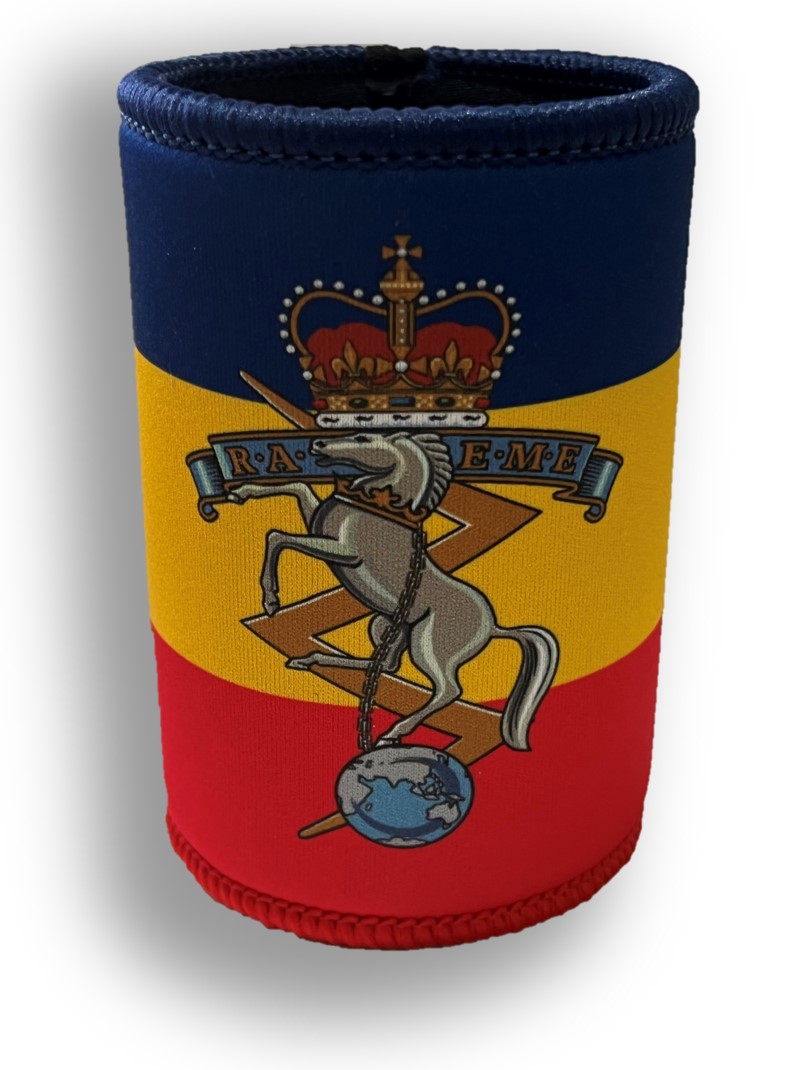 Stubby Coolers are by far one of our most popular items. We've just taken delivery of new stock:
Features include:
Full tricolour design

Latest Corps Badge

Stitched upper and lower seams

Full base
Prices for RAQ members start from just $6
Postage options are available at Checkout.
Members don't forget to login for you member discount and 'Click and Collect' option.
Click on the image to take you to the shop.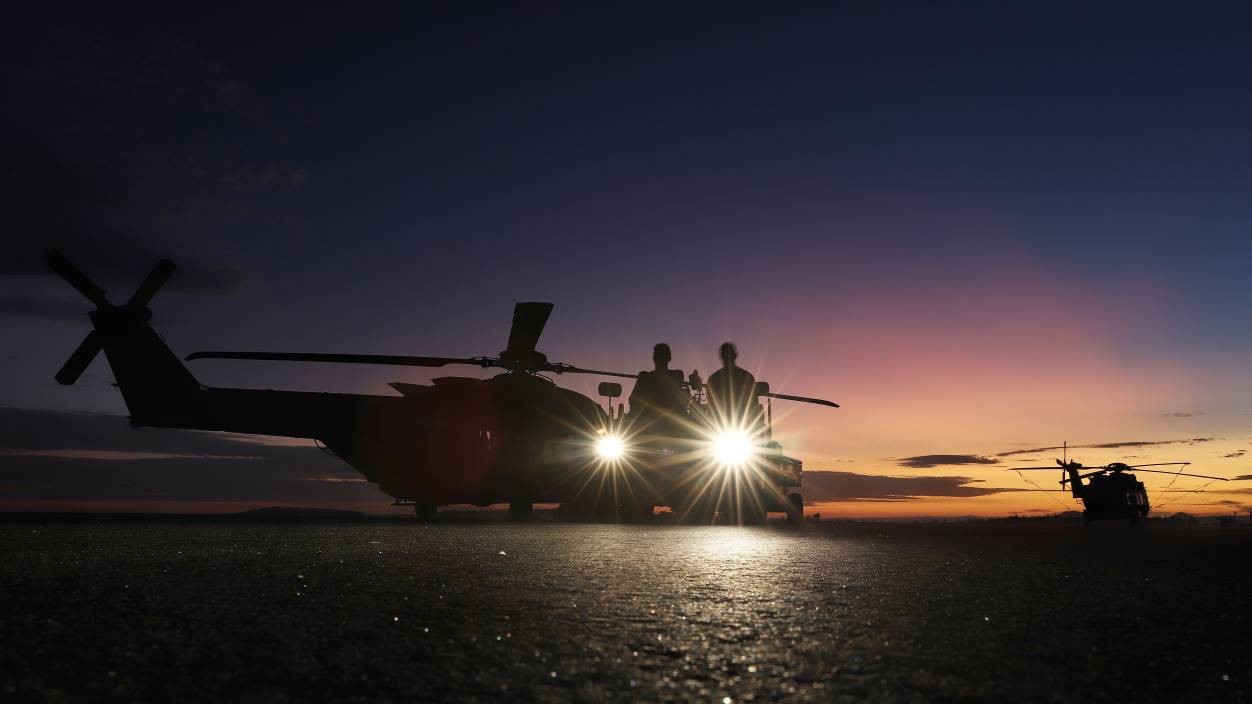 Pictured Above: Australian Army aircraft and avionics technicians from 5th Aviation Regiment prepare the MRH-90 Taipan helicopters for an early morning flight at Swartz Barracks in Oakey, Queensland.
The beginning of 2022 saw 5 Avn Regt C Squadron deploy to Operation Tonga Assist 2022 in response to a volcanic eruption. While the rest of the regiment was settling in to a new year, the weather situation deteriorated in the southern parts of Queensland (Qld) and the northern regions of New South Wales (NSW). With some regions receiving 670 mm of rain in three days; the remaining aircraft and personnel at 5 Avn Regt prepared for a busy High Risk Weather Season (HRWS).
In late February, Task Unit (TU) Guardian was formed and consisted of B Sqn's Leonardo AW139 aircraft. The aircraft joined the MRH-90 Taipans from the Oakey based, School of Army Aviation (SAA) which formed part of Joint Task Force (JTF) 629.3. Operation Flood Assist 2022 was the Australian Defence Force's (ADF) contribution to a Whole of Government response to rescue and recovery efforts in weather affected parts of Qld and NSW.
TU Destrier with four MRH-90 aircraft joined the other aircraft at Oakey following a successful air move from Townsville. Four days after the aircraft arrived, strategic lift delivered additional tooling, spares, equipment and the remaining personnel. The Technical Support Troop (TST) was composed of three Forward Repair Teams that worked shifts to provide 24-hour coverage to keep the aircraft serviceable for the duration of the deployment.
TU Destrier, along with SAA, rescued over 110 civilians from flood ravaged and isolated homes during the first two weeks before moving into the recovery support phase of the operation. The aviation Task Group also supported the local emergency services through provision of food and aid supply drops, ADF and emergency services personnel movement, patient transfers and reconnaissance. The support that the ADF offered the local government agencies provided invaluable aid to assist in the identification and prioritisation of isolated communities. Army Aviation rotary wing support allowed for local agencies to gain access to these affected communities.
The TST faced the usual serviceability challenges of maintaining aircraft operating at a high-tempo. However, it was advantageous that the Airbus Maintenance Organisation was collocated and its warehouse was only a two hour drive away in Brisbane. This provided the ideal "deployed" infrastructure to support intermediate-level scheduled and unscheduled maintenance. This drastically shortened delivery times of critical repair parts.
MAJ Carl Fester
OC TSS/RM MRH-90/RM CH-47F
Part 2 of this story continues next week...
Images and Article Courtesy of Defence