The Royal Australian Electrical and Mechanical Engineers (RAEME) Association Queensland Inc is a not for profit volunteer organisation, supporting the RAEME National Network by providing leadership to, and a focal point for, all RAEME affiliated Associations in Queensland, by promoting and recognising the corps and its achievements via independent memorial, celebratory, social, fundraising, sporting and other activities.
The goals of the Association are to:
Promote the Corps' identity and reputation in Queensland

Recognise and celebrate achievements of members of the Corps in Queensland

Provide a focal point for Corps activities in Queensland
The role of the RAEME is to ensure maximum operational availability of equipment to enable the commander to win the land battle. RAEME is a technical corps tasked with the maintenance of the Army's modern hardware and equipment. More on the Corps can be found at this link.
This site has been developed as a communication tool for RAEME members in Queensland. All attempts have been made to ensure the accuracy of the information supplied. If any errors or broken links are found, or if you have any item or article for inclusion on these pages, please contact the webmaster.
RAQ Subscriptions
Annual subscriptions to the RAQ are due by 30 June each year. Subscriptions can be paid using either PayPal (fee free) or EFT by clicking the Icon below and logging in. Renew your subscription for $10 a year or upgrade to Life Subscription for $100.
New members please use the 'Online Registration' link under the Membership banner.
All proceeds are used to support and promote the goals of the Association.
Meetings and Functions
We have great news, we will be holding physical meetings from February. For those of you who are attending, the latest information to the events page on the website.
For apologies or to confirm your attendance please contact the This email address is being protected from spambots. You need JavaScript enabled to view it.
Reports - Can those submitting reports please ensure it is emailed to the Secretary prior to the meeting.
Membership & Online Shop
All web based activities will continue as normal, with online shop items purchased sent out via Australia Post.
Please keep interacting with your Association with updates available via our website, weekly emails and through our 'Contact Us' page.
---
Tanks A Lot! - Brisbane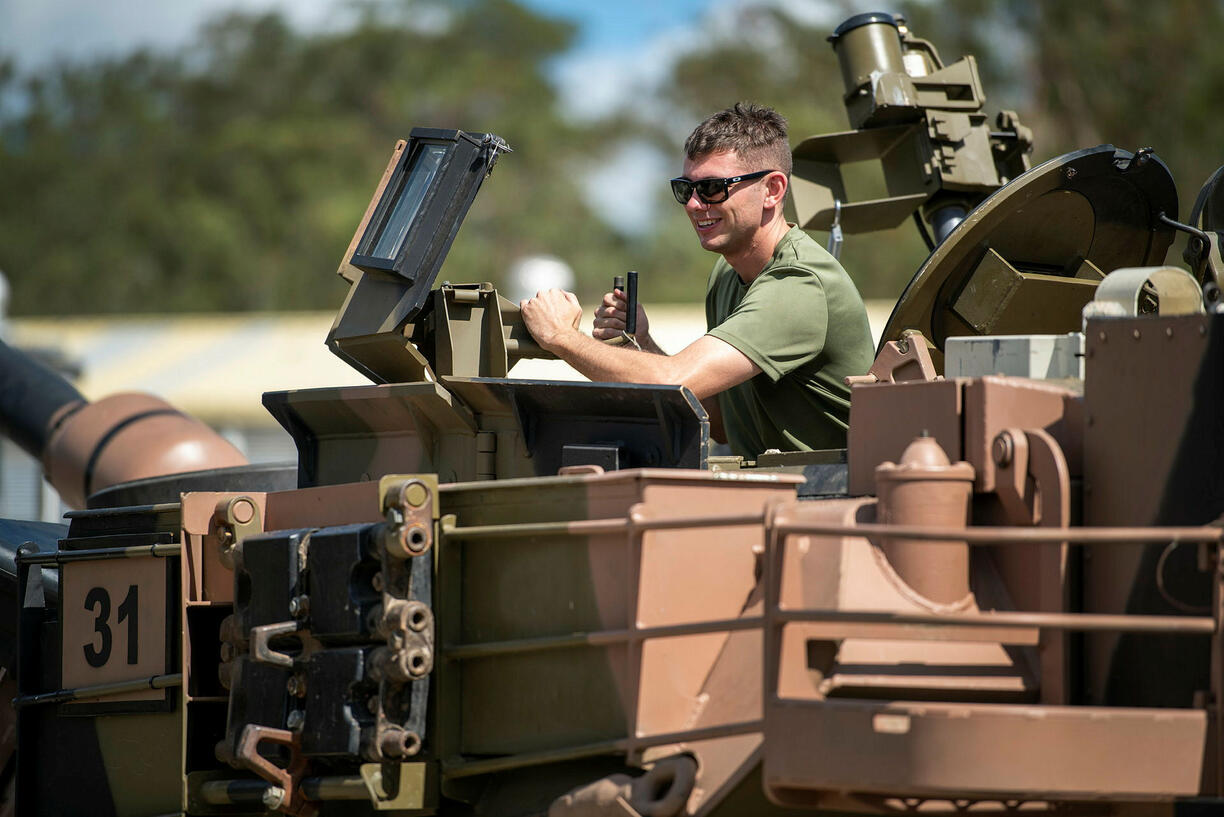 Pictured Above: CFN Tim Gurney, from the 2nd/14th Light Horse Regiment, conducts routine maintenance on an M1A1 Abrams Main Battle Tank at Gallipoli Barracks, Brisbane.
Having returned to work after the Christmas Reduced Tempo Period, soldiers from the 2nd/14th Light Horse Regiment (Queensland Mounted Infantry) have conducted routine maintenance on their M1A1 Abrams Main Battle Tanks to ensure they were in ideal condition for upcoming training activities.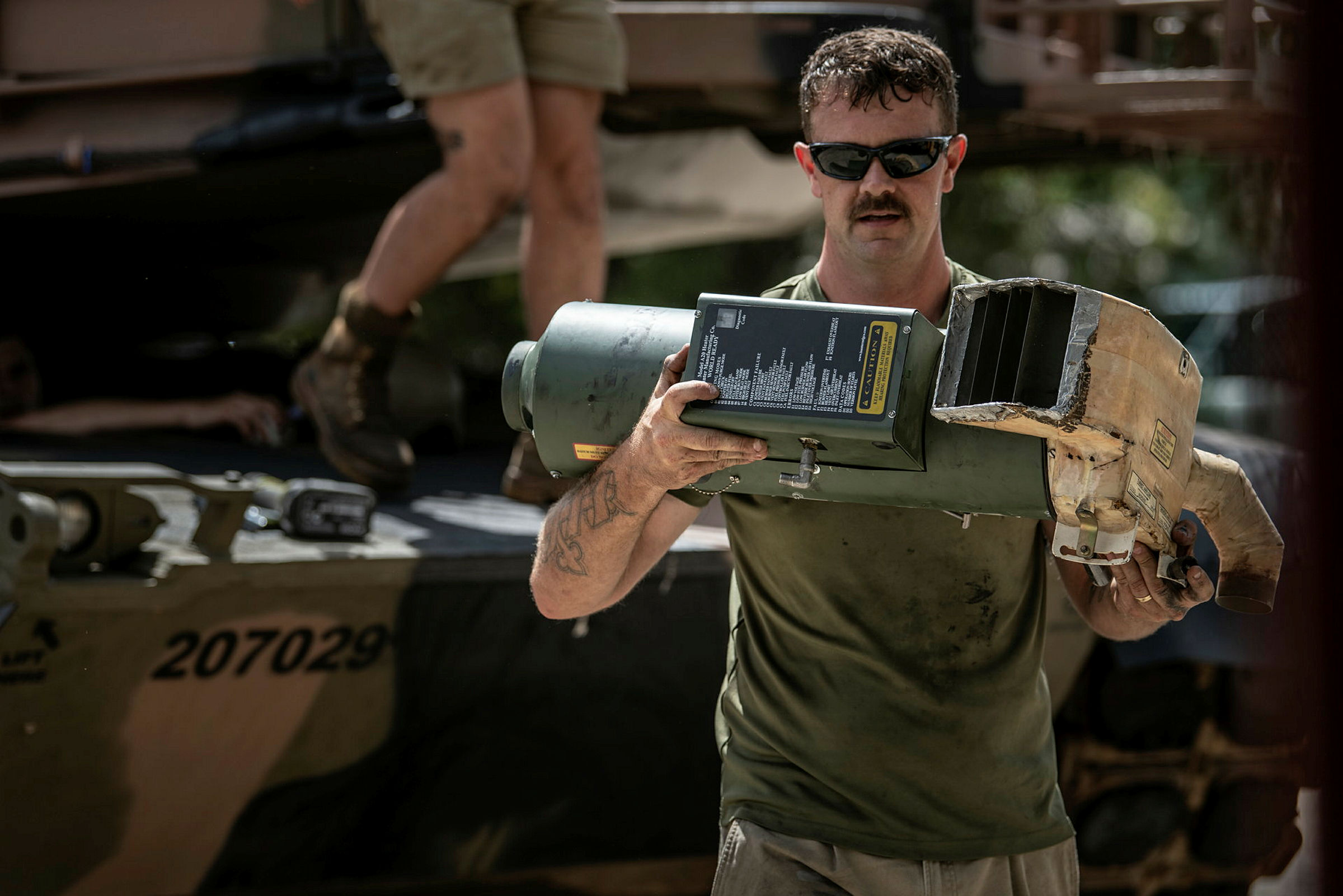 Pictured Above: LCPL Sean Sumpton removes a heating element from an M1A1 Abrams Main Battle Tank while conducting routine maintenance at Gallipoli Barracks, Brisbane.
Craftsmen from the Regiment followed stringent maintenance criteria, checking each and every component of their armoured vehicles to adjust, fix or replace parts where required.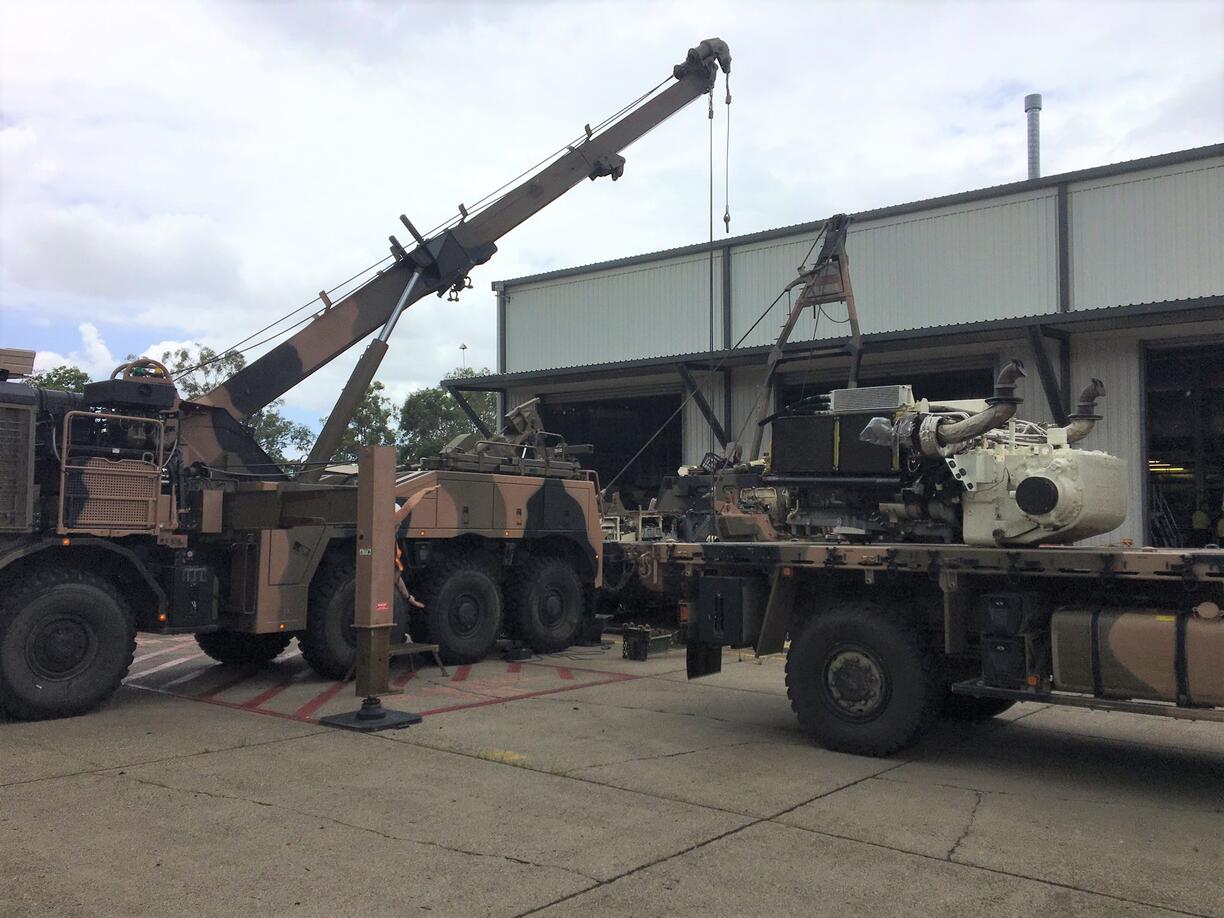 Heavy work at the #LightHorse today! Pack lift and replace on an M88 (workhorse of our armoured capability), with support from Army's new L121 fleet. Equipment care and maintenance is at the heart of what we do. Supplied by Tom McDermott
Images and Articles Courtesy of Defence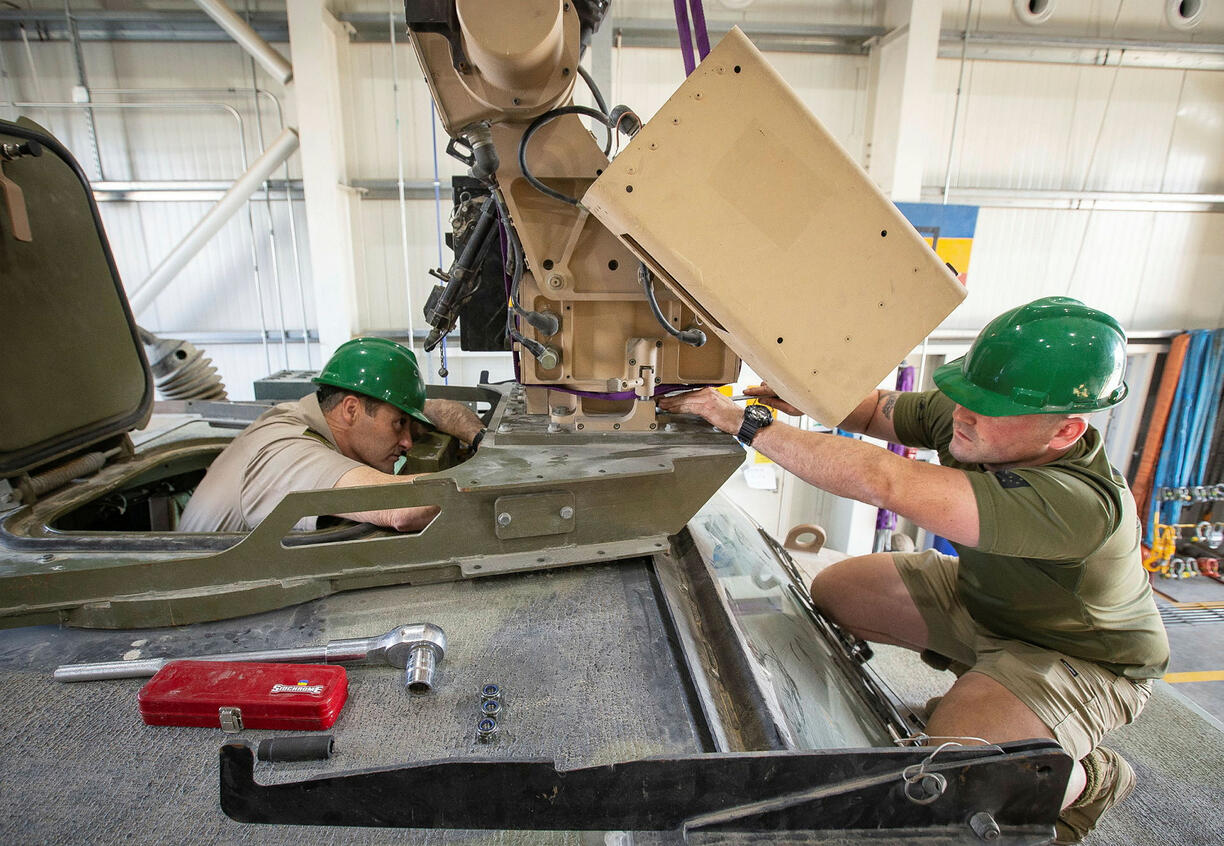 Pictured Above: Rear Admiral Michael Rothwell AM, RAN (left), and CFN Brenton O'Brien, remove the powered weapon system from a Protected Mobility vehicle in the Middle East region.
Rear Admiral Michael Rothwell AM, RAN, spent an afternoon with the workshops of Force Support Element - Rotation 13 (FSE-13), in the Middle East region, to understand the down and dirty of keeping everything from Protected Mobility Vehicles to medical equipment functioning properly.
Pictured Above: (l-r) LCPL Cameron Pennell and Rear Admiral Michael Rothwell AM, RAN, discuss the process for removing the engine from a Protected Mobility Vehicle, in the Middle East region.
Joining the Royal Australian Electrical and Mechanical Engineers at Camp Baird and wearing a specially prepared Protective Dress uniform, Rear Admiral Rothwell was thrown into the deep-end, undertaking an engine replacement in a Bushmaster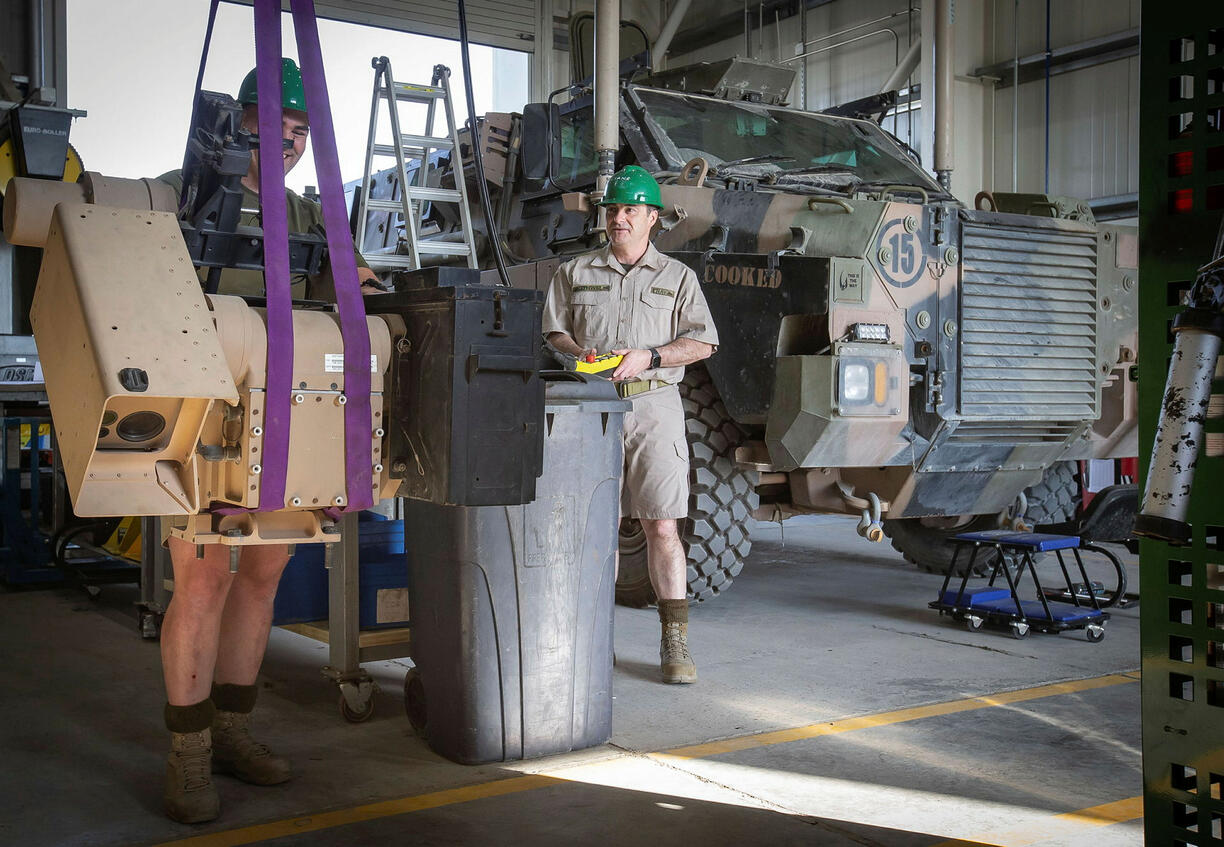 Pictured Above: Commander Joint Task Force 633, Rear Admiral Michael Rothwell AM, RAN (right), and CFN Brenton O'Brien, use a workshop crane system to remove the powered weapon system from a Protected Mobility vehicle in the Middle East region.
Images and Article Courtesy of Defence
This month marks a significant milestone in operations in Vietnam with the arrival of Centurion tanks in Vietnam. In February 1968, the first Centurion tanks of Australia's C Squadron, 1st Armoured Regiment, came ashore at South Vietnam's Phuc Tuy Province to join the Task Force based at Nui Dat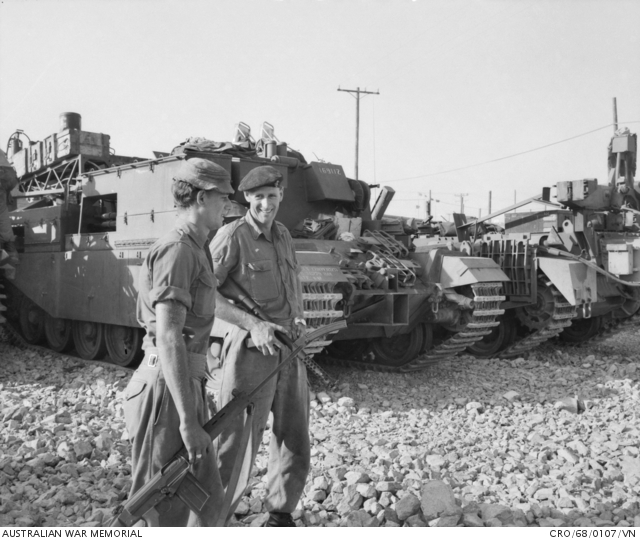 Pictured Above: 1411121 Craftsman (Cfn) Gary Gordon Johnston (left in bush hat), of Wynnum, Qld, and 53588 Sergeant (Sgt) Edward Hugh (Eddie) Naughton (right in beret), of Puckapunyal, Vic, both members of the 1st Armoured Squadron Workshop. They are walking past a newly arrived Centurion armoured recovery vehicle (ARV) Mk II (left) and a Centurion bridge layer, minus the bridge (right), at the 1st Australian Logistic Support Group (1ALSG) base, Vung Tau. These vehicles were delivered to Vung Tau by the Australian army vessel (AV-1356) Clive Steele (formerly the American vessel LSM-547) on 12 February 1968. Cfn Johnston is armed with an L1A1 SLR and Sgt Naughton is armed with an F1 SMG. (information supplied by AWM)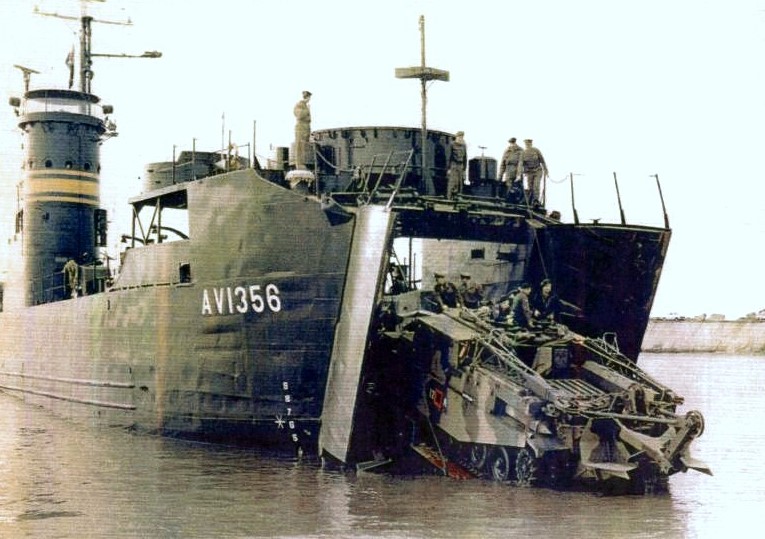 Pictured Above: LSM Clive Steel disembarking a Centurion ARV Callsign 17A - Date and location unknown.(Possibly Stockton NSW. The Clive Steele was doing sea trials from Melbourne to Stockton 1963 / 1964).
This year marks the 53rd Anniversary of the 1st Independent Armoured Squadron Workshop RAEME, and 1st Armoured Squadron Workshop RAEME.
On the 29th January 1968, the Workshop Main Body left Sydney Airport by plane to go to Vietnam to Repair and Recover the first Australian Centurion Tanks to go to Vietnam. We arrived at Nui Dat in Vietnam on the 30th January 1968.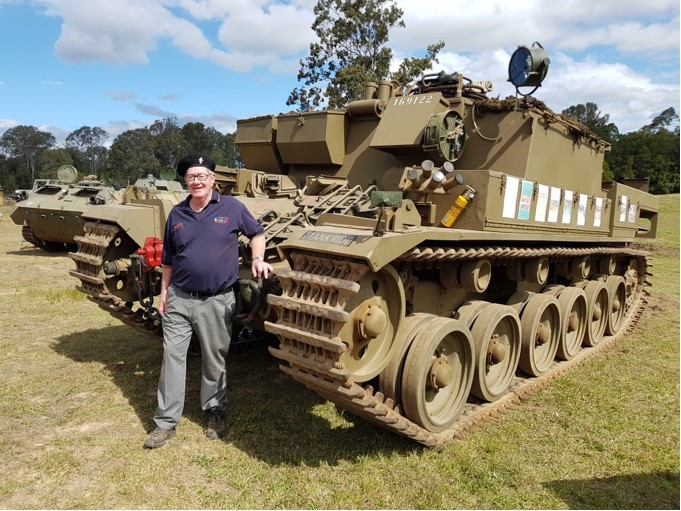 Pictured Above: Des Kearton. Centurion ARV 169122, which he was a Craftsman Vehicle Mechanic on the first Centurion Tank Operation, Pinarroo, in March 1968 in Vietnam. In September 2020, Tim Wood of Tank Ride (Tamborine QLD) drove the ARV, 169122, with Des on the back of the ARV. The ARV has had a complete overhaul, and is ready to go to war again.
On 12 February 1968, the LSM CLIVE STEELE docked in Vung Tau, Vietnam, with two Centurion ARVs (ARV 169122, 38B, and 169112, 38D) and two Centurion Bridgelayers (115542, 92D, and 115544, 92C). They were amongst the first Centurion tanks to arrive in Vietnam.
On the 3rd February 1968, the unit changed its name to 1st Armoured Squadron Workshop RAEME and then on the 1st November 1968, our unit was disbanded to then form 106 Field Workshop RAEME.
Des' motto - WE KEPT THEM ON TRACK.
Image and information supplied by Des Kearton