The Royal Australian Electrical and Mechanical Engineers (RAEME) Association Queensland Inc is a not for profit volunteer organisation, supporting the RAEME National Network by providing leadership to, and a focal point for, all RAEME affiliated Associations in Queensland, by promoting and recognising the corps and its achievements via independent memorial, celebratory, social, fundraising, sporting and other activities.
The goals of the Association are to:
Promote the Corps' identity and reputation in Queensland

Recognise and celebrate achievements of members of the Corps in Queensland

Provide a focal point for Corps activities in Queensland
The role of the RAEME is to ensure maximum operational availability of equipment to enable the commander to win the land battle. RAEME is a technical corps tasked with the maintenance of the Army's modern hardware and equipment. More on the Corps can be found at this link.
This site has been developed as a communication tool for RAEME members in Queensland. All attempts have been made to ensure the accuracy of the information supplied. If any errors or broken links are found, or if you have any item or article for inclusion on these pages, please contact the webmaster.
RAQ Subscriptions
Annual subscriptions to the RAQ are due by 30 June each year. Subscriptions can be paid using either PayPal (fee free) or EFT by clicking the Icon below and logging in. Renew your subscription for $10 a year or upgrade to Life Subscription for $100.
New members please use the 'Online Registration' link under the Membership banner.
All proceeds are used to support and promote the goals of the Association.
Meetings and Functions
Are held on the first Wednesday of each month excluding January, the latest information is on the Events page.
---
Corps 81st Birthday

On Friday 1 December, the Royal Australian Electrical and Mechanical Engineers Corps celebrates its birthday, marking a significant milestone in its distinguished history. This occasion serves as a momentous tribute to the men and women who have contributed their expertise and dedication to the Corps over the last 81 years. Established to provide crucial support for the Australian Army during World War II, ensuring the functionality and reliability of its electrical and mechanical equipment, RAEME has played a pivotal role in maintaining the operational readiness of the military. The celebrations today will feature a range of events, including sports, commemorations and gatherings, allowing members to reflect on their shared accomplishments, uphold traditions and strengthen the bonds that define our unique camaraderie.
The celebrations also provide an opportunity to recognise outstanding achievements and exemplary service within the RAEME community with a number of Corps members receiving awards. Congratulations to those members.
Overall, the anniversary not only marks the Corps' rich history, but also reinforces its vital role in supporting the ADF and ensuring the effectiveness of its capabilities for the challenges that lie ahead.
Happy 81st Birthday!
Arte et Marte
---
RAQ Online Shop - Did someone says flags!
Some of our most popular items are Corps Flags. We have a range of three to choose from, with prices starting from just $8 for Members. Our bulk purchasing power means we can offer a quality flag at a great price, features include:
Outdoor Standard Flag

Two sizes to choose from

200D Polyester

Printed Single Sided Reverse

Header Left

Rope Clips
Members don't forget to login for you member discount and 'Click and Collect' option.
---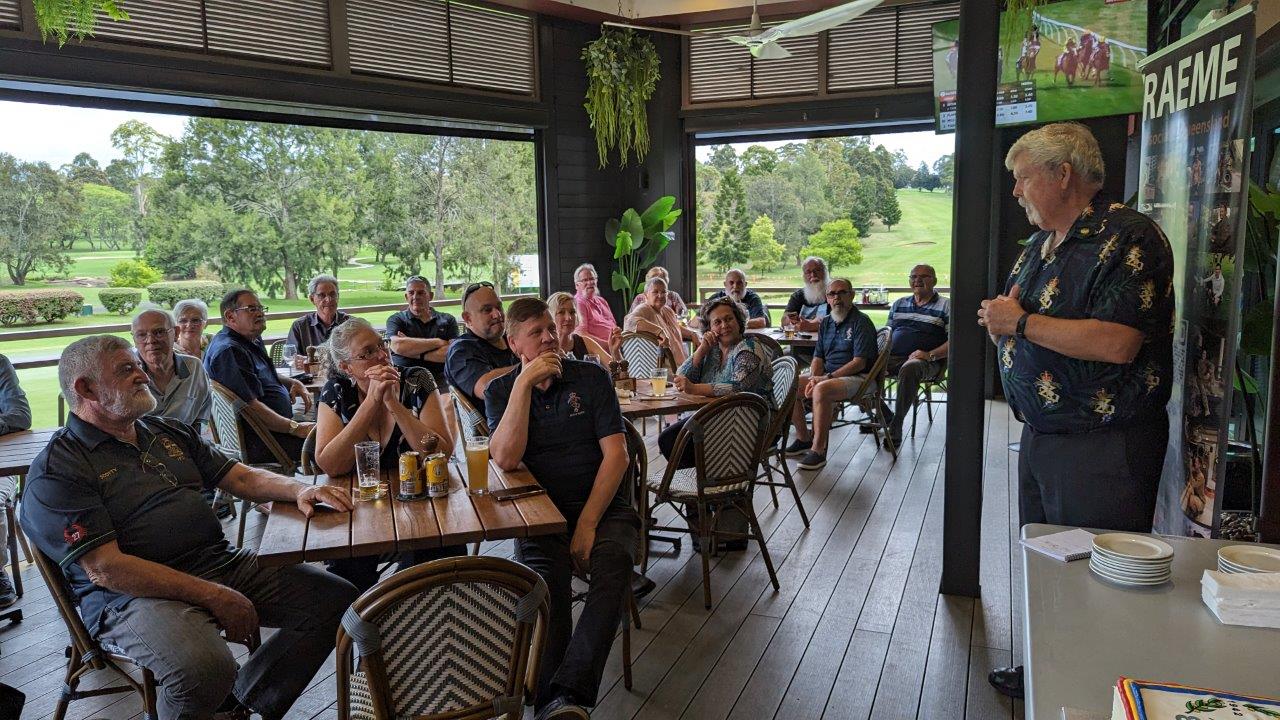 Pictured above: Luncheon members and guests and MC Clarrie Sanders
A great afternoon with terrific company as the Darling Downs chapter of the RAEME Association Queensland gathered at the Toowoomba City Golf Club to celebrate the 81st Anniversary of the formation of the Corp.
Many local old's & bold of the Corps and those that travelled significant distance to attend. We welcomed Ed & Simone Smeaton, Ed is the National Representative Colonel Commandant of the Corp. Pete Mathews, President of the RAEME Association Queensland and an honourable mention to Dave Roberts for towing a van from Esperance W.A in under eight days to attend.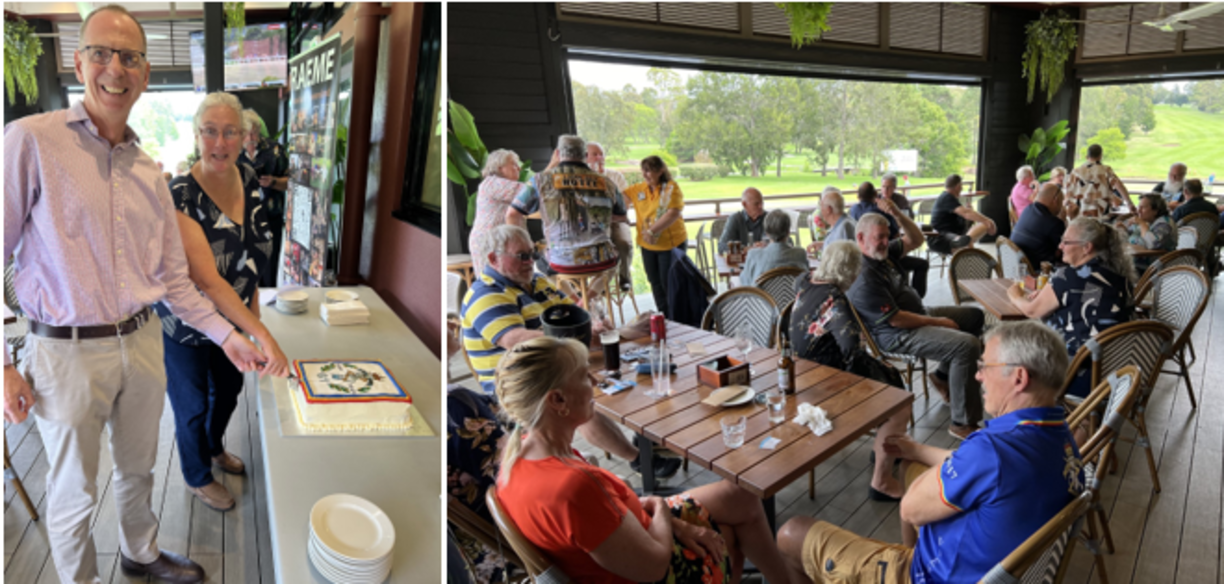 Pictured above: L-R BRIG Ed Smeaton and Liz Fitzgibbon cut the cake. Members and guests at the Luncheon.
Our hosts, the City Golf Club, were giving away a Mazda CX-60 on the day, and one needed to be present to claim the prize, so as you can imagine, the place was well packed with lots of PA announcements on the draw, interrupting our gathering and becoming quite annoying. This situation was almost forgiven when one of our members picked up a $500 cash prize during the afternoon. Unfortunately, all the people at our gathering went home in the cars they arrived in…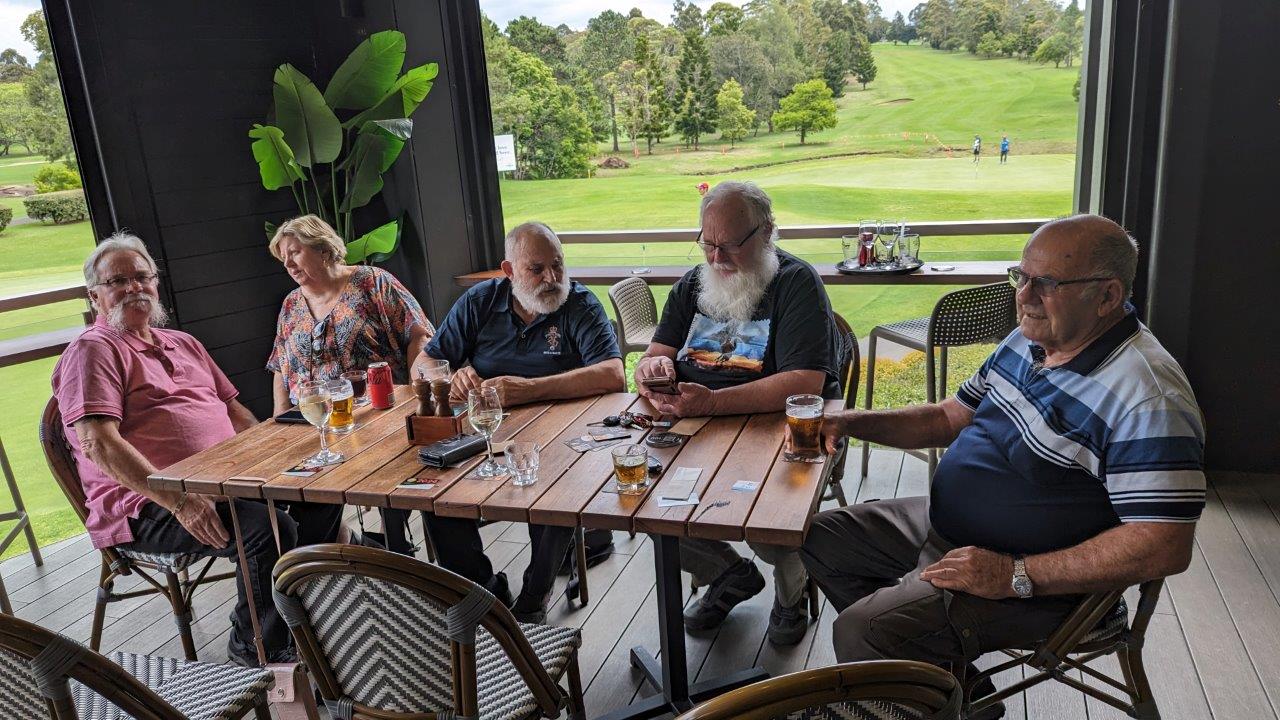 Pictured above: L-R Dave & Val Roberts, Alf Vanderhorst, Steve Jones & Dennis Flanagan
A very social gathering with a couple of short updates on Corps happenings from the Col Comdt. Then an update of what's going on inside the RAQ from Pete Mathews, before Ed and Liz, one of our early 'Lady Tradies', cut the 81st RAEME birthday cake, produced by Kate's Kreations' in Toowoomba. We then drew the three lucky door prizes, each a $50 gift voucher courtesy of the RAQ Gift Shop.
Thanks go to:
Our hosts, the Toowoomba City Golf Club for the exclusive use of the Ambrose Deck on such a very busy day.
Kate's Kreations Toowoomba, for a very special cake.

RAQ for funding support and the generous donation of the lucky door prizes.

All those that worked to make it happen and everyone that attended to make it a great day out.
More photos of the day are on the RAQ Photo Galley Page.
Regards
Clarrie Sanders & Peter Pile
This email address is being protected from spambots. You need JavaScript enabled to view it.
---
New Blackhawks commence flying operations - Holsworthy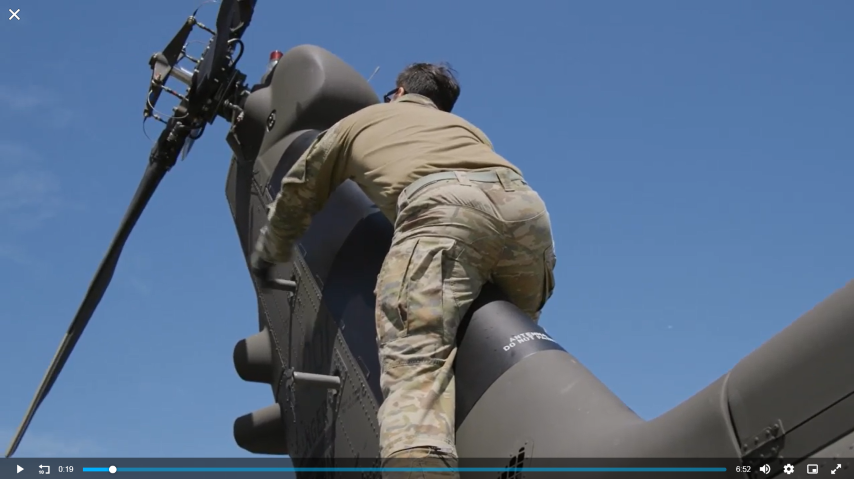 Pictured above: A craftsman inspects the tail rotor on one of the first three of 40 UH-60M Black Hawks which have commenced flying operations.
The first three of a planned fleet of 40 UH-60M Black Hawks have commenced flying operations prior. The Black Hawks will operate from Holsworthy in Western Sydney and Oakey in South East Queensland. Black Hawks provide Army with the modern, credible and sustainable Aviation capability it needs to meet the contemporary challenges of warfare. The next tranche of Black Hawk helicopters is expected early 2024.
Image and article courtesy of Defence
---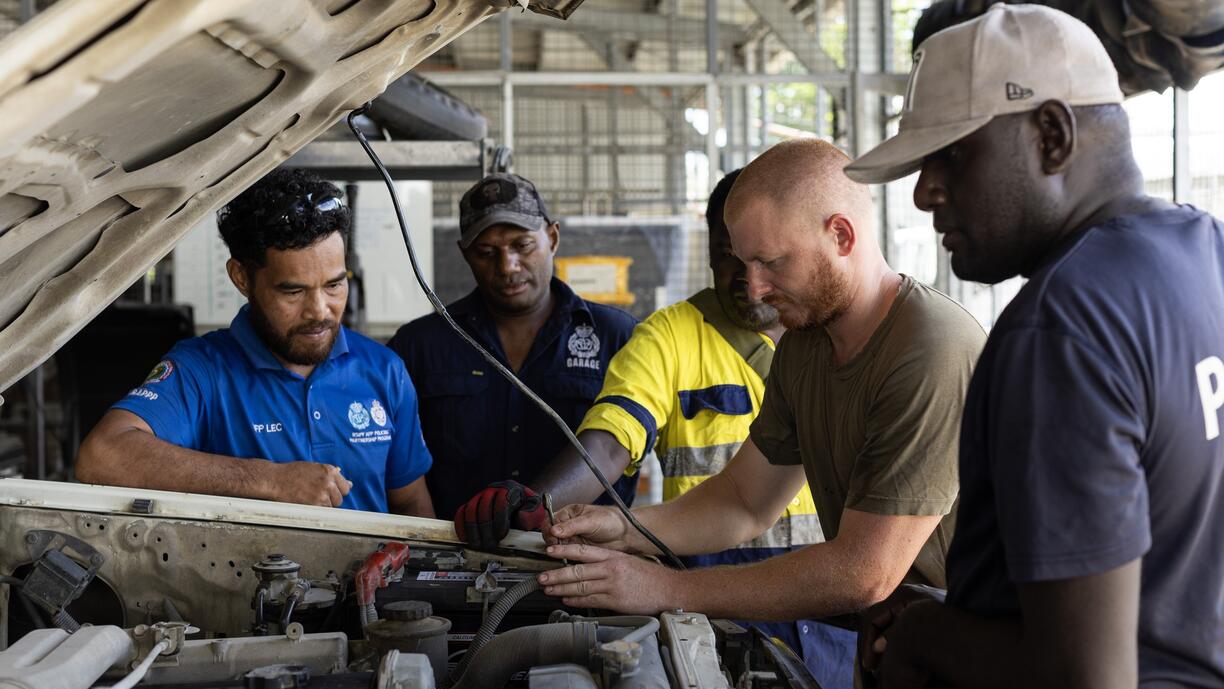 Pictured above: CFN Bradley Scheef and members from the Royal Solomon Islands Police Force maintain a police vehicle in preparation for the Pacific Games 2023 in Honiara, Solomon Islands.
ADF is in Honiara supporting the Royal Solomon Islands Police Force to get ready for the 2023 Pacific Games, including making sure the police vehicle fleet is in good nick.
Solomon Islands is hosting the Pacific Games in Honiara from 19 November to 2 December 2023, with 5,000 participants (including athletes, officials and support staff) from 24 Pacific countries, including Australia.
Pictured above: CFN Aaron Primarera drains oil from a Royal Solomon Islands Police Force vehicle in preparation for the Pacific Games 2023 in Honiara, Solomon Islands.
At the request of the Solomon Islands Government, Australia is deploying additional Australian Federal Police (AFP) and Australian Defence Force (ADF) personnel under our Bilateral Security Treaty to support the Royal Solomon Islands Police Force (RSIPF) to deliver a safe and secure Pacific Games 2023.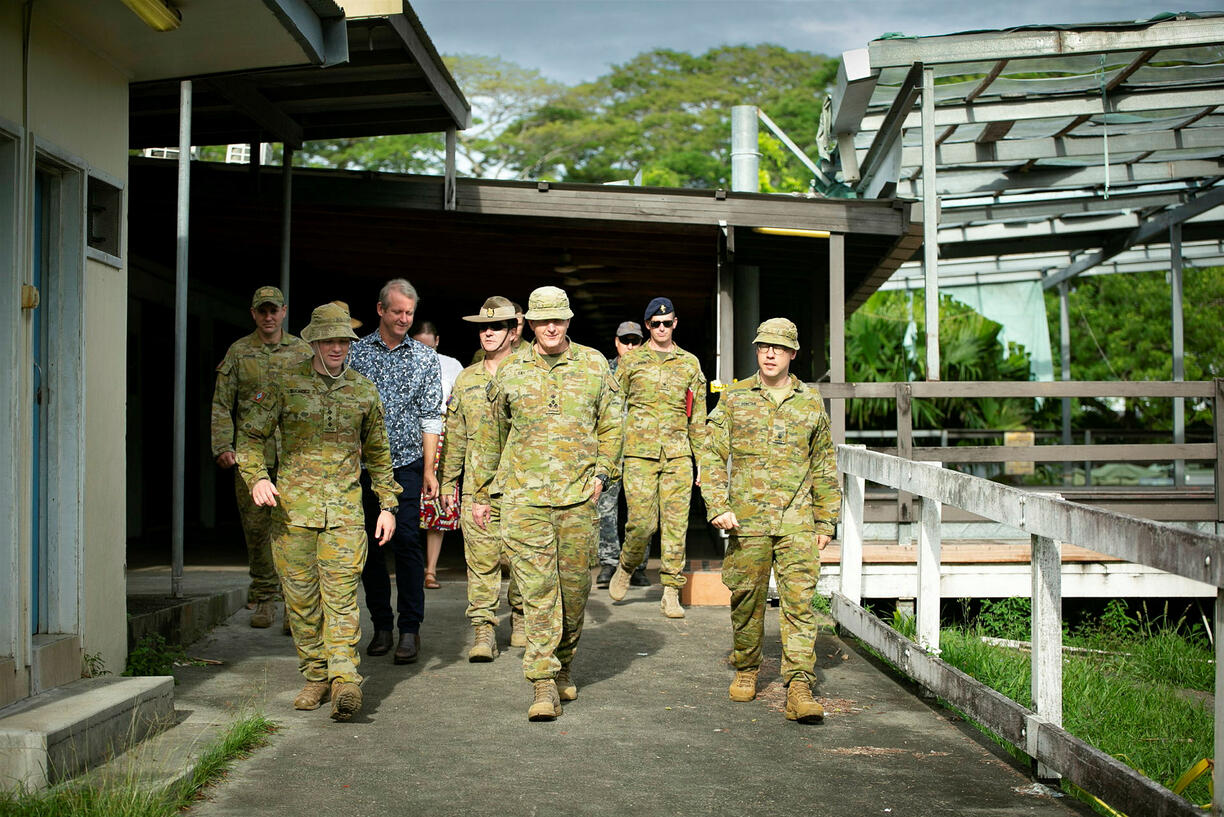 Pictured above: Solomon Island Head of Mission His Excellency Mr Rod Hilton, Defence Advisor Lieutenant Colonel Justin Bywater and Combined Joint Task Force 637.3 Commander Brigadier Michael Say visits troops and Camp Clark facilities ahead of the Pacific Games 2023.
Images and article courtesy of Defence
---
1CSSB news - Darwin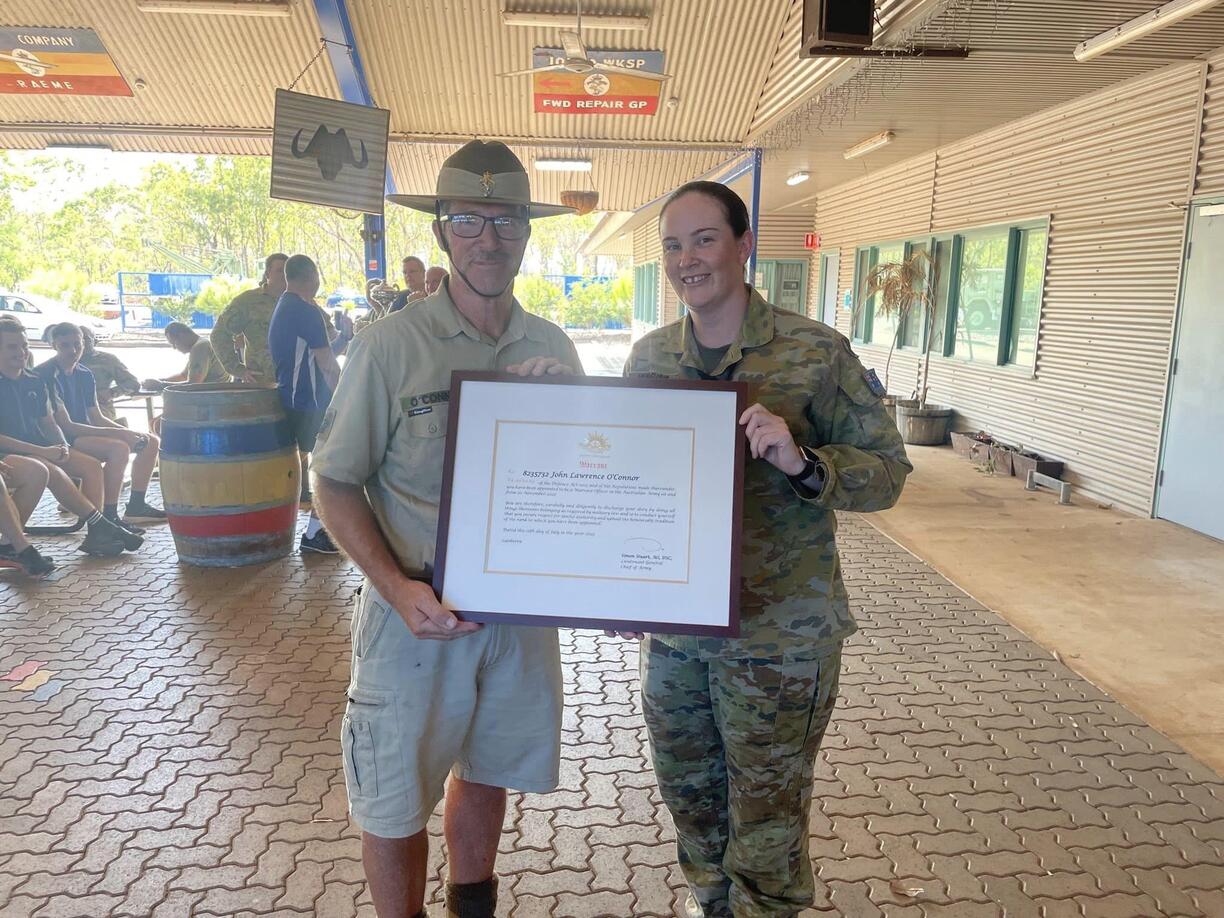 Pictured above: WO2 John O'Connor presented his warrant by CO LTCOL Danielle Huggins
The battalion celebrated a number of awards and promotions. Among them was WO2 John O'Connor who was recently presented with his warrant by Commanding Officer LTCOL Danielle Huggins. This occasion not only marks WO2 O'Connor's personal achievement but also highlights the commitment of the individuals within the battalion to excellence and service. The presentation of the warrant serves as a recognition of WO2 O'Connor's exceptional contributions to the battalion and reflects the high standards upheld within 1 CSSB.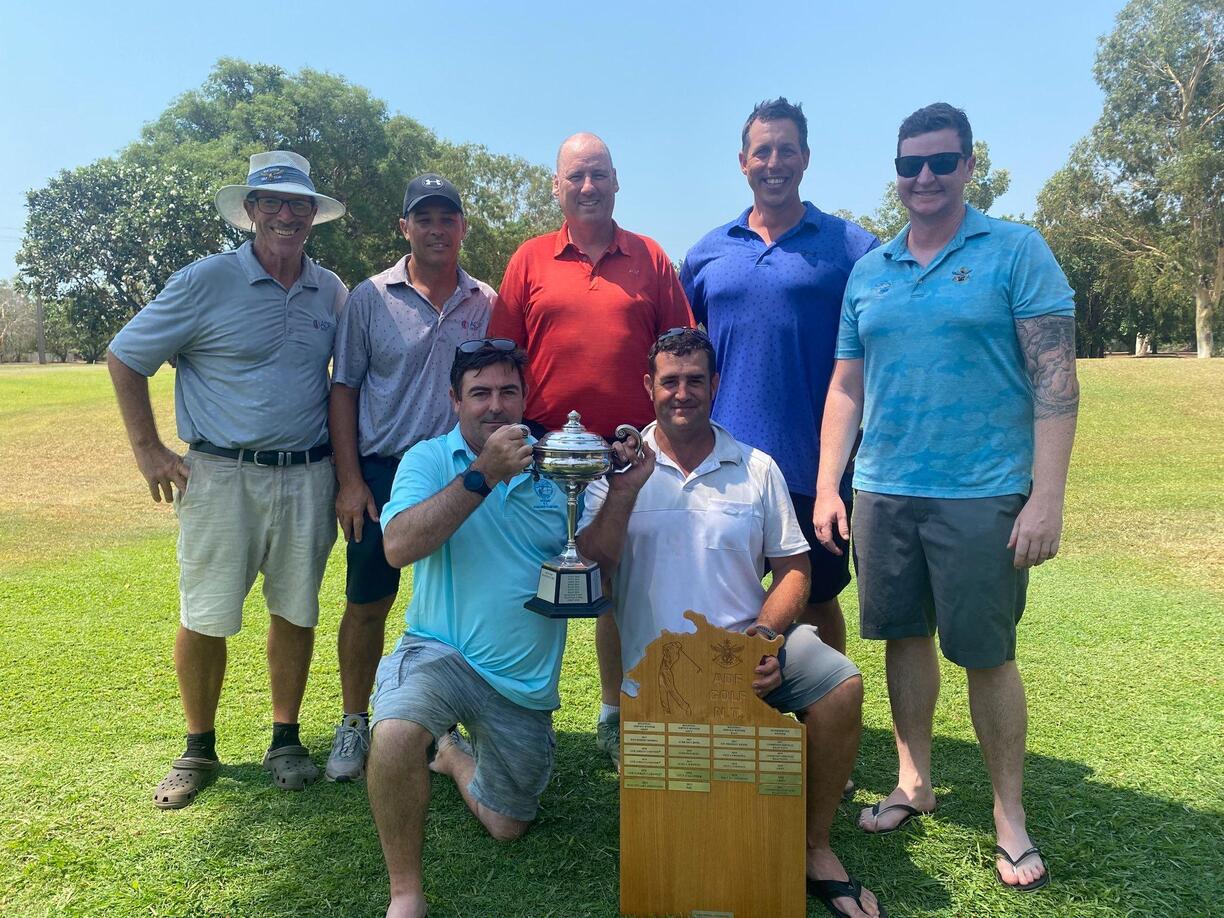 Pictured above: NT Army Golf Team. Winners 2023
Additionally, WO2 O'Connor was not only celebrated for his professional achievements but also for his participation in the winning team of the Northern Territory Army Golf competition. This dual success showcases the versatility and skills of the battalion members, demonstrating that they excel not only in military endeavours but also in recreational pursuits.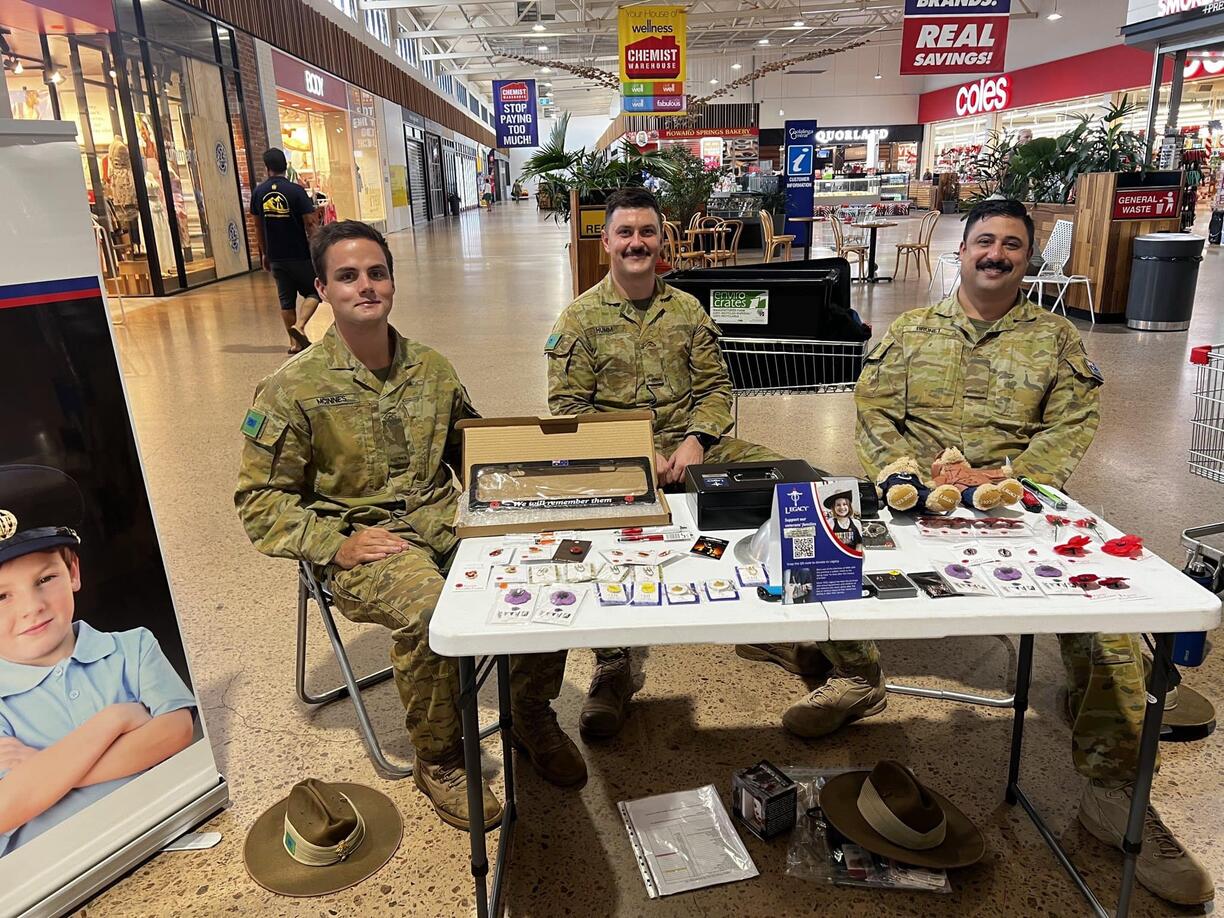 Pictured above: Soldiers from 1 CSSB spent time in the community supporting Legacy Week
Soldiers from 1 CSSB demonstrated a strong sense of community engagement by actively volunteering in various capacities throughout the week. Their involvement in supporting Legacy Australia underscores the battalion's commitment to making a positive impact beyond the military domain, fostering a sense of unity and responsibility in the wider community.
Images courtesy of Defence