The Royal Australian Electrical and Mechanical Engineers (RAEME) Association Queensland Inc is a not for profit volunteer organisation, supporting the RAEME National Network by providing leadership to, and a focal point for, all RAEME affiliated Associations in Queensland, by promoting and recognising the corps and its achievements via independent memorial, celebratory, social, fundraising, sporting and other activities.
The goals of the Association are to:
Promote the Corps' identity and reputation in Queensland

Recognise and celebrate achievements of members of the Corps in Queensland

Provide a focal point for Corps activities in Queensland
The role of the RAEME is to ensure maximum operational availability of equipment to enable the commander to win the land battle. RAEME is a technical corps tasked with the maintenance of the Army's modern hardware and equipment. More on the Corps can be found at this link.
This site has been developed as a communication tool for RAEME members in Queensland. All attempts have been made to ensure the accuracy of the information supplied. If any errors or broken links are found, or if you have any item or article for inclusion on these pages, please contact the webmaster.
RAQ Subscriptions
Annual subscriptions to the RAQ are due by 30 June each year. Subscriptions can be paid using either PayPal (fee free) or EFT by clicking the Icon below and logging in. Renew your subscription for $10 a year or upgrade to Life Subscription for $100.
New members please use the 'Online Registration' link under the Membership banner.
All proceeds are used to support and promote the goals of the Association.
Meetings and Functions
We have great news, we will be holding physical meetings from February. For those of you who are attending, the latest information to the events page on the website.
For apologies or to confirm your attendance please contact the This email address is being protected from spambots. You need JavaScript enabled to view it.
Reports - Can those submitting reports please ensure it is emailed to the Secretary prior to the meeting.
---
ANZAC DAY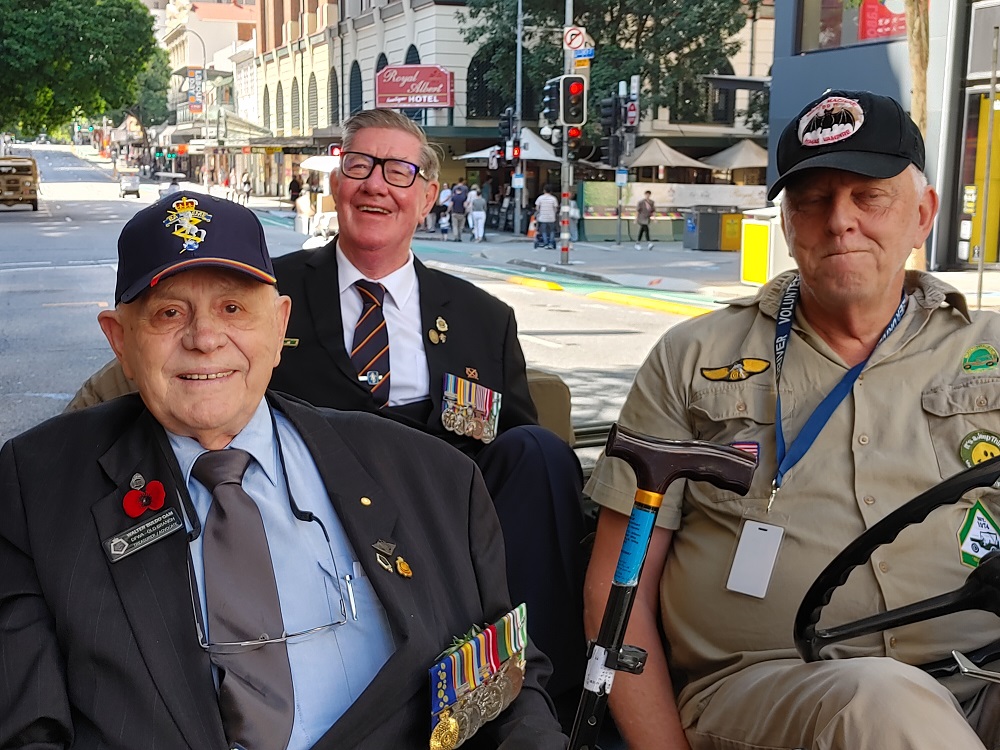 Pictured Above: Wally Buldo (l) amd Des Kearton (c) had a ride in a jeep behind the RAQ Brisbane Group.
'I would like to thank the RAEME Association Queensland for a wonderful ANZAC Day march in Brisbane.'
'Would you please pass on my thanks to Max Walker and the drivers of the jeeps and Golf Buggies'.
Des Kearton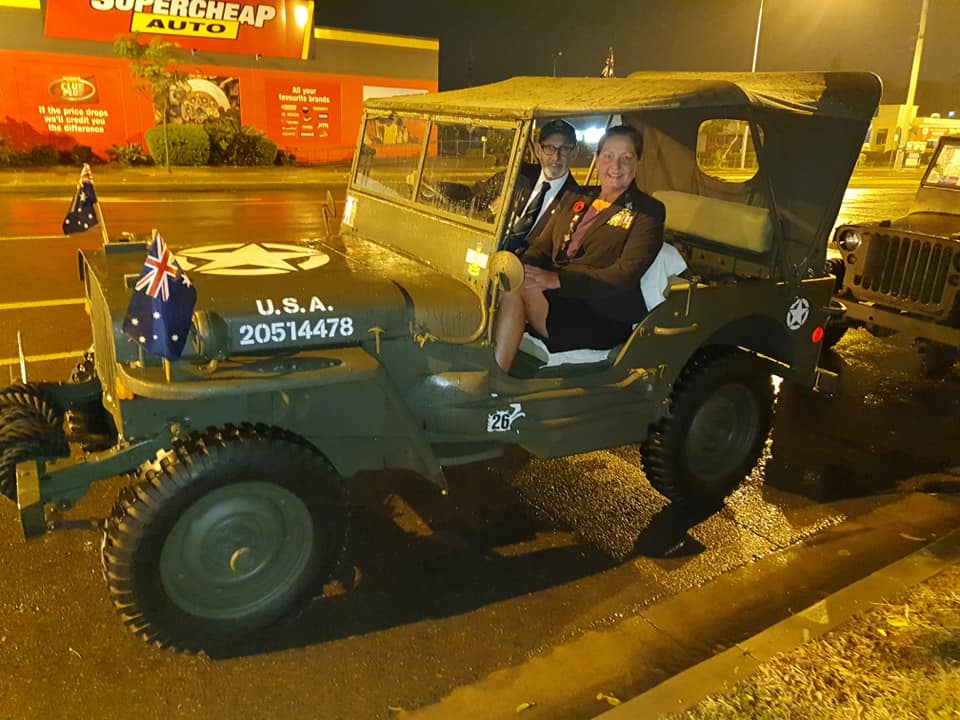 Pictured Above: Alby and Alison Bird raring to go for next leg of the trip. Waiting at TVL RSL for a few other members and their awesome chariots. (Notice the 26th Crab on the Jeep)
'What an awesome way to head in for the Dawn Service!!! Thank you Alby for a memorable trip on the one special day of the year. '
'You are a true champion.'
Alison Bird
---
Darling Downs Inaurgural Luncheon - Sat 22 May 2021
Many of you will remember we had our first Darling Downs function locked in for this time last year. COVID unfortunately put those plans on hold.
Oakey Rep Peter Pile is now organising the Inaugural function for the Darling Downs, with a proposed outline as follows:
Saturday 22 May 2021 – Tours and Luncheon.
RAMS tours of its facilities for any RAQ members who would be interested.

Australian Army Flying Museum (AAFM) could host tours, concurrent with RAMS tours.

Inaugural RAQ-DD luncheon at a local Toowoomba establishment

Open to RAQ Members, any serving or ex-serving members of RAEME and their partners,
We will confirm timings and costing shortly. We've also raised an Event on the Website, so keep an eye on Friday Files and the page for all the latest details.
If you have any questions please contact Peter via email.
This email address is being protected from spambots. You need JavaScript enabled to view it.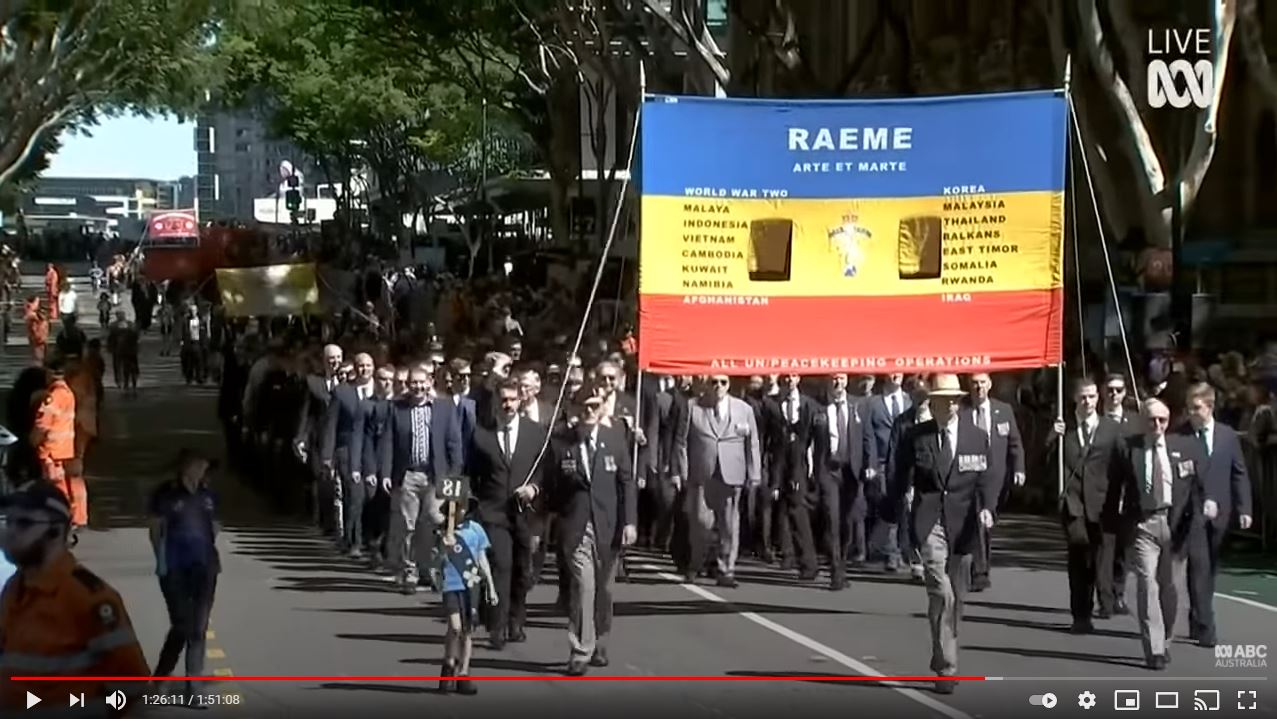 Pictured Above: ANZAC Day March Brisbane 2021 (Click on the image above to view the parade)
Well what a day!. We managed to have stellar attendance to March's and Function from Brisbane north to Townsville of over 300 members and guests in attendance.
In Brisbane the March stepped off around 1115hr what was a perfect Autumn day. Lead by BRIG Ed Smeaton, our contingent flew our Association banner proudly, escorted by the OJT's from Brisbane and over 170 participants. The streets were lined with thousands of cheering Brisbane residents, supporting what has to be one of the most remarkable parades held.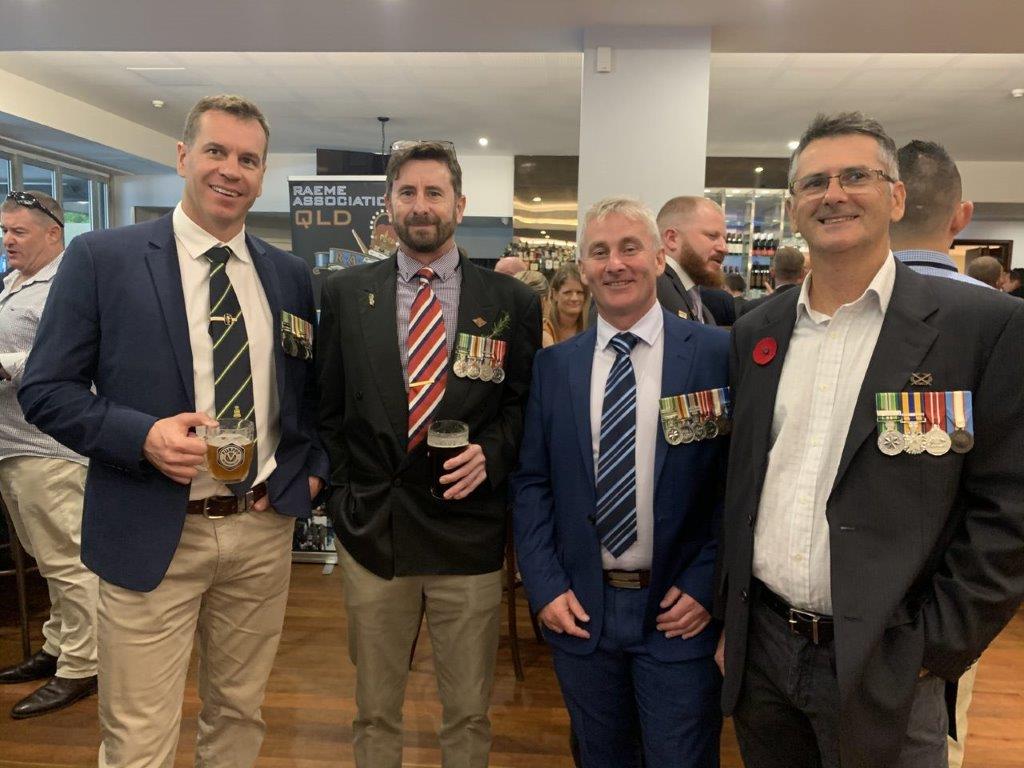 Pictured Above: Members and Guests at the Port Office Hotel ANZAC Day Function (Click on the image to view more photos)
Pictured Above: The New RAQ Banner NQ proudly flying
Despite some rain leading up to ANZAC Day, the skies held clear for the Gunfire Breakfast at Flynn's Hotel and also the parade which kicked off at 0900hr.
We had over 110 members and guests attend the Townsville parade and proudly marched behind our new RAQ Association NQ Banner.

Pictured Above: The RAEME Association QLD, NQ Chapter with an 'eyes right' to COMD 3 BDE