The Royal Australian Electrical and Mechanical Engineers (RAEME) Association Queensland Inc is a not for profit volunteer organisation, supporting the RAEME National Network by providing leadership to, and a focal point for, all RAEME affiliated Associations in Queensland, by promoting and recognising the corps and its achievements via independent memorial, celebratory, social, fundraising, sporting and other activities.
The goals of the Association are to:
Promote the Corps' identity and reputation in Queensland

Recognise and celebrate achievements of members of the Corps in Queensland

Provide a focal point for Corps activities in Queensland
The role of the RAEME is to ensure maximum operational availability of equipment to enable the commander to win the land battle. RAEME is a technical corps tasked with the maintenance of the Army's modern hardware and equipment. More on the Corps can be found at this link.
This site has been developed as a communication tool for RAEME members in Queensland. All attempts have been made to ensure the accuracy of the information supplied. If any errors or broken links are found, or if you have any item or article for inclusion on these pages, please contact the webmaster.
RAQ Subscriptions
Annual subscriptions to the RAQ are due by 30 June each year. Subscriptions can be paid using either PayPal (fee free) or EFT by clicking the Icon below and logging in. Renew your subscription for $10 a year or upgrade to Life Subscription for $100.
New members please use the 'Online Registration' link under the Membership banner. All proceeds are used to support and promote the goals of the Association.
Latest Update - Events and Meetings
As previously advised regarding Coronavirus in Australia, we are keeping a watch on the events and advice coming from the State and Federal Governments and Health Authorities.
Our usual venue Kedron Wavell Services Club remains only partially open. Electronic meetings will be held until the COVID 19 restrictions are relaxed to the extent where it is feasible to attend a suitable meeting venue, one that will allow 20+ RAQ members.We have slowly expanded the number of attendees over the past several meetings using Microsoft Teams.
All the function details are located on the Events page, with updates posted on the individual Event.
Membership & Online Shop
All other web based activities will continue as normal, with online shop items purchased sent out via Australia Post.
The most important thing for all of us right now is put our family and friends first and look out for your neighbours and mates who may not be as well-resourced.
Please keep interacting with your Association with updates available via our website, weekly emails and through our 'Contact Us' page.
Yours Sincerely,

Chairman
---
RAEME 78th Birthday Celebrations Queensland 2020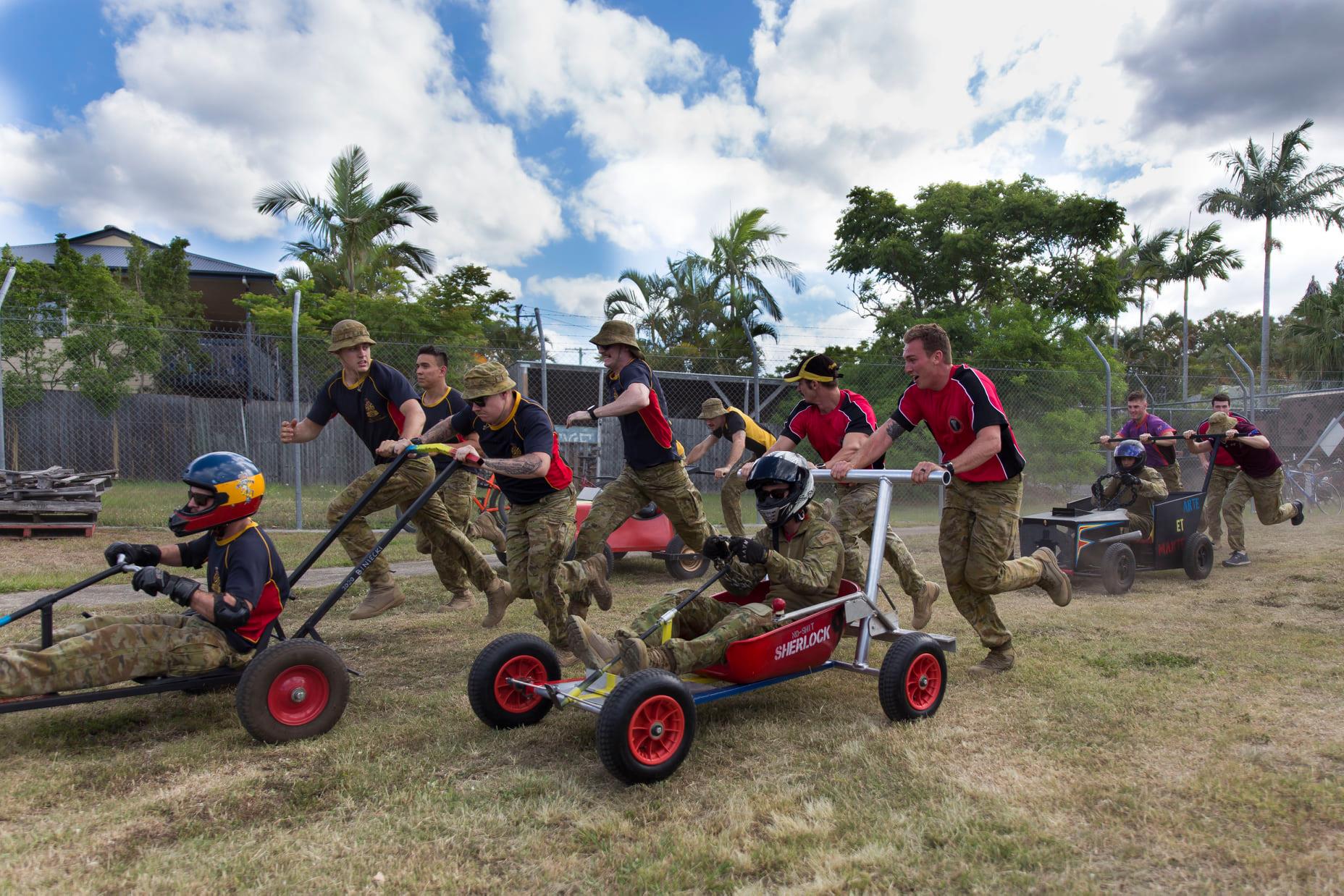 Pictured Above: Running of the traditional Kart race
Birthday celebrations kicked off in great style this week with Enoggera Barracks the first function of the week.
We'll post all the images on our Gallery Page. If you have images or articles for publication please submit them via email to the This email address is being protected from spambots. You need JavaScript enabled to view it.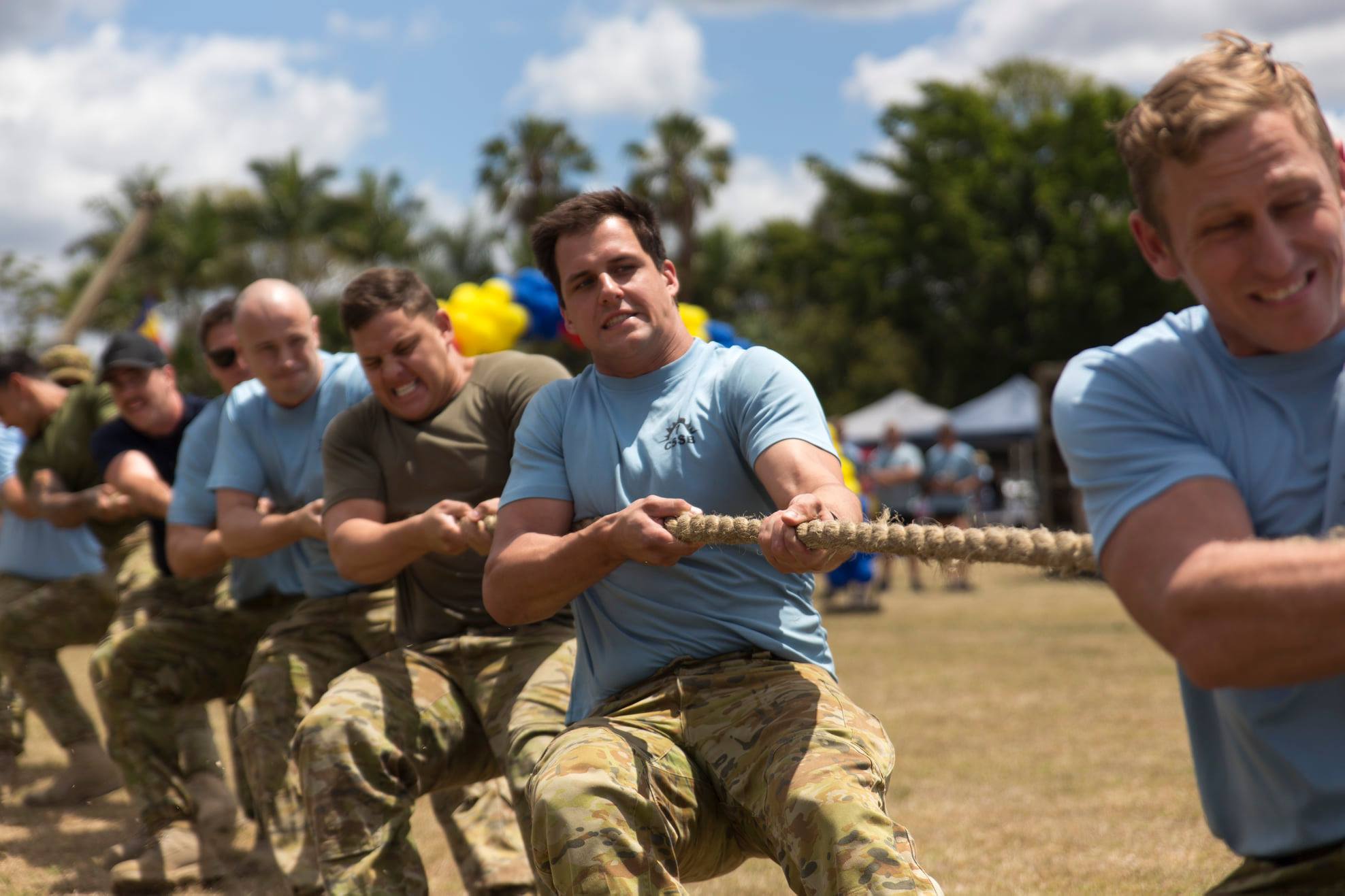 Pictured Above: Tug of War
Birthday Events
Enoggera Barracks - Fri 27 Nov 2020 Starting 1200hr
The event will be held on El Alamein Oval inside the Barracks.
Oakey - Rotary-wing Aircraft Maintenance School - Fri 27 Nov 2020 starting 1745hr
The Rotary-wing Aircraft Maintenance School (RAMS) will be hosting an all ranks mixed dinner as a unit function on the evening at the Australian Army Flying Museum, Museum Drive, Oakey.
Cairns - Hemingway's Brewery - Sat 28 Nov 2020 starting 1200hr
A gathering will be for all current and ex-serving (and aligned) RAEME members. Address is 4 Wharf Street Cairns.
Brisbane - All Ranks Luncheon - Sun 29 Nov 2020 - 1130hr for 1230hr start
All current and past members of RAEME and friends of RAEME can attend the luncheon to celebrate our 78th Anniversary of the establishment of the Corps at the Port Office Hotel Brisbane.
Our Special Guests are Brigadier Ed Smeaton accompanied by his wife Simone.
Townsville - Lavarack Barracks Golf Club - Tue 1 Dec 2020 0830hr start
There is a NQ RAEME Birthday celebration on Tue 1 Dec 20 at the Lavarack Bks Golf Club 0830 – 1330h with 9 holes of Golf, spanner throw and tug of war. There will be presentations (NQ ARA & ARES CFN of the year etc) followed by a BBQ and refreshments
The RAQ NQ Committee will have a RAQ stand to sell merchandise and RAQ Membership.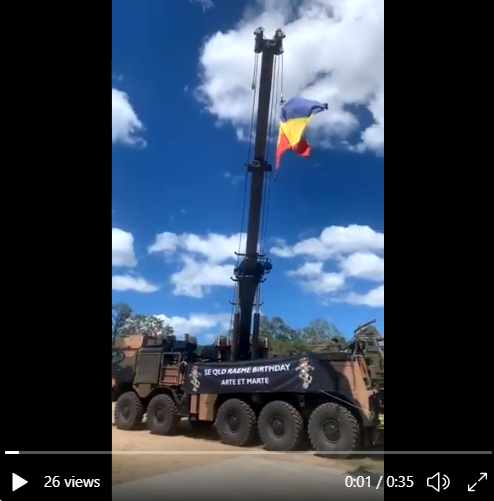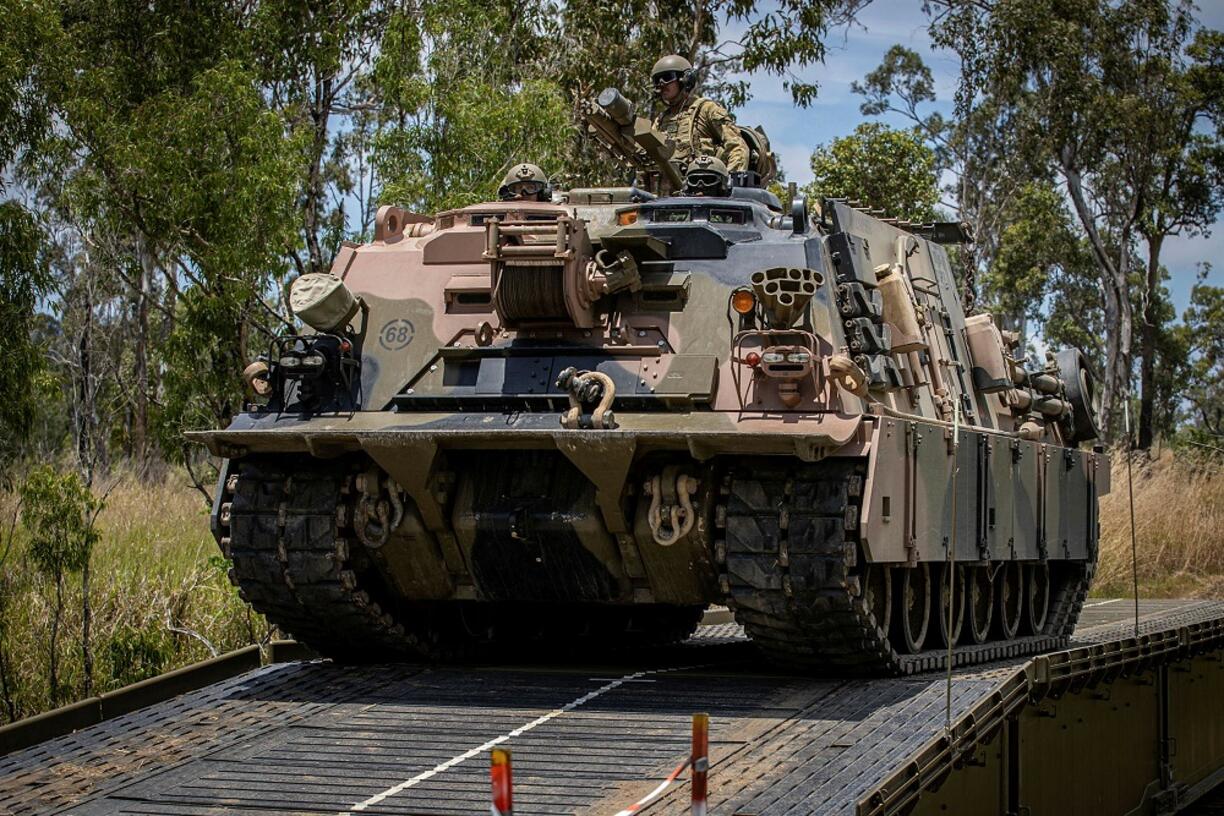 Pictured Above: M88 Hercules from 2/14 crosses a Dry Support Bridge
Sappers from the 2nd Combat Engineer Regiment constructed their Dry Support Bridge during Exercise Diamond Catalyst in the Shoalwater Bay Training Area. The Dry Support Bridge allows heavy military vehicles to cross creeks, rivers and other tough terrain while on exercises and operations. Exercise Diamond Catalyst is a 7th Combat Brigade training activity at the Shoalwater Bay Training Area.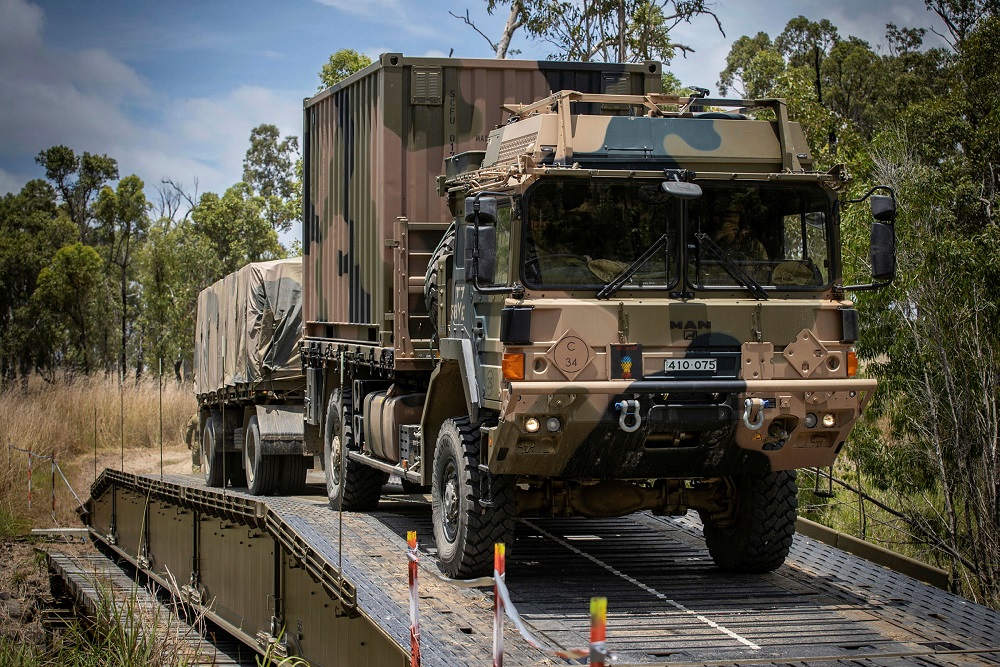 Pictured Above: HX40-M Truck, from 2/14 crosses a Dry Support Bridge
The exercise involved live fire, individual and collective training with approximately 1000 Australian Army troops from South East Queensland participating. After a busy year supporting Operation Bushfire Assist and Operation COVID-19 Assist in 2020, the soldiers enjoyed re-engaging in some warfighting training. By facing a series of complex combat and logistical scenarios in the field, 7th Combat Brigade ensures its ability to support and protect the Australian community when called upon.
Images and Article Courtesy of Defence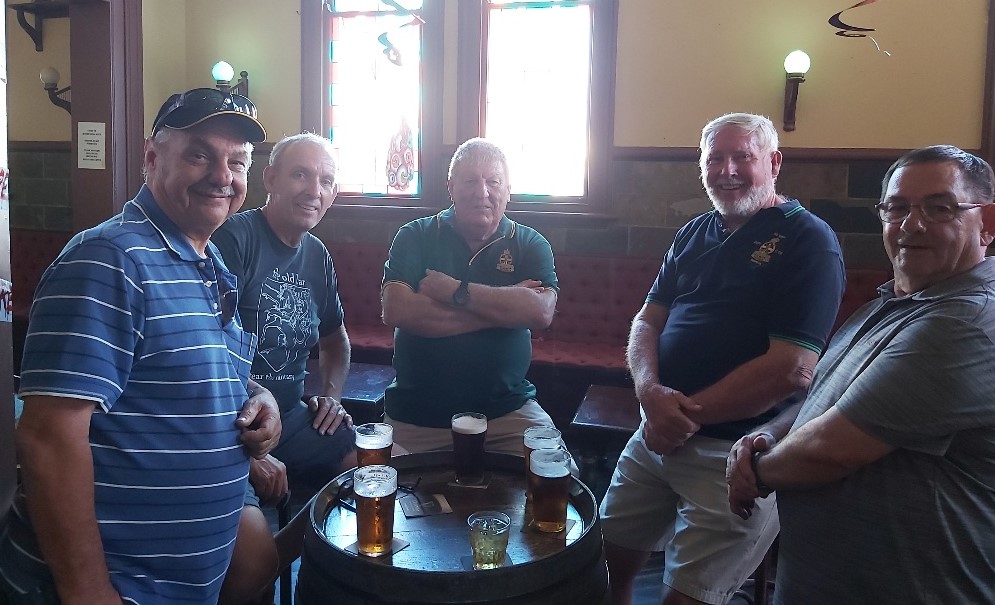 Pictured Above: L-R: Bob Lauro, Ian Joyce, Fred Reid, Russell Gordon and Eric Cupid enjoying the function at Flynn's Irish Bar Townsville.
Around 50 members and guests attended the first function at Flynns Irish Bar in the heart of Townsville for 2020 on Saturday 31 October 2020. Flynn's has been a 'traditional ' watering hole for members in NQ, particularly on ANZAC Day. So it was great to be able to repay Flynns and have a function to support a local business. With great company and plenty of beers on tap, everyone was able to mingle from a safe distance of course!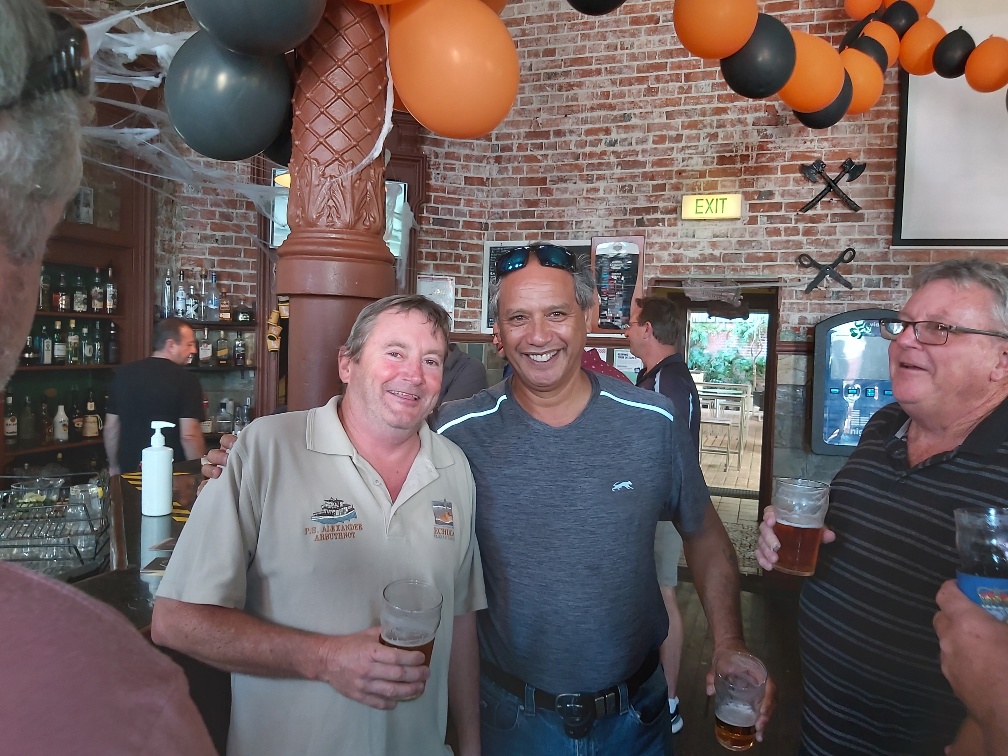 Pictured Above: L-R: Budgie Poulsen, Rocky Hema & Bruce Ferguson enjoying the function at Flynn's Irish Bar Townsville.
With COVID19 restricting events this year, we've been very lucky to be able to hold four functions in 2020. Our next function is the RAEME Birthday at Lavarack Barracks timings to be confirmed in the next edition of Friday Files.
A big thank you to our Committee in Townsville Doug, Mick, Tank and Brian for organising the function, and of course Mr Steve Flynn, owner of Flynn's Irish Bar for hosting the afternoon for the NQ members in Townsville.
For all the photos of the day please go to the Gallery Page.
If you have any questions at all about the RAQ in North Qld, please drop us an email at This email address is being protected from spambots. You need JavaScript enabled to view it..