The Royal Australian Electrical and Mechanical Engineers (RAEME) Association Queensland Inc is a not for profit volunteer organisation, supporting the RAEME National Network by providing leadership to, and a focal point for, all RAEME affiliated Associations in Queensland, by promoting and recognising the corps and its achievements via independent memorial, celebratory, social, fundraising, sporting and other activities.
The goals of the Association are to:
Promote the Corps' identity and reputation in Queensland

Recognise and celebrate achievements of members of the Corps in Queensland

Provide a focal point for Corps activities in Queensland
The role of the RAEME is to ensure maximum operational availability of equipment to enable the commander to win the land battle. RAEME is a technical corps tasked with the maintenance of the Army's modern hardware and equipment. More on the Corps can be found at this link.
This site has been developed as a communication tool for RAEME members in Queensland. All attempts have been made to ensure the accuracy of the information supplied. If any errors or broken links are found, or if you have any item or article for inclusion on these pages, please contact the webmaster.
RAQ Subscriptions
Annual subscriptions to the RAQ are due by 30 June each year. Subscriptions can be paid using either PayPal (fee free) or EFT by clicking the Icon below and logging in. Renew your subscription for $10 a year or upgrade to Life Subscription for $100.
New members please use the 'Online Registration' link under the Membership banner.
All proceeds are used to support and promote the goals of the Association.
Meetings and Functions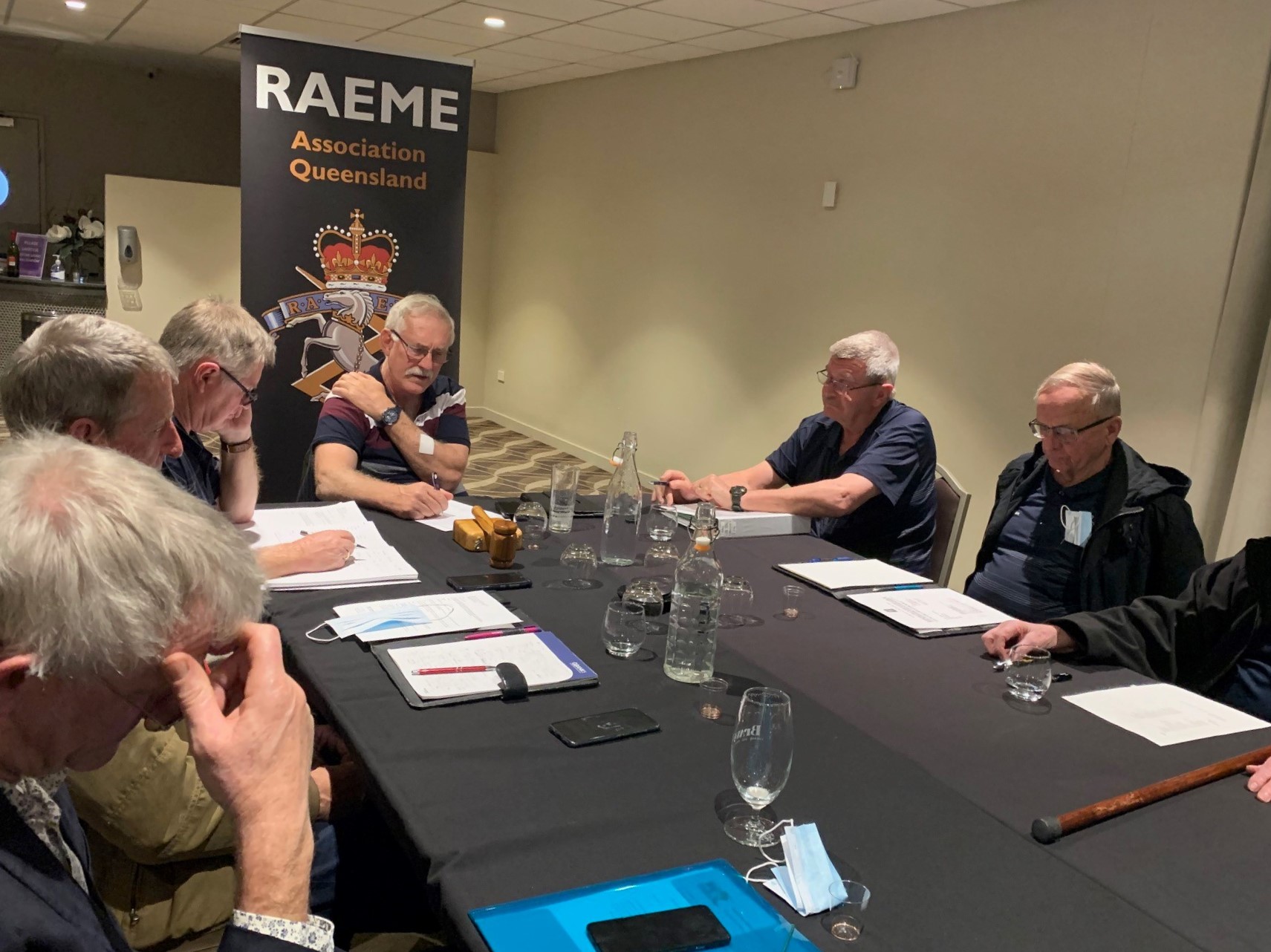 We have great news, we are holding physical meetings again. For those who are attending, the latest information is on the Events page.
COVID Restrictions
Members need to abide by the rules of the KWSC with regards social distancing, as is registration using the the Check In QLD App on arrival.
Should restrictions prevent a physical meeting we will revert to an online Teams meeting with selected committee members (invitations will be emailed). All the details will be posted on the Events Page and our website.
For apologies or to confirm your attendance please contact the This email address is being protected from spambots. You need JavaScript enabled to view it.
Reports - Can those submitting reports please ensure it is emailed to the Secretary prior to each meeting.
---
Latest Spanner News Is Out!
Our second edition of Spanner News for 2021. This bumper edition is packed full of happenings within our Corps and RAQ articles including:
Queens Birthday Honours

Feature Article

-

2 CAV REGT Spt Sqn & Tech Spt Tp

106 FD WKSP - Unit Happenings

ANZAC Day Reports

Functions Reports including Darling Downs

SE QLD Appy Reunion

The Spirit of Kokoda Lives On

Former United States Marine finds a home in RAEME

RNN Update - RNN Chair - Ross L G Grant

RNN - Operation Spanner Pack

DFWA & DVA Matters

Upcoming Functions

and Much More
Thanks again for the great work done by our Comms Chair & Patron Ross Grant and all our contributors.
Copies of all editions are available for download from our website on the Spanner News Page, click on the image above.
---
North QLD Get Together - Sat 21st August 2021 - Townsville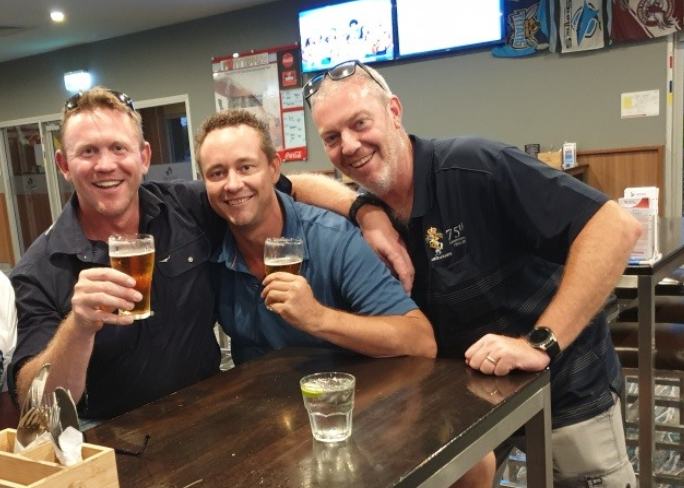 All serving and ex-serving RAEME personnel (Ground and Air) and partners are invited for a casual get together, share a quiet drink and catch up with mates that you may not have seen in awhile. Make sure you bring along a friend or someone new so they can (re)connect with the North QLD Bluebell family
When: Sat 21 Aug 21 from 1230h
Where: Thuringowa RSL Club - 13 Kelso Dr, Kelso QLD 4815
Cheers
Tank Pontifex
RAQ Nth QLD
This email address is being protected from spambots. You need JavaScript enabled to view it.
---
Sunshine Coast Luncheon - Sat 11 September 2021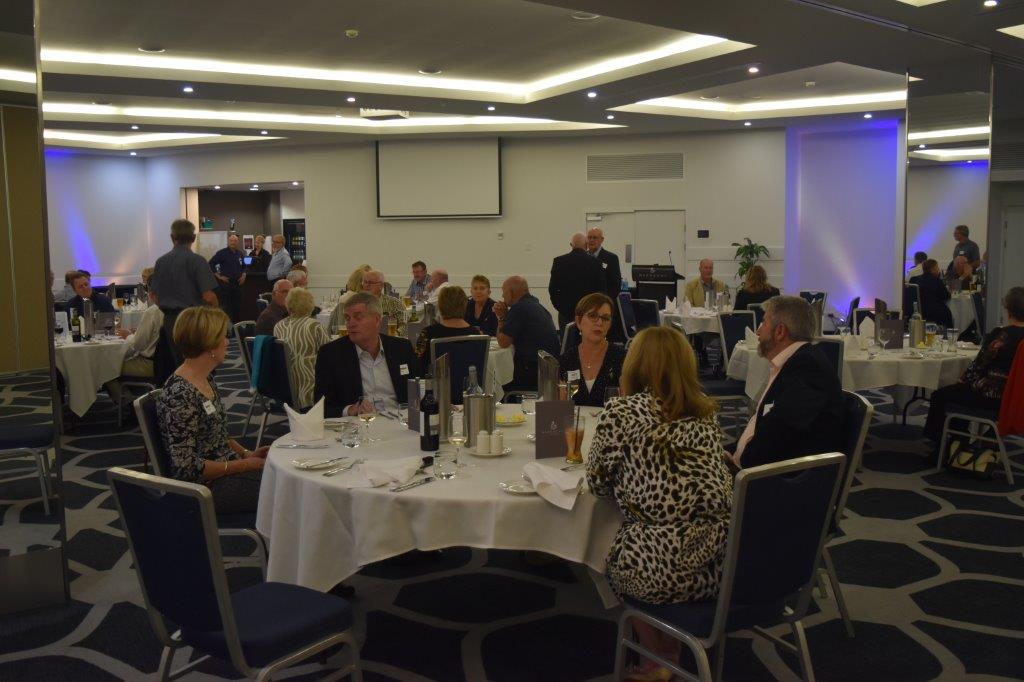 Pictured Above: Members and Guests at the 2020 Luncheon.
The RAQ Sunshine Coast Chapter, Annual Luncheon is on again at the Maroochy RSL, on Saturday 11 September 2021. An invitation is extended to all current and past members of RAEME, and friends of RAEME, who live on the Sunshine Coast/Wide Bay area, or the surrounding region, including Brisbane. Visitors to the area at the time are also very welcome.
We are pleased to announce our guest speaker this year is Retired LTCOL Ron Parello, who had a very interesting Army career, but who is still contributing to the ADF in his capacity as GM Dingo Defence, an Australian company which produces 'cloud-based predictive maintenance systems' – it will be another interesting luncheon and guest speaker.
The Colonel Commandant, Queensland, COL (Rtd) Steve Evans, will again host the lunch and as has become the practice, BRIG (Rtd) Ross Grant will be our MC. We will again be ably supported by the Maroochy RSL catering staff who will look after our every need.
Lunch Details. Important details to remember including the following:
Venue – Room M4 Maroochy RSL, corner Memorial and First Avenues, Maroochydore.
Timings – 1200 for 1230 hours on Saturday 11 September 2021.
Dress – Neat casual.
Menu – A copy of the menu is attached. Meals will be served as 'alternate drop'. Please let us know of any special dietary needs.
Drinks – The bar opens at 1200 hours and drinks can be purchased at your own expense.
Parking - Free parking is available in the multi floor car park directly opposite the Before departing, please advise the attendant at the front desk in the Club foyer of your vehicle registration number to facilitate exit.
Reserve Seats. Function reservation details will be set up on the RAQ website and you will be able to book and pay for tickets through this medium. Go to the Events Page for all the details,
We are limited to only 80 guests, so get in early. The cost of the lunch is subsidised by the RAQ and tickets are just for $40.00 per head for RAQ members, including partners, and $48.00 per head for non-members.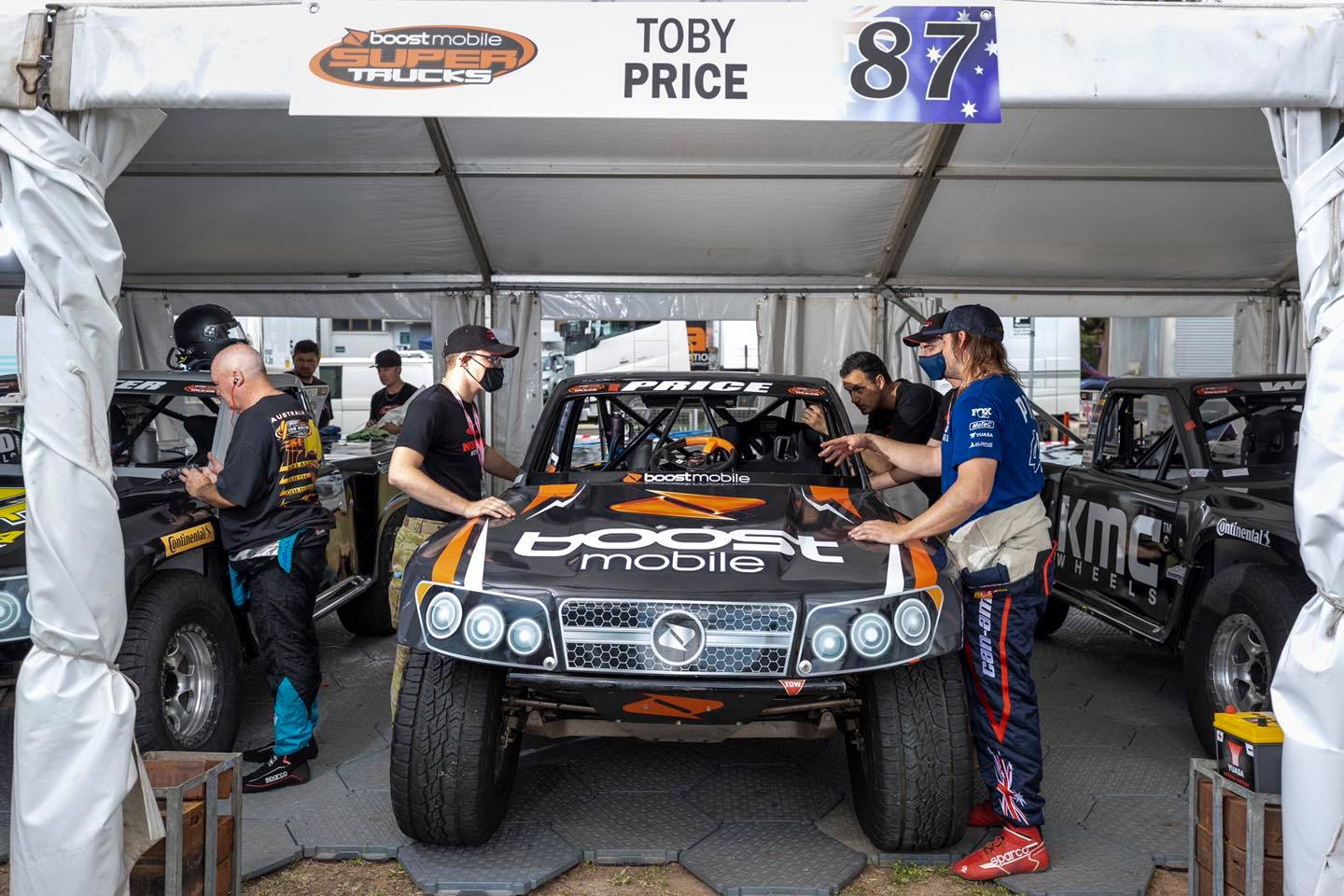 Pictured Above: CPL David Seymour, of 2 CAV REGT, speaks with Super Truck driver Toby Price during the NTI Townsville 500 Supercars event. Photo: CPL Brodie Cross.
RAEME soldiers used their skills to keep the Stadium Super Trucks racing during the NTI Townsville 500 Supercars event earlier this month.
Nine junior RAEME soldiers from units across the 3rd Brigade were selected to support the Super Trucks from July 9 to 11, working with the drivers, conducting general vehicle maintenance, body repairs and staging the ramp jumps.
More familiar with working on armoured cavalry tanks, Corporal David Seymour from the 2nd Cavalry Regiment explained how the adaptability of their trade-based skills allowed the RAEME soldiers to integrate within the Super Trucks team.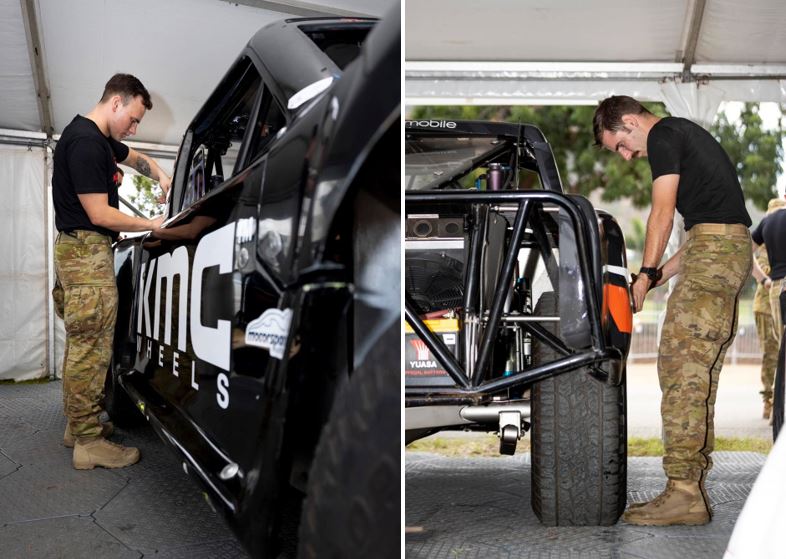 Pictured Above: Left CFN Luke Hudson, from the 2 CAV REGT and Right CFN Ned Staehr, from the 4 REGT, RAA affix panels to a Super truck in Townsville.

CFN Ned Staehr, of the 4th Regiment, Royal Australian Artillery, jumped at the opportunity to test his skills at the track.
VM's were drawn from across 3 Brigade including 2 CAV Regt, 4 Regt RAA and 10 FSB.
Images and Article Courtesy of Defence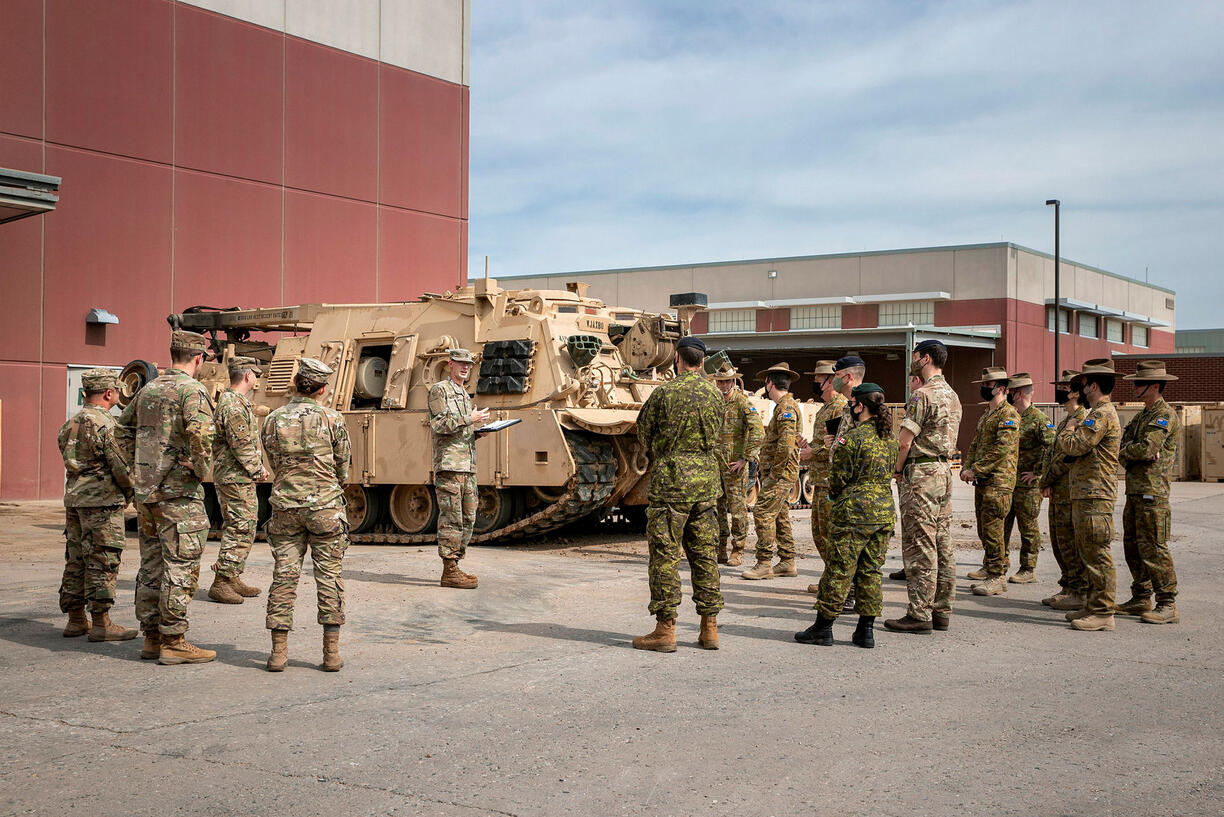 Pictured Above: The 14th Sustainment Brigade conducts a capability brief for their M88 Hercules Recovery Vehicle to soldiers from the Australian Army, British Army and Canadian Army during the Joint Warfighting Assessment 2021 at Fort Carson, Colorado.
The 7th Combat Brigade, along with other supporting elements from the Australian Army, deployed to Fort Carson in Colorado, USA, to participate in the Joint Warfighting Assessment 2021 (JWA 21). JWA 21 comprised of forces from the United States Army, British Army and Canadian Army who took part in the combined forces simulated training exercise.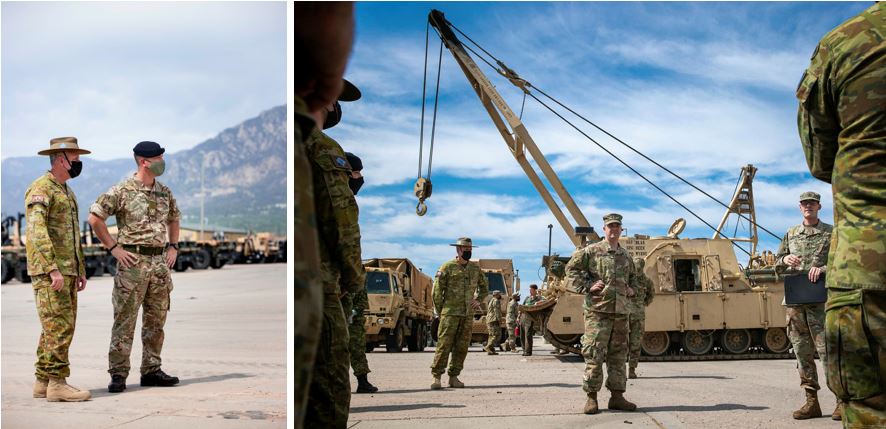 Pictured Above: (left-right) WO1 Mick Patman (RAQ Life Subscriber) from the 7th Combat Brigade, and a Sergeant Major from the British Army visit the 14th Sustainment Brigade while deployed on the Joint Warfighting Assessment 2021 at Fort Carson, Colorado.
The exercise provided the Australian Army a means to achieve training readiness, future force development, and interoperability with its multinational partners, featuring live and constructive elements. JWA 21 assisted the Australian Army in evaluating emerging concepts, integrating new technologies, and promoting interoperability between Australia's multinational partners.
Images and Article Courtesy of Defence