The Royal Australian Electrical and Mechanical Engineers (RAEME) Association Queensland Inc is a not for profit volunteer organisation, supporting the RAEME National Network by providing leadership to, and a focal point for, all RAEME affiliated Associations in Queensland, by promoting and recognising the corps and its achievements via independent memorial, celebratory, social, fundraising, sporting and other activities.
The goals of the Association are to:
Promote the Corps' identity and reputation in Queensland

Recognise and celebrate achievements of members of the Corps in Queensland

Provide a focal point for Corps activities in Queensland
The role of the RAEME is to ensure maximum operational availability of equipment to enable the commander to win the land battle. RAEME is a technical corps tasked with the maintenance of the Army's modern hardware and equipment. More on the Corps can be found at this link.
This site has been developed as a communication tool for RAEME members in Queensland. All attempts have been made to ensure the accuracy of the information supplied. If any errors or broken links are found, or if you have any item or article for inclusion on these pages, please contact the webmaster.
RAQ Subscriptions
Annual subscriptions to the RAQ are due by 30 June each year. Subscriptions can be paid using either PayPal (fee free) or EFT by clicking the Icon below and logging in. Renew your subscription for $10 a year or upgrade to Life Subscription for $100.
New members please use the 'Online Registration' link under the Membership banner.
All proceeds are used to support and promote the goals of the Association.
Meetings and Functions
Are held on the first Wednesday of each month excluding January, the latest information is on the Events page.
---
Darling Downs Luncheon - Toowoomba 12 Jun 2022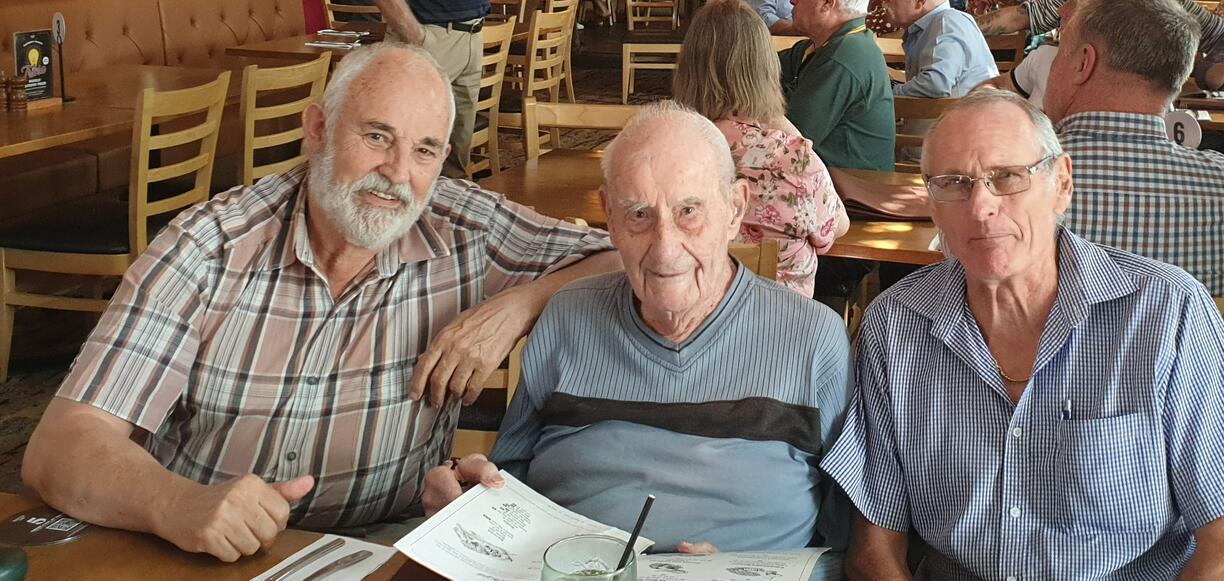 Pictured Above: Alf Vanderhorst, Bert, and Barry at the March 2022 Function
I would like to invite all RAQ members, serving/ex-serving RAEME members, anyone with close ties to RAEME, and their partners to attend the next RAEME Assn Qld-Darling Downs (RAQ-DD) function.
I am pleased to advise our Colonel Commandant COL Steve Evans will be the Guest of Honour at the lunch. DHOC (Aero), LTCOL Trent Groves, will also be attending; the details of which are as follows:
Date: Sun 12 Jun 22
Time: 1200h – 1600h (approx.) – those 'fighting through' will need to vacate the dining room at that time and move into the general bar area.
Loc: Spotted Cow Hotel,

296 Ruthven St, Toowoomba City QLD 4350

Parking: There is ample dedicated parking o

ff of Campbell Street, just up from the venue

Dress: Smart casual – RAEME T-shirts/shirts if you have them
RSVP: Intent to attend requested NLT 5 Jun 22 (for seating/catering purposes) to Peter Pile, RAQ-DD Rep,

This email address is being protected from spambots. You need JavaScript enabled to view it.
I will be the POC for any queries.
Regards
Peter Pile
Darling Downs Rep
---
NQ Gathering - Townsville - 18 Jun 2022
Pictured Above: L-R Shane Bradley, Paul Scarr, Mick Robinson, Tiny Munro & Ty Bodle at the March 2022 Function
An invitation is extended to all current and past members of the Corps and friends of RAEME to attend a RAQ (NQ) get together.
A local engineering company, Australian Expedition Vehicles (AEV) is supporting the gathering. AEV is owned by an ex-RAEME member who recently received national recognition as part of the Prime Minister's Veterans' Employment Awards.
When – Sat 18 June 22, from 1200 – 1800h
Where – Australian Expedition Vehicles - 399 Bayswater Rd Garbutt 4814. Parking available in the AEV compound.
Cost - $10.00 entry - will get you a BBQ lunch and discounted refreshments (beer, spirits, soft drink).
Enquiries - This email address is being protected from spambots. You need JavaScript enabled to view it.

Regards
Robert 'Tank' Pontifex
RAQ NQ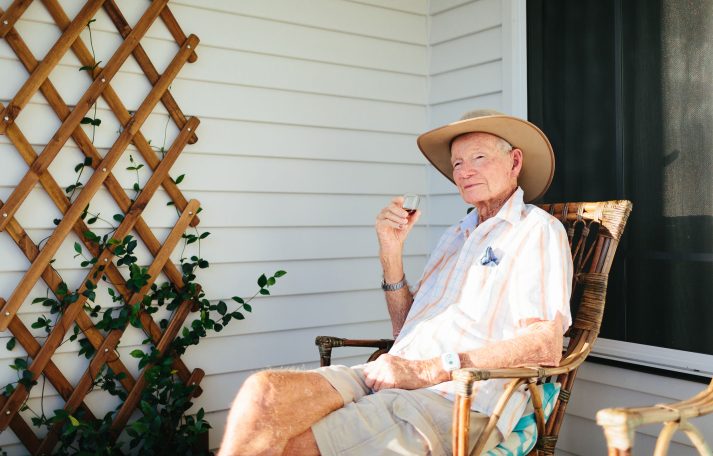 Bill Bruce is, at 105, a man with an enduring thirst for life as well as challenging work, meat and potatoes and a penchant for poetry.
The secret to a long and healthy life is quite simple, says 105-year-old Bill Bruce. "My eyesight isn't quite as a good as it used to be, and I think I might be a little bit wobblier in the legs than I was, but I still think I'm in pretty good nick for my age," says Bill, a veteran of the New Guinea and Pacific islands campaigns during World War Two.

Bill joined the Australian Defence Force in 1942 and the Australian Imperial Force in 1943, achieving the rank of Craftsman and serving in New Guinea and New Britain.
"I was 25 in 1942 when I signed up. I was with the Australian Electrical and Mechanical Engineers, and I served with that unit throughout the war. I was in charge of the electrical system," he said.
Before the war, Bill – who had two brothers and three sisters – was a contract worker in the bush, doing station work and a stint mining at Mt Gotthardt outside Mackay.
He returned to that work when he was discharged from the Army and spent the last 30 years of his working life in charge of the Nebo Shire Council workshop.
Service Details
| | |
| --- | --- |
| Name | BRUCE, WILLIAM WALLACE MERVYN |
| Service | Australian Army |
| Service Number | QX57094 (Q144712) |
| Date of Birth | 02 Jan 1917 |
| Place of Birth | NEBO, QLD |
| Date of Enlistment | 26 Jul 1943 |
| Locality on Enlistment | NEBO, QLD |
| Place of Enlistment | INGLEBURN, NSW |
| Next of Kin | BRUCE, WILLIAM |
| Date of Discharge | 12 Dec 1945 |
| Rank | Craftsman |
| Posting at Discharge | 2/137 AUSTRALIAN BRIGADE WORKSHOP |
| Prisoner of War | No |
| Honours | None for display |
Images and Aricles courtesy of RSL QLD & https://thecarousel.com/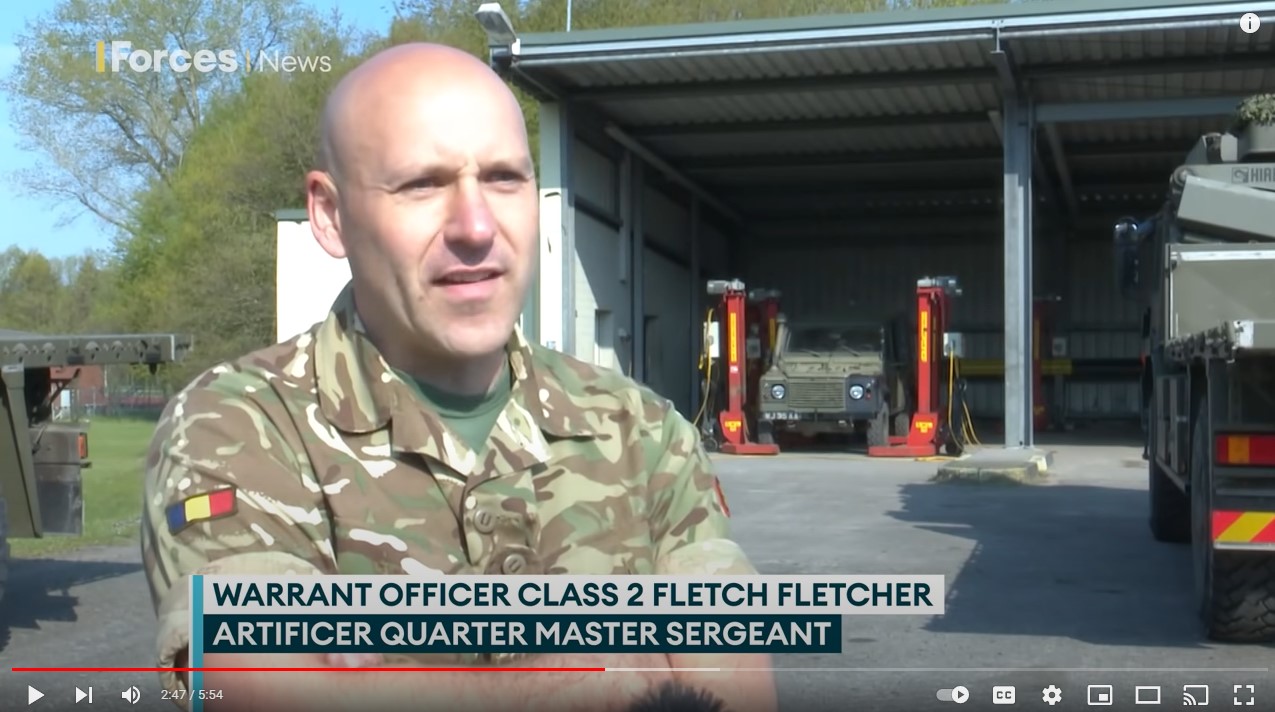 As conflict continues in Ukraine, the Army is boosting its presence in Eastern Europe this summer. Thousands of British troops are conducting military exercises in the region including the King's Royal Hussars Battlegroup in Poland. Getting tanks, equipment and heavy armour to them is a Theatre Enabling Group which has based its headquarters at Sennelager in Germany.
Images and Article Courtesy of Forces News
Aircraft Survey SE QLD Floods - Oakey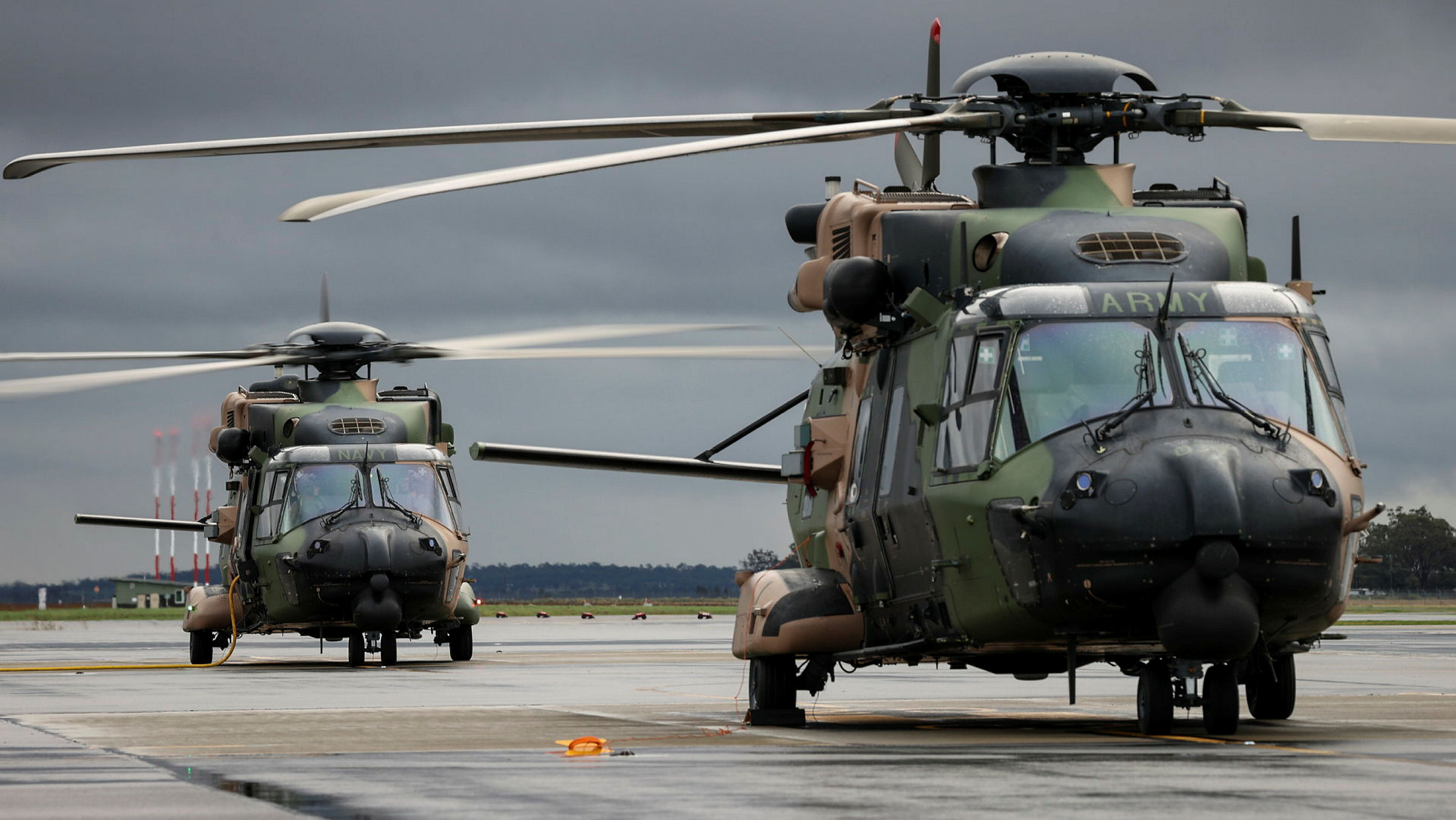 Pictured Above: MRH-90 Taipan helicopters from the Army Aviation Training Centre at Oakey in Queensland prepare to take-off on Friday, 13 May 2022.
Army helicopter crews based at the Army Aviation Training Centre in Oakey, Queensland, are conducting reconnaissance flights across flood-affected areas of south-east Queensland from Friday, 13 May 2022. The Australian Defence Force is well prepared to respond to requests for assistance from the Queensland Government.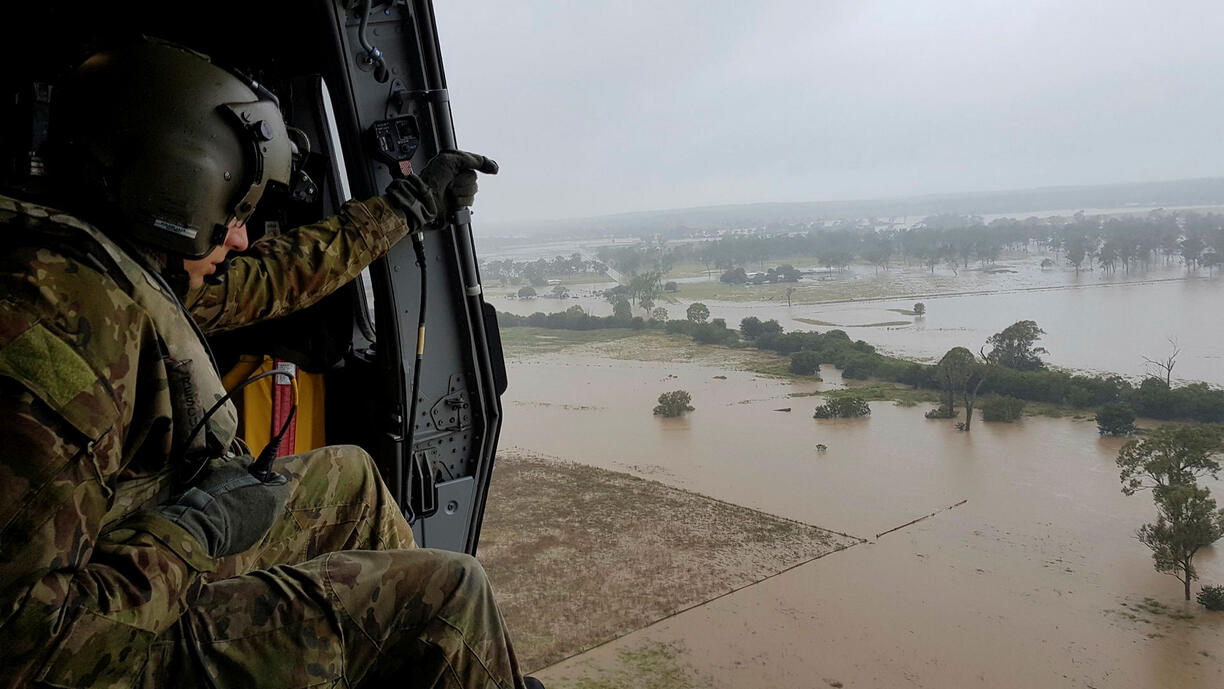 Pictured Above: Army loadmaster from the Army Aviation Training Centre at Oakey in Queensland surveys flooding from an MRH-90 Taipan helicopter on Friday, 13 May 2022.
An Army MRH-90 Taipan helicopter crew responded to a request by Queensland Fire & Emergency Services to pick up an isolated camper and a Queensland National Park ranger due to rising flood waters as Casuarina, 36km south of Gatton, on Saturday, 14 May 2022, as part of a Defence Assistance to the Civil Community category one local emergency assistance task.
Images and Article Courtesy of Defence
Inter-Brigade Rugby Competition - Brisbane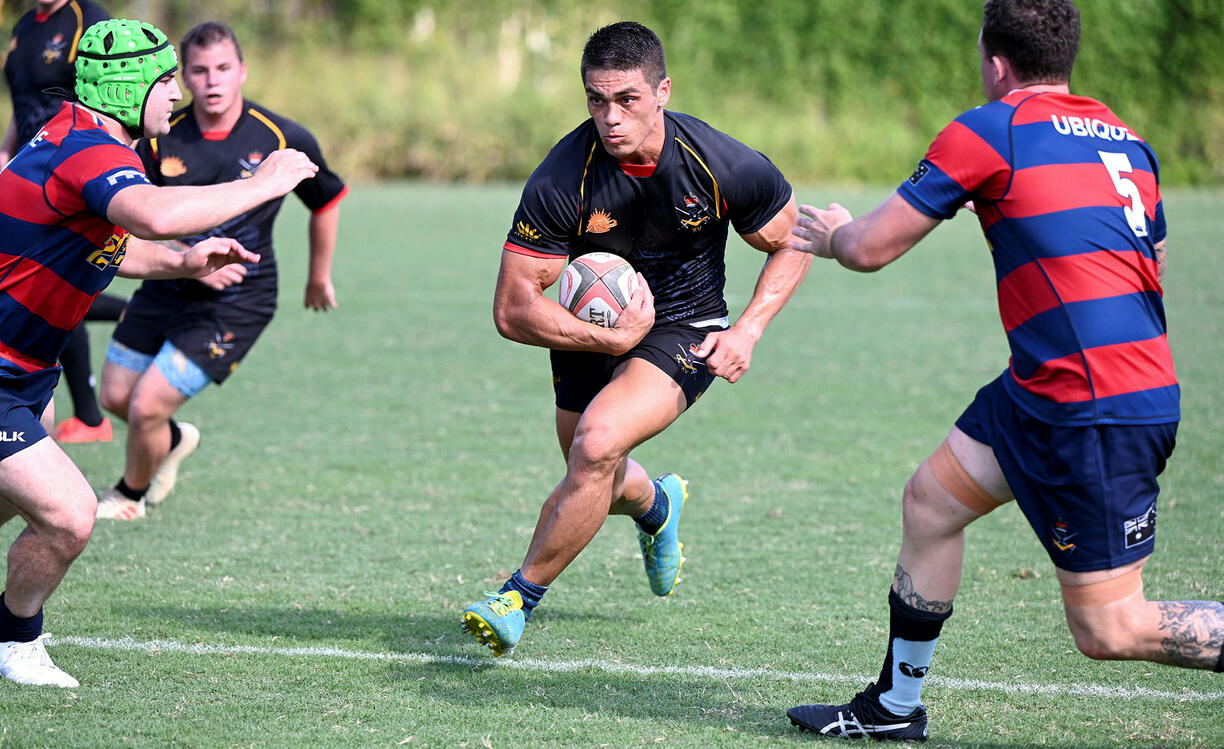 Pictured Above: 6 BDE CFN Shaun Coel (centre) takes advantage of an opening before scoring a try during the Australian Army Inter-Brigade Rugby Competition in Brisbane on 20 April 2022.
The 2022 Australian Army Inter-Brigade Rugby Competition was held at the Sunnybank Rugby Club in Brisbane between 18 and 21 April 2022. The competition bought male and female teams from across Army in a battle for the silverware – the Inter-Brigade Rugby Cups, Bowls and Plates. Teams from Army's 1st, 3rd, 6th, 7th, 16th and 17th Brigades joined the competition, with 17th Sustainment Brigade's women's team and 3rd Brigade's men's team the final victors for the cups.
Images and Article Courtesy of Defence