Pictured above: Design of Memorial for WO2 Ryan Leslie and Craftsman Brendon Payne
WO2 Ryan Leslie and Craftsman Brendon Payne, two superb soldiers tragically died while serving their country on a military exercise in the Townsville Field Training Area on 30 August 2021.
Ryan and Brendon were very well-loved by both their families, friends and their military comrades.

Commemorations held at the accident site on the first anniversary of their passing have shown us just how important it is that we have a place to remember them: to reflect on their lives, and who they were.
Planning started in 2023 to build a permanent memorial rest-stop at the accident site, set off to the side of the Dotswood / Mingela Road in a safe location to allow people to stop and reflect. $40,000 was raised by the extended RAEME family, allowing the construction to go ahead.
The memorial consists of a bespoke designed wooden memorial facade placed into a concrete foundation, designed and built by RAEME personnel, carrying plaques for Ryan and Brendon. A hard-wearing, concrete seat is provided for people to sit on when they visit, and a weather-proof box will be included for people to leave notes and messages for the soldiers and their families.
Designs have been developed in very close conjunction with Ryan and Brendon's wives, and with their close family. Both the concept and the design come with their strong support.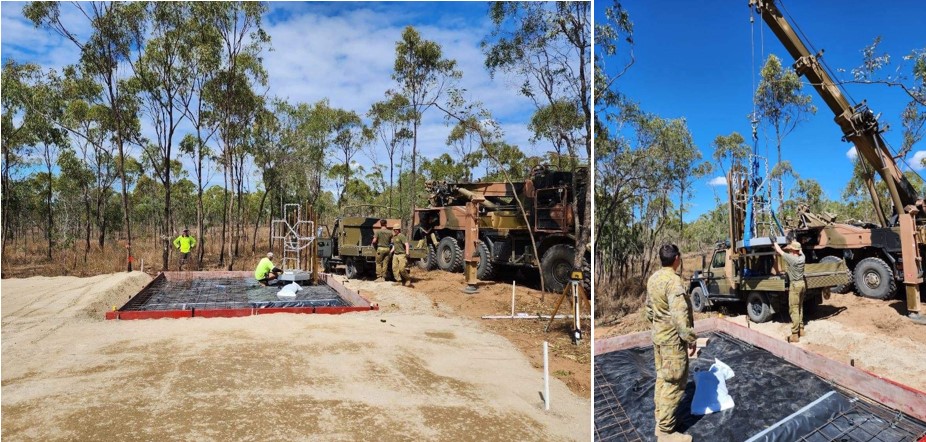 Pictured above: Progress on the Memorial construction.
The memorial was formally unveiled by the families of WO2 Leslie and Craftsman Payne, supported by ADF senior officers and local dignitaries, on Wed 30 Aug 23, the second anniversary of their loss.
The location of the Memorial can be found on Google Maps at 19°42'19.4"S 146°22'27.1"E and is approximately 1:45 hours drive from Townsville