The Royal Australian Electrical and Mechanical Engineers (RAEME) Association Queensland Inc is a not for profit volunteer organisation, supporting the RAEME National Network by providing leadership to, and a focal point for, all RAEME affiliated Associations in Queensland, by promoting and recognising the corps and its achievements via independent memorial, celebratory, social, fundraising, sporting and other activities.
The goals of the Association are to:
Promote the Corps' identity and reputation in Queensland

Recognise and celebrate achievements of members of the Corps in Queensland

Provide a focal point for Corps activities in Queensland
The role of the RAEME is to ensure maximum operational availability of equipment to enable the commander to win the land battle. RAEME is a technical corps tasked with the maintenance of the Army's modern hardware and equipment. More on the Corps can be found at this link.
This site has been developed as a communication tool for RAEME members in Queensland. All attempts have been made to ensure the accuracy of the information supplied. If any errors or broken links are found, or if you have any item or article for inclusion on these pages, please contact the webmaster.
RAQ Subscriptions
Annual subscriptions to the RAQ are due by 30 June each year. Subscriptions can be paid using either PayPal (fee free) or EFT by clicking the Icon below and logging in. Renew your subscription for $10 a year or upgrade to Life Subscription for $100.
New members please use the 'Online Registration' link under the Membership banner.
All proceeds are used to support and promote the goals of the Association.
Meetings and Functions
Are held on the first Wednesday of each month excluding January, the latest information is on the Events page.
---
Honorary

Life Member - Bruce Hermann - No.10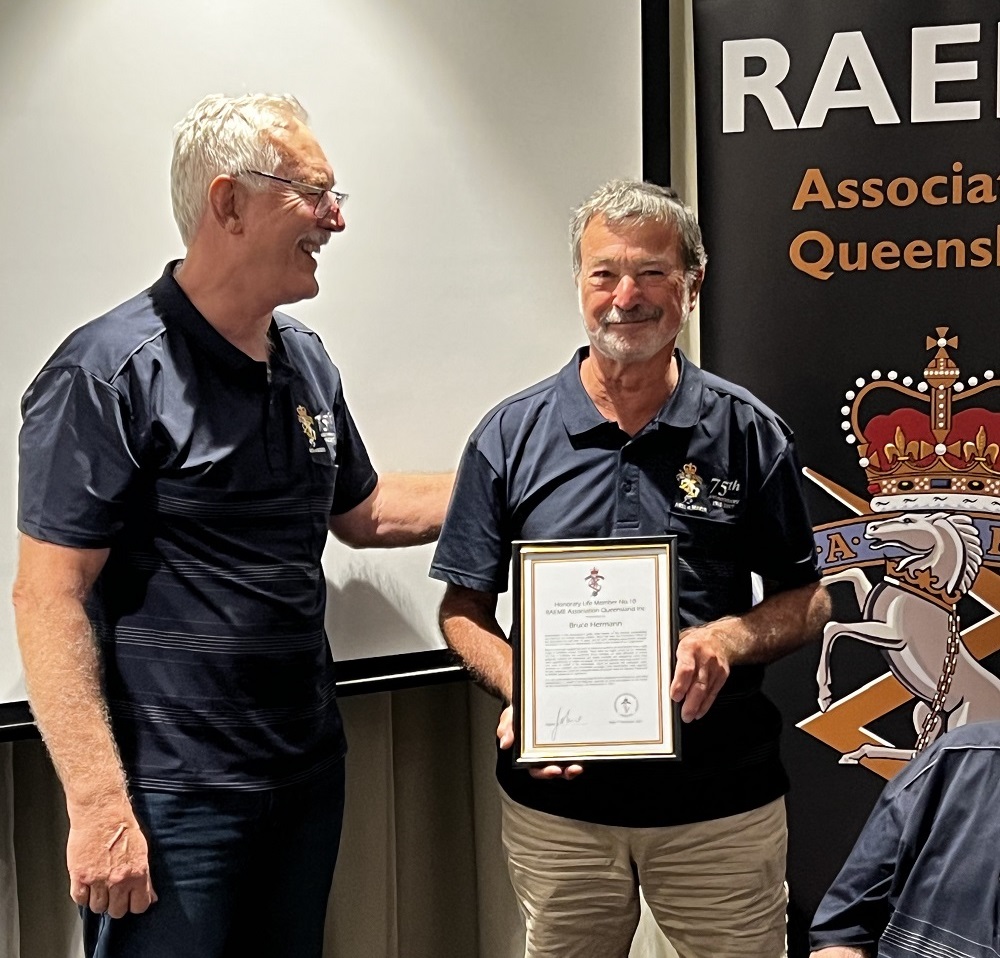 It was with great pleasure I presented Chairman's Award Recipient Bruce Herman with an Honorary Life Membership at the Monthly meeting on Wednesday.
Achievement of the Association's goals relies heavily on the financial sustainability derived from our various revenue streams. Bruce has been the Promotions Officer of the Association for well over 15 years, and his work managing procurement, storage, distribution and sales our memorabilia is critical to the success of our organisation.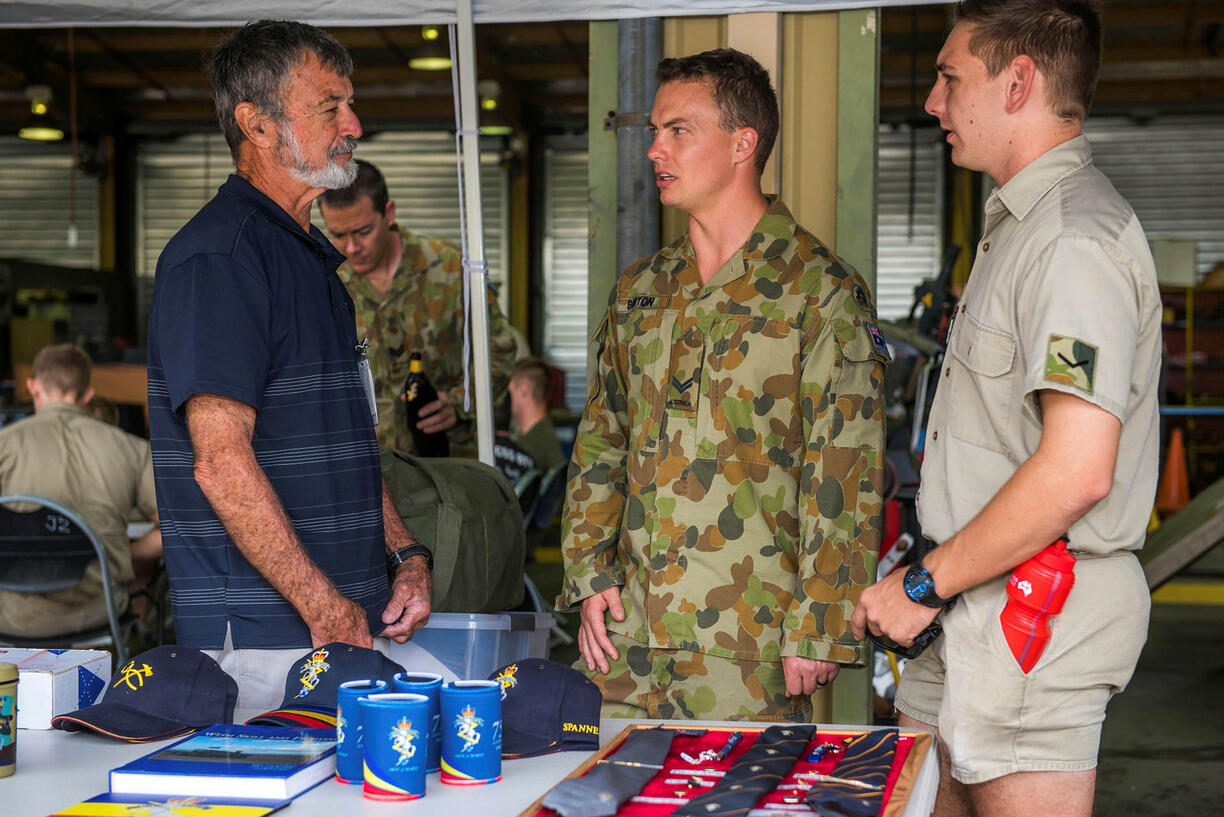 Pictured Above: Bruce Hermann chats with soldiers/tradesmen during the Spanner Club meet up held on Wednesday 21st March 2018 at the 1 SIG REGT TST workshop in Gallipoli Barracks, Brisbane. Image Courtesy of Defence
It is with great pleasure we acknowledge Bruce's substantial contribution to, and many achievements on behalf of the RAQ and celebrate his drive and passion for the Corps, by the presentation of Honorary Life Membership in 2021.

On behalf of the Association Congratulations Bruce!
---
R

AEME Birthday Week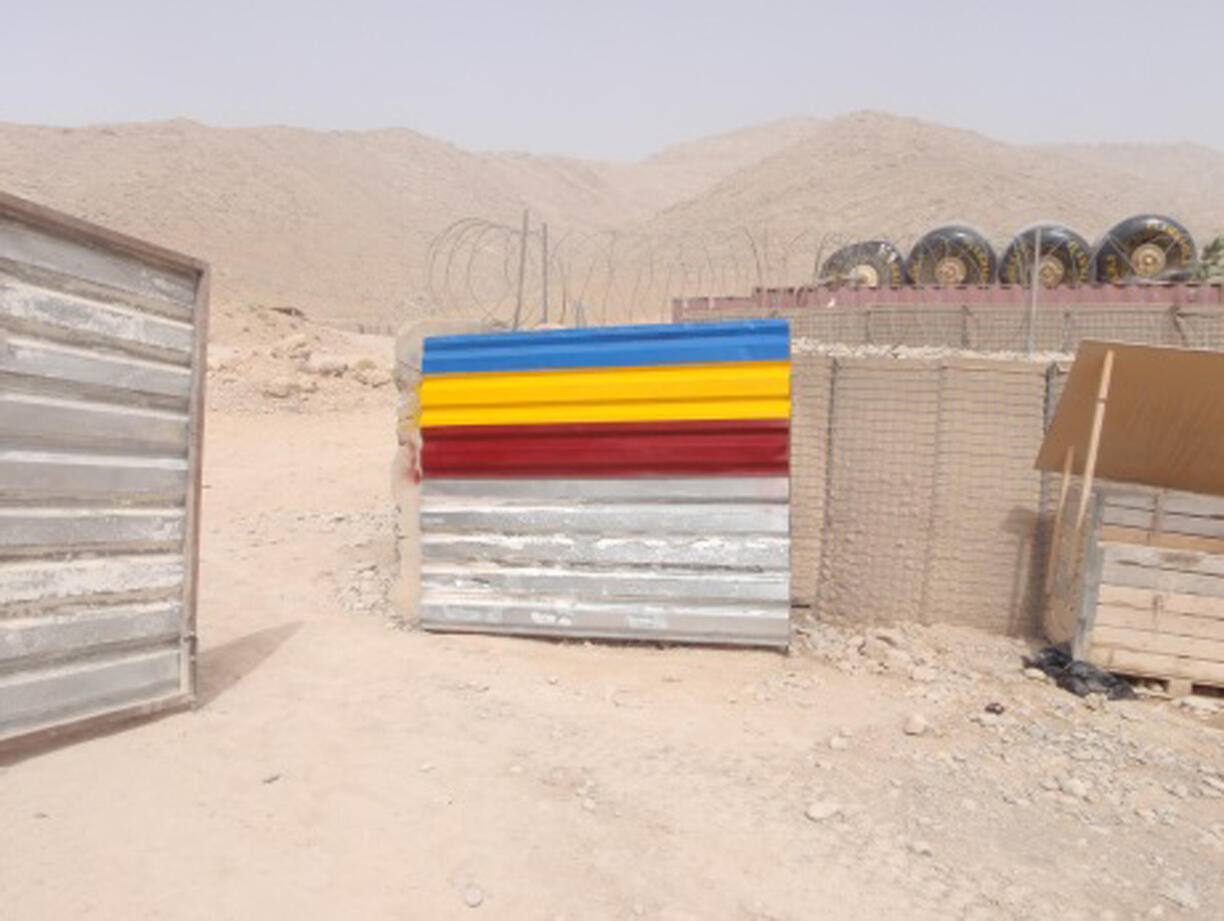 This week kicks off a number of events that celebrate the formation of our Corps 79 years ago in 1942.
The 1st of December 1942 is generally acknowledged as the Corps Birthday because this was the date of the Order declaring the creation of AEME. In 1948 the dedicated performance of the AEME tradesman during WW2 was recognised by His Majesty King George VI when he granted the Corps the title "The Royal Corps of Electrical and Mechanical Engineers".
In December 1981 approval was granted in principal for the Corps to be granted a banner and in November 1982 His Royal Highness, The Prince Philip, Duke of Edinburgh agreed that the Banner be known as The Prince Philip Banner. The 'Prince Philip' Banner was presented to the Corps on 20 May 1986.
Pictured Above: L to R. Bert Barker cutting the RAEME Birthday Cake 2019. Palmalmal Plantation, Jacquinot Bay, New Britain, 1945-06-06. Captain H.W. Barker (1) and Sergeant S Aarons (2) at the vehicle progress board, 1 Infantry Troops Workshop. it shows the daily position of vehicles on the assembly line and the estimated dates of completion.
In Queensland we are honoured to have BRIG Bert Barker (RTD) as a founding Member of the Corps in our Association (pictured above in WWII). Bert's story can be found in the latest edition of Spanner News. Our best wishes go out to Bert.
I would encourage as many members as possible to attend an event in Queensland. If you have any pictures and stories from any of the functions, please send them through to our This email address is being protected from spambots. You need JavaScript enabled to view it..
As summary they are:
Oakey - Tonight Friday 26 November starting 1730hr
Cairns - Saturday 27 November Salthouse Cairns 1300hr -1700hr
Brisbane - Sunday 28 November Port Office Hotel 1130hr - 1700hr
Townsville - Wednesday 1 December Lavarack Barracks - 0800hr - 1600hr
Brisbane - Wednesday 1 December Gallipoli Barracks - 1200hr - 1600hr
Brisbane - Wednesday 1 December Kedron Wavell Services Club - starting 1730hr
All the finer details of each activity are on the RAQ Events page.
Please take some time to reflect and acknowledge the sacrifices of those soldiers who have served our great Corps in war and peace. Also spend a few minutes to reach out to a brother or sister who you haven't spoken to for a while, that simple phone call might be just what they need.
Whether you attend an official event or catch up with a group of mates, please have a great day.
Happy Birthday RAEME
Arte et Marte
---
RAQ Jeep Now Am

ong

st 'Friends'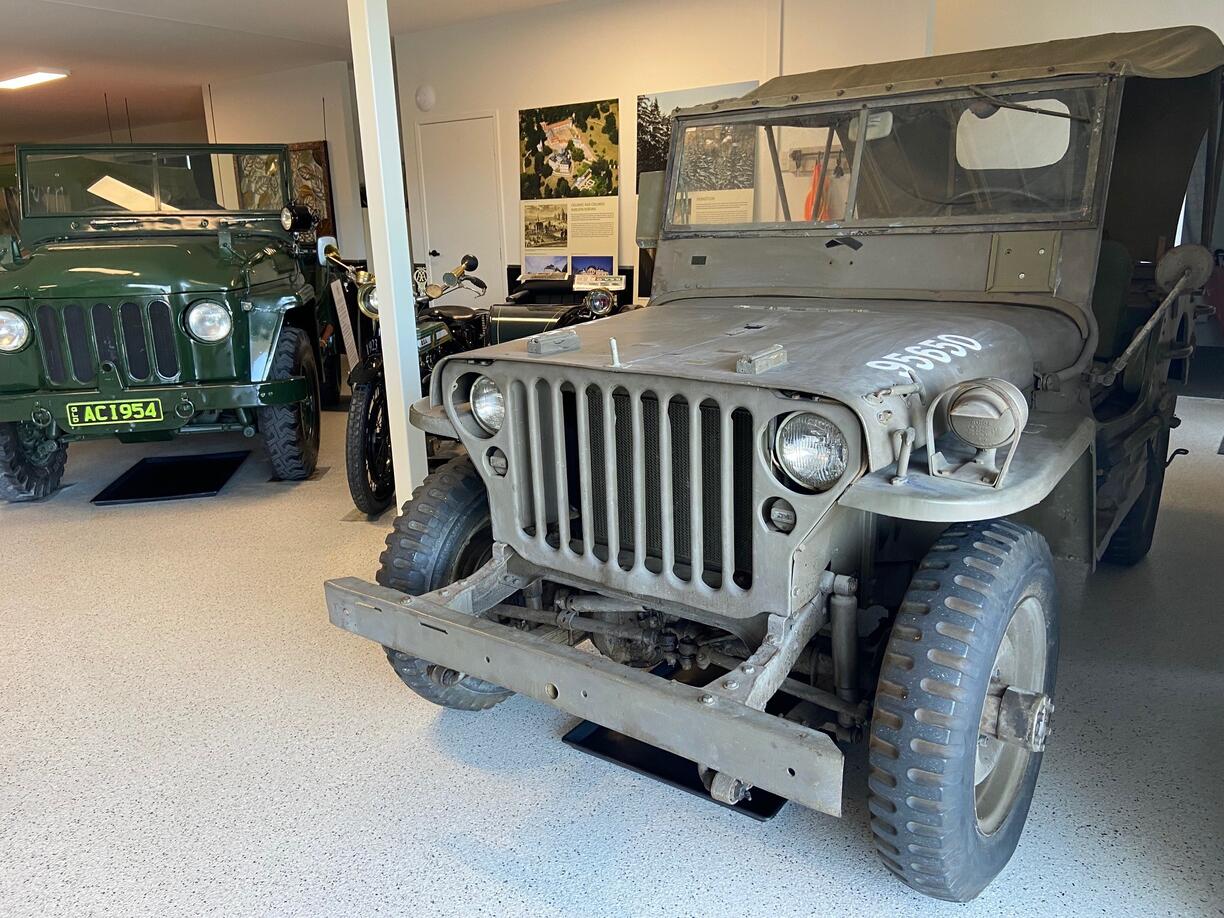 Pictured Above: RAQ Jeep at Carroll's Transport Depot Coolum
It was with great excitement that the Jeep was wheeled into its new home, Carroll's Transport Depot in Coolum on the Sunshine Coast.
It's been a long road for the Jeep, with it's journey originally starting in PNG. In 2015 the RAQ was offered free of charge the Ford GPW 1943 Jeep donated by Kevin Cheatham, son of a former RAQ Member Sgt Kevin Cheatham. We accepted the Jeep and had it housed and worked on by the Craftsman of 106 FLD WKSP at Enoggera. There they performed major repairs to the gearbox and had the vehicle up and running.
Looking for a permanent home, we were very thankful to Frank Carroll who owns Carroll's Transport Depot who kindly agreed to house the vehicle for display for all to see.
Prior to transporting the Jeep to the Sunshine Coast, as number of repairs were required. RAQ Members Ty Bodle and Peter Matthews set about repairing and replacing a number of components, including, sump gasket repair, new six-volt battery, starter motor and battery hold down bracket. A replacement hand brake cable, carby overhaul and full tune up ensured the engine fired up!
With works completed, it was towed to the Sunshine Coast thanks to RAQ Battery Sponsor RACQ, landing up there on Thursday 18 November 2021. It now sits proudly amongst a range of other classic military vehicles, including a Ferret Scout Car.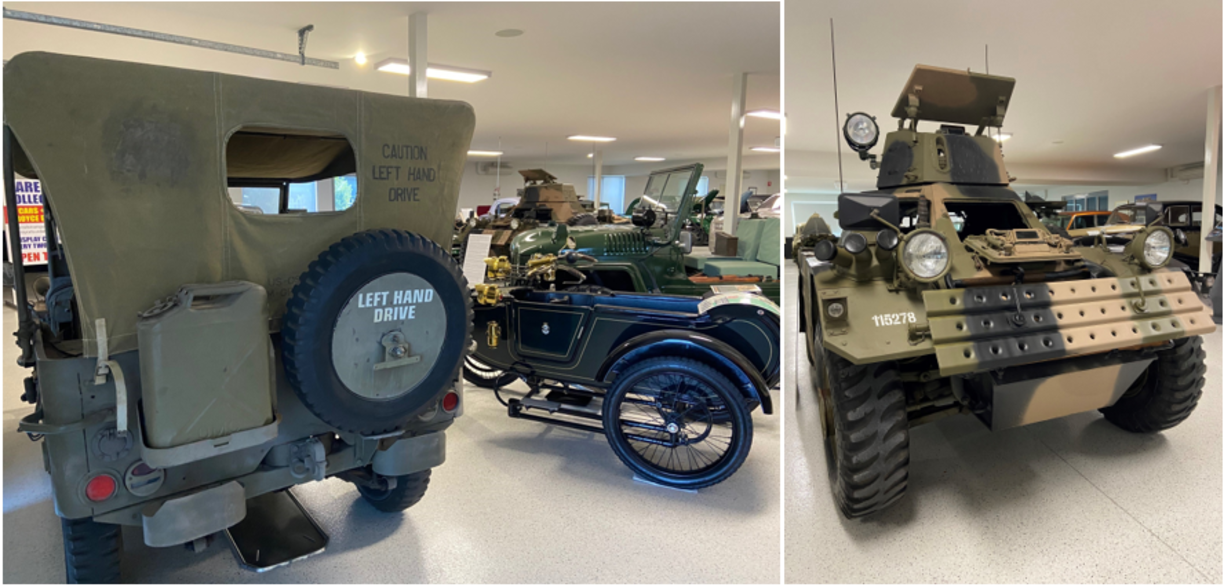 Pictured Above: L-R RAQ Jeep & Ferret Scout Car
I am really pleased at the result and being able to support this project. This has been a team effort over a number of years. A huge thank you goes out to a number of people and organisations:
Cheatham Family

106 Field Workshops

RACQ

RAQ Members Ty Bodle & Peter Matthews

All our members who have donated towards the restoration

Frank Carroll -

Carroll's Transport Depot Coolum
What's next?
We still have a few items to finish for the display, these include:
Writing up a history of the Jeep

Amalgamating a collection of Unit badges and plaques
We would also like to organise a day for Members and guests to visit the Jeep and Depot.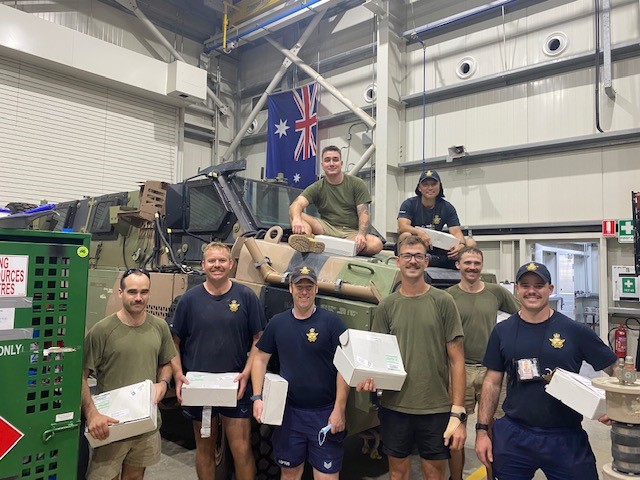 Pictured Above: RAAF left to right: LAC Marschall, SGT Loftus, CPL Masaoka (up top), LAC Thomson
Hello Ray,
I'm the current ASM of the Joint Task Force 633 workshop here in the Middle East. Back home I'm the ASM of 10 FSB in Townsville. I have a small team deployed here with me; two Vehicle Mechanics and two Boffins. I'm also responsible for some of our RAAF brothers who maintain the ground support equipment for air operations. We arrived in September.
I wanted to write and express my sincere gratitude for your operation spanner packs you sent. I'm almost certain that I've received one of these for each of my three deployments, dating back to 2007 in Iraq! It's so pleasing to receive these. It's not just about the goodies, but it's a warm feeling to know we have the Corps Association behind us, reinforcing that special camaraderie that is unique to RAEME. We had more packs than we needed so decided to extend the corps love to our orphan RAAF GSE guys. Perhaps one will defect to our Corps one day because of it? They were very well received!
Pictured Above: The workshop with an armoured Landcruiser 200 series in the foreground.
A little about what we're up to over here. We're drawing down operations in the middle east and sending lots of equipment home. Our work here has been centred around sea preparation of equipment to go home via sea. For the PMVs we've removed each power-pack and thoroughly cleaned the insides of the hulls and under the floor plates. We replaced the packs, removed local mods and applied preservative to the exterior of the vehicle to protect it from corrosion. Now all we're waiting for is a ship to come and collect them. It's been a short trip for the guys but they're fortunate to have had this opportunity.
Pictured Above: CPL Palombini, WO2 Fay, LCPL Williams-Flack (up top), LCPL Pates and CFN Whitlock.
Unfortunately, once we depart it will be the end of RAEME representation in this country and the region. I am transitioning to a role in the HQ OPS room and by my calculations, will be the last bluebell in the Middle East. Please keep an eye out in the Craftsman magazine as I'm currently writing an article for it based on my experiences. I also encourage you to look at a video that was made showing what we're up to here https://youtu.be/Fg1olMVnGLg .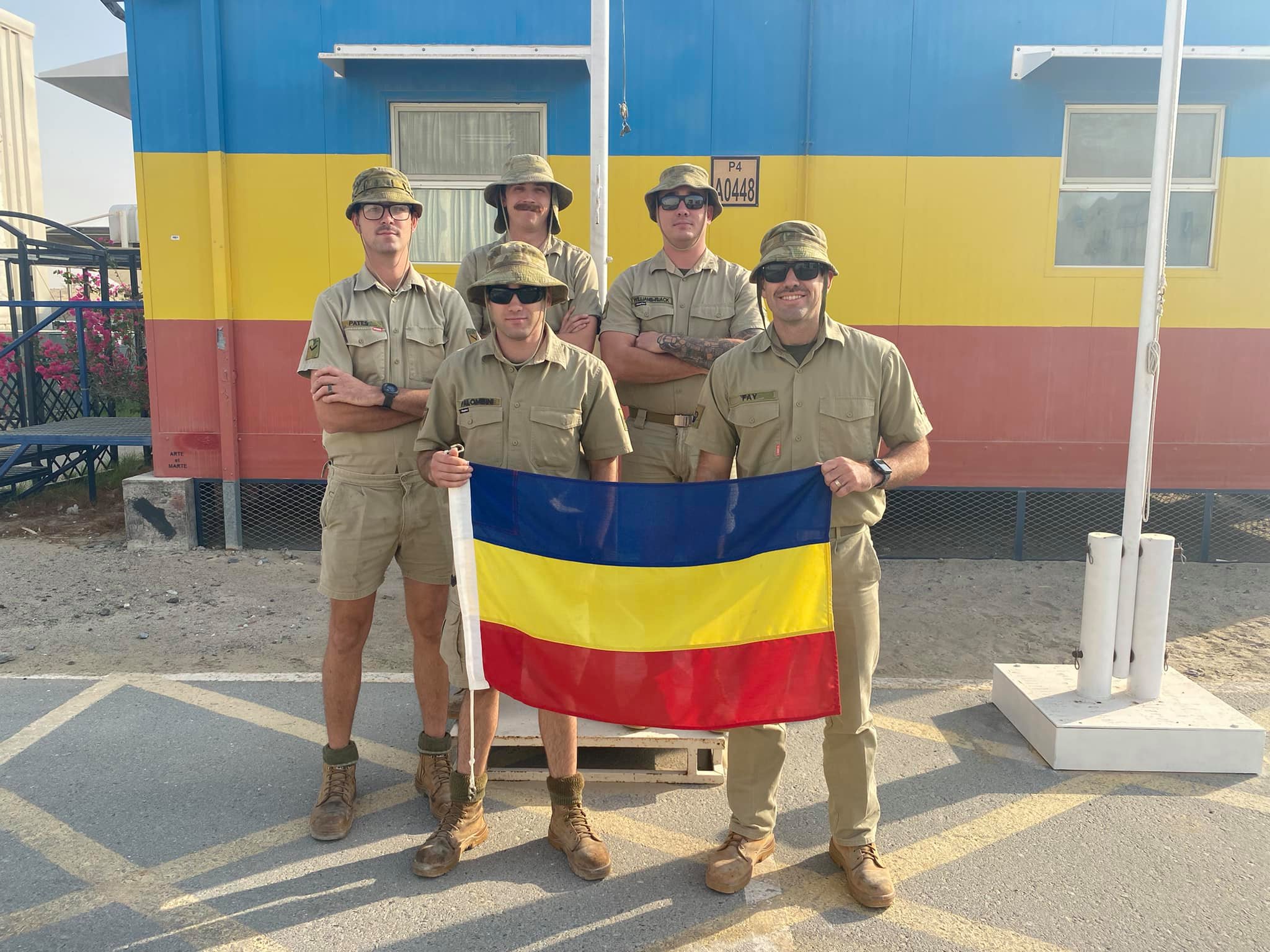 Pictured Above: LCPL Tim Pates (VM), CFN Jake Whitlock (Boffin), LCPL Josh Williams-Flack (Boffin), CPL Josiah Palombini (VM), WO2 Alex Fay (ASM). 8 Nov 2021 we lowered the tri colour for the final time in the Middle East as we move towards the enduring structure here without RAEME. The tri colour has been flying in this region for the better part of 20 years with many of you having served under it, so it's a sad but significant event for our corps. Arte et Marte
Thanks again Ray. To you and the RAEME Association. We're so very lucky to be looked after in this way. I have put together a small package of RAEME memorabilia that was spared from the recent visit by the Army History Unit. Perhaps you can display it somewhere or just keep it for yourself. Please keep in touch with me for anything I can help with.
Kind regards,
Alex Fay
Arte et Marte
Pictured Above: CO 7 CSSB LTCOL Ross Thomas presents at the Luncheon
The Port Office Hotel hosted 70 members and guests for our All Ranks Luncheon on Sunday 28 November 2021.
Guests in attendance (also virtually) included our Patrol BRIG Ross Grant AM (RTD) & Leonie Grant, LT COL Ross Thomas – Virtually In Quarantine in Brisbane and special thanks to Paul Gibbs – Systematiq – who kindly Sponsored and extra hour of drinks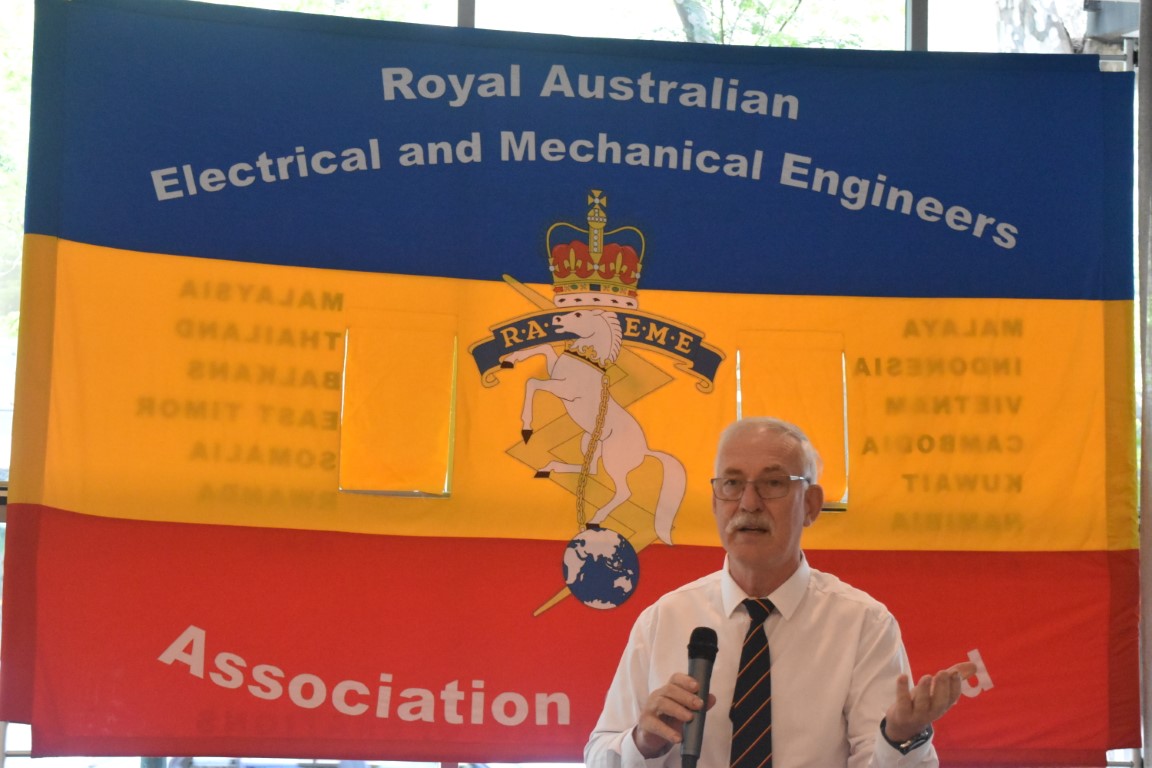 Pictured Above: Jeff Maurice provides the Chairman's Address
Special mention was made by our Chairman for Bert Barker, who couldn't be with us. As a founding member of the Corps, we wish him all the best – and well wishes for his up and coming 100th Birthday on 3 December.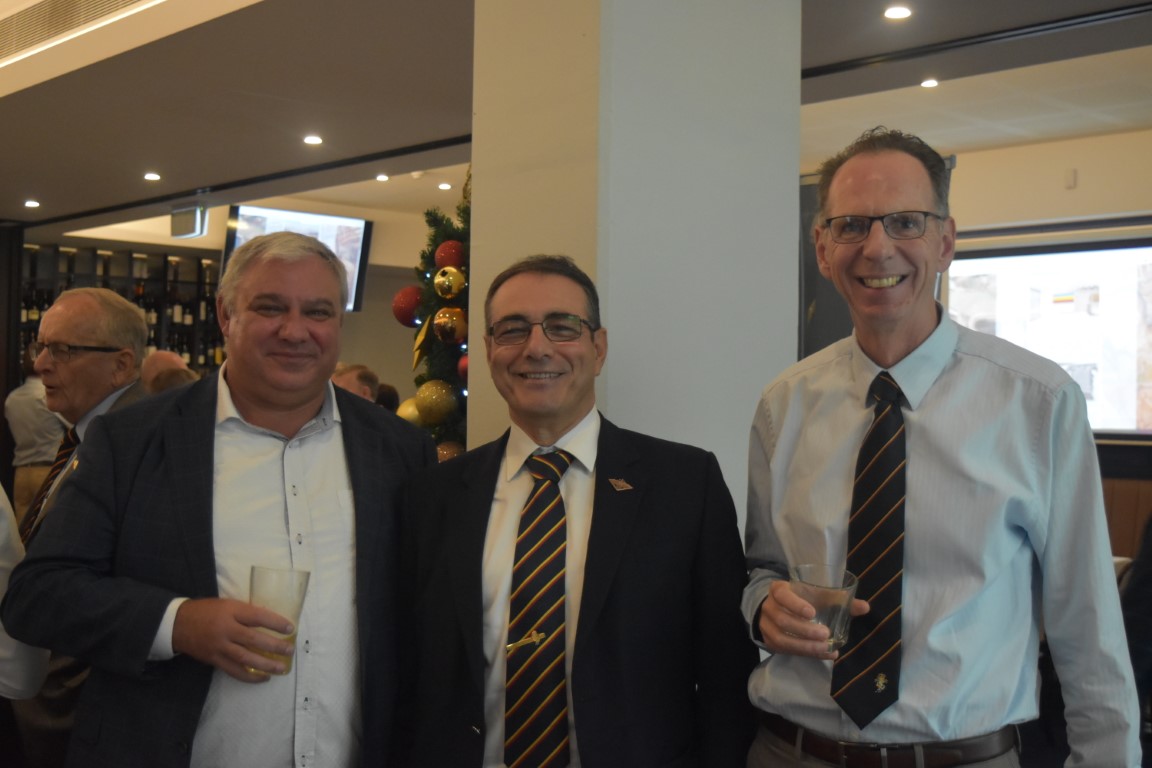 Pictured Above: Jon Westerland, Tony Borg 7 Ed Smeaton enjoy the Luncheon
We are honoured to have LTCOL Ross Thomas CSC, CO 7CSSB present online, giving us a glimpse at changes coming within the trades, with a long due overhaul, so that Craftsman of the future can meet the challenges of around $55B in spending on new land equipment over the next 10 years.
More images are available in the Gallery
---
Remote Mechanics -

51FNQR - Cairns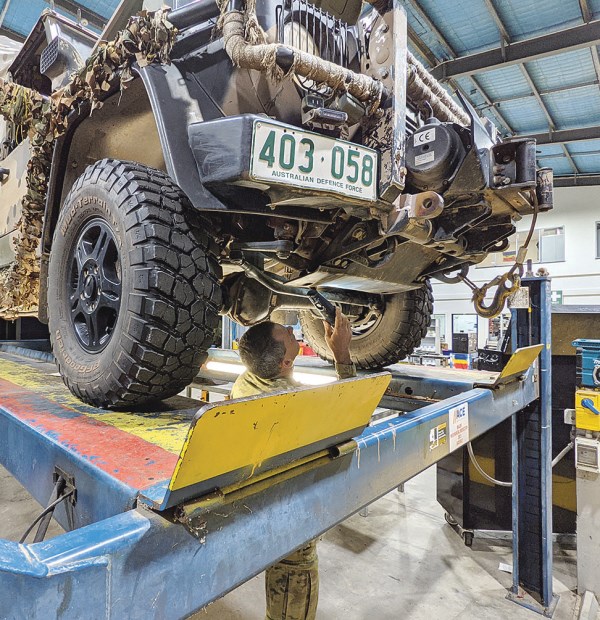 Mechanic WO2 James Gorman inspects the undercarriage of a G-Wagon in the workshops of 51FNQR at Porton Barracks in Cairns. Photo: Cpl Michael Rogers
It's a long drive from Cairns to the Cape York Peninsula, but for the craftsmen of 51FNQR, it's a road well-travelled.
The unit's workshop, made up of 10 full-time soldiers, recently embarked on the second of its biannual repair tasks to its remote rifle companies.
While the workshop is based at Porton Barracks in Cairns, the team maintains equipment held at company depots in the Atherton Tablelands, Weipa, Mt Isa and the Torres Strait. They also have equipment at depots in small communities such as Doomadgee, Pormpuraaw, and Bamaga.
Being a member of the workshop is a unique experience, according to CFN Brenton O'Sullivan, a vehicle mechanic who is new to the unit.
"Conducting a short-notice forward-repair task into a remote community like Aurukun or Pormpuraaw to fix a G-Wagon that has broken down on exercise can be very interesting, especially when you are unsure of the exact fault," CFN O'Sullivan said.
The workshop conducts multiple forward-repair tasks to outstations to service and maintain weapons, vehicles, and marine equipment. They also conduct electrical integrity testing on the equipment.
These tasks involve a contingent travelling from Cairns to the outstations in specially fitted G-Wagon 6x6 surveillance and reconnaissance vehicles and general maintenance modules or, if the roads are impassable, via regional flights.
ASM 51FNQR WO2 James Gorman said the lack of facilities in remote locations made some repairs difficult.
In the Torres Strait, CPL David Young is the mechanic posted to Thursday Island as part of C Coy 51FNQR.
The small team, remote locations and high operational and training tempo mean life in the 51FNQR workshop is busy, but rewarding.
Working in remote communities, on mission-essential equipment, the team can see how their maintenance affects the unit's mission and communities they work in.
Image and Article Courtesy of Defence (edited)