ANZAC Day Function Brisbane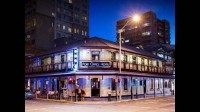 From 25.04.2018 11:00 until 25.04.2018 17:00
The Port Office Dining Room, Port Office Hotel will host our function again this year. It is open to all and this year the price of one ticket includes entry + buffet lunch + 2 x drink vouchers along with other low cost beverages throughout the day. Save up to $15 with the Early Bird Offer by COB 09 April. The cost of the tickets as follows per person (PP):
Ticket

Price (PP) - Save up to $15 with the Early Bird Offer up to COB 09 April

Price (PP) from 10-24 April


Price on ANZAC Day at the door

Financial RAQ Member & up to one guest

$25.00 each**

$35.00 each**

$40.00 each**

Serving Soldier & up to one guest

$25.00 each**

$35.00 each**

$40.00 each**

Non-Members, Guests, Affiliates & extra guests

$35.00 each**

$40.00 each**

$45.00 each
** May include up to one guest at this price
Exchanging Tickets for Vouchers
If you have Pre-Purchased tickets, the best option is to print out your E-ticket and bring it along on the day. It will be exchanged for Entry, Meal and Drink vouchers. We will have committee members at the FUP to exchange tickets for vouchers and again at the door of the Port Office Hotel. As each ticket has a unique number, once surrendered cannot be reused. Please treat your vouchers and tickets like cash, as if they are lost they cannot be replaced. If you cannot print your ticket or forget to bring it, don't worry, we will have attendee lists available to check, however this may delay entry to the venue.
Timings
The Port Office private RAEME function will be open from around 1130 hrs. Drinks will be available for purchase using either a voucher or purchased across the bar. The Buffet Meal will be served from approx 1230-1430 hrs. Feel free to gather and sit where you are comfortable. However, the three fixed tables / booths adjacent to the toilets have been reserved for some of our older members.
Important note: Payment must accompany all Pre-purchased tickets. This is a private function and for those attending prior to 1500hrs must purchase a ticket. ANZAC Day Hotel licence requirements for serving Liquor may only be sold or supplied in conjunction with a meal and must be eaten on the premises.
To pre-purchase tickets: (Discount Ticket sales close off at 1800hrs 24/4/18)
If you are interested in becoming a member to save up to $15 and buy tickets at member prices see how to join RAQ below
1. click on the Register Button Above (Pre-Purchase has closed)
2. Select the number of tickets
3. Select the type of ticket (For Members/Serving Soldiers Select that ticket type) Click "Add Ticket"
4. For the purchase of other types of tickets in the same transaction, click the drop down box and select the required ticket type, Click "Add Ticket"
5. Select Paypal Payment type - (Please note: You don't need to be registered with Paypal to pay via Credit or Debit Card)
6. Click Continue
Wait until you are directed to the Paypal Payment Page. This can take up to 30 seconds
Once your payment is confirmed, you will receive an email with your E-ticket attached. If you make a mistake simply cancel and start again, or This email address is being protected from spambots. You need JavaScript enabled to view it.
Please Note: Once purchased and paid for, tickets are non-refundable
Joining RAQ
If you are not a financial member you can save $$$ today by joining the RAQ. Go to the membership tab above and sign up today, $10 annual or $100 life subscription.You can save a minimum of $20 a year by attending just two functions plus you get all the other discounts, badge etc.
Going
WO2 Jamie Carroll
WO1 Brett Taylor & Guest
Mikel Macdonald
james Spargo
Heath Evans
Paul Middleton
Colin Davis
David Hall
Graham Forbes
Roger Smith
KEEGAN MULLIGAN
ANDREW CAVANAGH
Ben Siede
Robert Lugton
John Parfitt
Robert Sawford
Bruce Hermann
Ian & Wendy Leabeater
Leo Galligan
Cedric Payne
Brian McCabe x 2 Guests
Gavin Bicknell
Derek Stevenson
Terry Bodle
Shad Marsh
Ty & Loralie Bodle & Guest
Andrew Wheatley
Richard Gladdish
Shane Brann
Paul Spresser and Diane Regeling
Trevor (Tommy) Hawkins & Guest
Tom Gill
Mark Czerniawski
Barry Shipway
John Rathbone & Guest
Justin Clark & Guest
Ian Baker & Guest
Ron McElwaine
Kingsley Pocock
Ian Drewett & Guest
Laurie Wolters
Andrew Russell
Steve Gillett & Guest
Steve Gillett
Paul Vonow & Guest
Michael Roughan & Guest
Jon O'Grady
Garth Bess & Guest
Robert Brechin
Kim Veness
Robert Boughen & Guest
Rob Lowndes