RAQ Post Lockdown Function - Port Office Hotel Brisbane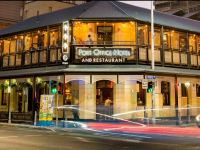 From 01.08.2020 11:00 until 01.08.2020 16:00
Come along to the RAQ Lunch to celebrate our post COVID 19 freedom and help support the Brisbane meeting point of the Association, the Port Office Hotel, who have had a difficult 12 plus months.
A function is being scheduled for Saturday 1 August 2020.
Location:
Port Office Hotel

40 Edward Street, Brisbane
Timings:
11:00 - 16:00 Saturday 1 August 2020 - Doors do not open until 11am and lunch will be served from approx 12.30, so no need to rush.
Dress:
Costs:
RAQ Financial Members $20 per head and up to one guest at RAQ member price

Non-members $25 - can pay online for full price

Dine in lunch with three menu options served to alternating table places

Drinks - table service at own cost

Bookings essential
COVID19 Restrictions :
All patrons must be seated when eating or drinking. You can still order, pay or collect food and drinks at the bar or service counter, however you'll need to pull up a chair to drink and eat.

We have an allocated area set aside for our function. There are two tables reserved for our special guests. The remainder are available for members to sit and enjoy the day

.
RSVP:
For further details please This email address is being protected from spambots. You need JavaScript enabled to view it.
Joining the RAQ
If you'd like to join and save on your ticket price, Membership is available from $10 Annual Subscription to $100 for a once off Life Subscription. Joining is easy and can be done online. Click on the Membership tab for all the details
Speakers
Currently appointed as Director General Logistics - Army. In this position he is responsible to the Chief of Army for strategic logistic, governance and technical regulatory management in support of Army's mission and tasks.

Todd also has responsibility for developing and implementing Army's strategic policies related to infrastructure, safety, security, and enterprise risk management.

He has extensive experience in command, training and operational appointments.
Going
Will McGavin & Guest
Ron Parrello
Andrew Baly
Jacob Fisher
Laurie & Tracey Wallace
Wendy Wheadon
Karina Cann
Jason Lehmann
Peter & Deanne Matthews
Ross & Leonie Grant
Gary & Lynell Sargent
Walter Buldo
Jeffrey Maurice
Brian Barbara Daley & David & Lorraine Grant
Bruce & Kathryn Hermann
Ewan & Margaret McLeod
Ian & Wendy Leabeater
Derek Stevenson
Tony & Alison Borg
Ty and Loralie Bodle
Sandra & Peter Pile
Desley Lingard
Andrew & Anne Wheatley
Nicholas Shaw
Mardy Seery
Richard Gladdish
Rob De Visser
John Rathbone
Steve & Melissa Evans
Rob Dean & 3 guets
Steve Howells
Des Kearton
Ian & Justine Baker
Tony & Sharon Rawson
Ian & Helen Turner
Kingsley Pocock
Ross(Drac) Grant
James Walker
LTCOL Irving
Brian Roche
Wayne Tarrant
Jon O'Grady
Angela Langdon
James (Jim) Ross
Jim Ross
Steve & Glynis Murphy
Adrian Butcher
Stephen Beck
Jon Westerland
Steven Doehnert
Gregory (Chad) Fletcher
Robert Willis