RAEME Birthday Enoggera Barracks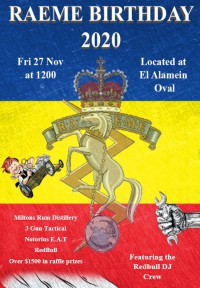 From 27.11.2020 12:00 until 27.11.2020 16:00
The 78th Annual RAEME Birthday Event occurring on Fri, 27 Nov 20.
We are currently expecting around 300-500 people on El Alamein Oval for the conduct of the event.
RAQ Members wishing to attend will be advised closer to the event to co-ordinate escorting the RAQ members into the event.