RAQ North Queensland Gathering -Townsville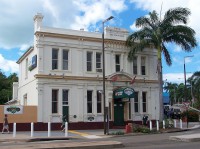 From 31.10.2020 13:00 until 31.10.2020 16:00
Who: All RAEME serving and ex-members welcome Air, Ground, Prod, Appies, Thicks, Lateral Transfers (REME), it doesn't matter, we all bleed tri-colour.
What: RAQ-NQ informal gathering/chat/get together/Shindig
When: Sat 31 Oct 20 from 1300h
Where: Flynn's Irish Bar, 101 Flinders St., Townsville QLD 4810.
Why: Flynn's Irish Bar has been the RAEME Hotel of choice for multiple years. The owner, Steve Flynn, has provided excellent support over this time for RAQ-NQ ANZAC Day functions; however, he severely missed our patronage with the cancellation this year due to COVID 19. It's time for RAQ-NQ to give back and support this important local business. Please find the time to bring yourself and a mate down to Flynn's and buy a beer or two, catch up with mates, tell a tall story and support a local Publican.
Any questions please drop an email to This email address is being protected from spambots. You need JavaScript enabled to view it.