RAEME Birthday Rotary-wing Aircraft Maintenance School (RAMS)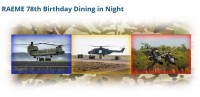 From 27.11.2020 17:45 until 27.11.2020 23:00
The Rotary-wing Aircraft Maintenance School (RAMS) will be hosting an all ranks mixed dinner as a unit function on the evening of Friday 27 Nov 20. The dinner will be a memorable occasion bringing together RAMS staff and their partners as well as past and serving members of the Corps to mark RAEME's 78th anniversary.
Tickets are $65.00 each per person plus booking fee.
This event is being organised through RAMS Oakey, contact the organiser directly if you have any questions.
To book, click on the image above or Click here.