RAQ ANZAC Day Function Brisbane 2021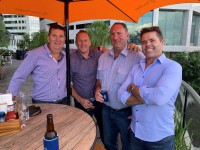 From 25.04.2021 11:00 until 25.04.2021 17:00
Discounted Pre-Booked Ticket Sales SOLD OUT - COB 18 April 2021
ANZAC Day at the Port Office Hotel is back...lock this event into your calendar!
It was great to hear the Premier announce that ANZAC Day will continue as "Normal" for 2021.
If you are in or around Brisbane on ANZAC Day, I would encourage anyone who can attend, please join us. A flyer for the event is also attached.
Ticket Type (Per Person)

Discount Tickets

(SOLD OUT)

Full Price now until at the Door ANZAC Day

Guest of Member/Soldier (up to one guest at Member price)

$30.00 each pp

$40.00 each pp

Non-Members, Email Affiliates & extra guests
Exchanging Tickets for Entry/Drink/Meal Vouchers
If you have Pre-Purchased tickets, the best option is to print out your E-ticket and bring it along on the day. It will be exchanged for:
1 x Entry

1 x Meal voucher, either:

Discount Tickets - Buffet Meal

Full Price Tickets - Restricted Bar Menu

2 x Drinks vouchers
If you cannot print your ticket or forget to bring it, we will have attendee lists available to check, however this may delay entry to the venue.
Timings - Entry - Drinks -Meal
The Port Office Hotel will be open from around 1100 hrs. Drinks will be available for purchase using either a drink voucher or purchased across the bar. The Buffet Meal for those with Pre-Purchased Tickets will be served from approx 1200-1400 hrs. Full Price Meals will be a restricted selection from the bar menu. Feel free to gather and sit where you are comfortable. However, their will be several tables reserved for some of our older members.
Important note: This is a private event. Entry is restricted to ticket holders only until 1400hrs.
ANZAC Day March
To purchase tickets - Available at the door
If you are interested in becoming a member to save on the purchase price of tickets at member prices see how to join RAQ below
1. Click on the Register Button Above
2. Select the number of tickets
3. Select the type of ticket (For Members/Serving Soldiers Select that ticket type) Click "Add Ticket"
4. For the purchase of other types of tickets in the same transaction, click the drop down box and select the required ticket type, Click "Add Ticket"
5. Select Paypal Payment type - (Please note: You don't need to be registered with Paypal to pay via Credit or Debit Card)
6. Click Continue
Wait until you are directed to the Paypal Payment Page. This can take up to 30 seconds
Once your payment is confirmed, you will receive an email with your E-ticket attached. If you make a mistake simply cancel and start again, or This email address is being protected from spambots. You need JavaScript enabled to view it.
Please Note: Unless impacted by COVID restrictions, as we have to pay for catering regardless of your attendance, once purchased and paid for we unfortunately can't refund if you don't attend. Please advise us if you have any specific dietary requirements
Joining the RAQ
If you are not a financial member you can save by joining the RAQ. Go to the membership tab above and sign up today, $10 annual or $100 life subscription.You can save a minimum of $20 a year by attending just two functions plus you get all the other online discounts, badge etc.
Going
John Leggatt
Holly Nayler
Mikel Macdonald & Dee Stevens
Steve Frost
Darren Lonergan
Adrian Kelly
Robert Godfrey
Jake Donnelly
Scott Kirby
Morgan Cornelius & Guest
Reid & Simone Ossington
Jock Tinning
Paper Lockhead
Sharn O'Connor
Christopher Boehm
Pete Mottram & Guest
David & Lisa Bennett
Brett & Ainsley Johnson
Linda Raffety
Warwick Gordon
Jason Harwood
Amir Tito
Kevin Bishop
Shane Craig
Marc Craigie
Shaun Wells
Robert Winkel
Wilfred Quass
Ian & Wendy Leabeater
Andrew Baly
Leo Galligan
Mal Norrie
Kim Veness
Mark Cooper
Robert Carter
JAMES FARLOW x 10
Nicholas Shaw
Lindsey Clark
Stephen Brett
Laurie Wallace
Ed Smeaton
Michael & Marcelle Marinkovic
Dan Frawley
PJ Ryan
Heath Deeble
Shane Durdin
Mark Peucker
Kimberly Young & Dayna Clemson
Steve Baxter
Grant Phillips
Jeremy Schurmann
Bill Grogan
Aline Itongi-So x 2
Cornelius Juniors Group x 4
Scott Quelch & Tristan Burton
Darren lewis
Danny Kingston
John Billiau
James O'Sullivan
Dallas Dagan
Andrew Cavanagh
Damien Taylor
Peter Matthews
Ross Grant
MAJ Robert Sawford
Gary Sargent
Walter Buldo
Andrew Nicolson
Jeff Maurice Plus 1
Brian Daley
Peter& Chrissy Lambert , Doug & Michelle Beswick
Bruce Hermann
Cedric Payne
Brian McCabe & Guest
Gavin Bicknell
Derek Stevenson
Tony Borg & 2 Guests
Frank Kenny
Terry & Tina Bodle
Ty Bodle & Guests
Peter Thompson
Andrew Lund
Mark V Czerniawski
Barry Shipway
Rob De Visser
John Rathbone
Jason Rathbone
Karen Cairns & Shane Carroll
Grant Coombe
Bob "Blip" Hendriks
Stephen Howells
Ian & Justine Baker & Sue Walters
Les Edis
Kingsley Pocock
Michael Needham
Anne & Roy Cuzens
Ian Drewett
Bruce and Darryl Ryan
James Spargo
Ross L (Drac) Grant
Russell Sams & Guest
Steven Gillett
Kevin Merrick
Max Walker x 4
Michael Phillips
John Hatcher & 3 Guests
John Hatcher
Jon OGrady
Robert Brechin
Cathleen Johnston
Steven Murphy
Charles Moir & Guest
Adrian Butcher
Stephen Beck
Jon Westerland
Steven Doehnert
Ron Parrello
John Elder
Wendy Wheadon
Mick Patman
Sharon Patman & Guest
Anthony Trudgian & Guest
Graham Bullock