RAEME Recovery Mechanics Memorial Fund Donation
Please donate to support the Memorial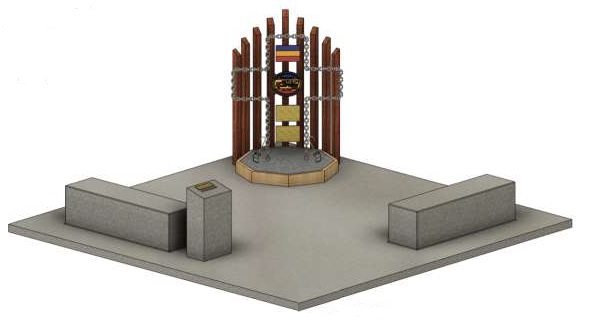 With shipment Free Shipping for $ 0.00
Description
WO2 Ryan Leslie and Craftsman Brendon Payne, two superb soldiers tragically died while serving their country on a military exercise in the Townsville Field Training Area on 30 August 2021.
Ryan and Brendon were very well-loved by both their families, friends and their military comrades.
Commemorations held at the accident site on the first anniversary of their passing have shown us just how important it is that we have a place to remember them: to reflect on their lives, and who they were.
The plan is to build a permanent memorial rest-stop at the accident site, set off to the side of the Dotswood / Mingela Road in a safe location to allow people to stop and reflect. The memorial will consist of a bespoke designed wooden memorial facade, designed and built by RAEME personnel, carrying plaques for Ryan and Brendon. This will be placed into a concrete foundation. A hard-wearing, concrete seat will then be provided for people to sit on when they visit, and a weather-proof box will be included for people to leave notes and messages for the soldiers and their families.
The designs have been developed in very close conjunction with Ryan and Brendon's wives, and with their close family. Both the concept and the design come with their strong support.
In terms of cost, we are seeking quotes from Townsville-based construction companies for the work. We estimate the construction will cost in the region of $40,000, given the remote location of the site. In terms of time, we are hoping to have the work done in the dry season of 2023, to have the memorial constructed and opened by the second anniversary of Ryan and Brendon's passing on 30 August 2023.
The next step now is fundraising. We are reaching out far and wide to both a serving military, veteran and Veteran Association audience to seek efforts and contributions to raise the funds of $40,000 for the memorial construction to take place. We are looking for individuals and units to organise fundraising events in the next four months (January to April 2023), or to provide donations from standing or Association funds.
100% of all proceeds go towards supporting the Memorial
Donations can be made in multiples of $25.
To ensure we get the most from each donation, the following is a guide to the transaction fees which apply:
EFT Transactions there are no RAQ Fees
PayPal transactions there is a fee on top, which is displayed at checkout. Paying this fee ensures 100% of your donation goes towards the memorial (To avoid any fees, EFT is the best option)
Please note You Donation is welcome, however the RAQ does not hold charity status, so cannot be claimed as a deduction