The Royal Australian Electrical and Mechanical Engineers (RAEME) Association Queensland Inc is a not for profit volunteer organisation, supporting the RAEME National Network by providing leadership to, and a focal point for, all RAEME affiliated Associations in Queensland, by promoting and recognising the corps and its achievements via independent memorial, celebratory, social, fundraising, sporting and other activities.
The goals of the Association are to:
Promote the Corps' identity and reputation in Queensland

Recognise and celebrate achievements of members of the Corps in Queensland

Provide a focal point for Corps activities in Queensland
The role of the RAEME is to ensure maximum operational availability of equipment to enable the commander to win the land battle. RAEME is a technical corps tasked with the maintenance of the Army's modern hardware and equipment. More on the Corps can be found at this link.
This site has been developed as a communication tool for RAEME members in Queensland. All attempts have been made to ensure the accuracy of the information supplied. If any errors or broken links are found, or if you have any item or article for inclusion on these pages, please contact the webmaster.
RAQ Subscriptions
Annual subscriptions to the RAQ are due by 30 June each year. Subscriptions can be paid using either PayPal (fee free) or EFT by clicking the Icon below and logging in. Renew your subscription for $10 a year or upgrade to Life Subscription for $100.
New members please use the 'Online Registration' link under the Membership banner.
All proceeds are used to support and promote the goals of the Association.
Meetings and Functions
Are held on the first Wednesday of each month excluding January, the latest information is on the Events page.
---
Spanner Club SE Queensland - Indooroopilly Hotel - Fri 31 Mar 2023
The RAEME Association Queensland is holding an off-base Spanner Club open to all members, guests, families, partners and others who are associated with the Corps.
The Indooroopilly Hotel is the location for this event and is directly opposite the Indooroopilly train station. There is some limited parking on site. We have a private area to enjoy with its own bar, and platters will be available mid-afternoon. RAEME merchandise will be available to purchase.
Come along and enjoy a chat, a drink and a few laughs with the brothers and sisters!
Date: Friday 31 March 2023
Time: 1400 - 1800hrs - now starting @ 1400
Venue: Indooroopilly Hotel
Address: 3 Station Road, Indooroopilly, QLD 4068
Phone: (07) 3878 0111
Catering: Platters provid

ed from mid-aftern

oon.

Drinks at own cost

Dress: Casual
Organiser: Dave White & Ian Dale
RSVP: Online by 17 Mar 2023. This email address is being protected from spambots. You need JavaScript enabled to view it.
More details are in the attached flyer or go to the RAQ Events Page
---
RAQ Online Shop - Did somebody say RAEME hoodies! - Limited release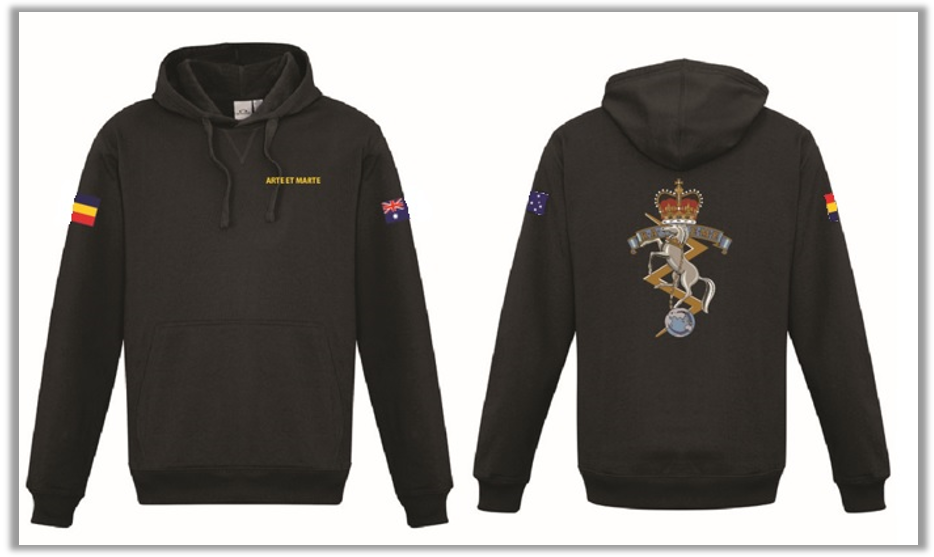 Thanks to a suggestion from the team out at Amberley, we have an exciting Hoodie Pre-Sale which is now live for orders. Stock expected mid to late April 2023 with orders closing 9 April 2023.
Each Black RAEME Unisex Hoodie features:
An everyday essential fleecy pullover that's been upgraded for a modern appeal


Great fit that's cut to be comfortable and relaxed - not oversized or baggy

Reliable Poly Cotton fleece fabric is warm, light and perfect for layering

Traditional Pullover hoody style with good sized kangaroo pockets

Knitted band at the hem is not too loose or too tight. The length hits perfectly at the lower hip.

Wider shoe-lace style hoody cord for a modern urban sporty look

55% Cotton Fleece 45% Polyester

320 GSM

What you get:
Black RAEME Hoodie Unisex (Plus Postage)
Embroidered RAEME Tricolour Badge on the right sleeve 50 x 43mm

Embroidered Australian Flag on the left sleeve 60 X 36mm

Embroidered ARTE ET MARTE left chest 97mm

Printed Corps Badge on the back 300mm high
RAQ Members don't forget to login to get your member discount and "Click & Collect" postage options for member to pick up at the next meeting.
Postage and Collections Options
RAQ Members - Postage options and "Click & Collect" option at a monthly meeting Approx May 2023
Free Bulk collection 6ESR and 9FSB - select 6ESR/9FSB Free Collect
Everyone else - postage costs and options at checkout.
RAQ Members don't forget to login to get your member discount and click and collect option