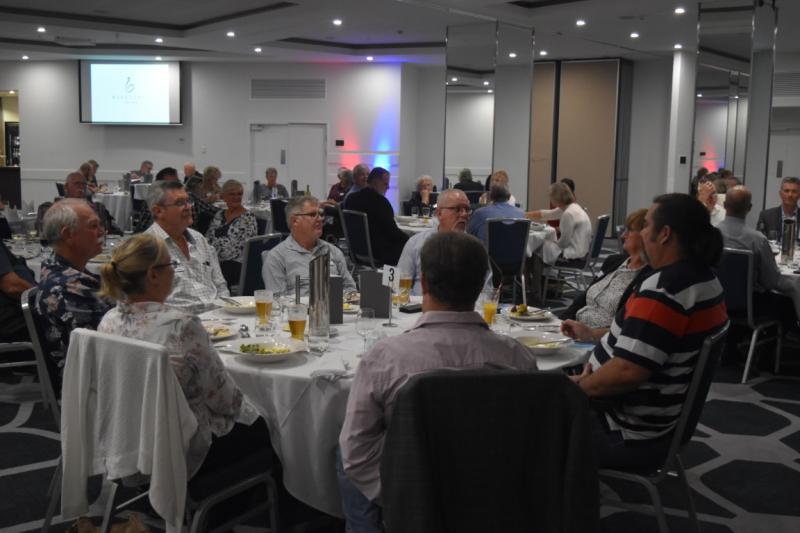 Pictured above: Members and guests at the 2021 luncheon.
The 2023 RAEME Association – Queensland (RAQ), Sunshine Coast Chapter, Annual Luncheon are well underway. To this end, you, your partner and interested friends are invited to attend the lunch, to be held on Saturday 30 September 2023 at, as we have become accustomed, the Maroochy RSL. The invitation is extended to all current and past members of RAEME, and friends of RAEME, who live on the Sunshine Coast / Wide Bay area, or the surrounding region, including Brisbane, the Gold Coast and Darling Downs. Visitors to SE QLD at the time are also very welcome.
We are pleased to confirm that our guest speaker is BRIG Gabriel Follett AM, Director General Fuel Services Branch in Joint Logistics Command. The Brigadier has an impressive Bio and we are sure she will provide a very informative presentation and discussion on her experiences in the Corps and the many non-Corps appointments she has held.
The Colonel Commandant, Queensland, COL (Rtd) Steve Evans, will again host the lunch, and as has become the practice, BRIG (Rtd) Ross Grant AM will be our MC. We will again be ably supported by the Maroochy RSL catering and bar staff, who will look after our every need.
Lunch Details. Important details to remember include:
Venue - Room M4 Maroochy RSL, corner Memorial and First Avenues, Maroochydore.
Timings - 1200 for 1230 hours on Saturday 30 September 2023.
Dress - Neat casual.
Menu - Meals will be served as 'alternate drop'. Please let us know of any special dietary needs.
Drinks - The bar will be open from 1200 to 1630 hours with drinks being purchased at your own expense.
Parking - Free parking is available in the multi floor car park directly opposite the Before departing, please advise the attendant at the front desk in the Club foyer of your vehicle registration number to facilitate exit.
Regards
Mike Prain and Ross Grant
RAQ Lunch Conveners
---
Invictus Games - Düsseldorf, Germany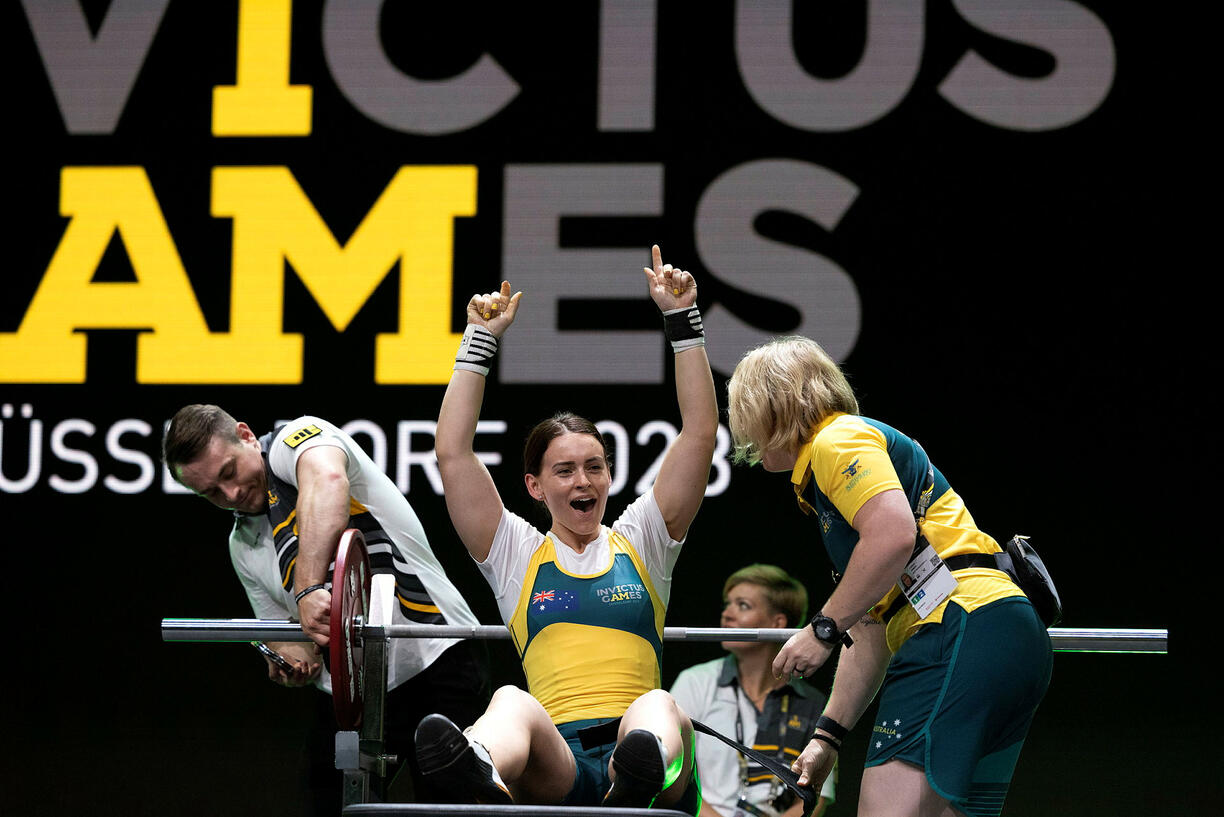 Pictured above: Invictus Games 2023 Team Australia competitor CFN Erin Brigden celebrates a successful lift and winning gold during the women's IP3-IP5 powerlifting event at the Merkur Spiel-Arena in Düsseldorf, Germany.
The first day of competition at Invictus Games Düsseldorf 2023 had the athletics track and field, powerlifting and wheelchair rugby heating up – literally and metaphorically.
On a hot and humid German day, it was all about mate helping mate as the Aussie contingent displayed the heart and humanity of the Games.
In the first event of the day, the women's IP1-IP2-IP4 event, Francine Dudfield made a clean sweep of her three attempts, consecutively lifting 67kg, 73kg and 78kg to win the gold medal. Able Seaman Taryn Dickens picked up a third place medal with a lift of 64kg, while Laura Reynell and Brooke Mead impressed with lifts of 55kg, earning them fifth and sixth place respectively.
Laura said she felt "nice and strong. It was liberating to know I could find the inner strength to lift what I didn't think I ever could lift. Plus my personal fear of training in front of people is gone now, so that's a PB, I guess."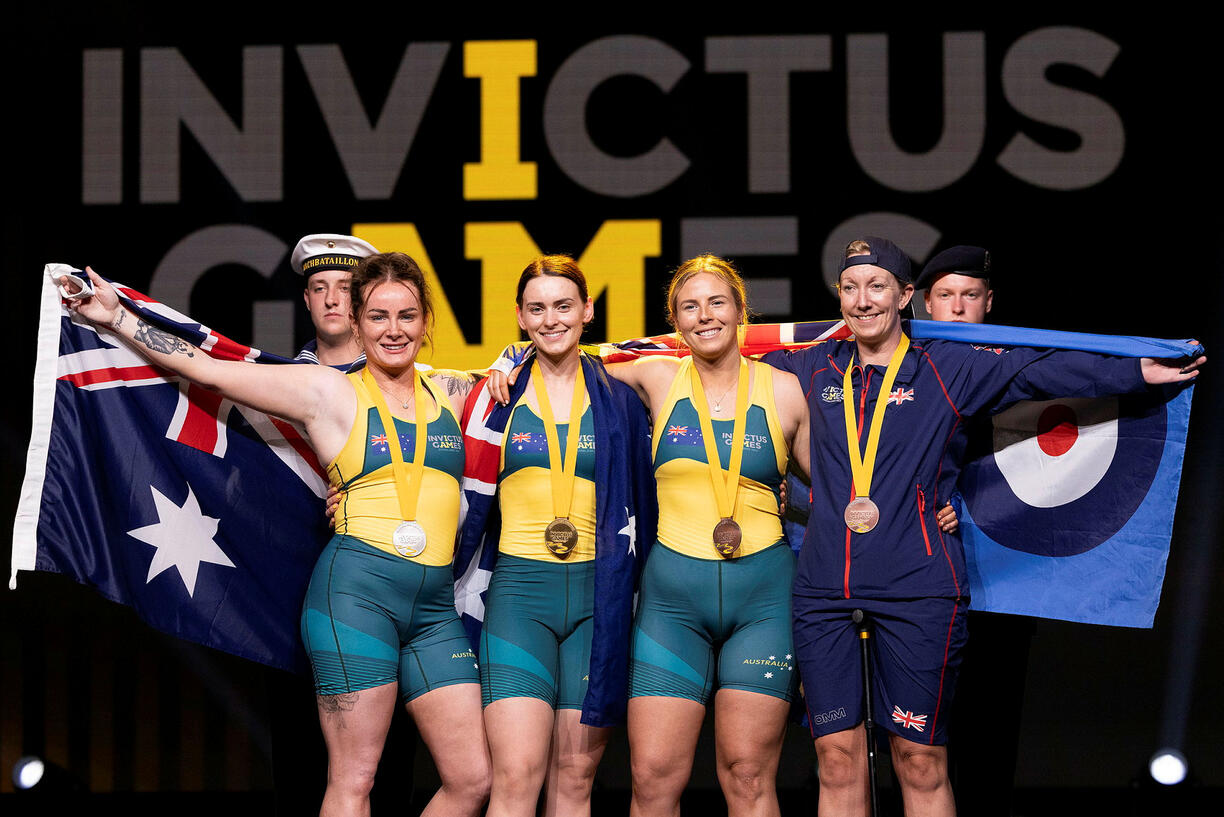 Pictured above: Invictus Games 2023 Team Australia competitors Brooke Mead (silver) Erin Brigden (gold) Laura Reynell (bronze) celebrate a one, two, three finish in the women's IR6 one-minute sprint indoor rowing event at the Merkur Spiel-Arena in Düsseldorf, Germany.
Australian power lifting captain, Erin Brigden, took out the gold in the highly competitive women's IP3-IP5 event with a lift of 82kg, dominating against 11 other competitors.
In the men's events, Michael pipped Kurt Ludke's valiant 150kg lift by 1kg to gain a third-place podium finish in the IP8 group, a feat echoed by Stephen Lockwood in the IP10 event with a lift of 140kg, while Daniel King lifted a solid 115kg to finish fourth in his IP9 event.
Australia's wheelchair rugby team started the day out with a 13-4 loss against Team USA before bouncing back to beat the Kiwis 13-9. The Wheeling Diggers' final match of the day resulted in a 17-6 win over Canada.
Meet the Australian Team at www.defence.gov.au/invictusgames or follow on Facebook.
Image and article courtesy of Defence