Townsville march and function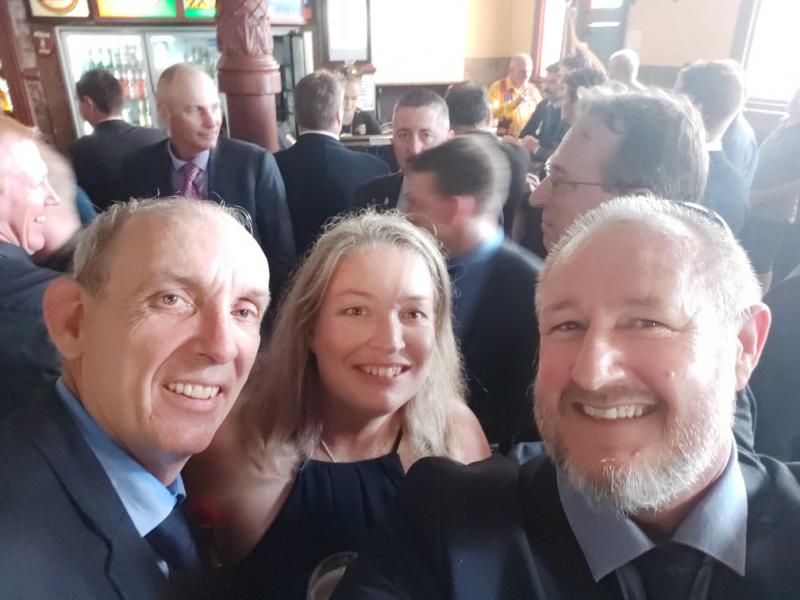 Pictured above: Flynn's Irish Bar - L to R - Ian Joyce, Alecia Blanch, Tank Pontifex
ANZAC Day Tuesday 25 Apr 23 will be the next RAQ-NQ function with Flynn's Irish Bar opening its doors after the dawn service for a quiet tot or two before the Strand march (step off 0930h) under the RAQ Tri Colour banner before re-convening back at Flynn's to reflect on the day for those still serving, who have served or those who have paid the ultimate price. We hope to see you all there.
Brisbane march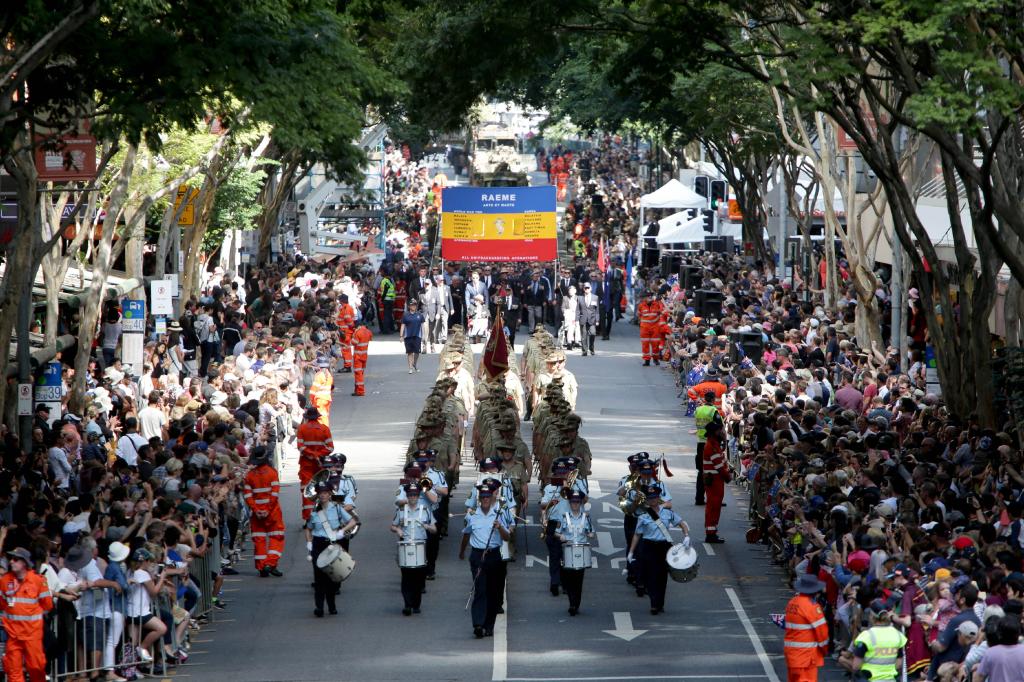 ANZAC Day is now only just over five weeks away. Our Col Comd QLD - COL Steve Evans will be leading the parade and we have RAQ Treasurer Mick Patman calling the march on ABC TV. Important details are as follows:
Order of March: RAQ is Group 4 (Section F).
Time: RAQ Members are asked to be in location at the Form Up Point at 1000h
Step Off: 1015h
FUP: The Form Up Point is EXACTLY the same spot as last year (Corner Mary and George Streets). The map below details the Form Up Point
Buggies: Buggies are available for those who require assistance. The meeting point for the buggies is vicinity Edward and Queen Streets (At Post Office Square). The map below details the meeting location. The buggies need to be pre-booked and will join the RAQ and follow the marching body. To book a buggy please contact Max Walker by any of the following means by 1 April: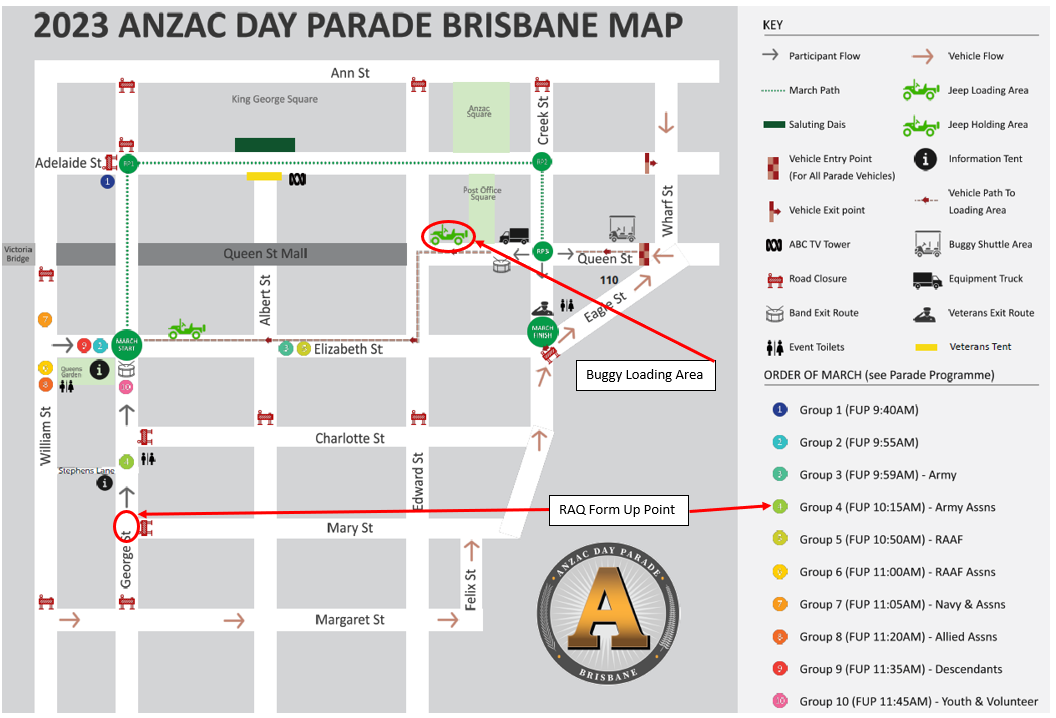 ARTE ET MARTE
Max Walker
0411 102 242
Brisbane Post March Function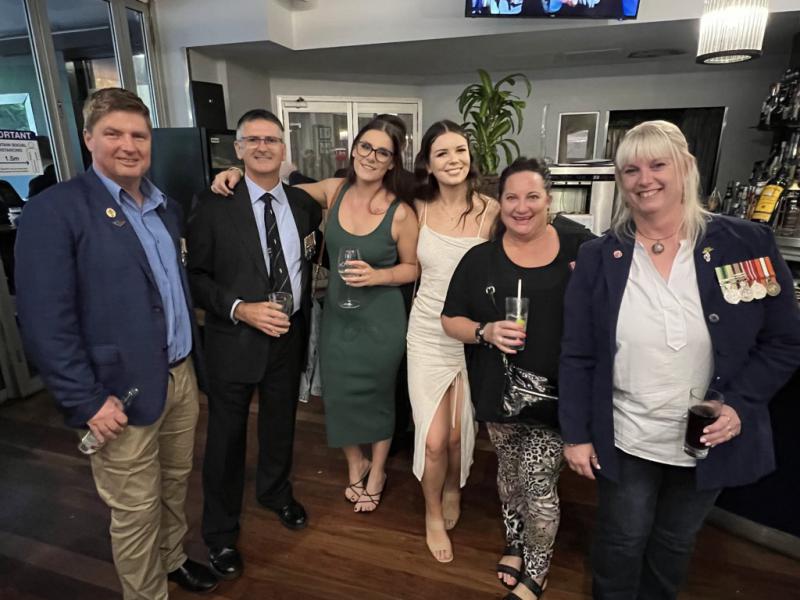 Pictured Above: Members and guests at the 2022 function
The good news is we have confirmed the post March Brisbane function will be held at the Port Office Hotel. The private RAEME function at the Port Office will be open from 1100h and the Buffet Meal will be served from approximately 1200-1400h on the day.
This is our most popular event of the year and we strongly encourage you to pre-purchase a ticket as the simplest and cheapest way to attend. Pre-purchasing gets you into the event. Ticket sales on the day will be full price.
Ticket Prices Start from $35 for RAQ Members and Serving Soldiers
If you have Pre-Purchased tickets, the best option is to print out your E-ticket and bring it along on the day. It will be exchanged for:
1 x Priority Entry

1 x Meal voucher for a hot Meal

2 x Drink vouchers
If you cannot print your ticket or forget to bring it, we will have attendee lists available to check, however this may delay entry to the venue.
Timings - Entry - Drinks -Meal
The Port Office Hotel will be open from around 1100 hrs. Drinks will be available for purchase using either a drink voucher or purchased across the bar. The Buffet Meal for those with Pre-Purchased Tickets will be served from approx 1200-1400 hrs.
Important note: This is a private event. Entry is restricted to ticket holders only until 1400hrs.

Please let us know have any specific dietary requirements when purchasing tickets and before the day
Paul Gibbs
Deputy Chairman
This email address is being protected from spambots. You need JavaScript enabled to view it.